Tech-heavy updates for the latest version of Audi's most popular model, which had a virtual premiere in Singapore
SINGAPORE – In its first ever "Live" virtual launch, Audi Singapore has debuted the newest iteration of its core model, the A4 compact executive car. New tech is the overall theme of the changes, which aim to strengthen the association between the A4 and its more luxurious big brothers.
To that end, the exterior features touches drawn from the A6 and A8, namely a flatter, broader front grille, as well as a chrome strip connecting the taillights. The lights themselves, both front and rear, are new as well – full LED units with short vertical elements, that give the A4 a more noticeable presence on the road.
Two versions are available initially – a "basic" A4 with 150hp that will set you back S$182,540, and a more powerful 190hp Advanced model with more features, which costs S$192,490. Both figures are inclusive of COE. This is slightly cheaper than the BMW 320i (184hp, S$200,888) and bang on par with the Mercedes-Benz C180 (156hp, S$182,888).
Towards the end of the year, a faster third model with 249hp and quattro all-wheel drive will be added to the lineup.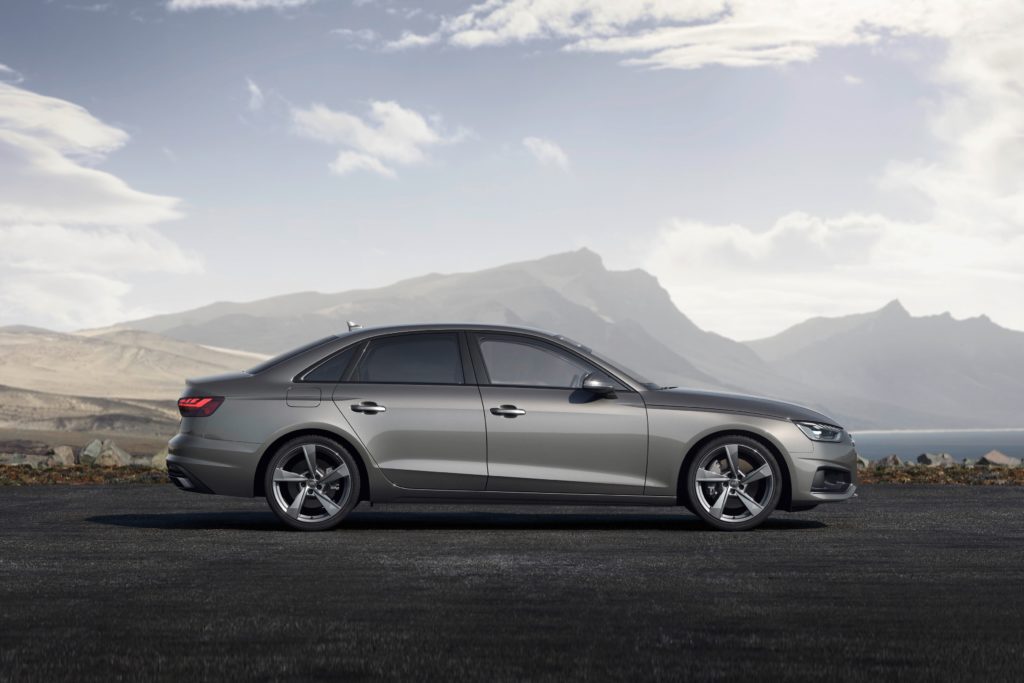 All three variants announced thus far use the same 2.0-litre four-cylinder engine and seven-speed dual-clutch gearbox as before. The major change though, is the inclusion of mild hybrid technology, filtered down from the A8 limousine in which it first appeared, and also recently introduced in arch-rivals BMW and Mercedes' newest offerings.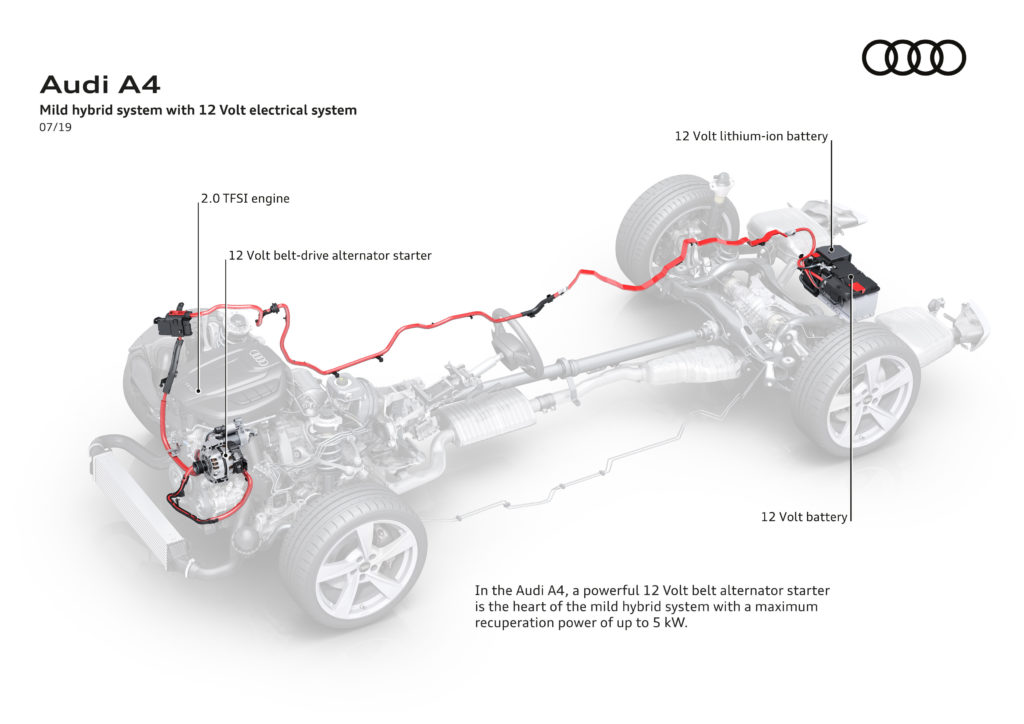 Unlike those cars, the A4's hybrid runs on a 12-volt electrical system rather than the more advanced 48-volt system, but its operating principle is the same. Energy is stored in a separate battery that feeds into a starter generator, which allows instantaneous engine starts, engine-off coasting, and can power auxiliaries such as pumps and motors. According to Audi, the mild hybrid system helps reduce fuel consumption (officially rated at 6.1-6.3L/100km) by up to 0.3L/100km.
Technology updates continue to the inside, with much improved levels of connectivity than before. Front and centre is a new screen for the MMI infotainment system that's grown to 10.1 inches in size. It's now fully touch-operated, which means the MMI rotary controller ahead of the gear selector has disappeared, replaced by an extra storage space. As before, accompanying that is the 12.3-inch Virtual Cockpit instrument display.
All Singapore-bound cars get the upgraded Navigation Plus version of the MMI system as standard, which is able to take voice queries and automatically search for them online. A companion myAudi app also enables extra functions, such as uploading destinations and calendars from smartphone to car, or remotely checking vehicle status such as fuel level, parking location or door locks. Smartphone integration is also further boosted with the presence of Apple CarPlay and Android Auto.
Finally, Audi has also changed the way the A4 – and presumably, future models – are specified. There are now two exterior styling packages, Basic (body-coloured or matte black trim attachments) and Advanced (aluminium silver or dark chrome trim), which can be combined freely with three interior themes, Basic, Design Selection, and S Line.
For more insights into the new A4, check out Audi Singapore's virtual premiere video here: