We should be glad that vehicles like this exist because they challenge the system.
---
For a car that would look at home in a Military Transport line, the irony is that the Jeep Gladiator is actually a car for rebels. For starters, at over 5.5 metres long and over 1.9 metres tall, this vehicle dwarfs anything this side of a Rolls-Royce Phantom.
It certainly is attention-grabbing. Let's be honest, this isn't a car for shy and retiring types. Although I keep calling the Jeep Gladiator a car, it technically is a double cab pick-up truck.
Scroll below to read the rest of the review or click on the links below to jump right to the points you're more interested in.
What is it?
How does it drive?
Pros and Cons – Advantages as a Goods Vehicle
Living with it – Like a pet elephant
Technical highlights – Make American cars great again
Other variants – American Gladiator
Technical Specifications – Jeep Gladiator Overland 4×4
---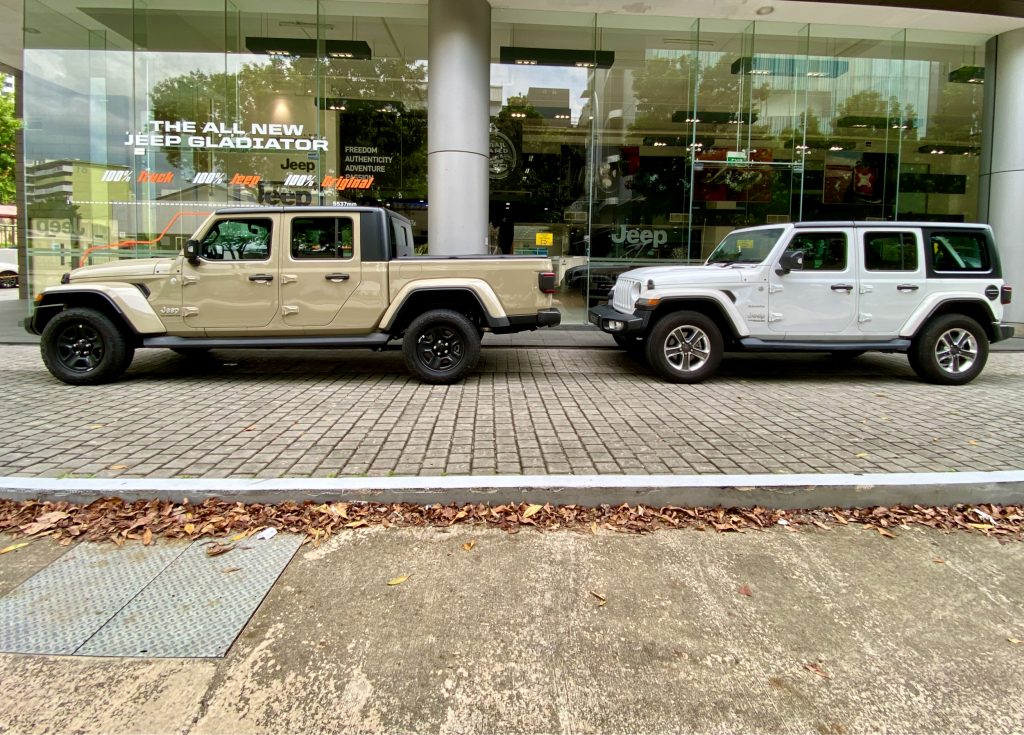 What is it?
Is there really a difference between this and a Sport Utility Vehicle (SUV)? Yes, a lot, if you ask the Land Transport Authority (LTA), which has deemed that this car can only be registered as a Goods Vehicle.
This of course, comes with several limitations. For one, you can be charged for speeding if you drive above 70km/h, and the law requires a warning beeper to remind the driver when the speed limit is exceeded.
On the expressways, the right-most lane is a no-no so you'll have to contend with following the procession of other Good Vehicles on Lanes Three and Four where applicable.
How does it drive?
This however, really isn't such a problem when you have a Jeep Gladiator. You see, it's no Porsche Cayenne in the driving dynamics department. It may be designed to grip like Spider-Man over rocks and ruts, but on paved roads, it feels a little out of its element going above 80km/h. I'm reliably informed.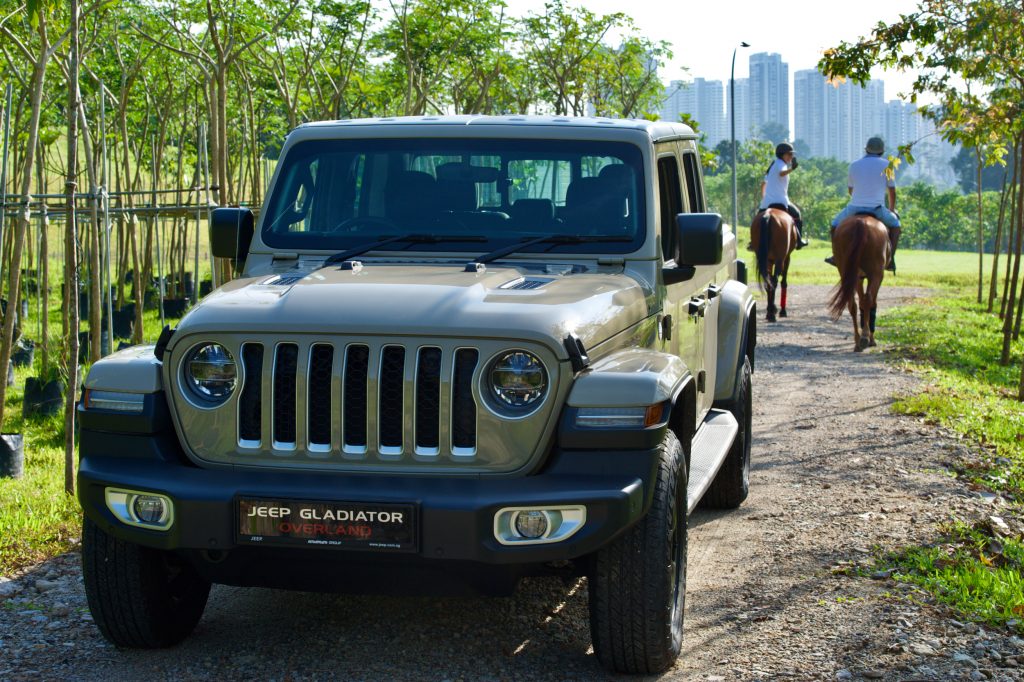 As you cross the threshold of 80km/h, the Jeep's long-travel suspension starts to protest with a turbulent ride and the steering lightens up and feels even less connected. Hardly the recipe for instilling confidence. Cornering? They just don't do that kind of thing in 'Murica.
So 70km/h feels like a comfortable cruising speed for the Jeep Gladiator anyway. Thank goodness then, that it comes fitted with cruise control so long stretches of roads become less tedious. It feels like you've set autopilot on a big yacht.
As a Goods Vehicle, road trips – when we're allowed to again – beyond Singapore's borders requires more paperwork and hoops to jumps through than regular passenger cars that zip through Customs.
As for venturing across the Causeway and perhaps utilizing more of the Gladiator's off-road capabilities, the official dealer says that it regularly organizes driving ventures for its customers and undertakes the paperwork submissions on customers' behalf.
Advantages as a Goods Vehicle
Registering the Gladiator as a Goods Vehicle does have its advantages, though.
These days, one can register a Goods Vehicle without having to go through the trouble of setting up a Private Limited company. The more immediate benefit is cost savings.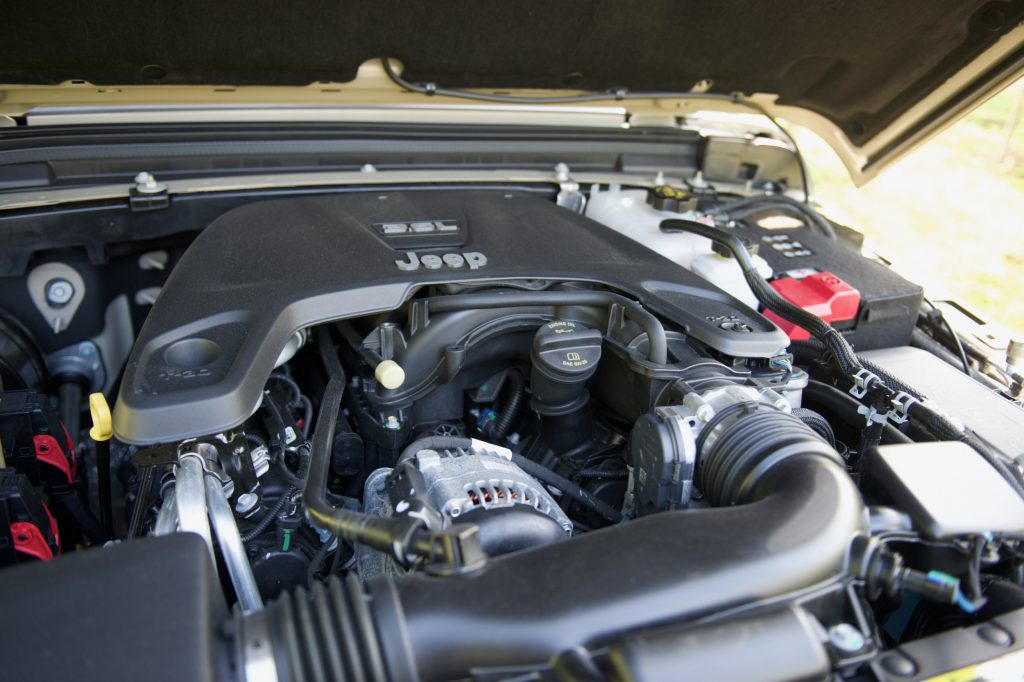 There are much lower upfront duties, and road tax costs only $596 per year. This means that you can enjoy that creamy 3.6-litre Pentastar V6 in all its glory. If it were registered as a passenger vehicle, its owner would have to fork out $3,330 per year in road tax alone.
Like a pet elephant
This is just as well because that V6 engine is easily the best thing about the Jeep Gladiator. Smooth, torquey and refined, it embodies the classic American engineering philosophy, "There's no replacement for displacement." I couldn't agree more.
Fuel consumption and emissions? Do you really think anybody interested in a Jeep Gladiator would bother with such commie-talk? No Sir-ree.
The reality of owning a Jeep Gladiator however, can be equally as wonderful and perplexing as keeping a pet elephant. On the best of days, there's no better feeling as you sit high off the ground taking in a commanding view of the world.
Yet, it also demands a more strategic choice of parking options as the standard URA lot of 4.5 meters will have this beast sticking its nose out by a mile. I managed to incur the wrath of my neighbours when it was parked overnight in my condo's parking lot. I suspect they were actually secretly jealous.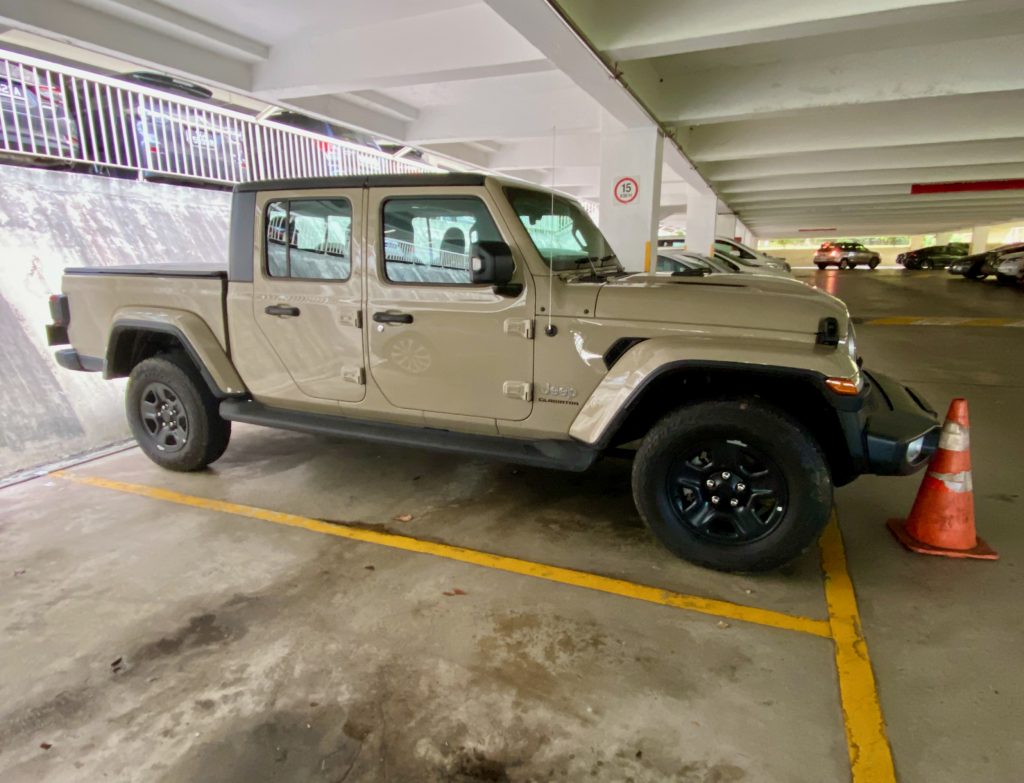 Make American cars great again
If you want an altogether different driving experience, the Jeep Gladiator definitely delivers on all fronts. Step into a Jeep and you'll be entering a world of design details and Easter eggs that leave you in no doubt that this was made by a company that specializes in off-roading and has been honing a product for this purpose for over 60 years.
One thoughtful feature for example, is the soft-opening tailgate that can be opened with one hand and will not come crashing down when you let go. Instead, it slows down as it opens.
The roof as well as doors can be removed while the front windscreen can also flip down, just like the original Willy's Jeep that liberated us in World War 2. Just as well then, that the interior is engineered with a high level of dust and water-resistance.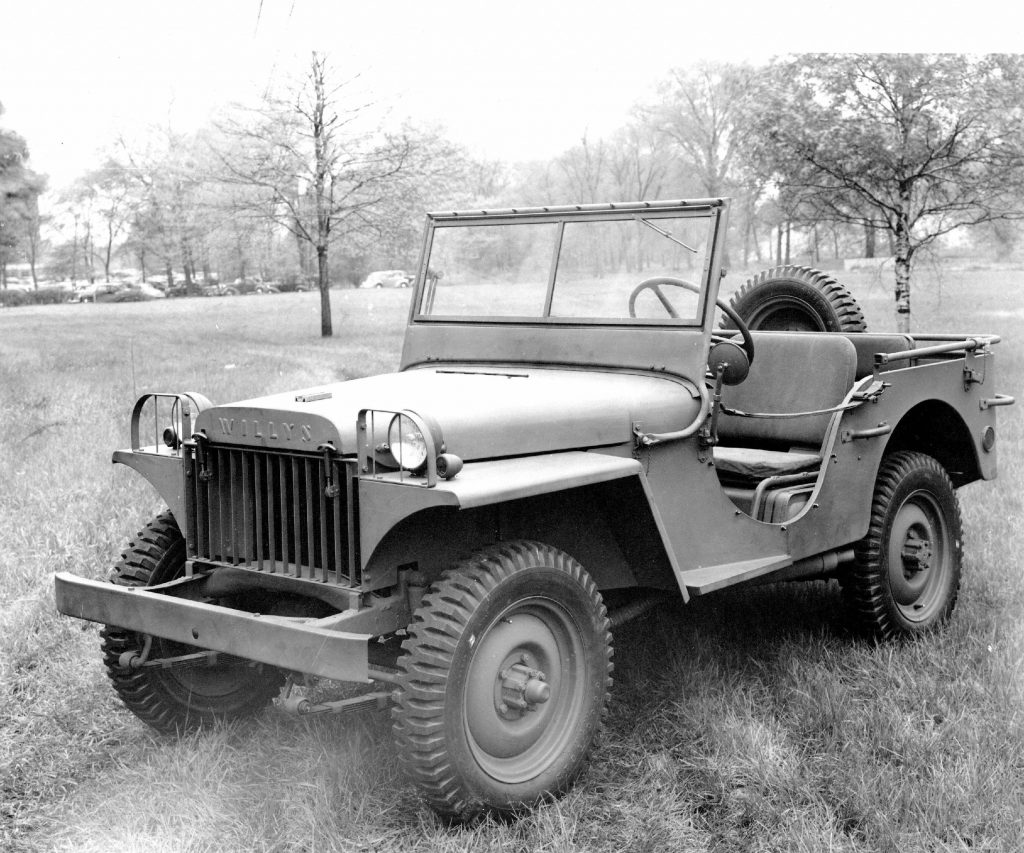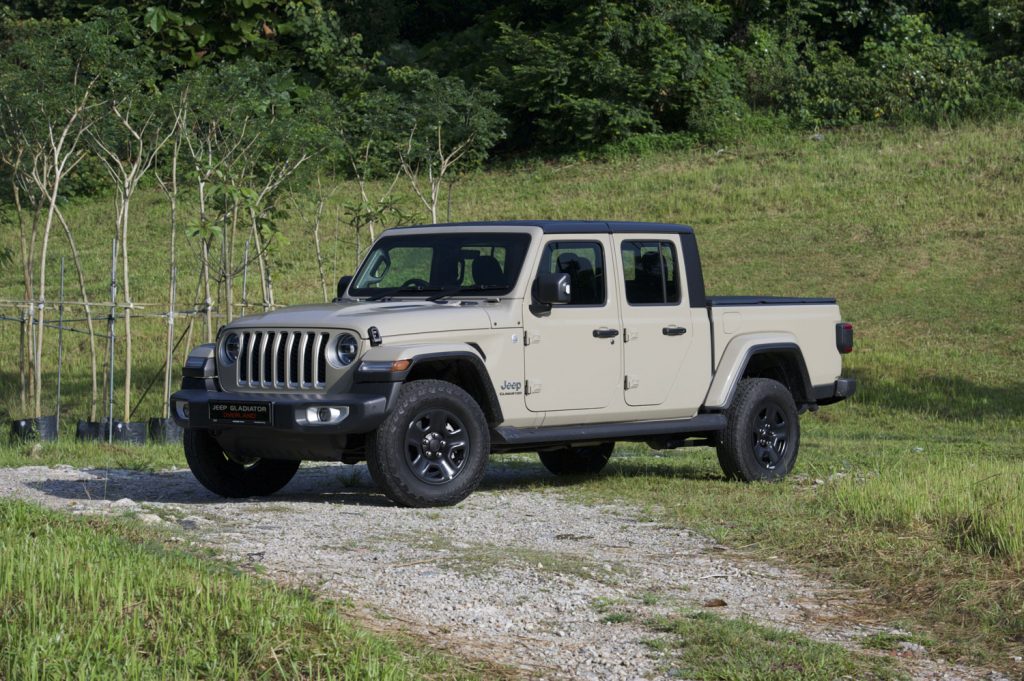 Flip up the rear seat squabs, and they stay up on their own, like the Magic Seats on a Honda Jazz. Once lifted, they reveal a storage compartment that can hold long objects. Hunting rifles or shotguns, perhaps?
It's the 1.5-metre flatbed that is the main event in the cargo carrying department. Rated to carry loads of up to 517kg, the possibilities on what owners can do with this area are virtually endless; transporting all manner of weekend activity equipment, supporting the most chronic Ikea habit or if you're a business owner, looking for cool utility transport.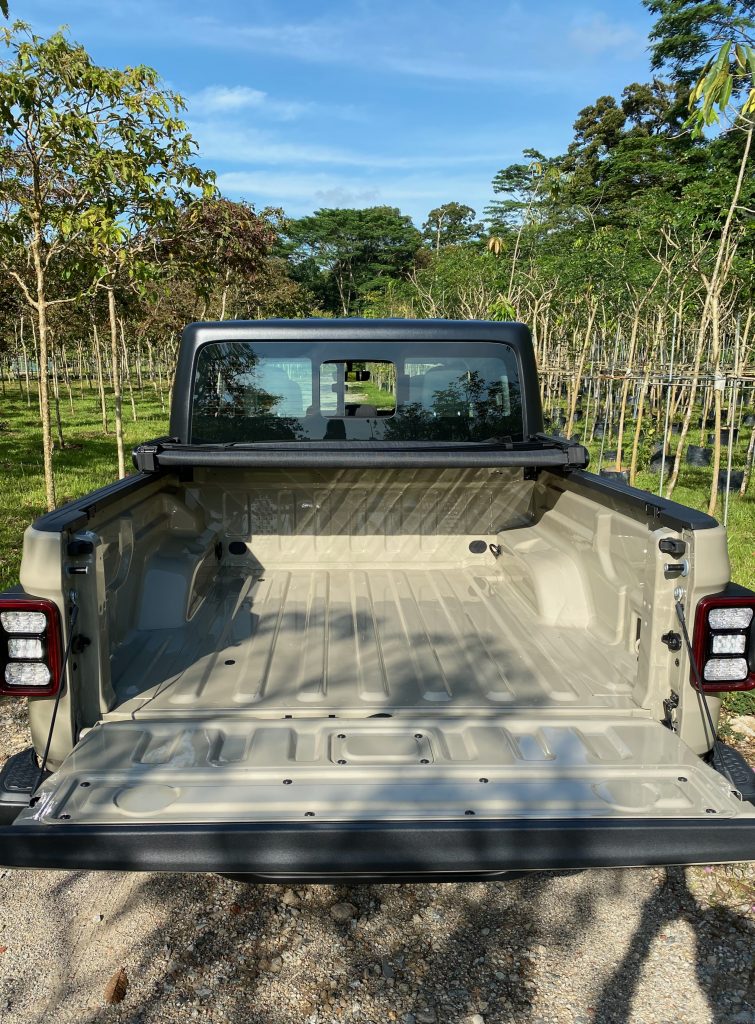 Least of all, it can be a nice platform for a picnic in the most American of traditions, tail gate parties. Although I'm not sure about what the authorities' views on impromptu BBQ grills are.
Besides the way they handle, my biggest issue with American cars, until now, is that they historically have had really low standards of build quality and reliability. This seems to have changed for the better with the 2020 Jeep Gladiator. The steering wheel for example, feels well made while also being weighted perfectly. Something even Volkswagen still can't quite manage.
Elsewhere in the Gladiator, the controls and switches click and turn with the sort of lovely haptic feedback that lends credibility to Jeep's 'Trail Rated' badge, which is only bestowed on its 'proper' off-road vehicles.
American Gladiator
Those demanding an even more extreme version of the Gladiator will find it in the Rubicon variant which adds $20k to the $159,999 price tag of the Overland version tested here.
The Rubicon's premium buys dual shock absorbers by Fox, uprated axles and dedicated front, centre and rear locking differentials. The Overland gets a locking centre diff which the driver can activate by shifting the secondary gear lever to 4H. For most on-road applications, sticking in 2H turns the Gladiator into a rear-wheel drive vehicle while 4H allows the system to automatically transfer power to the front wheels when more traction is needed, like when it rains for example.
What's interesting is, the Rubicon version actually out-sells the Overland model in Singapore. If you're going to go mad, might as well do it properly. To these crazy owners, we salute you!
Technical Specifications
Jeep Gladiator Overland
Engine: 3,604cc, V6
Power: 285hp @ 6,400rpm
Torque: 353Nm @ 6,400rpm
Gearbox: 8-sp automatic, 4wd
0-100km/h: 7.3 seconds
Top Speed: 156km/h
Base price: $159,999 with COE
VES band: B
AutoApp rating: 7/10
Likes: Challenges convention and feels different from anything else.
Dislikes: Challenging to park. Doesn't like to go beyond 80km/h.
Contact: Chrysler Jeep Automotive of Singapore, 64799 3333
---
Check out more car reviews here.