Higher-riding handling-machine, and also a family-hauler.
---
Before starting the article proper, let's get some declarations out of the way first.
This author:
is a handling and performance-biased automotive enthusiast;
has a rather special place in-heart for Alfa Romeo – not Saab-levels of special, but special nonetheless;
was extremely reluctant to return the test vehicle at the end of the drive review.
One can probably already see where this article is headed, and with good reason.
When it comes to the premium sporty-SUV segment, buyers usually think of The Big-Three German marques – Audi with its Q5 Sportback S line 2.0 TFSI, BMW's X4 xDrive30i M Sport and Mercedes-Benz's GLC 300 4MATIC Coupe.
But what if one wishes to stand out with brio from the crowd?
Meet the Alfa Romeo Stelvio Veloce. While strictly not an SUV-coupe, Stelvio Veloce competes in the same category because of how it is positioned as sporty, powerful and sharp-handling.
The outside
For a rather rounded-edge SUV, those downward-sloping headlights and signature pointy Alfa Romeo grille combine to give the Stelvio Veloce a fierce face, akin to a shark stalking its prey.
Large air inlets at the bottom of the front bumper add to this fiery countenance, with the adaptive cruise control sensor housed in the right-side inlet.
A clamshell bonnet with power creases on either side rounds off the top of the front-end.
Around the side sits a solitary black 'Veloce' badge on the muscular front fender, reminding one that this is a pretty hot variant of Stelvio.
Letting the eyes drop downward, one can't help but notice the recognizably-Alfaesque telephone-dial 20-inch rims. Shod with 255/45 R20 Michelin Latitude Sport 3 tyres, this combo offers nice ride pliancy combined with generous levels of grip in the beating rain.
The test car came with adaptive dampers, and even while being sprung on the firmer side in soft-suspension mode, allowed this SUV to ride in a well-controlled manner over the pockmarked plane of Pasir Ris Drive 3, offering further credence to this author's continual assertion that thicker-sidewalled tyres can and do make a difference in day-to-day ride comfort.
Bright red four-pot Brembo callipers with white Alfa Romeo script peek out from behind the rims up front, clamping down on 330mm brake discs. At the rear, sliding callipers and 318mm discs do anchoring duty to haul this almost 1.7-ton SUV down from speed.
They do a great job of shedding forward momentum, although the brake-by-wire pedal does take a little getting used to in its operation and feel. After about an hour of driving, the brake pedal was easy to modulate and bring Stelvio Veloce to a smooth stop at a set of traffic lights.
No auto-hold function here when stopped, which is for the most part okay because the electric parking brake is easy enough to operate. At its price-point, it would have been nice to have auto-hold though. The electric parking brake does automatically activate when the gearbox is set to Park.
Moving around to the back, it's not difficult to see why Stelvio could be considered an SUV-coupe. Although it does not have as pronounced a sloped roof as other SUV-coupes, the rake of the rear windscreen offers it such a look. Thankfully, there's a rear wiper, which came in very handy on the sodden day of the review.
While those taillights look sharp and purposeful, there's something visually less cohesive about the way the tailgate area is put together. Take for instance the Alfa Romeo badge sitting proud in the centre of the tailgate. It's normal-sized, but looks pretty tiny in the expanse of sheetmetal.
Said expanse is broken up somewhat by a black 'Stelvio' badge on the right and 'Q4' on the left, but it still isn't enough to not make that part of the tailgate look barren. The reason for this expanse is likely the raked rear windscreen, which doesn't come down far enough, necessitating the additional bodywork.
Thankfully, things get better lower down. A swage line that runs from the corner of one taillight to the other neatly delineates the licence plate mounting area.
Black exhaust surrounds give this rear-end a purposeful look, and along with the similarly-painted gloss black 'diffuser' round out the rear bumper area cohesively.
Speaking of which…
In the boot
… opening the electric tailgate hands-free is simple – stand nearly centered with that gloss black 'diffuser', extend the right foot out under the bumper and sweep right. The tailgate opens without fail every time to reveal 525-litres of boot space with the seats up, handy when one's hands are full of grocery bags.
The boot floor features tracks to which an optional luggage rail system can be fitted, and mounting points for an included net to keep smaller items from rolling about during transport.
Dropping the seats liberates an impressive 1,600 litres of carrying capacity. Seatbacks are released via levers on either side of the boot, but the rear headrests must be stowed in their downmost position before doing so – otherwise, a pouting pilgrimage to either side of the vehicle to stow said headrests and fully lower the seatbacks would become necessary.
Again, at Stelvio Veloce's price point, electrically-operated seatbacks would have been nice.
Under the hood
Long gone are the days of the raw-aluminium look of Alfa Romeo's Twin Spark engine. Instead, black plastics abound. One can take comfort, however, that the 2-litre inline-4 MultiAir Turbo engine sits further back in the engine bay, longitudinally mounted rather than transversely, under a factory-fitted strut brace.
Featuring 280hp and 400Nm of torque, this engine is spritely, and puts its power down to all four wheels through Alfa Romeo's Q4 system via the 8-speed automatic gearbox. The gearbox works well for the most part, although a little driveline shock was occasionally felt when, left to its own devices, the gearbox downshifted at low engine speeds.
There's also a limited-slip differential or LSD in the rear that helps the rear end of Stelvio Veloce rotate and carve up corners convincingly. More on that later.
The inside
Since this is a driver-focused SUV, let's start with those sumptuous red leather-wrapped sportily bolstered front seats.
The seats feature electrical adjustment, including those upright side-bolsters. Initially, this author found the seats a little tight, but by the end of the drive review, they were supremely supportive in the right areas. As a result, there was no back or hip fatigue during that day.
Quickly finding one's optimal driving position in Stelvio Veloce is easy, courtesy of the electrically-operated seats and that lovely steering wheel which falls perfectly to hand and adjusts for reach and rake. That the engine start/stop button is conveniently mounted on the steering wheel makes starting this SUV a simple affair.
Ahead of the steering wheel sit two pods housing the analogue speedometer and tachometer respectively, and a digital screen in between them for trip computer and adaptive cruise-control information. Although simple compared to the competition, this setup works well enough to be not only usable in daily driving but also relevant in modern times.
The dashboard is wrapped in leather with red double-stitching and carbon-look trim. Off to either side of the dashboard sit circular aircon pod vents, which can be twisted to toggle air flow.
An 8.8-inch infotainment screen sits integrated into the centre of the dashboard. Featuring touch-capability, it isn't the snappiest of experiences but works well enough. Pairing a smartphone via Bluetooth was pretty straightforward.
Dual-zone climate controls come in the form of traditional knobs and buttons, thankfully, and are easy to use on the move.
The central tunnel houses two cupholders ahead of the gear lever, which can be covered up when not in use. Trimmed in silver-carbon and satin-aluminium looking materials, the central tunnel plays nicely against black materials in the gear lever, knobs, switches and surrounds. A subtle Italian tricolore sits proudly on the gear lever surround.
If one wishes not to use the touch capability of the infotainment system, the large central rotary knob can be used instead to navigate through menu options.
Above that knob and off to the driver's side sits Alfa Romeo's 'dna' selector to switch drive modes. Within it sits a suspension toggle to select between soft-suspension mode and the sporty setting when 'd' or dynamic is selected. In 'n' and 'a', soft-suspension is default and the sporty setting cannot be selected.
The centre console features a wireless charging pad for a suitably-equipped smartphone. Be aware though, if a phone without wireless charging capability is stored there, the infotainment screen will protest from time to time about a "foreign object" being present in said holder.
Underneath the fixed armrest, there's small cubby to store trinkets. There is also a wireless charging pad for the Alfa Romeo key and a 12V outlet, USB and auxiliary ports.
Rear seat legroom is adequate, although this author at 182cm height wouldn't want to sit behind his own driving position for more than 2 hours. The central transmission tunnel is low, and makes things more comfortable for the centre passenger, as well as moving from one side to the other.
All occupants can enjoy natural light streaming into the cabin courtesy of the standard panoramic sunroof, especially on a soggy day. This helps the cabin to feel more airy and open. Headroom is more than sufficient for everyone.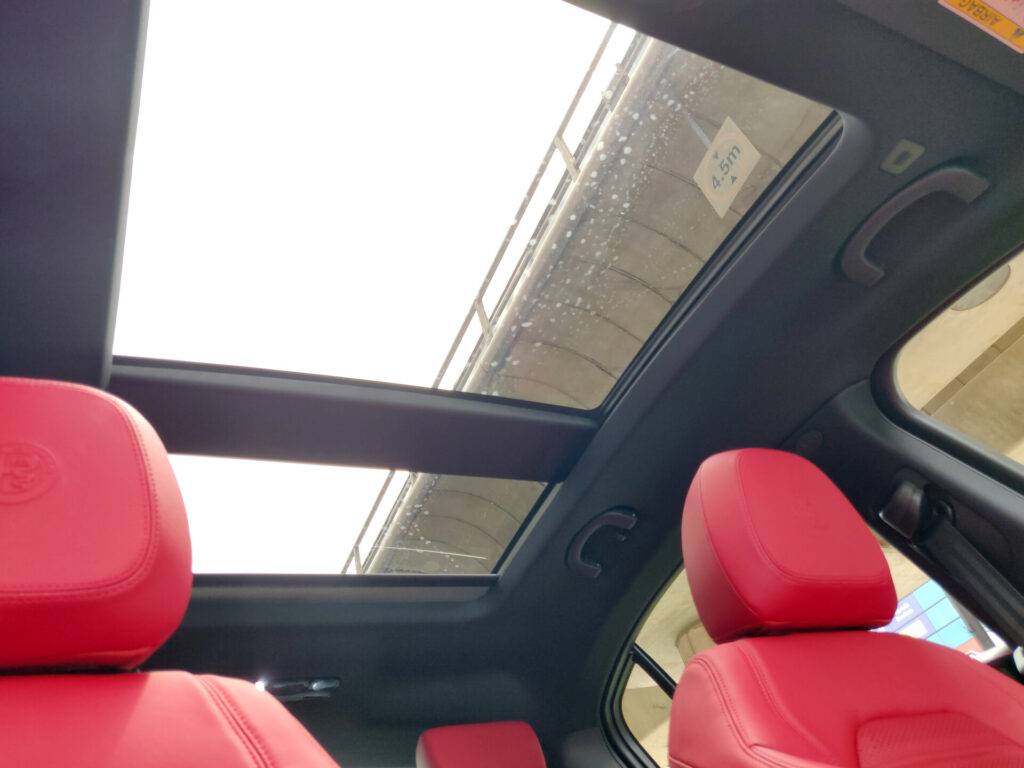 While streaming music via Bluetooth, not much attention was paid to the standard-fit Harman Kardon audio system. And then Disturbed came on with their headbanging song Down With The Sickness.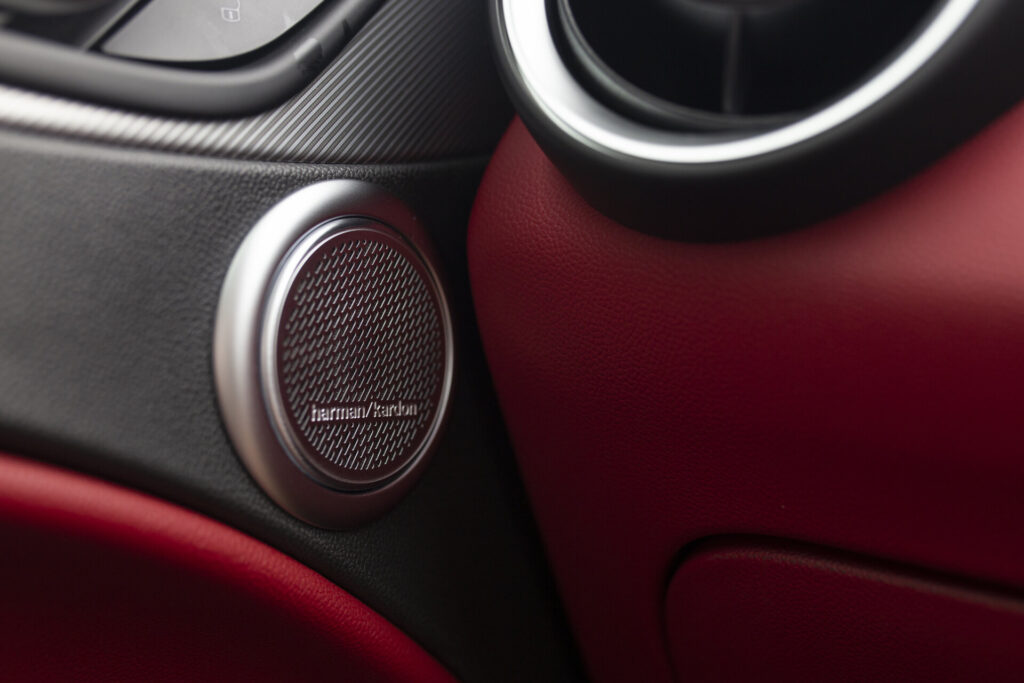 This necessitated pulling over into the nearest parking lot to further investigate the audio tuning controls. Turn Surround Sound off, play with the bass and treble controls, and set the fader between and just ahead of the driver and front passenger, then turn the volume up.
Down With The Sickness took on a new life, with pretty accurate staging and imaging. Not audiophile levels, mind, but considering that a FLAC file was being streamed over compressed Bluetooth audio with expected loss of resolution, the Harman Kardon system did extremely well – David Draiman's distorted, operatic and baritone voice hit hard and heavy.
The drive
Draiman's "OWW-WA-A-A-A!!!" chant is an apt description of how the Alfa Romeo Stelvio Veloce felt like to drive enthusiastically. Flick the gear level left and operate those delicious-to-behold column-mounted paddles while tearing through twists and turns.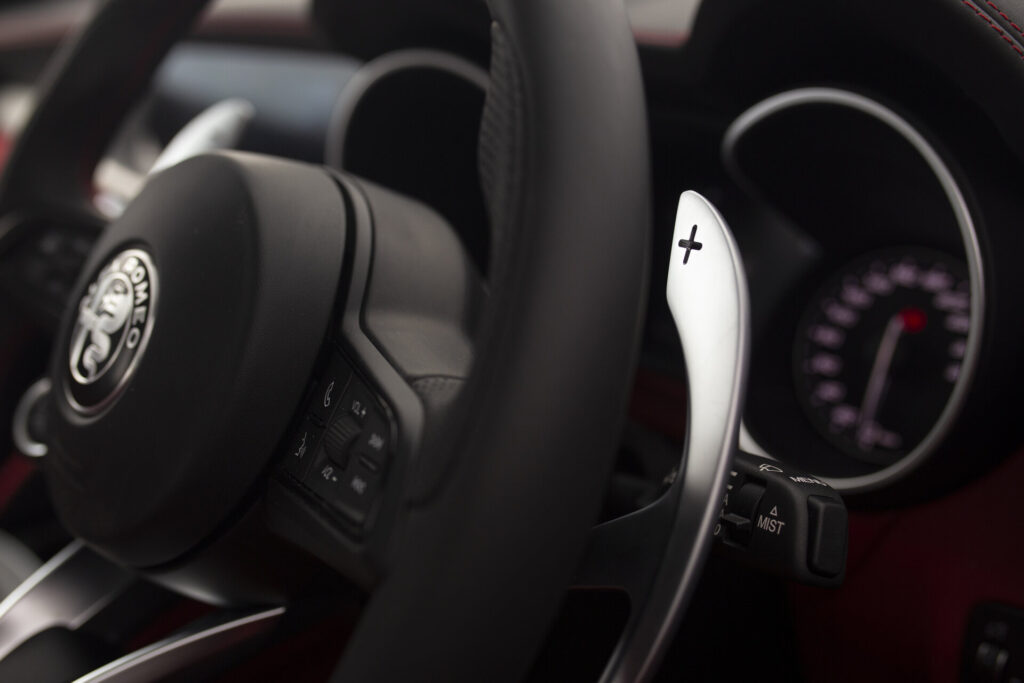 The 2-litre MultiAir Turbo engine growls and wails while charging through its rev-range, putting power down to all four tyres and allowing Stelvio Veloce to handle like it is on rails, while the aforementioned LSD helps the rear end to convincingly and reassuringly assist the front around bends and corners, egging the driver on to push further and faster.
All of this in pouring rain and on wet blacktop, with never a heart-in-mouth moment. Imagine then, how the handling would be like in the dry.
With just over two turns lock-to-lock, the steering is direct and sharp, enhancing the performance driving experience. The downside is a wider turning circle, which can necessitate 5-point turns where three would have been possible with other SUVs. A small price to pay for that direct sharpness.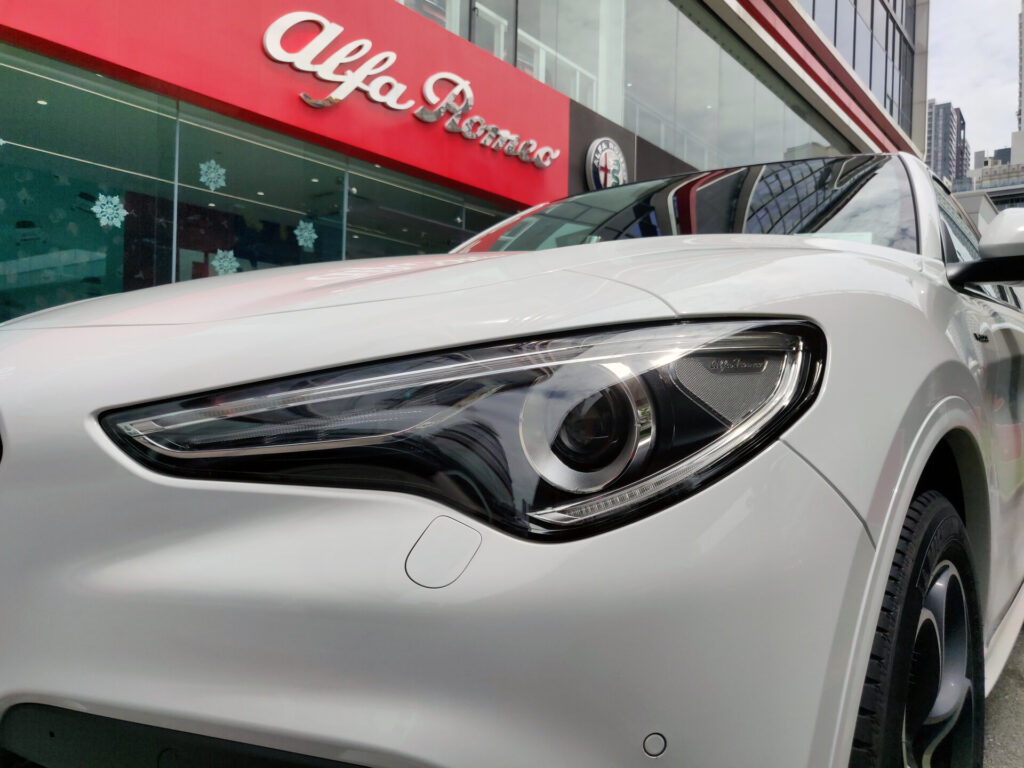 When driven sedately, Stelvio Veloce settles into a relatively silent and well-isolated cruise on the highway, with just a little tyre noise entering the cabin. The engine is guttural at low rpms and reminiscent of the sound a Boeing 777's turbofan engines make when rolled back to idle during descent from cruising altitude.
The adaptive cruise control works well to keep the SUV moving along and keeping up with traffic, and the various included driver assist features can be custom-tuned via the touchscreen. Some can even be completely turned off.
Outward visibility is mostly fine, with only shoulder checks being impeded somewhat by the thicker B-pillars. The resolution of the rear-view camera on the other hand, belongs in the early 2010's.
Otherwise, this is a really rorty, simply sporty SUV to own as a daily driver.
Want more juice?
EuroAutomobile Pte Ltd, Alfa Romeo's Singapore distributor, is offering an in-house plug-and-play tuning solution for Stelvio Veloce, which takes it from 280hp and 400Nm, to 312hp and 486Nm of torque.
Do this via EuroAutomobile and the SUV's 5-year/100,000km warranty remains intact. Enquire further at the showroom.
Fast Facts
Alfa Romeo Stelvio Veloce
Engine: 1,984cc in-line 4, turbocharged
Power: 280hp @ 5,250rpm
Torque: 400Nm @ 2,250rpm
Gearbox: 8-speed automatic
Top Speed: 230km/h
0-100km/h: 5.7 seconds
VES Band: C2 (S$25,000 surcharge)
Price (as tested): S$318,000 with COE
Contact: Alfa Romeo Singapore
---
Enjoyed this car review? Read other similar reviews here!