Who says transporting one's kinship has to appear mundane?
---
Let's get this out of the way first — traditionally, this author has not been a fan of Sport Utility Vehicles (SUVs). However, as age and corresponding physical issues start setting in, a higher-riding vehicle makes more sense in terms of ease of ingress and egress.
Does that mean SUVs are only good for those with back, hip and/or leg issues? No, not at all. In fact, driving around in these cars more has helped this author overcome such preconceived, and perhaps misplaced prejudices.
In the land of premium sporty-looking SUVs, we have contenders from the big-three German brands whose nomenclature varies to differentiate between their regular and coupe-ish SUV models.
When it comes to the sub-genre of SUV coupes, BMW calls its X4 a Sport Activity Coupe — the X3 is a Sport Activity Vehicle. Mercedes-Benz's regular GLC gets renamed GLC Coupe with the sportier-looking version with the curved roof.
Which then brings us to the review vehicle here, Audi's Q5 Sportback, as opposed to the regular Q5.
The outside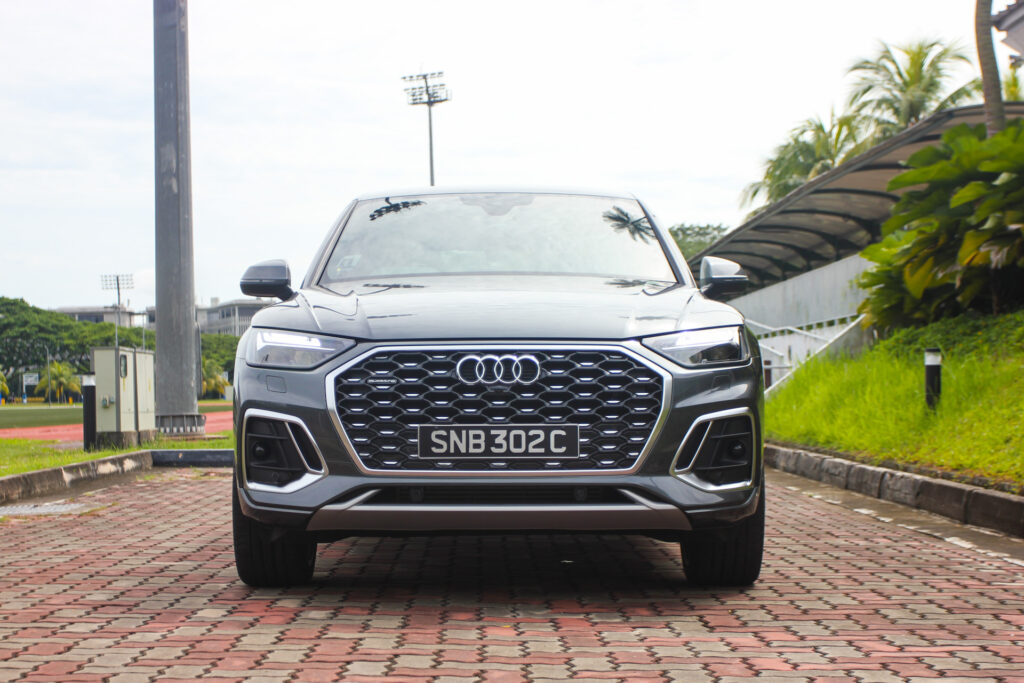 The Audi Q5 Sportback is an imposing beast. Audi's signature whale-maw grille surrounded by a matt aluminium perimeter, combined with similarly outlined side "vents" and sleek headlights give this SUV a distinct corporate look, and one that definitely screams "get out of my way" on highways.
Moving round to the side, the massive, drool-worthy optional 21-inch rims hove into view.
Audi calls these 5-double-spoke turbine rims, and they're shod with Pirelli P Zero 255/40 R21 tyres. The review car sat on adaptive dampers with coil springs.
For the most part, this combination works well on the streets and highway, with slighter undulations being suitably overcome with aplomb. Larger speed humps are mostly nicely rounded out.
However, things start to become shaky over pockmarked, rutted terrain, especially for those in the back seat. This author's mother and aunt were chauffeured whilst seated at the back, and noted quite vocally that bumps were being transmitted into their bums over the bumpy streets of Pasir Ris Drive 3. The ride is a bit better up front though, but not by much.
Turning off into the much smoother Pasir Ris Industrial Drive 1 toward Punggol, and on the TPE toward Loyang Avenue, the ride in the back was notably better, although some sharper jolts such as expansion joints were still being transmitted into the cabin.
If the optional 21s are going to be specified, then the also-optional air suspension is likely necessary for greater ride comfort and to maintain the overall premium feel. Otherwise, just stick with the one of the two 20-inch rim designs with thicker-sidewalled 255/45 R20 tyres.
Walk around to the rear quarter and the rear, and the Sportback of this Q5 appears and shows off that luscious curve of the roof adjoining the Sportback with integrated spoiler in one fell swoop. Thankfully, Audi has seen fit to include a rear wiper, which comes in handy during drizzles while sitting or crawling along in bumper-to-bumper traffic.
Again, matt aluminium inlays adorn the sideskirts, window surrounds, tailgate and rear bumper, contrasting nicely with the darker gray paintwork and lift the exterior suitably to give it a sporty edge. That rear end is cohesive, and in this author's eyes, dang sexy — for an SUV.
Under the hood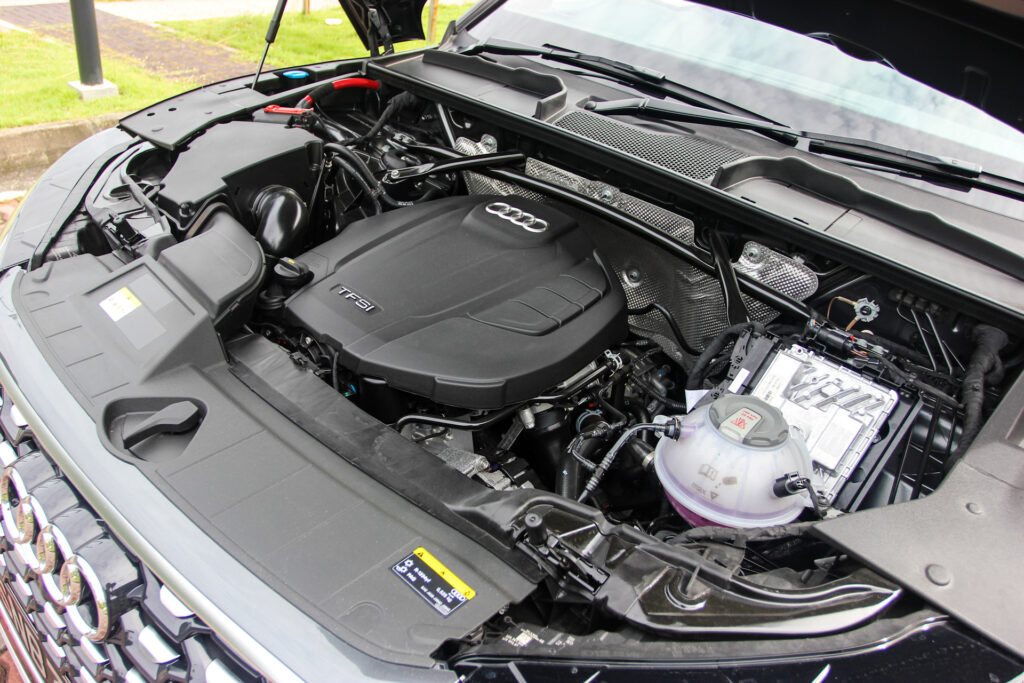 Open the bonnet and one is greeted by an expanse of black plastics, broken up by bits of metal and metallic-looking accents such as Audi's rings and 'TFSI'. DIY detailing enthusiasts might take pleasure in their ability to bring a satin sheen to said black plastics, which would no doubt visually lift the underhood area somewhat.
A rather familar powertrain, one of VAG family's 2-litre turbo inline-4 with 249hp and 370Nm of torque, sits longitudinally-mounted, coupled to Audi's 7-speed S tronic dual-clutch automatic gearbox and driving all four wheels courtesy of quattro all-wheel drive but this time with added "ultra technology" that decouples the rear wheels from the drivetrain, allowing the Q5 to cruise as a front-wheel drive vehicle under certain conditions.
In practice, the S tronic gearbox works well enough, with just a tiny bit of shudder when taking off from a standstill. The aforementioned "ultra technology" works seamlessly, and the switch between front- and all-wheel drive was not discernable during the weekend test-drive.
In the boot
Open the electrically-operated Sportback, and 510-litres of luggage space comes into view. Pretty decent, considering the sloped, sporty rear-end of this Q5. There is a pronounced load lip with a recessed boot floor, which can come in handy to prevent loose items from rolling or sliding out when the tailgate is opened and the car is parked on an incline.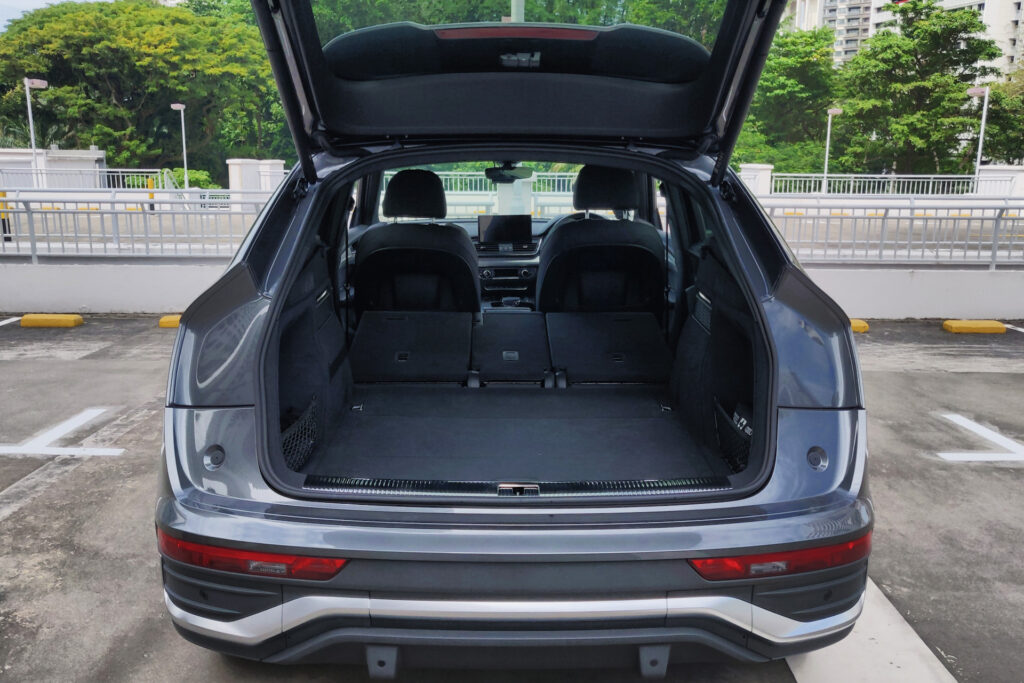 Dropping the rear seats liberates 1,480 litres of carrying capacity. Although the operation is straightforward enough, it would be nice to have had electrically operated seatbacks that go down at the push of a button instead.
There is nowhere to store the removable luggage cover underneath the boot floor though, so it needs to be stowed just behind the front seats or left at home when removed.
The inside
Let's start with the rear seats, where most of our loved ones and/or little ones will be transported. The door's aperture is large enough for this portly author's frame to gain access to the rear seats, so most occupants should not have an issue.
Legroom is plentiful, and both this author at 182cm height and 3-centimetre taller colleague Jonathan had no issues sitting in the back seat behind our respective driving positions. Why the central transmission tunnel needs to be this high in the Q5 Sportback is still a mystery, however, and makes things less comfortable for the centre-seat occupant.
Despite the Sportback's sloping roofline, Audi has engineered the interior curves cleverly, so rear seat occupants don't feel wanting for headroom. A couple of reading lights adorn the rearward centre of the roof, and grab handles and separate coat hangers feature at the roof sills.
Manually operated sunshades at the rear windows help to keep loved ones cool during blazing hot days.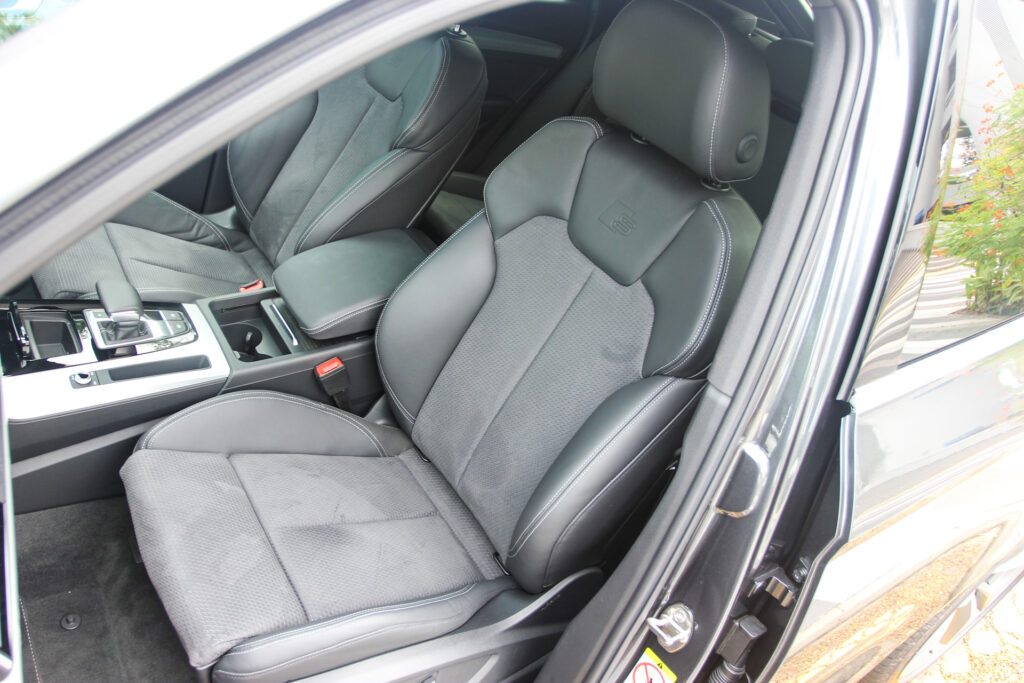 The front seats are semi-sporty with bolsters that hug occupant's sides. Both front and rear seats are trimmed in leather and Alcantara-like material, and feel upmarket to the touch. Owing partly to those bolsters, and mainly to the ride height, more petite individuals in mini-skirts or sarees may have a bit more difficulty gracefully getting in and out of the front seats. The rear seats, with less-pronounced bolsters, pose a slightly easier offering.
Perhaps, then, the optional air-suspension may start looking not-so-optional at all if they come with the ability to manually lower the Q5 Sportback's ride height.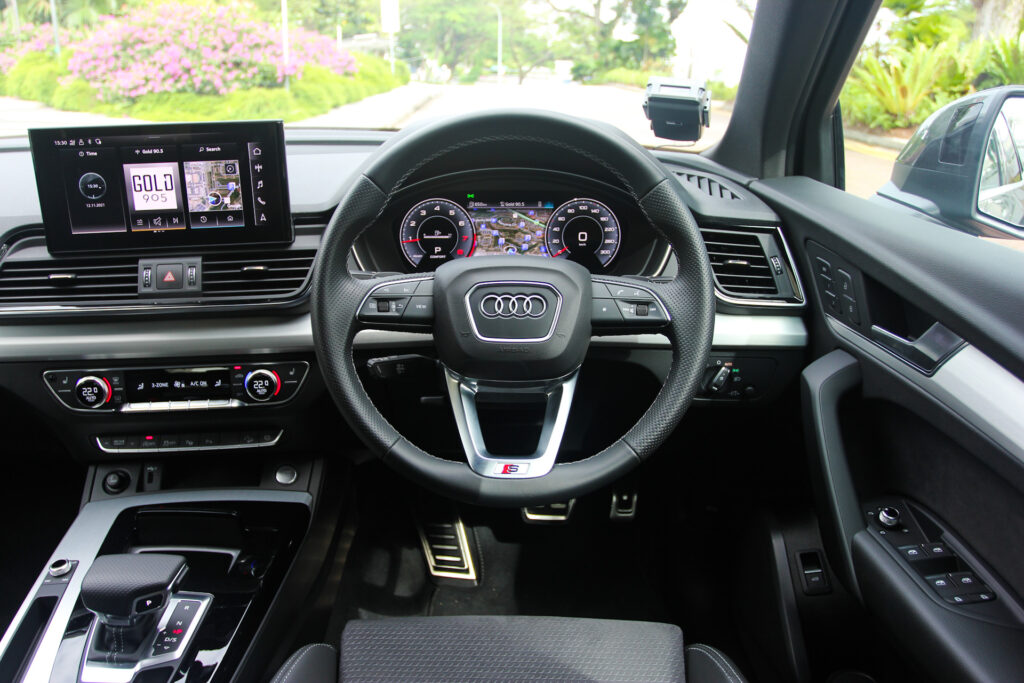 Front seat adjustments are electrically achieved, and it is very easy to find a comfortable driving position. The driver's seat features two memory positions, making switching drivers a cinch.
The steering wheel features manual tilt and telescoping adjustments to conform to one's preferred driving position, as well an array of buttons and thumbwheels to aid navigating the instrument cluster's menu options.
The instrument cluster is fully digital, and in Audi's inimitable manner, logically well laid out. It is so easy to switch from one view to another once one becomes accustomed to how the steering-wheel buttons work. The lack of a heads-up display or HUD was not missed.
Off to the left sits Audi's MMI Navigation Plus courtesy of a touchscreen. Pairing a phone via bluetooth was simple, and streaming music from the phone a cinch.
However, not everything is operated via the touchscreen. Unlike some other current VAG family products…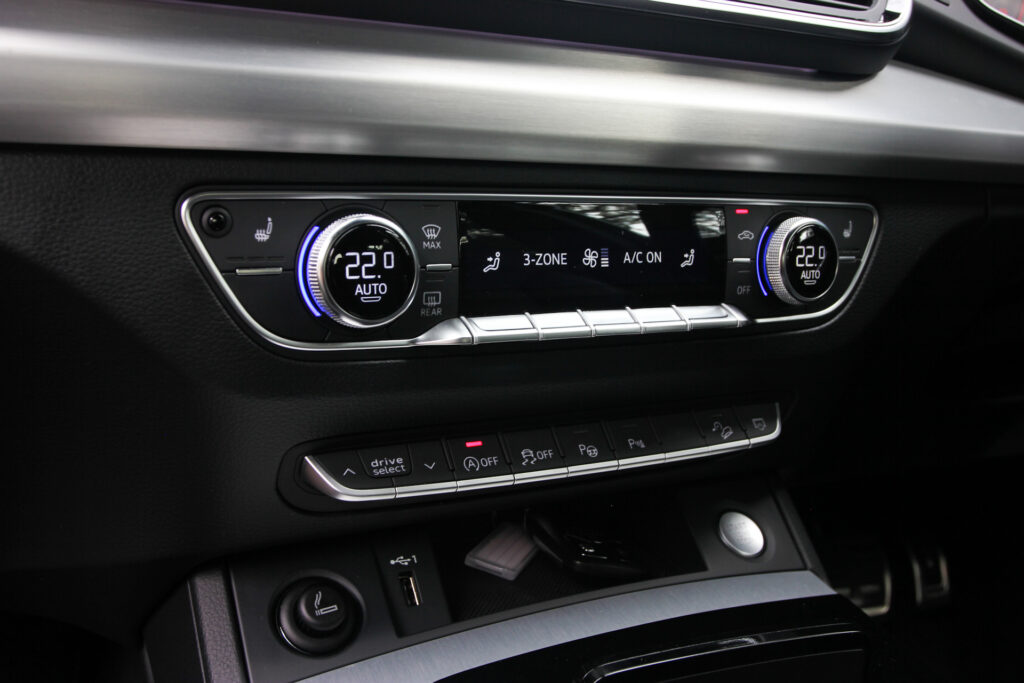 …there are physical climate control knobs, toggles and buttons! HOORAY! Thank you Audi! This 3-zone climate control system with separate settings for the driver, front passenger and rear occupants is a joy to behold and simple to use.
Just below them sits the Drive Select toggles, which change the drive modes such as Comfort and Sport, with a customizable Individual mode also available. The majority of the drive was done in Comfort, which is perfect for day-to-day use.
In the middle of that same panel sits a toggle to enable the park assist feature. This allows one to drive up to a parking spot with the function activated, be it perpendicular or parallel, and then simply follow the instructions on-screen to operate the gear lever, brake pedal and accelerator, and the Q5 Sportback will park itself into said spot. It's pretty straightforward to use and works well in the real world.
The same cannot be said, however, for the centre console, and it feels like Audi dropped the ball here. Consider the following sequence of images:
If cupholders are needed, then the wireless charging tray has to be stowed underneath the armrest. If said tray needs to be visible, then cupholders are lost. The under-armrest storage area is shallow, and the armrest itself lacks forward/backward adjustment and has to be either fully up or down. Honestly, this centre console feels like an afterthought.
Thankfully, the doors have large enough bottle holders, and the glovebox too is of a pretty good size.
The drive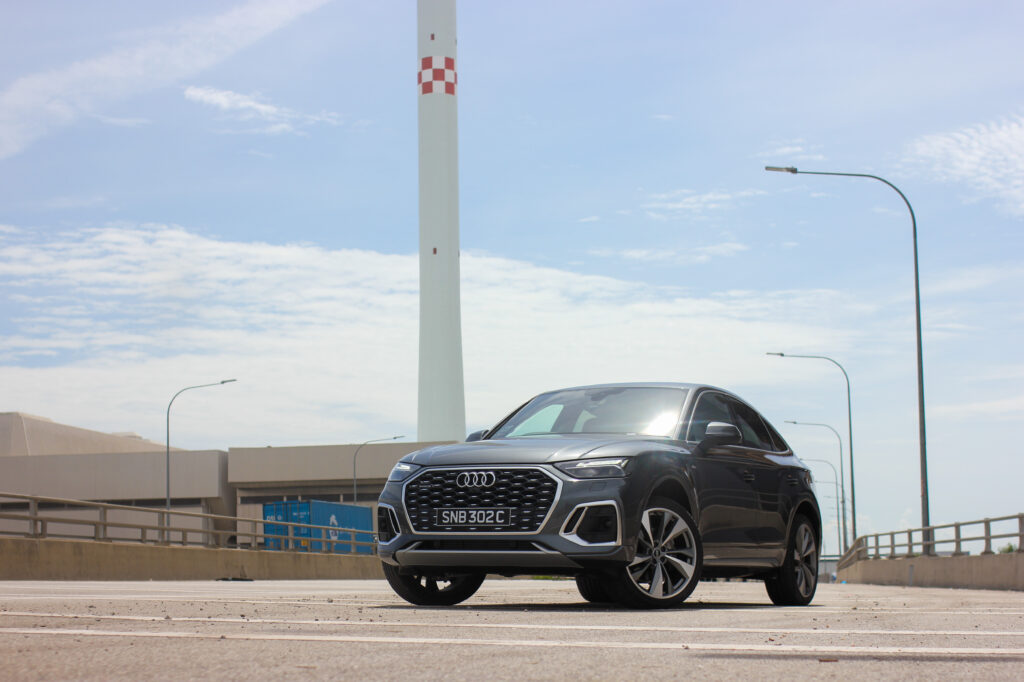 The first word that comes to mind is 'easy.' The second is 'safe.' The third, 'predictable.' All perfectly desirable traits in a family SUV.
Outward visibility is excellent. Shoulder-checks for blindspots are easy, assisted by flashing blindspot-monitoring indicators in both wing mirrors.
The Q5 Sportback features automatic wipers and headlights, and work pretty seamlessly. The headlights were put to the test on an unlit road, and served to pierce the darkness with a broad and long beam pattern with the high-beams turned on. Flick the integrated front foglights on and the beam pattern spreads even wider, illuminating both sides of the road with ease.
Audi claims a 0-100km/h time of 6.3 seconds, and this is plenty for our streets and highways. Although a little turbo lag was noted from idle, that soon disappears and the 2-litre TFSI engine moves this nearly 1.8-ton beast with some urgency.
Merging onto highways and overtaking is pretty easy, and the Q5 Sportback settles into a nice cruise, although the lack of adaptive cruise control as standard, but available optionally, was somewhat noticeable on the highway. On the move, the cabin feels solid, safe, sufficiently quiet and well-isolated from the outside world.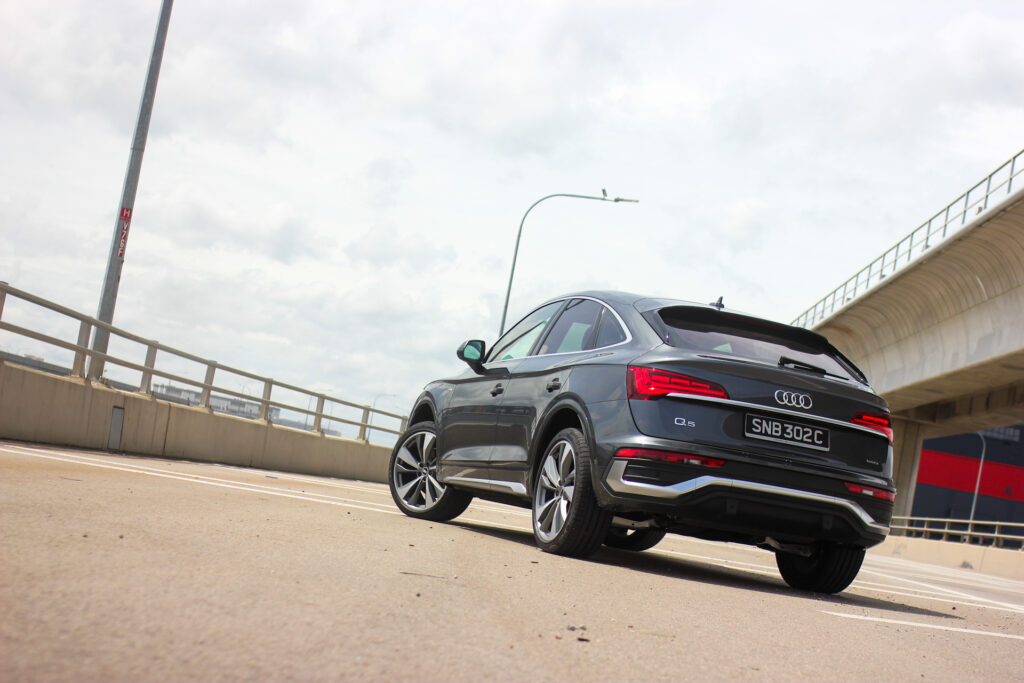 Brakes are feelsome and progressive, and safely haul this beast down from speed. At a stop light, the automatic hold function takes over so that the driver can let go of the brake pedal and be more relaxed.
Charging into corners and around roundabouts felt predictable as the quattro system did its thing, aided by good grip from the Pirelli P Zeros. Obviously, one wouldn't drive like that with the family aboard, but it is comforting to know that in the event of an emergency manoeuvre, the Q5 Sportback will do what's demanded of it without blood-curdlingly falling to bits.
Easy. Safe. Predictable.
Throw in two more adjectives – 'sharp-looking' and 'premium.' Together, they'd describe the Audi Q5 Sportback S line to a tee.
Fast facts
Audi Q5 Sportback S line 2.0 TFSI quattro S tronic
Engine: 1,984cc in-line 4, turbocharged
Power: 249hp @ 5,000-6,000rpm
Torque: 370Nm @ 1,600-4,500rpm
Gearbox: 7-speed twin-clutch automated
Top Speed: 237km/h
0-100km/h: 6.3 seconds
VES Band: C1 (S$15,000 surcharge)
Price (as tested): S$292,511 with COE
Contact: Audi Singapore
---
Need more car reviews? Head on over here to get your fill!