The all-new Honda Civic puts what's important into focus and makes you think about what features we really need.
---
There are certain metrics by which we can measure where society is or is heading to. I'm old enough to remember that in the 1980s, there were many TV commercials that were about detergent. Housewives would worry about getting stubborn stains out of their children's and husbands' collars. By the end of the advertisement, Brand X — which was always inferior — and the "new and improved" (How can something new be improved?) detergent would be displayed alongside so that the newly-convinced homemaker could knock over the losing brand and proclaim: "I'm never using my old washing powder again!"
These days, the ads on TV and YouTube seem to be about air-conditioning, massage chairs, and shopping apps. You can still get a sense of what is important to our collective selves.
Similarly, when it comes to cars, features like "16-valves" and "twin cams" spoke to a time when performance mattered in the customer's purchase decision. Today, the features that seem to matter more are smartphone connectivity, touchscreen displays, fuel efficiency, and safety features.
Civic society
The Honda Civic is one car that has gone through this evolution. This is a car that Singapore has more or less grown up with. As our needs have changed, so has each successive model.
Initially, the Civic was a cute hatchback that stood for affordable and reliable transportation. By the 90s, Honda's compact had taken on a racier persona with the introduction of VTEC engines that revved to stratospheric red lines. For many, these cars which went by variants such as VTi, SiR, and Type R would give many fans their first taste of performance motoring. Surviving cars from this era are still sought after and command high premiums.
With every succeeding generation, the size, engines, and subsequently, performance grew. So did the size of the people who occupied it.
Today, the 11th-generation Honda Civic is larger than ever. At 4,678mm, it is 35mm longer than the previous model, and the new car's wheelbase of 2,735mm makes it the class leader in this department.
This translates to copious amounts of interior space, particularly for the rear passengers. With a frame approaching 1.8-metres tall, I could comfortably sit behind an identically sized driver with room to spare before my knees would brush against the seat in front.
Civic Style
In the styling department, Honda has traded some of the sportiness of the Civic 10 for a more matured visage that takes after the larger and more expensive Accord which now appears to be only 5 to 10 percent larger.
This is in no way a bad thing. The new Civic still features a rakish rear windscreen and to this writer's eyes at least, still makes for one of the better-looking cars in its class. My only criticism in the styling department is that Honda should have worked a bit harder on the taillights. Although an improvement over the crescent-shaped rear light cluster of its predecessor, the new Civic would be better proportioned with slimmer clusters. Or better yet, just a continuous strip that is on-trend these days…
Upfront, the Civic headlamps sport a pair of LED Daytime Running Lights (DRLs) that frame a halogen projector lamp. Wait, what? Yup, the yellowish telltale hue is made all the more obvious with the cool glow of the LED DRLs. Then, closer inspection of the front bumper reveals a pair of fog lamps that have no way of being turned on…
The 16-inch alloys that the Civic comes fitted with also look comically undersized but that's an easy fix with an upgrade to 17 or even 18-inch options.
Inside, things get better with a stylish cabin where a continuous honeycomb ventilation grille takes centre stage. The obligatory central infotainment now features wireless Apple CarPlay. So it's just as well that there is a wireless smartphone charger inside too. The connection is stable and works reliably, so that's a good thing.
Sound quality from the speakers is as decent as factory-fitted systems go, and is certainly a step up from what Toyota supplies in its Corolla.
Civic drive
Once on the move, all these minor quibbles sort of melt away and the Civic's more significant features start to come into focus. First of all, the 1.5-litre turbocharged engine makes only 129hp but is extremely smooth and quiet. As a result, it imparts that 'big car' feeling of an unstressed drivetrain coupled with that low-end surge of torque thanks to turbocharging.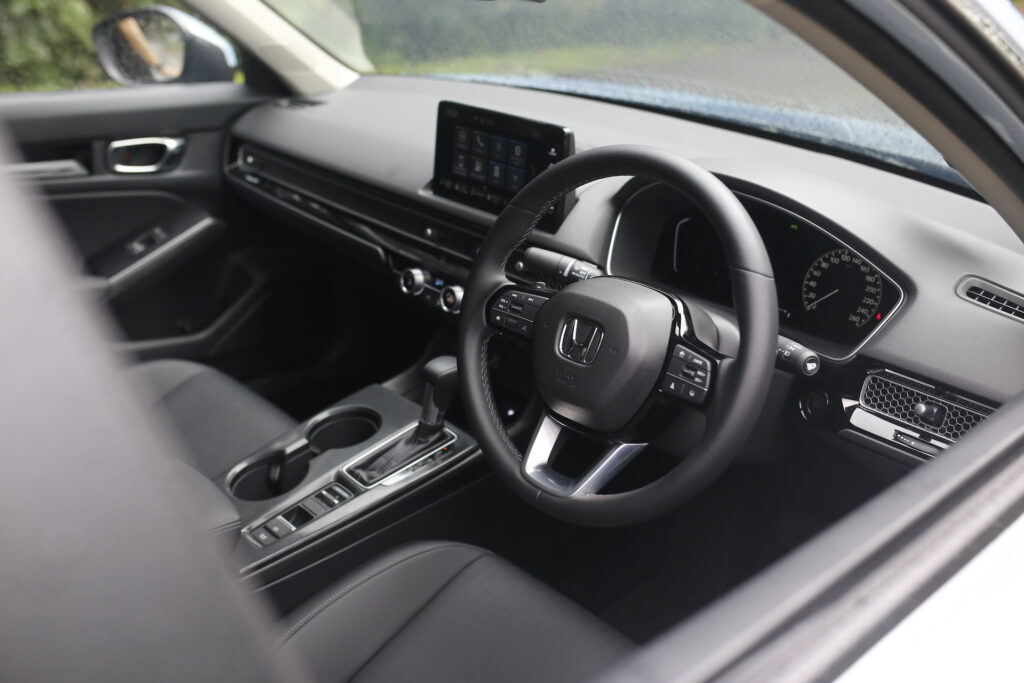 The engine runs out of ideas by the time it is revved to 4,500rpm. However, few drivers, if any, would be inclined to do this if they keep their driving to the confines of Singapore.
On paper, the output figures of 129hp and 180Nm of torque won't set pulses racing. Neither would the 0-100km/h time of 10.5 seconds. However in IRL, as the kids say, the Civic feels adequately quick and its drivers are unlikely to mind either way because they'd be enjoying the refinement and comfort of this car.
So maybe this car does appeal to the air-conditioning and massage chair generation after all?
Where the Civic excels over its competitors is in two areas, and these are the areas that are probably the most important. The first is the driving position. Honda has made it a point to communicate how hard they worked at lowering the bonnet and window lines of the Civic in order to improve all-around visibility. This works a treat and has always been a hallmark of what has made a Civic a hit for all these years. It's how easy it is to drive. Step into this car and you feel immediately comfortable with driving it.
Next is the feeling of quality, namely with its touchpoints, the steering wheel, and controls. They feel nicely weighted and European-like.
A new highlight is Adaptive Cruise Control. This has become fairly common in this segment. The Mazda 3 and Hyundai Avante offer their versions of this as well.
Civic-minded
Honda has done just enough to keep the Civic relevant and interesting in this segment. There's now only one variant in the range so the car here is a take-or-leave proposition. While I wish it had features like LED headlamps or even front seats with lumbar support, I like the spaciousness of the cabin, the refinement, and quality that's easily a notch above something like a Hyundai Avante and on par with the Mazda 3.
Maybe that's why this segment is so interesting, because there's no clear winner, yet.
Technical Specifications
Honda Civic Turbo 1.5
Engine: 1,498cc, in-line 4 turbocharged
Power: 129hp @ 5,500-6,000rpm
Torque: 180Nm @ 1,700 – 4,500rpm
Gearbox: Continuously Variable Transmission, fwd
0-100km/h: 10.5 seconds
Top Speed: 200km/h
VES Band: B (neutral)
Base price: $133,999 with COE
Contact: Kah Motor Sdn Bhd