The Honda Jazz has always been an economical little car, but this new hybrid version is little short of miraculous.
---
Light weight, and a small engine — these are the biggest friends to fuel economy, which is why small hatchbacks tend to be fuel-sippiest cars out there. But even with that in mind, I still wasn't prepared for the range estimate staring back at me on the new Honda Jazz Hybrid's digital instrument display when I first hopped in: 860km. And this was after having been stuck in traffic while an AutoApp Service Ambassador was delivering the car to my place. Now, that's an exceptional figure for just about any car, let alone a runabout with a small tank capacity; but then, the Honda Jazz Hybrid isn't like most cars.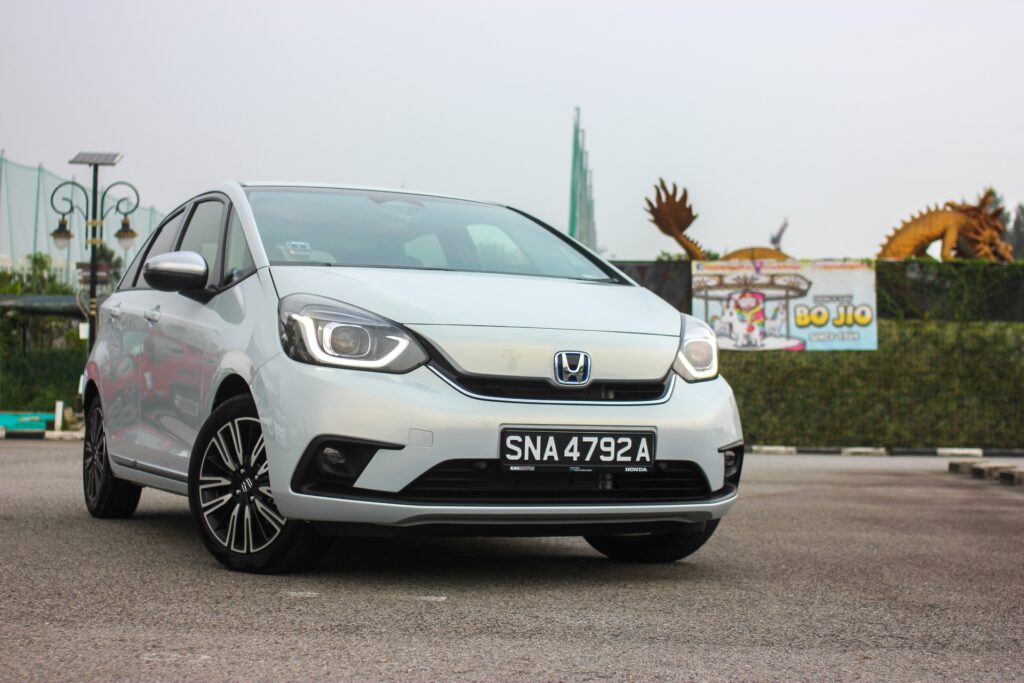 What, made by aliens, was it?
Well, not the "little green men" sort of alien you're thinking of (unless the workers in Honda's Suzuka factory wear green coveralls), but fans of Doctor Who would certainly appreciate one of the Jazz's best-loved qualities since its inception: its TARDIS-like ability to swallow up more stuff than its exterior dimensions would suggest.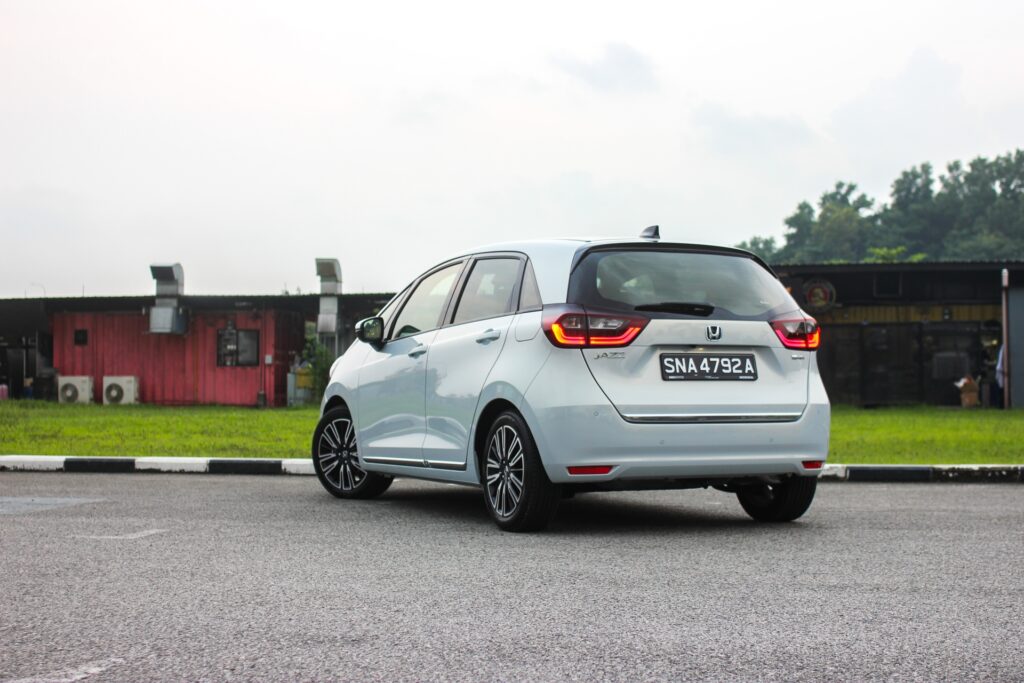 But I'm getting a little ahead of myself. The Honda Jazz is a staple of our roads here and needs no introduction, but this is the latest fourth-generation model, with the main highlights being adorable new styling, a much-upgraded cabin, and the launch of a hybrid model for the first time (regular petrol-only variants are available too).
True to its predecessors, the new Jazz carries on its USP of versatility beyond its size. Its boot has shrunk slightly (50L less than before, at 306L; the Hybrid's is 20L smaller still), but crucially the seats can still fold (mostly) flat, and the Magic/Ultra flip-up rear seats are still present if you need to carry around tall objects that can't be laid down. Could a jazz quartet host a performance inside the Jazz, I wonder…
To give an example of how useful those seats can be, a friend of mine with an older generation of Jazz was regularly able to slot in two mountain bikes standing up while still leaving room for one rear passenger. And on one trip to Malaysia, we were able to load a set of alloy rims on the floor behind the driver thanks to the Magic Seat, again with a friend in the rear and without encroaching on boot space. With practicality like that, who needs a crossover?
That sounds really useful… What other party tricks are there?
Hmm, how does needing to visit a petrol station only once every couple months sound?
The Jazz Hybrid is as reluctant to consume petrol as our resident carnivore Marcus is to consume veggies; Honda claims as much as 26km/L in fuel economy, and I easily managed 23km/L over a couple days of real-world driving. In fact, with a brimmed fuel tank and some parsimonious driving, I reckon it'd be possible to squeeze 1,000km out of the car between fill-ups.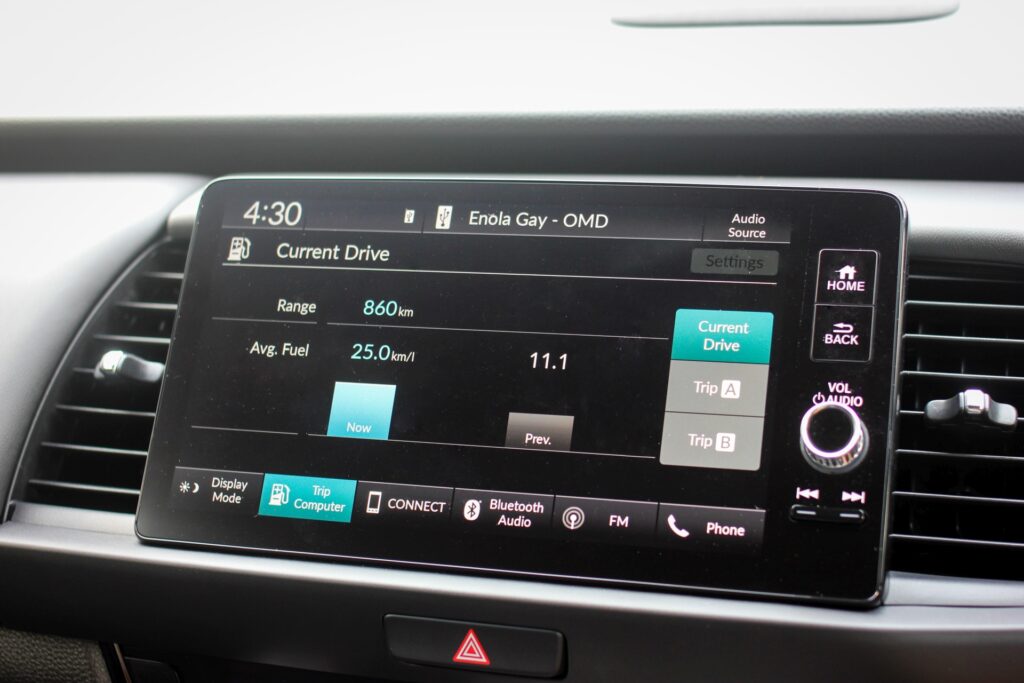 That's all thanks to the car's hybrid system, which functions rather differently from those of rivals':
Mild hybrids like the Suzuki Swift are predominantly still conventional ICE cars; it doesn't have an electric motor powering the wheels, just an integrated starter-generator attached to the engine's crankshaft giving a tiny power boost.
"Normal" — or parallel hybrids like the Toyota Yaris Cross and Prius have a conventional petrol engine and gearbox as well as the motor, and they work either in turns or together, depending on the situation, to move the car.
Series hybrids like the e-Power system used in the Nissan Note and Serena are effectively EVs, because although they do have an engine, it's not connected to the wheels and is used solely to charge the battery.
The Jazz Hybrid's e:HEV system is itself a hybrid (hur hur) of the latter two. In most situations, it behaves like an EV by default, whirring along on electric power alone with the 1.5-litre engine juicing up the battery when charge gets low. But at higher speeds or when you stomp on the go-pedal, a clutch engages and connects the engine to the wheels via what is effectively a single-gear transmission (despite Honda's "e-CVT" term for it).
The advantage of this is that both the motor and the engine can play to their strengths. Electron power is great for low-speed propulsion but suffers too much loss at high speed, while fossil fuel power is more efficient when steadily cruising.
Urrrrgh, too much science! Just tell me how it drives!
Oh, alright. The short answer is: it's pretty good. And if you're a tech hater, the driving experience feels completely conventional, without the annoying quirks that some other electrified cars display.
Mixing and juggling power from different sources can affect the way a car feels — maybe the brakes are a bit lurchy, or the acceleration can be inconsistent, or the engine revs in a weird way. But not so the Jazz Hybrid, which integrates everything seamlessly, and similar to its space, has refinement beyond class standards. 
It's perky and zippy in EV mode, the engine works unobtrusively in the background in electricity-generating Hybrid mode, and in petrol-only Engine Drive mode, the car avoids that dreaded CVT "rubber band" effect that plagues many other hybrids. Granted, the engine sounds very coarse when worked hard, but unless you're giving it literally full beans, it isn't an issue you'd typically encounter.
Away from the drivetrain, the Jazz has a disappointingly bouncy ride, being at once overly-sprung and jiggly around urban challenges like patched-up road work zones, yet also under-damped, using up all its suspension travel and hitting the bump stops over high-speed undulations.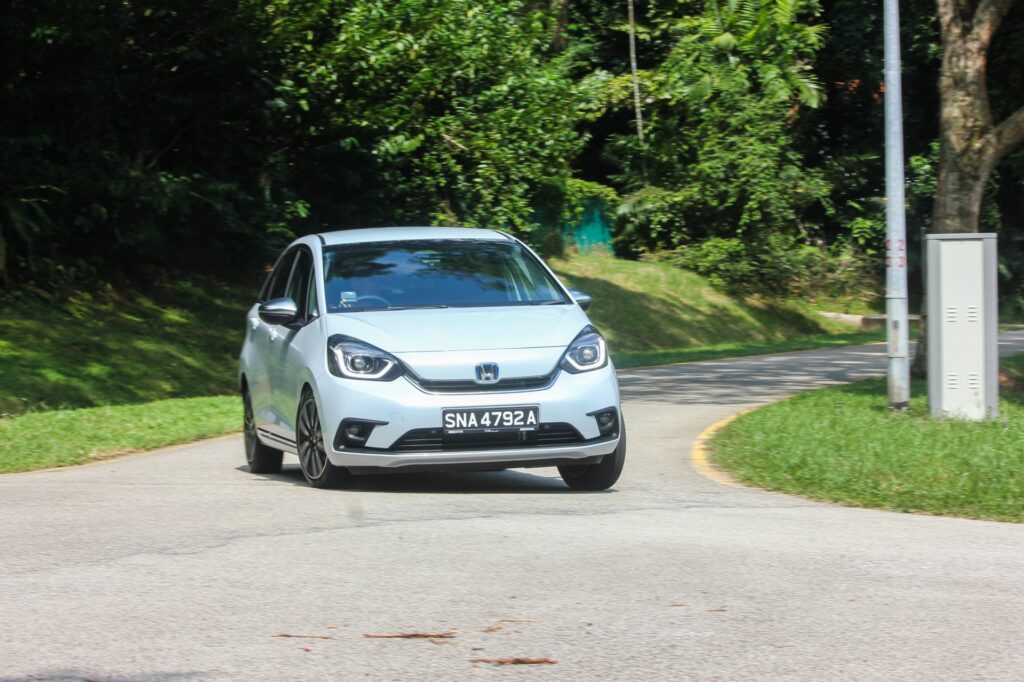 There aren't many outright thrills to be found in the handling department either, but the Jazz always conveys a sense of confidence and sure-footedness, thanks to a reassuringly solid heft in the steering and brakes.
That'll be perfectly up the alley of most, but it's worth noting that while the Jazz was a viable option for keen drivers (especially in sporty RS trim), that's no longer the case now, with less power, more weight, and no option of a manual gearbox.
Meh, the Jazz has always been a safe n' sensible choice anyway. Anything else along those lines?
Oh yes. Ease of use is another Jazz forte, and this is where the new car has improved leaps and bounds. Takeki Tanaka, Project Leader for the new Jazz, said at the car's launch that they designed it to be "like a loyal partner, one that stays by your side every day and supports your daily life."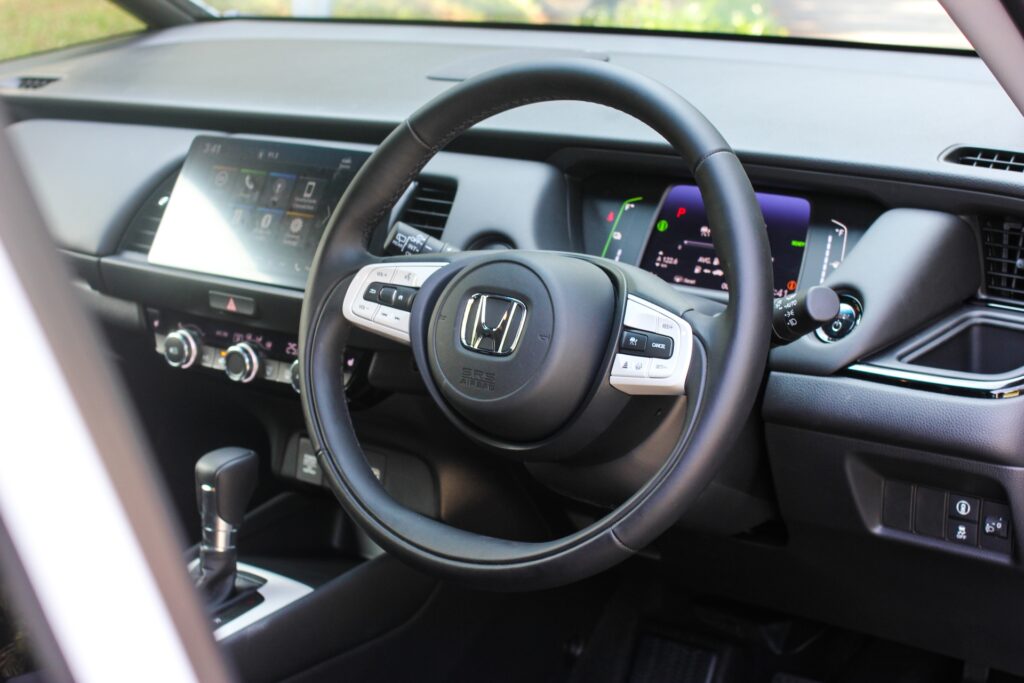 The tiered dashboard has an uncluttered, simplified look to it, and the graphics for the instrument display and 9.0-inch touchscreen are minimalist, straightforward, and easily legible.
Best of all, the shortcut buttons in the infotainment system are big, and there are physical controls for the Home/Back keys, volume, and aircon, which all serve to make operating the Jazz far less of a distraction. As a bonus, they all click with a precision and solidity that isn't far off Audi's standards, and the rest of the interior in general is also built to a high standard. Android Auto and wireless Apple CarPlay are standard, although wireless phone charging is absent.
Safety is taken care of with six airbags, while the Hybrid model gets the Honda Sensing suite of active safety tech, which includes adaptive cruise control, lane keep assist, and collision mitigation braking.
So which is the one to go for?
Well, the Jazz range in Singapore starts with two petrol-only versions, the Base at S$98,999, the Home for S$2k more than that, and then the Hybrid at S$104,999 (all prices including COE and correct as of Jul 2021).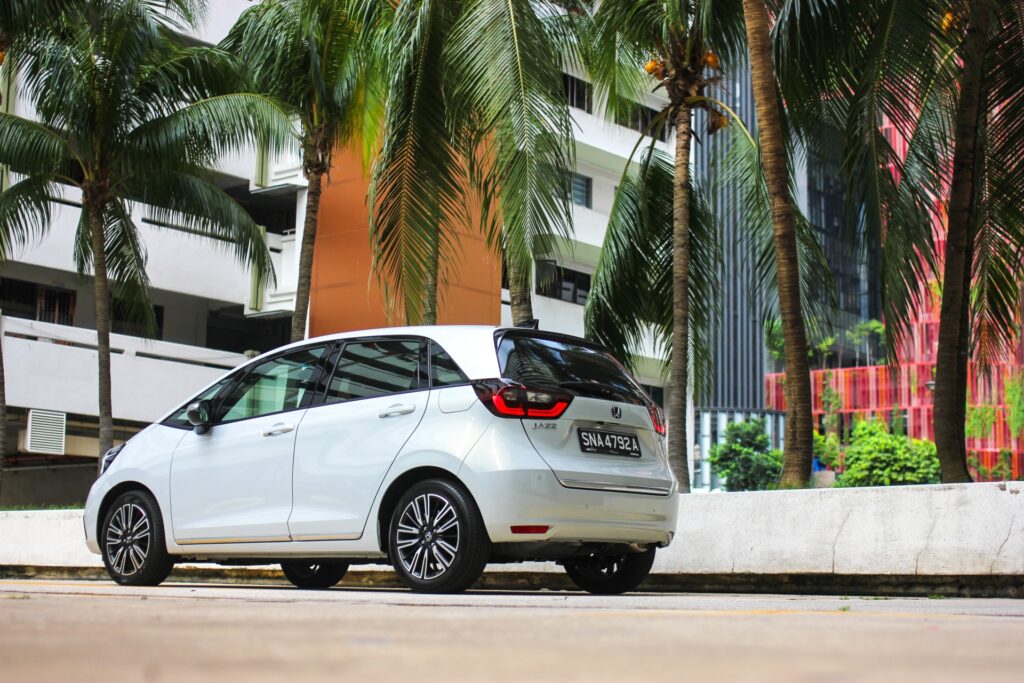 With the Honda Sensing tech and that incredible fuel economy, that really makes the Hybrid the no-brainer given the small premium. Based on Honda's official figures, Singaporean average annual mileage of 13,000km, and current pump prices, the Hybrid would save about S$620 annually in fuel costs alone, which means over the car's lifespan, the extra tech pretty much pays for itself!
Granted, the Jazz costs as much as many saloons, hatchbacks, and crossovers from the size class above, but it really doesn't lose out in terms of space and usefulness. Get one, and like with thousands of Singaporeans before, the Honda Jazz Hybrid will have you humming a very satisfied tune.
Fast Facts
Honda Jazz 1.5 Hybrid Luxe e:HEV
Engine: 1,498cc in-line 4
Power: 126hp @ 3,500-8,000rpm
Torque: 253Nm @ 0-3,000rpm
Gearbox: e-CVT (see text)
Top Speed: 170km/h
0-100km/h: 9.5 seconds
VES Band: A2 (S$15,000 rebate)
Price: S$104,999 with COE
Contact: Kah Motor , 6840 6888
---
Enjoyed this article? Read more reviews of the latest cars here.