Alien face for an earthly space(ship). The Hyundai Santa Fe Hybrid has landed.
---
2001. No, not the movie A Space Odyssey (imagine if this had been a Honda review ha ha), but the year the first Hyundai Santa Fe rolled off the production line. Now in it's fourth iteration, the facelifted Santa Fe Hybrid is definitely a sight to behold compared to the generations that came before.
In its price range, the Hyundai Santa Fe Hybrid competes with the likes of Kia's Sorento, which uses diesel efficiency to achieve good fuel economy, and Mazda's CX-8, which has a non-hybrid petrol engine.
Alien face
The Santa Fe Hybrid's face is definitely a talking point and one that's very distinct in this category.
Fellow colleague and Art Director Joseph noted how the positioning of the daytime running lights or DRLs make them look like headlights while the headlights look like foglights, and Senior Graphic Designer Lin liked how the DRLs uniquely appear to 'pierce' through the bodywork and 're-emerge' into the headlight housing in a stylized 'T'.
The headlights themselves are powerful, casting a wide and bright beam on low, and pierce the inky darkness of an unlit road on high beams, leading this author to remark to himself that these could very well be the most powerful headlights he's ever experienced thus far. The lack of front foglights was definitely not missed.
Round the side, one finds the Santa Fe Hybrid sitting on beefy-looking 19-inch rims wrapped with 235/55 R19 Continental PremiumContact 6 tyres. Considering that this SUV does not ride on air suspension, the ride comfort is excellent, with the Santa Fe Hybrid shrugging off bumps, humps, rutted gravel tracks and the pockmarked Pasir Ris Drive 3 with ease.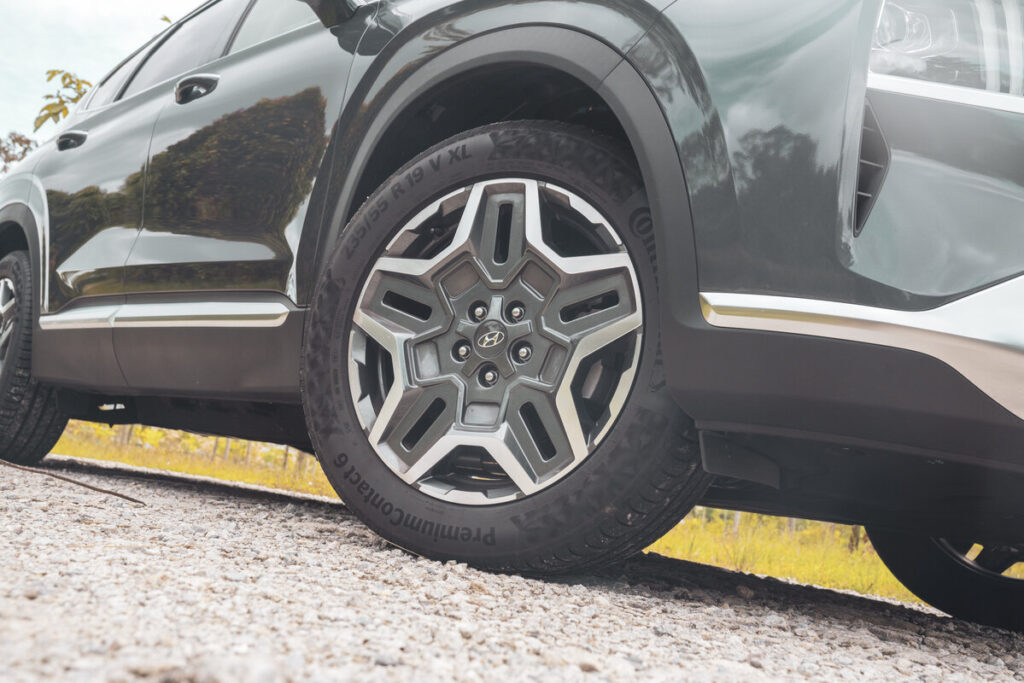 At a cruise, road and wind noise are well controlled, leading to a nice and quiet cabin where conversations can easily be had on the highway.
Earthly space(ship)
A good family SUV needs boot space — LOTS of boot space. With the 3rd row of seats down, 571 litres of cargo space is available for prams, groceries et al. While it may not swallow the Starship Enterprise, dropping the 2nd row liberates in excess of 1,700 litres of carrying capacity to allow parents to do an Ikea AND Giant run on the weekend. The load lip is flush with the boot floor, enabling bulky items to be easily slid into the boot.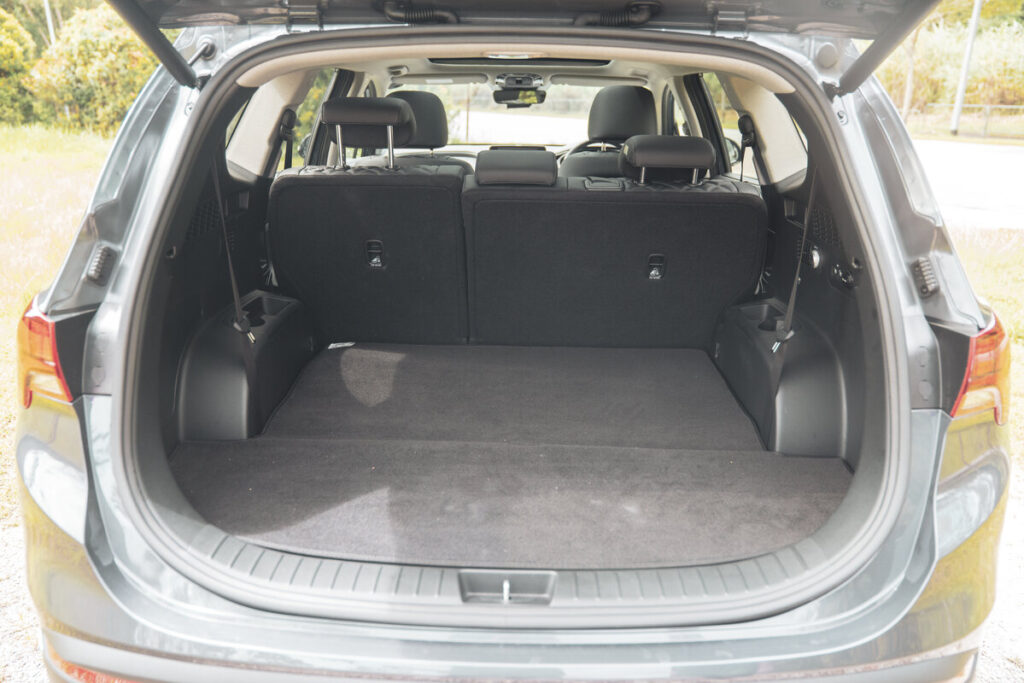 That third row of seats is actually usable, but best by children. If average-sized adults need to sit back there to and from an office lunch excursion, the 2nd row of seats can be slid forward to liberate more legroom. Moreover, occupants back there aren't left feeling like third-class passengers, being endowed with their own cupholders, air-con control and vents, and USB and 12V power outlets.
With the 2nd row of seats slid back to the regular position, this longer-of-limb and shorter-of-torso 182cm tall reviewer can comfortably sit behind his own driving position with knees barely touching the driver's seat-back, and stay cool thanks to aircon vents at the back of the centre console.
Upfront, the driver and passenger enjoy modern conveniences found in more expensive vehicles. Those seats are electrically adjustable, with two memory settings for the driver, and also feature bum-and-back roasters and chillers aka heated and cooled seats.
And just in case anyone thinks that bum roasters won't come in handy in hot and humid Singapore, one of this author's Aussie friends begged to differ as she set the bum roaster on medium and the passenger-side of the dual-zone aircon nice and cool as the mini road-trip on various highways progressed. This author, on the other hand, being always hot and sweaty, had the bum chiller on full blast during the test drives. NAISE.
Same goes for the panoramic sunroof. Colleague and fellow automotive enthusiast Joel Tam and this author vigorously agreed during a shared test-drive segment that neither of us could purchase personal cars without panoramic sunroofs anymore. They let natural light into the cabin, even with the high noon sun, and lift the spacious feeling on the inside by magnitudes. At night, they make the interior feel more cozy under street lights streaming by.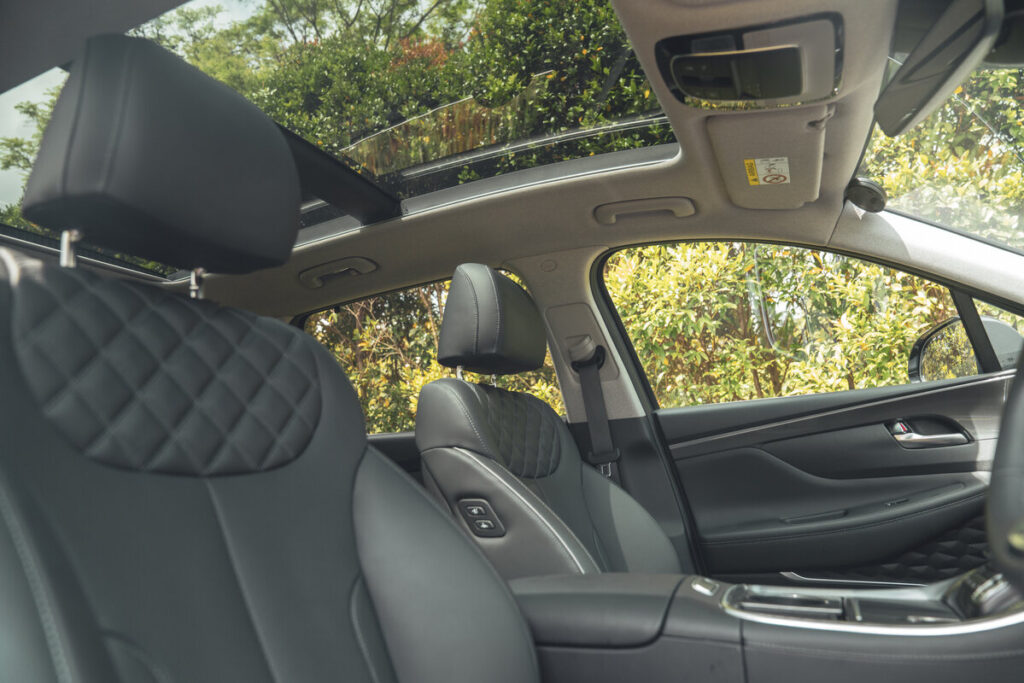 Beam me up, Scotty!
Connecting one's smartphone via Bluetooth to the Santa Fe Hybrid's infotainment was a cinch. Although neither Apple CarPlay nor Android Auto were employed during the test-drive, streaming music, making phone calls and listening to GPS guidance via the phone was a straightforward affair. There's a wireless charging tray that sits vertically in the centre console, and a 6.7-inch OnePlus 9 Pro in a sandstone case stood just about flush with the surface of the centre console when set into said tray.
Buttons and toggles for the car's various functions, including gear selection, are neatly laid out on the central tunnel, although one minor niggle is that the Auto Hold brake function needs to be re-enabled every time the car is started. For the duration of the drive, the Santa Fe Hybrid was left in 'Smart' using the drive mode dial, with the other modes being 'Comfort', 'Eco' and 'Sport.'
A nifty feature that other manufacturers should learn to adopt is the side-view camera that turns on in the instrument cluster when the respective turn signal is activated. Even though shoulder checks are simple and unimpeded, this feature helps the driver gain more confidence that nothing was missed during shoulder checks.
The Santa Fe Hybrid also comes with adaptive cruise control, or what Hyundai calls "Smart Cruise Control," which unfortunately could not be tested due to a faulty front sensor. The standard-fit heads-up display, on the other hand, came in useful to monitor speed, especially around speed camera zones.
Impulse power
Under the hood sits a 1.6-litre turbocharged inline-4 internal-combustion engine (ICE) mated to a 44.2kW or 60hp electric motor, the latter powered by a 1.49kWh lithium-ion polymer battery pack. Together, they put out 227hp and 265Nm of torque, sent to the front wheels via a 6-speed automatic transmission.
Hyundai claims a combined-cycle fuel economy of 5.5-litres/100km. Let's put things into perspective in the real world with this rather heavy right-footed (and -handed) author at the helm.
This author's motorcycle, a 177kg 373cc single-cylinder KTM Duke 390 regularly averages around 3.33-litres/100km or 30km/l. The non-hybrid 1.3-ton Audi Q2 from a previous article averaged 6.4-litres/100km or 15.6km/l over a weekend's test-driven distance of 604.8km. During the 3-day-2-night weekday test drive, the 1.9-ton Santa Fe Hybrid managed an astonishing 5.8-litres/100km or 17.2km/l averaged over 479.7km. This also means that 1,000km of range from the 67-litre fuel tank is very possible.
Again, it bears reminding that this author is anything BUT frugal in his driving style, with quick and smart acceleration from traffic lights and triple-digit highway cruising speeds being par for the course.
A significant portion of the test drive was devoted to sitting in evening rush-hour traffic that flowed anywhere from freely to heavy stop-and-go. On certain segments of both the street and highway drives, the Santa Fe Hybrid respectively either matched or bettered Hyundai's claimed numbers, and there is little doubt that if driven more sedately, the economy figures would be even more impressive.
The reason for this lies in how the hybrid system works. At a standstill, as expected, the ICE shuts down, leaving the various systems to be powered by the battery pack. Also expectedly, the ICE shuts down while gently cruising on the streets, leaving the Santa Fe Hybrid to operate as an electric vehicle or EV.
However, under steady-state cruising on the highway, even at triple-digit speeds, the ICE can and does shut down, again leaving the Santa Fe Hybrid to roll along as an EV. The implementation of this changeover from ICE to EV and vice-versa is seamless, and only a green 'EV' indicator on the instrument cluster told this author that the Santa Fe Hybrid was putting along solely on battery power.
As usual, the obligatory "your mileage may vary" disclaimer applies.
Being serene, comfortable, frugal and easy to drive and park, there is so much to like about the alien-faced earthly space(ship) that is the Santa Fe Hybrid. Should you decide to commit, the sunroof version is the one to go for.
Fast Facts
2021 Hyundai Santa Fe Hybrid Sunroof
Engine: 1,598cc in-line 4, turbocharged
Power: 227hp @ 5,500rpm
Torque: 265Nm @ 1,500-4,500rpm
Gearbox: 6-speed automatic
Top Speed: 187km/h
0-100km/h: 8.9 seconds
VES Band: A2 (S$15,000 rebate)
Price: S$205,999 with COE
Contact: Hyundai Singapore
---
Enjoyed this car review? Read other similar reviews here!