MPVs have been on the wane in recent years, no thanks to the proliferation of SUVs, which makes the introduction of the new Kia Carnival here a BIG deal. Quite literally.
---
Fitness for purpose is a hallmark of good industrial design; products exist to fulfill users' needs, so it stands to reason that the better product is the one that does a better job of fulfilling those needs.
Which is why I find it baffling (and indeed, lamentable) that MPVs (multi-purpose vehicles) are increasingly losing out to 7-seater SUVs (sports utility vehicles). According to the LTA for example, new car market share for MPVs nearly halved from 27% to 14% between 2019 to 2020.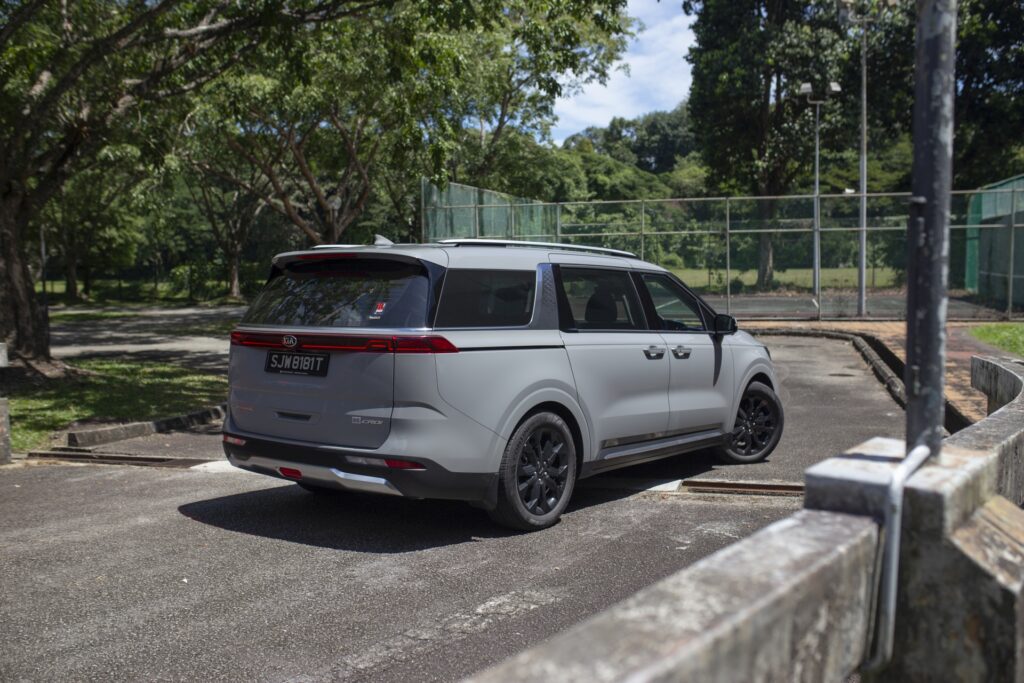 But why? After all, when it comes to the need of moving people around, an MPV is the ultimate choice, seeing as that's the purpose it was expressly designed for (hence the term "people carrier"). And this, the gargantuan new Kia Carnival, is perhaps the ultimate example of the breed. But is it good enough to make MPVs desirable again?
But MPVs just look ugly and uncool!
To which I say: you'd have to be pretty vain to knowingly sacrifice practicality and comfort of your passengers just for 'cool factor'.
In any case, vanity is a major human trait, which is why car manufacturers have made efforts to design some pretty sleek-looking MPVs in the past: the 3rd and 4th-gen Honda Odyssey for example, or the Mitsubishi Grandis, or the upcoming Hyundai Staria.
The Kia Carnival follows along these lines, looking not at all van-like. In fact it's rather capitulated to the SUV-loving crowd, having been endowed with some SUV styling touches, like the massive wheels (235/55 R19!), accentuated wheelarches, roof rack, and faux bash-guards along the lower reaches of the bumpers.
Elsewhere, the Carnival almost seems to take pride in its mammoth size. At 5,155mm long and 1,995mm wide (without mirrors), it's far and away the largest MPV here (indeed, the largest car you can buy under S$500k), and scant effort has been made to disguise that bulk, with straight, chiselled lines and slab surfaces being the theme all around the car.
Together with the black wheels, angular light signatures and toothy grille, the Carnival cuts an imposing and outdoors-ready figure, a distinct difference from the "tallboy" looks of Japanese rivals like the recently-facelifted Honda Odyssey and Toyota Alphard/Vellfire.
Right, so if it has form, that means it's sacrificed function, right?
Not even close. WIth the sheer amount of car there is here, it'd be downright impossible for the Carnival to be any less functional than the competition.
Here is a car that very firmly puts passengers first and the driver second. The Carnival is available in a traditional 8-seater (S$6,000 cheaper) arrangement with a three-abreast middle row, or a more luxurious 7-seater one with dual captains' chairs, and it's the latter we have here.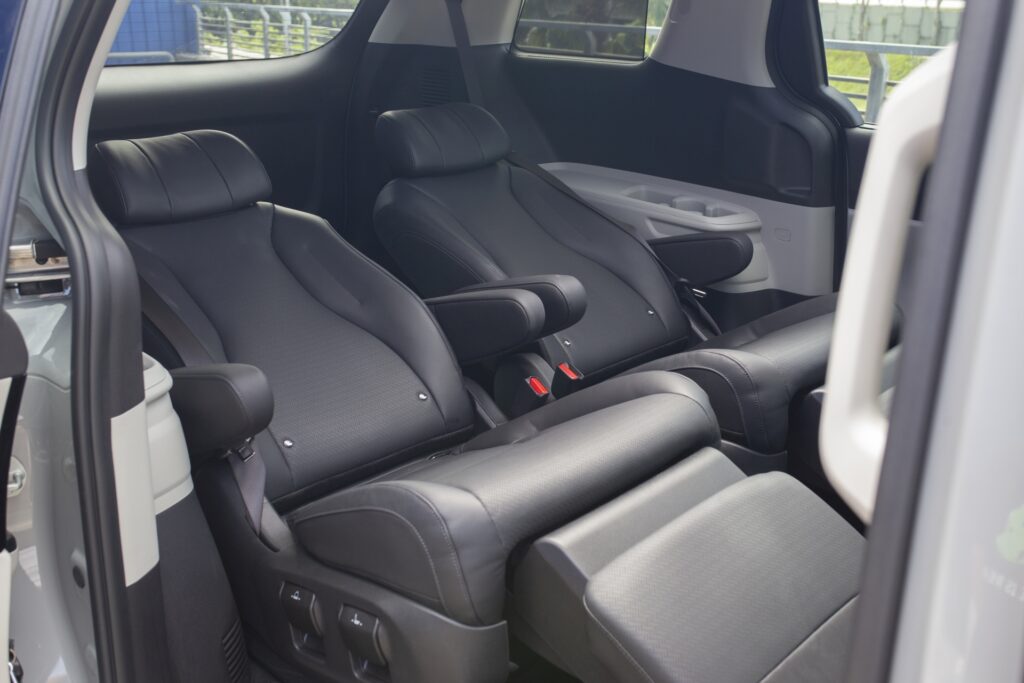 If you have a serious longing for air travel, perhaps consider a ride in a 7-seater Kia Carnival, as it's the closest we'll get to business class for a long time. Fore-aft and side-to-side adjustment of those middle seats are achieved via manual levers, but buttons and electricity take care of the reclining — all the way to an almost flat position, and complete with flip-up leg-rests. As a bonus, there's ventilation and heating functions too. If there's a more comfortable way to travel on four-wheels, we haven't found it yet.
The third row, meanwhile, is more or less equivalent to the rear of a typical compact car — which means generous amounts of head, leg and foot room for even the tallest people, and all-important aircon vents and integrated window shades ensure that there's no temperature-related discomfort either.
Niggles? Well, as with any car with three-abreast seating in the last row, shoulder room is at a premium, and the tracks for the middle row seats are quite exposed, so we wonder how long it'll be before they get clogged up with dropped stuff like Cheerios, beads, gravel, and who knows what other detritus kids can conjure up. We also wish there were a few more cubbies and storage solutions up front, although the central armrest box is brilliantly massive.
Third row seating is where an MPV comes into its own compared to SUVs, which are inherently compromised by virtue of their taller ground clearance. This in turn raises the floor height, which not only impedes ingress, but pinches footroom, headroom, and often boot space too. As a result, no SUV, not even Kia's brilliant own Sorento, can ever be as versatile or easy to live with as an equivalent-sized MPV.
But an MPV still only has the same amount of seats; how much more versatile can one be?
Oh ho ho ho, if that's your mindset, prepare to be astounded by the Kia Carnival.
In most three-row cars, carrying humans and cargo is usually an either/or choice. The Carnival on the other hand, asks, "why not both?". With a 627-litre boot when all seats are in place, the Carnival will out-haul pretty much any other car out there, for example being able to fit eight standard carry-on suitcases stacked up, four (or more) golf bags, a kid's bicycle, or a baby stroller (unfolded).
That's all thanks to the deep boot recess into which the third row seats fold away, which enables transport of very tall items. Seat stowage is a conveniently simple affair, with a spring-loaded mechanism allowing the seats to go up and down with just one hand:
With that out of the way, you then get a completely flat load floor into which you could wheel bicycles standing up, or turn into a makeshift play or nap area for your kids when out on a picnic. The flexibility of the space is limited only by your imagination.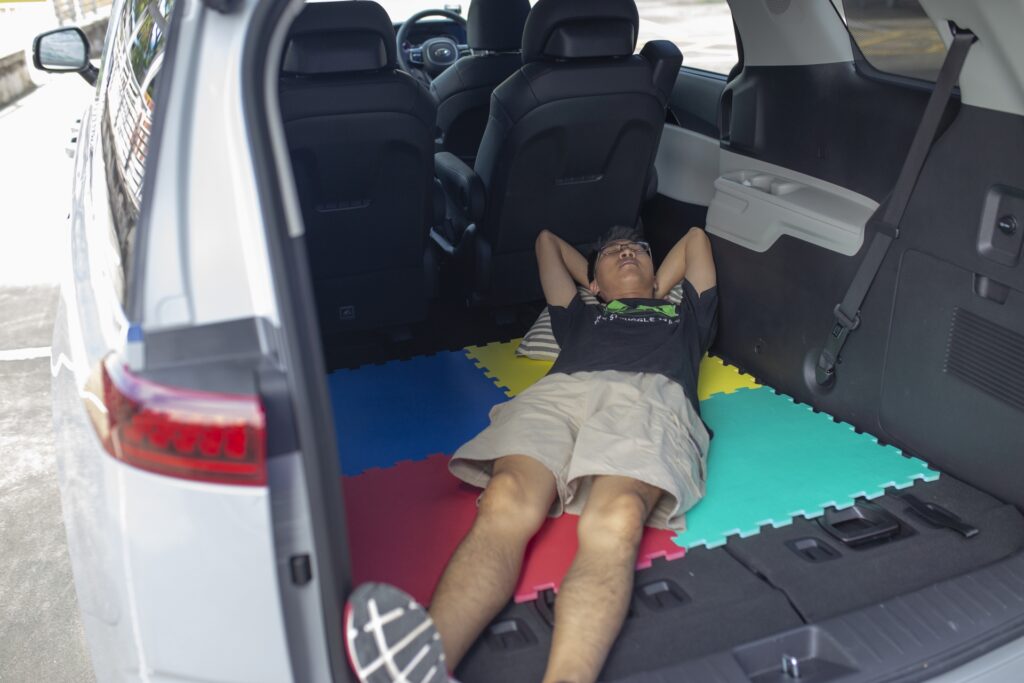 Waaah, it's like a HDB flat on wheels… Bet it drives like one too.
If you mean that the Carnival is biiiiig, then yes. You do need to have good spatial awareness and it takes up the entire length of a parallel street parking lot, but it does have a 360-degree camera and a surprisingly decent 11.7m turning circle (same as the much smaller Mercedes GLB crossover), so those help.
If you mean that the Carnival handles like a boat though, then, well, sort of. For starters, when unladen the ride is surprisingly choppy for something with such balloon-like tyres, which is highly unexpected considering how pillowy the Sorento was. A consequence of suspension tuned to accommodate full loads? Perhaps.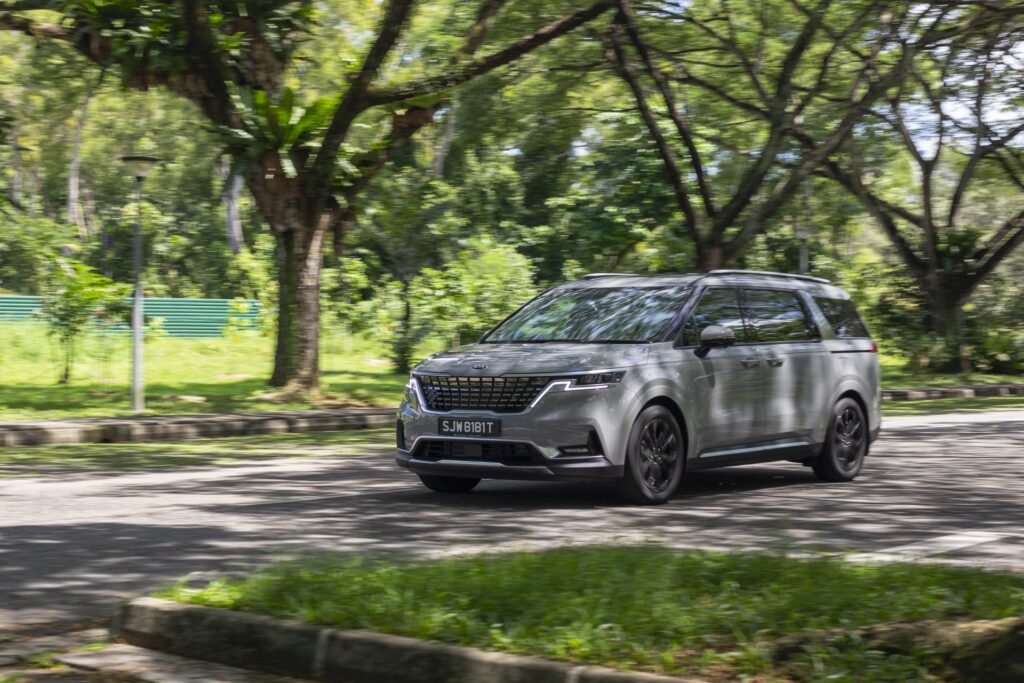 Otherwise, the car is stable as a cruise liner at speed, and about as refined too. It shares its 2.2-litre diesel engine with the Sorento and like it, is hushed, unobtrusive, and also punchy enough to make quick work of the Carnival's 2.2-tonne weight. In fact at low speeds, it's even smoother to drive, with Kia fitting an 8-speed auto to the Carnival instead of a dual-clutch transmission, which made the Sorento vexingly jerky while maneuvering.
The cherry on top of the Carnival's easier-to-drive-than-it-looks cake is the multitude of active safety tech aboard. With adaptive cruise control and lane following assist, the Carnival can pretty much cruise along and keep itself centered in the lane on expressways, removing much of the stress while driving.
Then there's also the peace of mind that you get with forward collision avoidance (detects vehicles, pedestrians, cyclists, and when turning across junctions too), blind spot detection, rear cross-traffic alert, and safe exit assist (keeps the rear doors closed if there's a vehicle coming up behind); safe in the knowledge that even if you can't see beyond the Carnival's dimensions, the car probably can.
Ok, this is all starting to sound a bit too perfect; what's the catch?
Well, unfortunately it's quite a big one: price. The Kia Carnival starts at S$200k. But before you close your browser tab in disgust, consider this: you're getting full-on luxury car levels of tech and features aboard the Carnival.
In addition to all the active safety equipment and the sheer luxury of space, there's also dual sunroofs, sunshades for all four rear windows, ventilated front seats, wireless charging, Apple CarPlay and Android Auto, and electric sliding doors and tailgate. You can even remotely start the engine using the key fob from 150m away, to get the aircon running before you reach the car!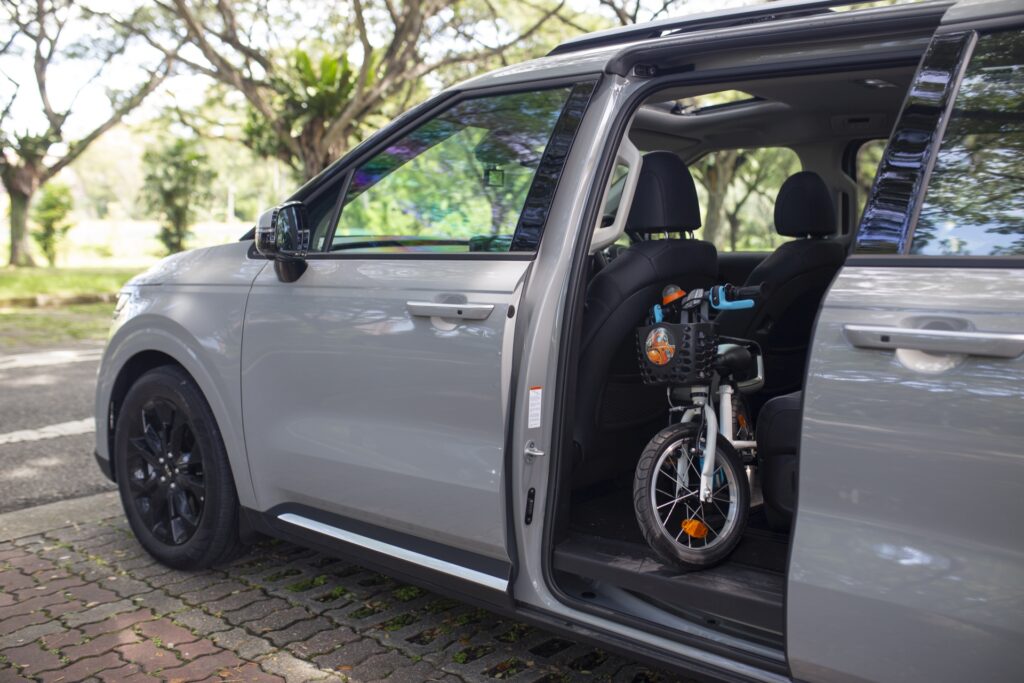 And while we're talking about luxury, it's worth noting that in Korea, the Carnival is also offered in an ultra-lush four-seater Limousine spec, for all those chaebol chairmen who find a Mercedes S-Class just that bit too cramped. Watch out Toyota — your Alphard and Vellfire have a worthy competitor now…
So to get back to the original rant, if even titans of industry can look past badge appeal and welcome MPVs for their tangible advantages, hopefully the general public can too. Granted, the Kia Carnival's high price and oversized dimensions make it a bit of a tough sell in Singapore, but there's no better example of the ultimate potential of an MPV. Sometimes, good things just come in extra-large packages.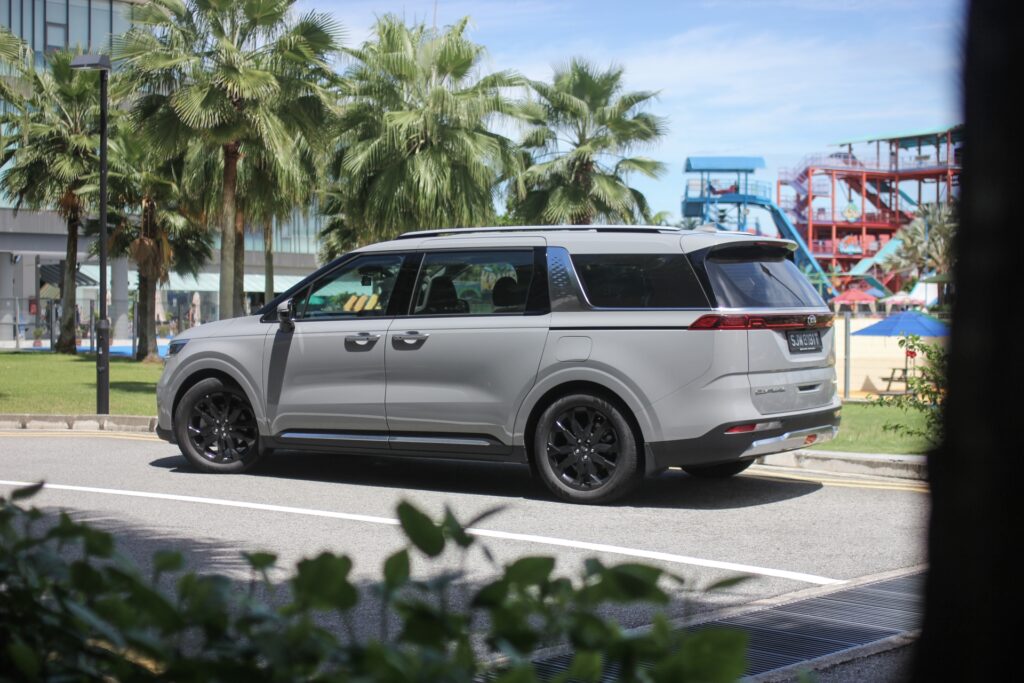 Fast Facts
Kia Carnival 2.2D SX Tech Pack (7-seater)
Engine: 2,151cc in-line 4, turbodiesel
Power: 202hp @ 3,800rpm
Torque: 440Nm @ 1,750-2,750rpm
Gearbox: 8-speed automatic transmission
Top Speed: 190km/h
0-100km/h: 10.7 seconds
VES Band: C1 (+S$15,000)
Price: $206,999 with COE
Contact: Cycle & Carriage , 6866 1666
---
Looking for an 8-seat MPV? Read all about the 2022 Honda Odyssey here.