The popularity of MPVs is on the wane, but the impressive new Kia Carnival proves why they – not SUVs – are the thinking man's (or woman's) choice for family transport.
---
(Un)Fun fact about the 2021 Kia Carnival #1: It costs more than S$200k, no thanks to the latest eye-watering increase in COE prices.
(Un)Fun fact about the 2021 Kia Carnival #2: It takes up as much space on the road as a standard BMW 7 Series or Mercedes-Benz S-Class.
But there's so much to love about the car that you might just be willing to (1) save up a bit longer or divert your holiday funds into your new car budget (who knows when we'll even get to travel again anyway?), and (2) work on your spatial awareness skills if it means you get its keys in your hand.
After an absence of 13 years, Kia's popular people-mover finally made a comeback to Singapore this week, giving drivers with extensive broods a more spacious and uncompromised alternative to typical family sport utility vehicles.
The Carnival has a certain blocky, aggressive style that holds its own against SUVs too, with chunky, chiselled lines and a swept-back, elongated profile. It's certainly come a long way from the bulbous, van-like looks that the last locally-sold version wore: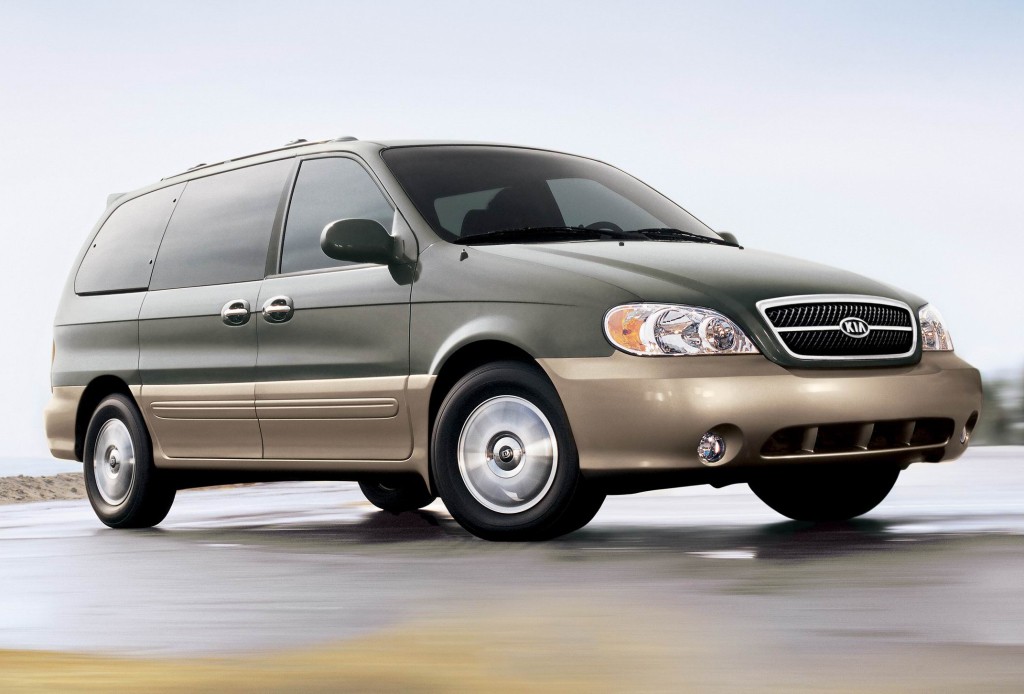 The basics up front
The Kia Carnival is available in Singapore in two versions, an 8-seater priced at S$205,999 with COE, and a slightly more luxurious 7-seater which costs S$6,000 more. Both are the SX Tech Pack trim level, which means they share the same extensive equipment list.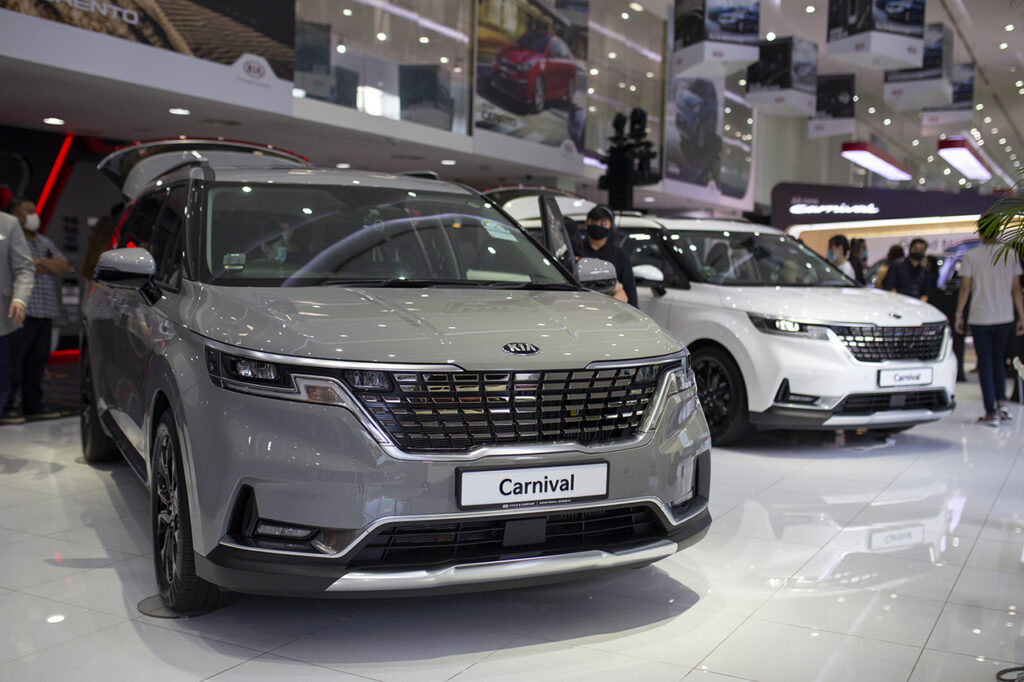 There's only one engine choice, a 2.2-litre four-cylinder diesel with 202hp and 440Nm of torque. Selling a car that needs filling with the black nozzle at petrol stations might sound contrary to the agenda the LTA and NEA is starting to push, but Kia didn't have much choice as the only alternative is a 3.5-litre petrol V6. In any case, the diesel is quite economical, with an official fuel consumption figure of 14.5km/L.
That's pretty impressive given how massive the car is — over 5.15 metres long and just under 2 metres wide.
Party in the back
All that size means the Carnival is truly a car that prioritises its passengers. The party starts even before you get in; press and hold a button on the key fob and the doors and tailgate open automatically, perfect for your kids to clamber aboard while you load up the boot. Or if you want to make a quick getaway after a bank robbery… We won't baotoh, we promise.
The sole difference between the two variants is in their second row of seats. The 8-seater version has three seats which can be slid, removed, or turned around individually. Kia suggests folding down the middle seat to turn it into a table (complete with cupholders), or flipping it around to put it into Child Care mode. This is because the underdeveloped necks of young children don't cope well with frontal crash forces (think of how the human neck jerks forward in a collision), which makes rear-facing child seats safer for little ones. Take note though, these seats are really heavy, so you probably wouldn't want to be reconfiguring them too often.
Opt for the 7-seater Carnival on the other hand, and the middle row gets swapped out for a pair of electrically-controlled and heated/cooled VIP Lounge Seats. They can slide sideways to create an aisle to get to the back, or be pushed inwards and backwards to create a truly business-class like arrangement; a feeling that's reinforced by the one-touch "relaxation mode" which reclines the seat almost horizontally and brings up a leg rest too:
Further back, the third row is spacious enough for even 1.8-metre tall me to be comfortable with head and legroom to spare, and there are all-important aircon vents and integrated window shades to keep the heat out.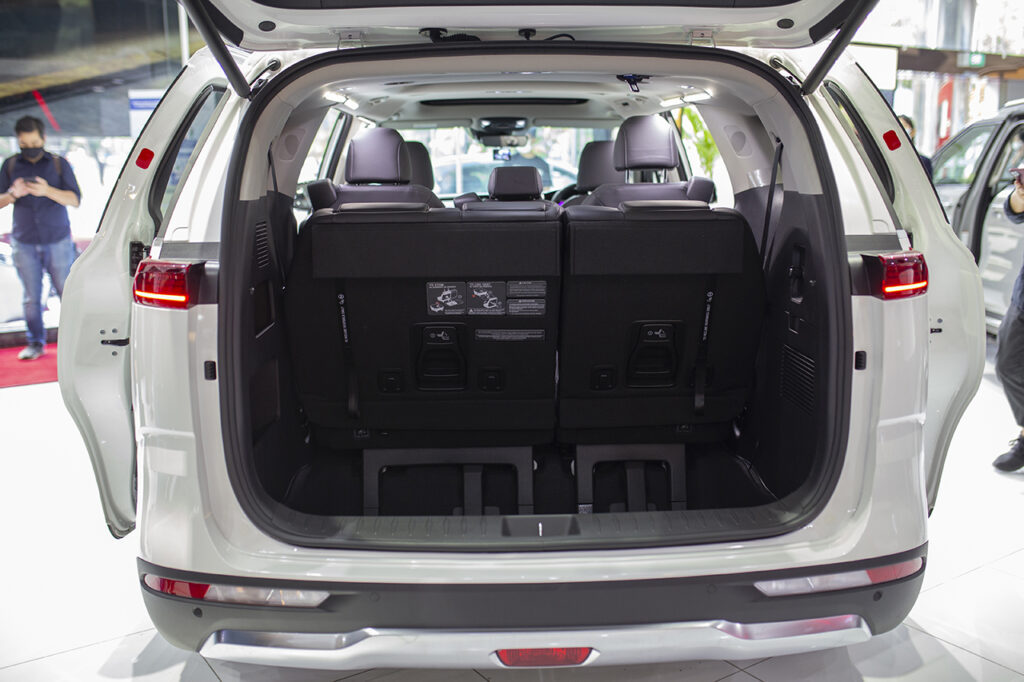 Finally, the 1.13-metre long rear overhang means there's an incredible 627-litres of boot space, even with all seats up, but if you somehow need even more, stowing the third row away is a surprisingly easy single-handed affair:
Toys all around
For over $200k, you'd expect the Carnival to have everything including the kitchen sink, and boy does it deliver (well, not literally — can you imagine what a nightmare the plumbing would be?).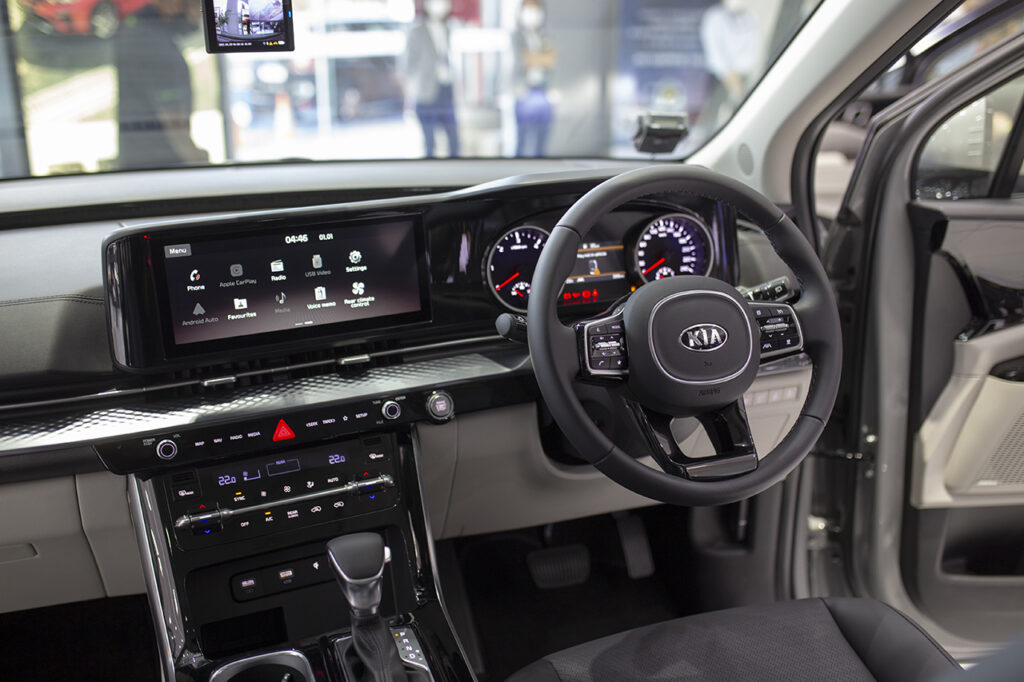 Highlights for the driver include heated and cooled memory seats, wireless phone charging, a 360-degree parking camera, and adaptive cruise control, while safety features include seven airbags, front and rear collision avoidance assist, and Safe Exit Assist which keeps the sliding door closed if it detects a vehicle coming up behind.
Meanwhile, passengers can enjoy three-zone climate control, USB chargers in the back of the front seats, front and rear opening sunroofs, and a plethora of storage bins to lose stuff in.