19 years ago, the original Sorento marked the beginning of Kia's transition from bargain basement dweller to mainstream player. Now, the latest Sorento edges that evolution into premium status.
---
Korean cars — for a long time, a fairly consistent source of derision in the auto industry. Remember such highlights as the Kia Sephia, Hyundai Excel or Daewoo Leganza? Of course you don't.
Koreans used to be cut-price versions of already average mainstream cars – nothing special about them apart from price; they were the four-wheeled epitome of a white good. In the past couple decades though, things have changed. Beginning with the original Kia Sorento from 2003, and the Picanto a year after that, Korean cars started gaining capability and character, making them something you'd want to buy because you wanted to, not because that's all you could afford.
Fast forward to today, and you might instead call them cut-price versions of premium and luxury cars – cars with an aspirational allure. Want a stylish and dynamic rear-drive sports sedan? Don't buy a BMW, buy a Kia Stinger. Want a feisty yet practical hot hatch? Don't buy a Golf GTI, buy a Hyundai i30N. Want a spacious and clever family sport utility vehicle? Don't buy a Mercedes-Benz GLB, buy this, the new fourth-generation Kia Sorento.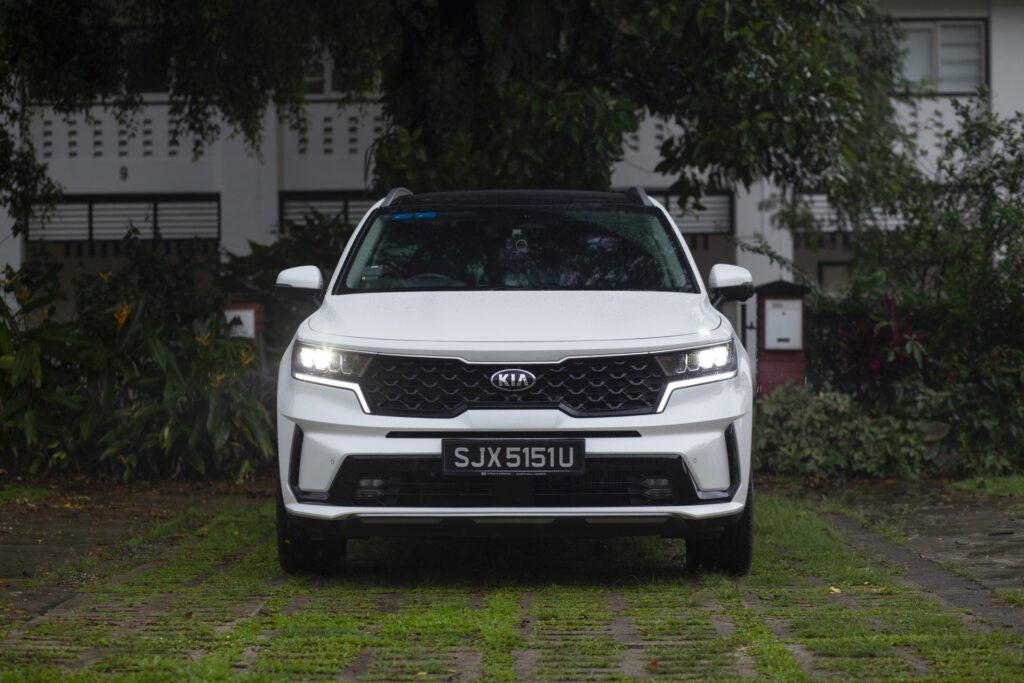 This hulking seven-seater SUV represents something different from what we're used to in Korean cars, going big on comfort, refinement, safety and convenience tech, while still maintaining that trademark Korean value-for-money factor.
Let's start off with the way it looks. The new Sorento doesn't look like it was styled, it looks like it was hewn. Like from a solid block of block of steel. Its design is very American, all straight lines and chiselled surfaces, with an imposing full-width grille and Ford Mustang Mach E-resembling taillights. Standing out from the crowd (in a good way) is one of the allures of premium motoring, and the Sorento is a far cry from the bland, anonymous compact Korean cars of the '90s.
Hop inside and you'll find the interior aesthetic follows that of the exterior, with a chunky Tonka Toy look and rugged build quality (the beefy door grab handles are particularly reassuring) that's entirely fitting for the image of a large SUV.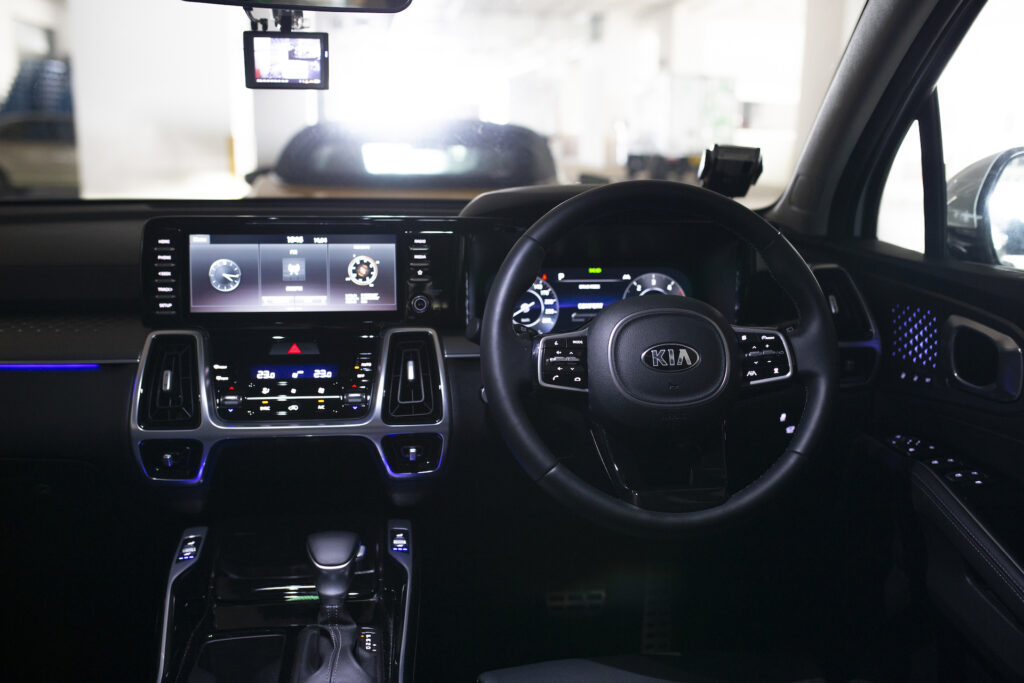 Which makes it something of a surprise to be confronted by so much sleek tech in front of you: a 10.25-inch infotainment screen with Apple CarPlay and Android Auto, touch-sensitive buttons for the aircon controls, and the pièce de résistance, the 12.3-inch digital instrument cluster.
Change the drive mode and the dials change their design with it, but rather more impressively, the speedometer and tachometer switch to show the view behind you whenever you hit either of the indicators. Called the Blind Spot View Monitor, it makes use of the wing mirror-mounted cameras (which are already there for the 360-degree parking view) to show what's in your blind spot. It works brilliantly and is a really efficient use of existing hardware, which makes us wonder why more car manufacturers don't have something similar in place.
That's not the only way the Kia Sorento helps keep you from crashing though. This SX Tech Pack model we tested comes will all sorts of other active safety systems that can warn you of an imminent crash and even brake for you (forward collision-avoidance assist), and even partially drive for you by maintaining a gap to traffic in front (active cruise control) and keeping you in the middle of the lane (lane keep assist).
Toys and tech may be one of the hallmarks of luxury, but so too is space, and this is something your family will probably appreciate much more. Given the Sorento's size (it's 4.81m long and 1.9m wide), it's no surprise that "cramped" isn't in its lexicon, but it's still worth noting that the third row is habitable even for taller folk (I'm 1.8m tall and found it adequate). Furthermore, getting in there is a doddle as well, with the middle row springing forward at just the push of a button.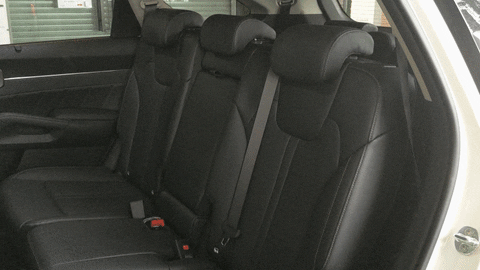 Similarly, you won't find much trouble if you have lots of cargo either. With the third row folded away there's a cavernous 616-litres of boot space, more than enough for a full set of tyres (making the Sorento an ideal company car for AutoApp's tyre change concierge service):
Knock the middle row down too (at the push of a button no less) and the load bay expands to a van-like 1,996-litres, allowing it to swallow a bicycle with front wheel still attached: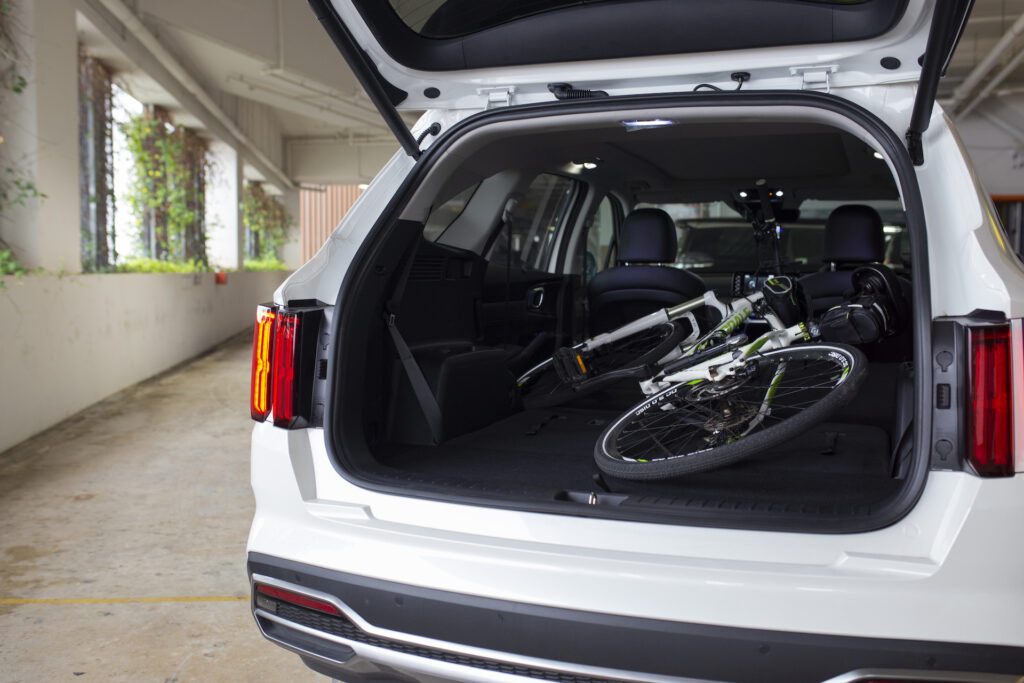 Even more impressive though, are the amenities onboard. In addition to the all-important 3rd row aircon, all trim levels also get a panoramic sunroof, wireless phone charging, retractable window shades, USB ports in the front seat backs, and storage cubbies galore. The one between the front seats for example, is deep enough for the large cans of Arizona Tea to stand up in, or approximately the height of a 500ml drinks bottle.
Where the Sorento gets closest to a true luxury car however, is probably when it's on the move. Riding in the Sorento is like riding on a cloud – the balloon-like tyres and supple suspension ironing out all road imperfections to the best of pretty much any other car with conventional steel springs.
It's as serene as a cloud too, with virtually no noise at all from the road surface or other traffic permeating the cabin; the only thing you hear is the tiniest ruffle of turbulence from around the wing mirrors. Not once in this post-COVID world have I yearned to take a car on a long road trip as much as this.
The Sorento is so refined that you wouldn't even know what was under the bonnet unless you were standing next to it. It's actually powered by a diesel engine, but so insulated is the Sorento that none of the characteristic diesel clatter wends into the cabin. And being a diesel, cruising and acceleration is effortless, with stout pulling power across the rev range. Needless to say, fuel economy is astounding, with Kia claiming over 17km/L, and a real-world range of over 800km per tank.
If there's one fly in the Sorento's otherwise faultless ointment, it's its price. The version you really want, the SX Tech Pack, costs $195,999 with COE, a good chunk of change more than its closest competitors like the Skoda Kodiaq, Mazda CX-8, and Seat Tarraco. It does undercut the Mercedes-Benz GLB200 however, yet does just about everything better.
If you're willing to forego all the nifty safety tech as well as the digital instrument display however, the basic Sorento SX can be had for S$168,999, yet retains all the practicality and amazing refinement of its more fancy sibling.
The Kia Sorento may not be cheap, but its capabilities are plenty enough justification for its price. Certainly better to think of it not as "expensive for a Korean car", but rather, "cheap for a premium one". If this is an indication of how Korean cars are going to be over the next few years, then there's going to be plenty for us to look forward to.
Fast Facts
Kia Sorento 2.2 SX Tech Pack
Engine: 2,151cc in-line 4, turbodiesel
Power: 202hp @ 3,800rpm
Torque: 440Nm @ 1,750-2,750rpm
Gearbox: 8-speed dual-clutch transmission
Top Speed: 200km/h
0-100km/h: 9.0 seconds
VES Band: B (neutral)
Price: $195,999 with COE
Contact: Cycle & Carriage , 6866 1666