The Audi A8L is for the discerning businessman who wants luxury and comfort wrapped up in a sleek executive saloon.
---
Let's face it, at some point in our lives, we would all concede and put away all of the fast-performance cars back into the toy cupboard, longing for a comfortable cruiser that can get us to places in quiet relaxation. These luxury cruisers ooze pantomime and comfort, but might sometimes be packed up in big commanding land yachts that may be great to be chauffeured in, but not as engaging to drive.
Well, Audi might have a solution for the folks who still want that quintessential driving sensation, and it's called the A8.
Business-class looks
As with other Audi models in the current lineup, the A8L shows up to the party with sleek and sharp looks.
With its latest facelift, the A8L now has a new front fascia that features redesigned LED headlights, a classier-looking Singleframe grille, and new canard intakes. The rear is a little more subtle with its updates, with new tail lamp signatures.
Audi didn't swap out much of the A8L with this refresh, but why should it? The fourth-generation A8 already looks darn good, and I appreciate that they didn't go overboard with looks that already work, unlike some other brands.
Upmarket seating for four
Being inside the A8L is like being cocooned in a tranquil suite of luxury. Audi has really put in work to ensure such an experience, and between the remarkable cabin insulation, a wealth of plush materials and retractable rear window blinds, one couldn't care less about what's happening on the outside world.
And it isn't like you'll require external dealings to entertain you during the ride either, as Audi has equipped the cabin with a slew of features that'll keep you occupied.
All four seats in the car are heated and ventilated, and offer plenty of adjustability with four-way pneumatic lumbar support, and massage functionality. Everywhere you touch, signature Valcona leather is there to greet you, and you'll be hard-pressed to find a panel in the car which doesn't live up to your expectations.
Screens are also commonplace in the cabin, with a pair of them dominating the centre console for infotainment and HVAC controls. Both rear passengers get a screen each as well, which mainly serves as displays to mirror devices to. Wireless CarPlay and Android Auto come as standard too for added smartphone functionality.
If the screens are not to your liking, you can also look up to the stars (or sun) thanks to the panoramic glass roof.
If you've ever wanted a first-class experience for the roads, now you've got one.
A car not to be chauffeured in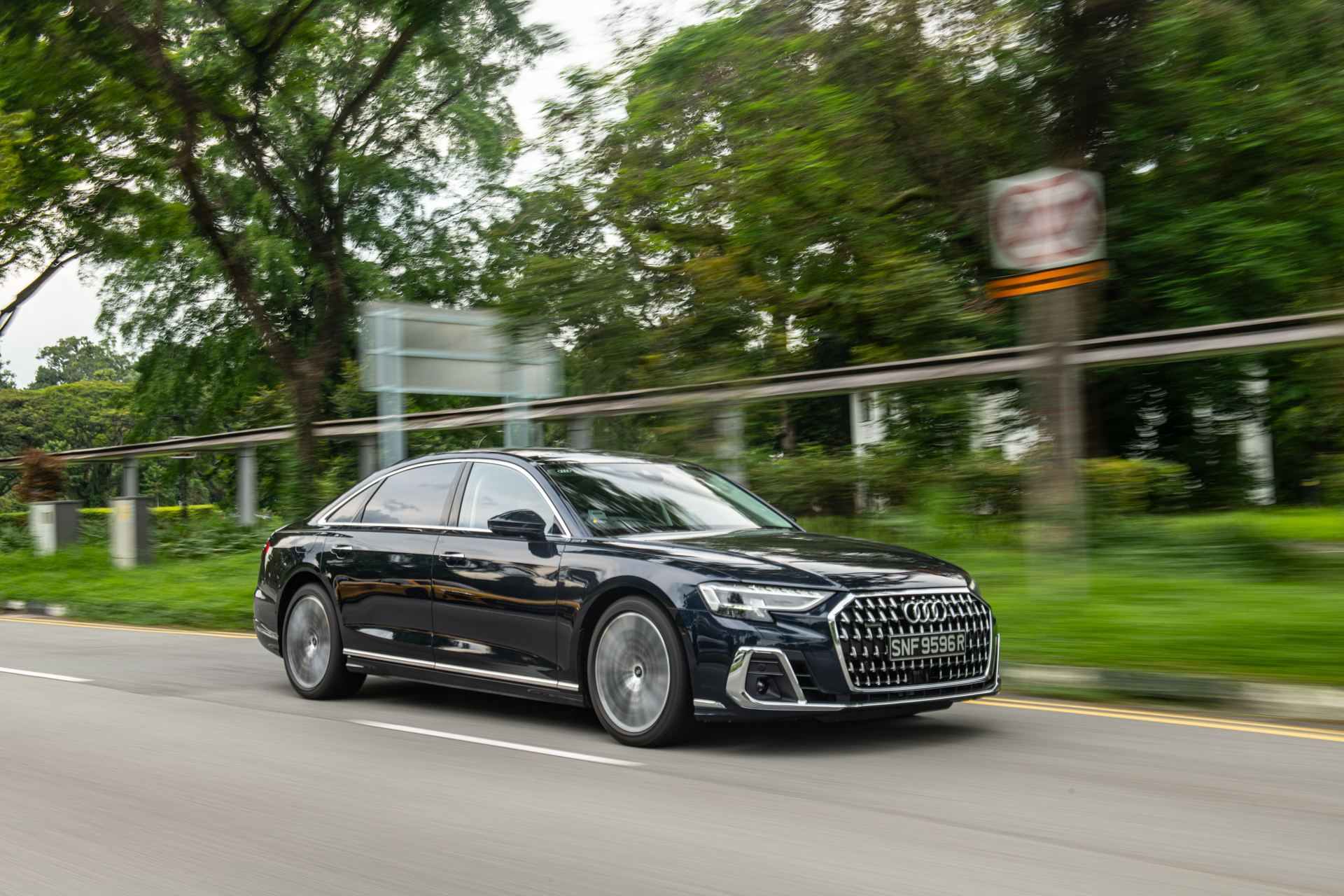 While being chauffeured around does sound like a fancy proposition, for those who wish to command their own vessel, the A8L is just as engaging to drive around town.
Despite weighing close to 2 tonnes, this luxo-barge effortlessly accelerates with poise and precision; quite the experience for both you and bewildered passersby.
Pop the hood, and all becomes clear. This puppy is powered by a 4.0-litre turbocharged V8 engine that churns out 453hp and 660Nm of torque. Thanks to its quattro setup, power is sent to all four wheels, giving the long-wheelbase limousine some muscle off the line.
The century sprint is done and dusted in a blistering 4.5 seconds, and if you're daring enough, you can escort your passengers up to a top speed of 250 km/h.
It's easy to chalk up performance in a straight line, but the fact that the A8L manages to compose itself in the corners too is nothing short of impressive. Though most wouldn't ever try it, chucking the A8L into a series of turns at speed transforms it into an engaging B-road mile muncher.
This agility is thanks to the boffins at Audi designing more than half of the chassis with lightweight aluminium, stiff steel, and even carbon-fibre-reinforced polymers. The result is a car with excellent body rigidity, enabling the A8L to conquer any undulating terrain with general ease.
A gentleman in a tailored suit with ripped muscles underneath, this is.
Conclusion
As far as subscription plans go, the Audi A8L is the full-fat contract with all of the stops. A car that can impress not only you, but your executive clients to seal that all-important business deal.
Plus, you'll be hard-pressed to find another luxury saloon in this segment that is as engaging to drive as the A8L. With the onslaught of electricity prowess transforming exhaust notes into silent hums, this will probably be one of the last saloons from Audi you'll be able to acquire with that sweet V8 up front.
One for the books, this A8L will be.
Technical Specifications
Audi A8L 2022
Engine: 3,996cc V8, Turbocharged
Power: 453bhp
Torque: 660Nm
Gearbox: 8-Speed Tiptronic (A)
0-100km/h: 4.5 seconds (claimed)
Top Speed: 250km/h
Fuel Economy: 8.1km/L (claimed)
Price: S$787,221 with COE (accurate at the time of this article)
Contact: Audi Singapore
Photo Credits: Sean Loo (@auto.driven)
---
Read more automotive news at AutoApp, or check out our latest videos on Ignition Labs TV!