They're neither the cheapest nor the most advanced BMW models, but the new 2 Series compact MPV and coupe are vital for the brand. Here's why.
---
The new BMW 2 Series Active Tourer and 2 Series Coupe have just arrived in Singapore, joining the 2 Series Gran Coupe which has been on sale here since 2020. With that, the 2 Series family, as well as BMW's entire compact model lineup, is now complete.
But while they might not be as affordable as the 1 Series Hatchback, nor as ubiquitous as the 3 Series saloon, nor as eco-friendly as the electric iX3 SUV, nor as luxurious as the flagship 7 Series limo, the 2 Series Active Tourer and Coupe are still vitally important to the brand in their individual ways.
BMW 2 Series Active Tourer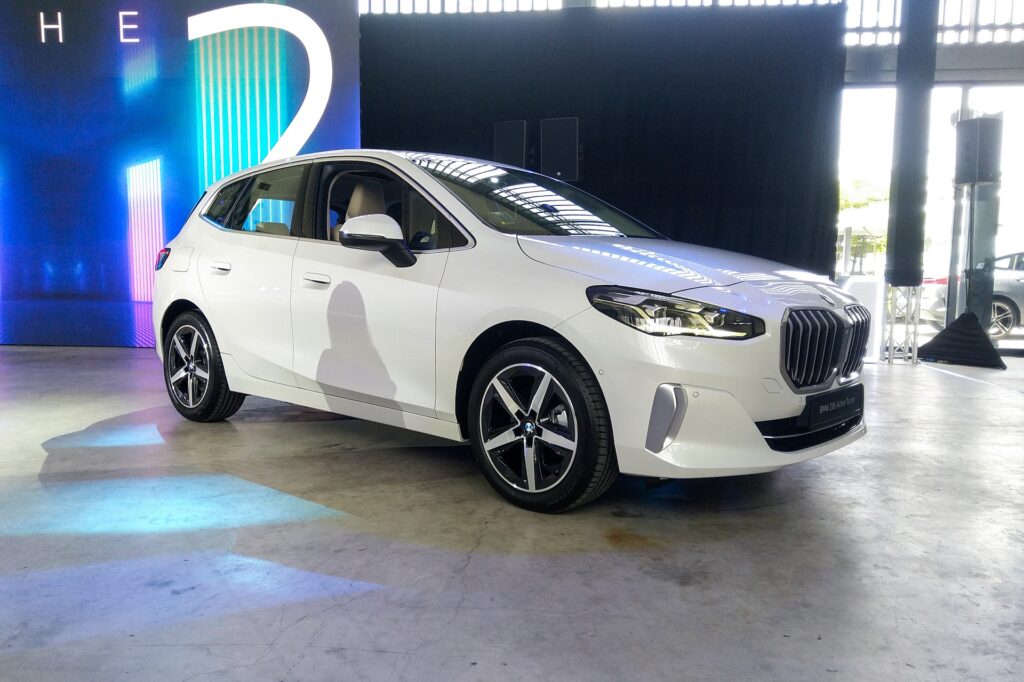 What is it?
Ostensibly BMW's most family-oriented model — a 5-seater compact MPV. Unfortunately, BMW hasn't announced a 7-seater Gran Tourer version, although we wouldn't be surprised if it does eventually happen, given the predecessor's popularity. We drove it at its international premiere in Spain, and you can read about our impressions here.
Versions and pricing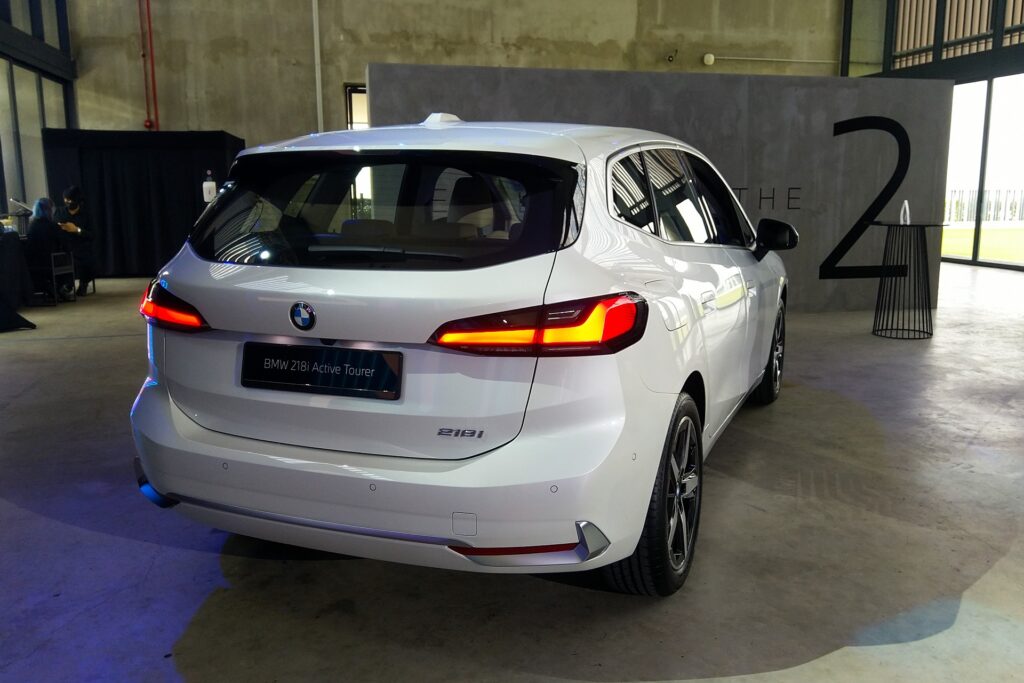 The only engine variant for the 2 Series Active Tourer is the 218i, which has a 1.5-litre 3-cylinder engine shared with the 118i and 218i Gran Coupe. Max power and torque are 136hp and 250Nm respectively, fuel economy is a claimed 14.5km/L, and its VES Band is B (neutral).
Two trims are available, the standard Luxury Line (S$220,888, or S$229,888 for the Launch Edition) and optional M-Sport, which includes a sportier bodykit and lowered suspension (pricing TBC).
What's new?
Virtually everything. It's bigger all-round, which means more space (good); a very different and minimalist interior concept (kinda good); a more, erm, striking face, thanks to the massive kidney grilles (bad), and it's only the second BMW to debut the new iDrive version 8.0, after the big iX EV SUV (probably good).
That last one is the major highlight, because it's a much more powerful system that allows for increased digital functionality. There's augmented reality navigation instructions, 5G connectivity, more detailed personalisation options with the My Modes function, over the air (OTA) updates, and smarter machine learning, for more accurate navigation and semi-autonomous driving assistance in the future.
All of that's wrapped up in what BMW calls the Curved Display, the collective name for the 10.7-inch instrument panel and 10.25-inch infotainment screen. For the first time in 20 years, there's no longer an iDrive rotary knob in the centre console, which means almost everything has to be done via the touchscreen, although thankfully there are still a few physical controls on the floating centre console.
Why it's important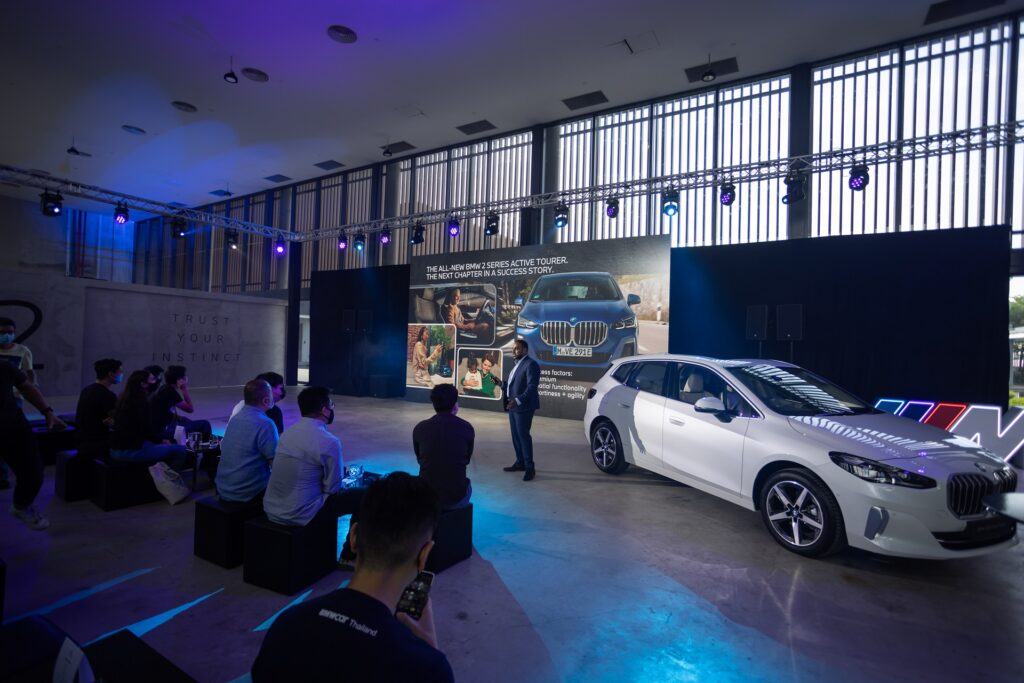 One of the more compelling statistics BMW revealed when the 2 Series Active Tourer first broke cover is that over 80% of the 430,000 first-gen cars sold were actually conquest sales, meaning buyers completely new to the brand. This is significant because it's much harder to attract a customer than retain one, who are more likely to continue supporting a brand and buying its products further down the line.
Furthermore, in the local context the old 2 Series Tourer was one of the best-selling BMWs in Singapore for the past 7 years (mostly because it was one of the few Beemers available with a CAT A COE, but we'll gloss over that). In fact, its success here was so great that Singapore was even specifically mentioned by BMW management as one of the model's major Asian markets during its global reveal, and its arrival here just one month after its initial international press launch (which is incredibly prompt; normally new models typically take half a year to go on sale here) is testament to that.
BMW 2 Series Coupe
What is it?
A compact, two-door, rear-wheel drive coupe in the best BMW tradition. A manic and exciting M2 range-topper is definitely coming, although a drop-top convertible version of the new 2 Series is still up in the air.
Versions and pricing
For the foreseeable future, the 2 Series Coupe will likely come in two flavours: 220i and M240i xDrive. The former gets the B48 2.0-litre four-cylinder with 184hp and 300Nm of torque, giving it a 0-100km/h timing of 7.3 seconds and a top speed of 236km/h.
The M240i on the other hand, utilises the 3.0-litre six-cylinder B58 engine that also does service in the M440i and Toyota Supra. This one produces 374hp and 500Nm of torque, allowing it to do the century sprint in 4.3 seconds on the way to an electronically-limited 250km/h top speed. It's also all-wheel drive, unlike the rear-drive only 220i, although a BMW product specialist at the launch said it's almost always rear-biased, shuffling power to the front only when traction is lost. This means it'll still go sideways, with the term "drift machine" being thrown about in much of the 2 Coupe's product presentations so far.
What's new?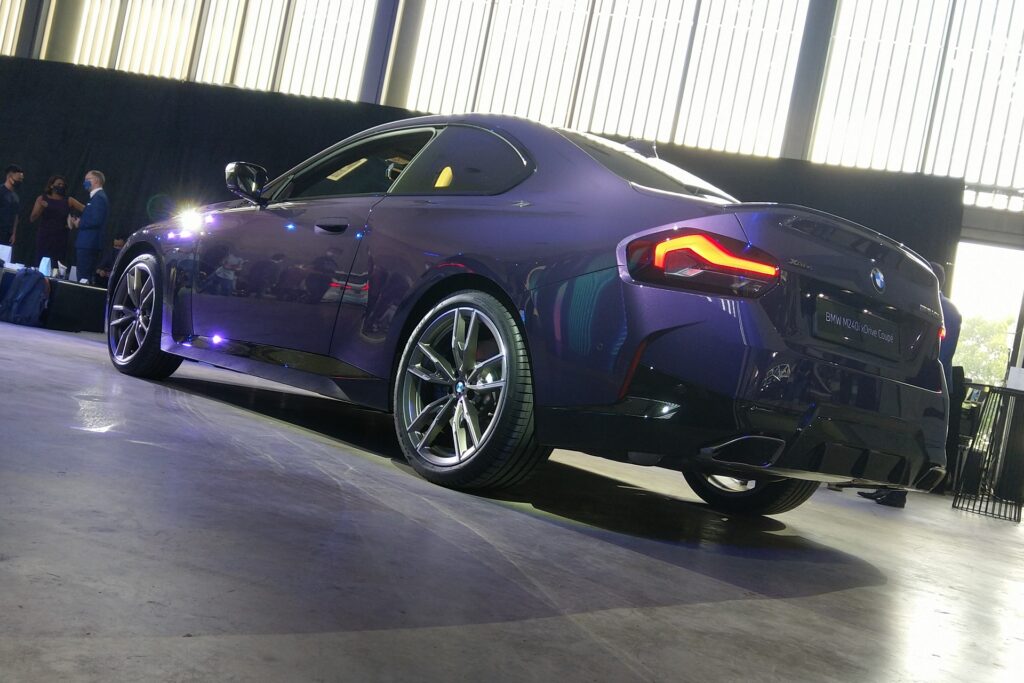 If you're comparing with the rest of BMW's 1 and 2 Series compact family, nearly everything. But if you're looking at the new 2 Series Coupe's bones, then not very much at all. That's because the new car is basically a shortened version of the 3 and 4 Series: with the latest 1 Series turning front-wheel drive, it didn't make economic sense for BMW to build a compact rear-drive platform just for the 2 Coupe, so it's borrowed heavily from its bigger siblings' CLAR platform instead.
That's why the 2 Coupe has grown quite a lot compared to the old model: 105mm longer and 65mm wider, with 51mm more distance between the axles. It's also put on the pounds: a whopping 200kg on average compared to the outgoing model, which leaves the M240i xDrive weighing in at 1,765kg, more than a 5 Series!
Engines, chassis components, even the interior, are all carried over from the 4 Series. The only thing that's different mechanically is the suspension tuning, to account for the weight and size difference.
Why it's important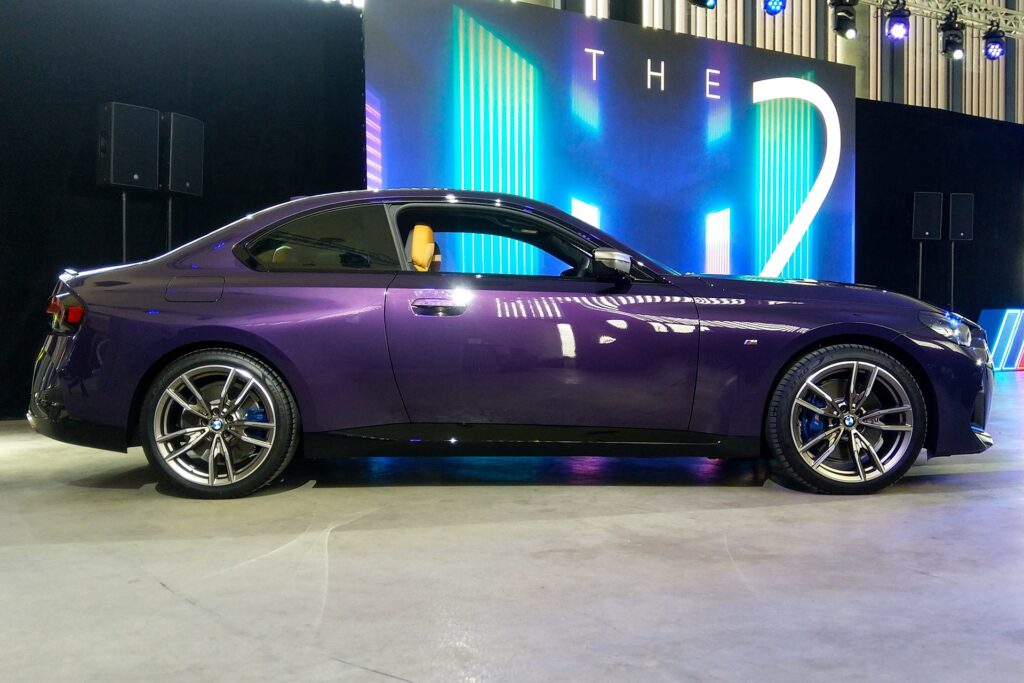 Two-door sports cars have never figured hugely in the grand scheme of any car manufacturer (apart from sports car-specific brands, obviously), but while they don't directly contribute much to the bottom line, they can still be important as image-builders. They're the eyeball and headline-grabbers that sprinkle a bit of that desirability dust across the entire lineup and make other models more appealing by association, which is why nearly all mainstream manufacturers had at least one attractive two-door number in their lineup in the 1990s and early 2000s. Clearly, that's no longer a belief held by most marques these days as everyone has gone all-in on crossovers and SUVs instead, but BMW has stuck with it.
Sports cars, performance, motorsports — they're all a core aspect of BMW's identity, so the 2 Series Coupe has more to do with respecting the brand's heritage than anything else. BMW's modern reputation was built upon compact, coupes like the 2002, E21/E30/E36/E46 3 Series tearing up the racetracks and giving the average enthusiast affordable access to some of that Sheer Driving Pleasure, and the new 2 Series Coupe aims to continue that tradition.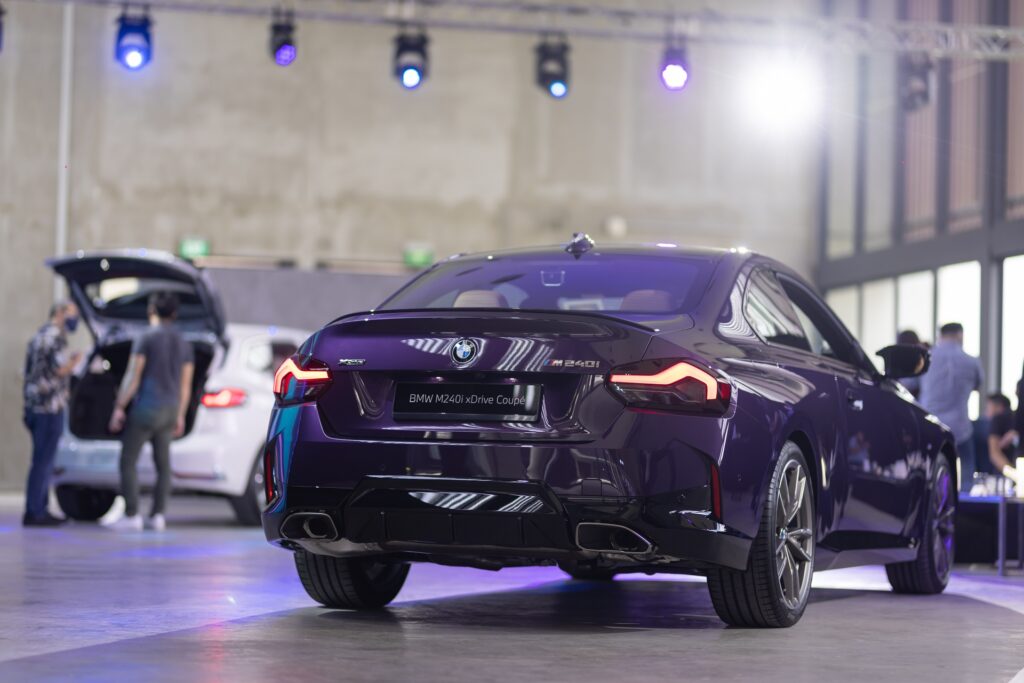 ---
Can't quite get enough of BMW? Get your fix right here!