The popularity of the Honda HR-V name means the new one will sell well based on reputation alone; shame the authorities here don't want you to have the best one…
---
If there was a car that could perfectly exemplify the intense pants-on-head idiocy of the decisions made at the LTA, the 2022 Honda HR-V would be it.
One of the core tenets of industrial design is that a new product should always be better than the one before it, and so it has transpired: the new HR-V is available not only with a trusty 1.5-litre petrol engine (S$127,999), but also with the excellent e:HEV hybrid system that we so loved in the Jazz hatchback.
Except you can't have it. Well you could, but you'd have to fork out an extra S$30+k for the privilege. 
You see, in their infinite wisdom, the policymakers at the LTA decided a decade ago that the COE system needed a tweak. So instead of the categories being classified solely on engine capacity, Category A would also have a power cap of 130hp. Why that arbitrary number? Who knows? But the upshot is that, with its specially detuned engine, the new Civic sold in Singapore is the slowest in the world, and the HR-V e:HEV (below), with its total power output of 131hp, just slips into Cat B and hence is worth a full HDB downpayment more than the base petrol version. Once you consider the fact that the hybrid is significantly more fuel efficient and kinder to the environment too, and you quickly start to realise how absurdly asinine this policy that effectively discourages technological progress really is.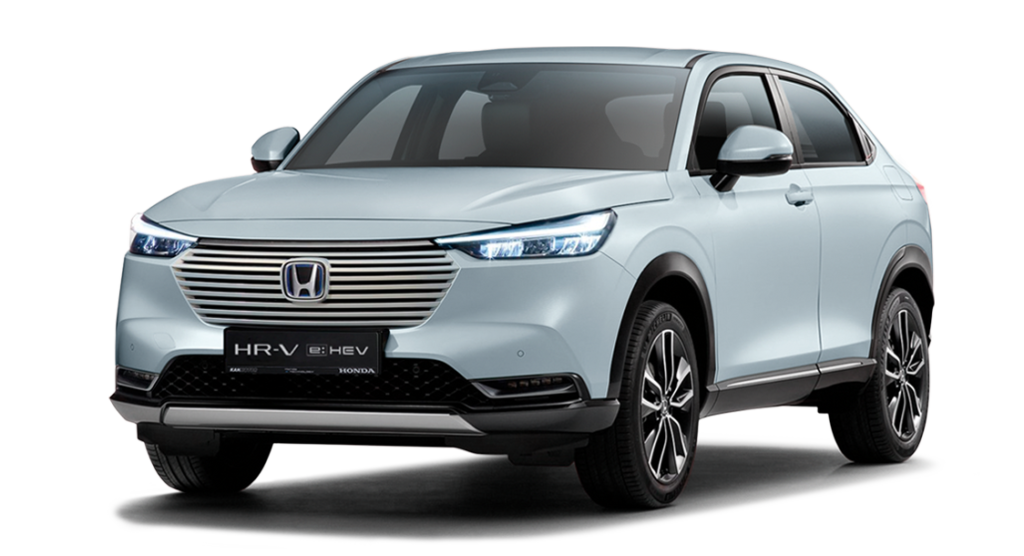 With the cards stacked so formidably against it, how does the new, 3rd generation Honda HR-V fare in light of 2022's skyrocketing car prices?
Hobbled by happenstance
On first impressions, not that well unfortunately, because the new HR-V is hampered by circumstances not entirely of its (or Honda's) own doing.
For example, a look at the spec sheet shows that, though the 1.5-litre four-cylinder engine is retained from the old HR-V, it's actually down on power (from 130 to 118hp), torque (155 to 142Nm), and fuel economy (17.5 to 17.2km/L), and is consequently pretty slow (0-100km/h in 12.1s). You can blame emissions standards for that. Those losses emanate from the engine switching from direct fuel injection, which gives better power and efficiency, to port injection, which is an older, simpler technology, though slightly cleaner in terms of particulate emissions (aka soot).
The other unmissable shortcoming is the infotainment screen. Unlike the Jazz and the Civic, which come with Honda's own clear and intuitive Display Audio infotainment system, the HR-V instead has an aftermarket locally-fitted unit from Alpine, with Apple CarPlay and Android Auto connectivity.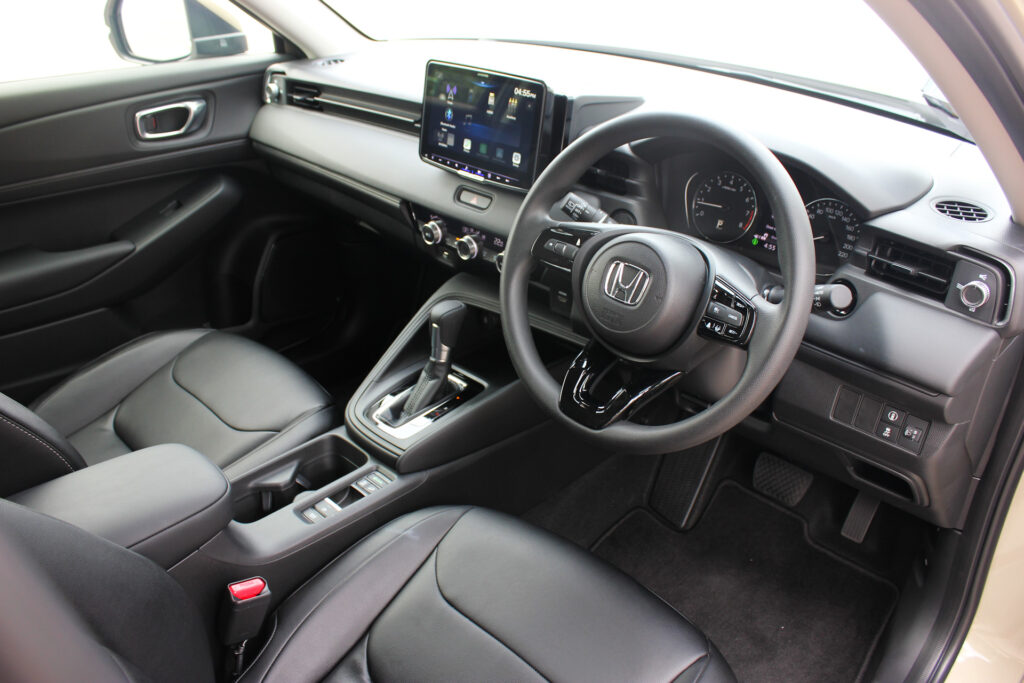 A Honda representative I spoke to said having the cars come without the Display Audio factory-fitted was not their decision, and that they didn't have a choice in the matter. My guess: another victim of the global chip shortage? Which hopefully means the screen situation can be rectified in a year or two.
Reassuringly familiar
Happily however, despite these handicaps (and the new looks), buyers will find that the HR-V retains the same formula as before: it's a practical and frugal compact SUV that's easy to use and probably painless to own.
For starters, it still combines compact car dimensions and maneuverability with the high seating position which I know has been a selling point for many, my HR-V-owning friends and relatives among them.
Next, the HR-V continues to be economical. The petrol version might not be as efficient as before, but a claimed fuel consumption figure of 17.2km/L is still a pretty good score — if not as amazing as the HR-V Hybrid's 23.3km/L. Given that the naturally-aspirated engine is mechanically relatively simple and a tried-and-tested unit found in many Honda products, it's highly likely to continue being reliable as well.
Finally, the fantastic Ultra (or Magic, depending on market) rear seats still feature. Flip them up and lock them in place, and you have a cavernous area for tall objects that might not fit in the boot, such as potted plants, furniture, or bicycles. You could even let your dog lie there without worrying about having to clean your seats!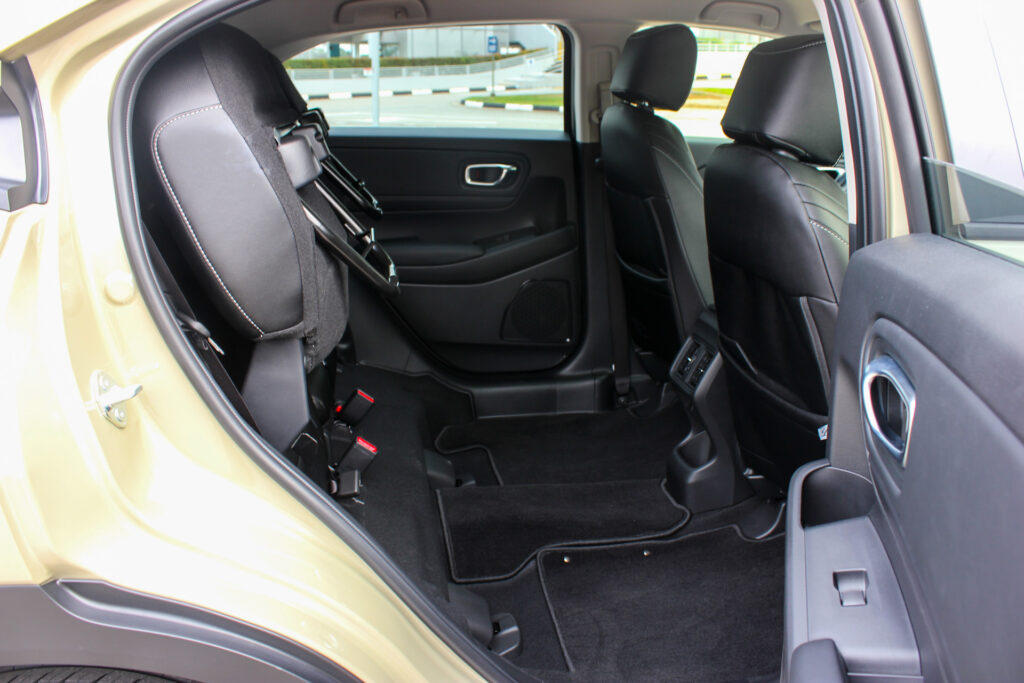 The good stuff
Going back to my point about the progression of product design, Honda has improved the HR-V in a number of key areas.
The most valued one is ride comfort; the previous HR-V was notorious for having a very bumpy, unsettled ride, especially in the back seat. If you're a regular Grab or Gojek user, you'd probably know this.
But now, with a lightened and stiffened bodyshell along with retuned suspension and bushings, the difference in ride comfort between new HR-V and old is night and day. Even before you've exited the carpark you can feel the increased pliancy and cushioning, and is something that shows in all driving scenarios, from urban areas (construction zones and humps were the old HR-V's kryptonite) all the way up to the highway. 
Another thing that will be appreciated by anyone passengering in a HR-V is the fact that the rear seat is now a better place to be. Thanks to the cavity for the hybrid's batteries being located towards the boot, an extra 35mm of legroom has been liberated, and the seats are reclined two extra degrees for more comfort. The HR-V also has aircon vents in the back (in addition to a nifty new diffusion system that channels cool air from the dashboard vents rearwards along the sides and ceiling), and the rear door panels have more convenient cupholders and a larger door grab cum storage pocket.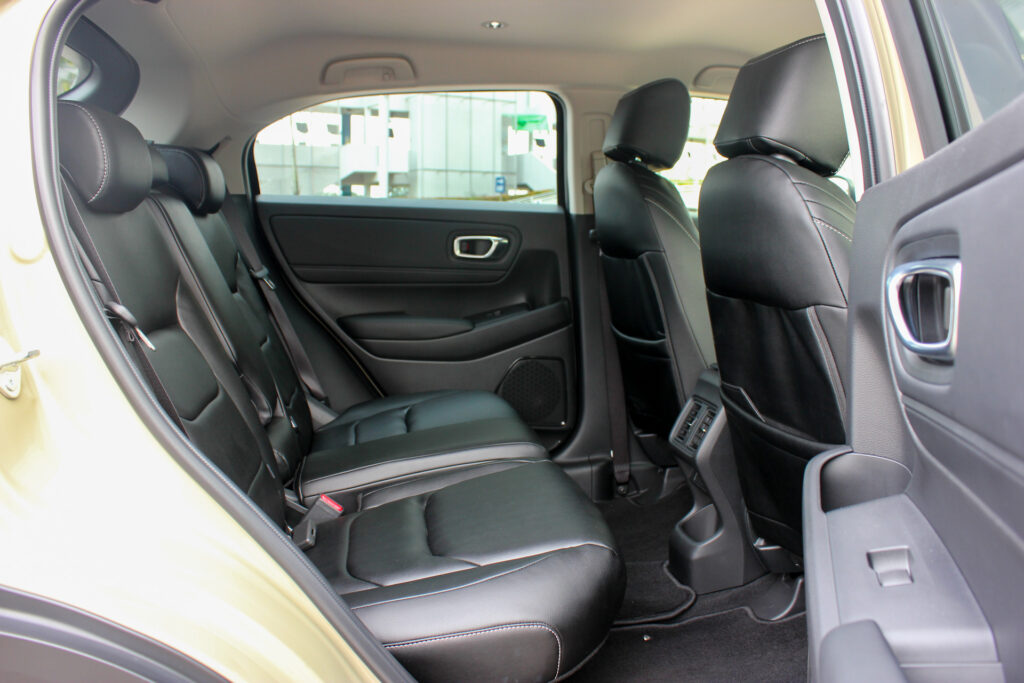 Lastly, safety has also made a great leap forward, as the new HR-V comes with a laundry list of active safety tech that the company collectively calls Honda Sensing. Adaptive cruise control, lane keep assist, road departure mitigation, and autonomous emergency braking are all features that will keep you safe by preventing a crash before it happens, and we applaud Honda for making it standard on even the basic HR-V variant.
The not-so-good stuff
Unfortunately, not every change made to the HR-V has been a win. The flatter, more geometric styling certainly looks distinctive (I especially like the LED taillights that look like sci-fi swords), but the lowered roofline intrudes on headroom. Anyone sat in the back row will be brushing the headliner if they're 175cm and up, but if they're sitting in the middle, their heads will be positively jammed into the ceiling due to the tall hump in the seat base.
It's a shame too that provisioning for the hybrid gubbins in the floor has eaten into cargo space: boot capacity has shrunk massively, from 437 to 319-litres. Thankfully, when they fold down they form a completely flat load bay, and there's some under-floor storage as well.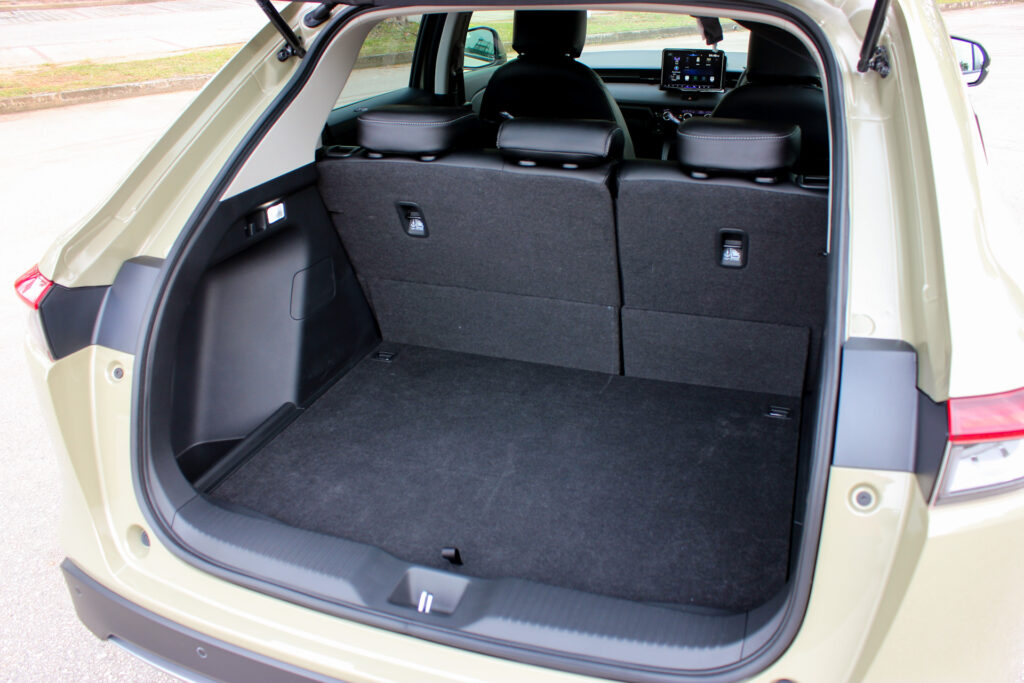 And coming back full circle to the infotainment screen — this is something I hope gets rectified quickly because, frankly, it's distracting to use on the road. The touch-sensitive controls for volume and playback on the base of the screen are absolutely miniscule and hard to hit, and it's an issue exacerbated by the absence of audio controls on the steering wheel. That said, the HR-V does score points with solid, tactile dials for the aircon controls, something even the likes of mighty Volkswagen can't get right these days.
Rivals and verdict
The compact crossover segment is one of the most hotly contested in the market, and the Honda HR-V faces a multitude of competitors from both Asia and Europe. At S$127,999 it's not as overpriced as Hondas traditionally can be, and the safety tech and promise of Honda reliability and residuals are a big draw, but it's worth noting that its closest rivals all have their own USPs. The same money could get you a Citroen C5 Aircross, which is bigger and rides like a carpet of the magical variety; or a Kia Niro Hybrid, which can go 1,000km between fuel stops; or a Nissan Kicks, which gives three quarters of an EV's driving experience with none of the anxieties.
Overall, the new Honda HR-V still stands for the same values that made its predecessor so ubiquitous it was practically Singapore's de facto peoples' car: practicality and economy, while adding more safety and comfort to boot. It may not be as good as it could be, but we don't doubt that its fans will find what it does already offer to be quite enough.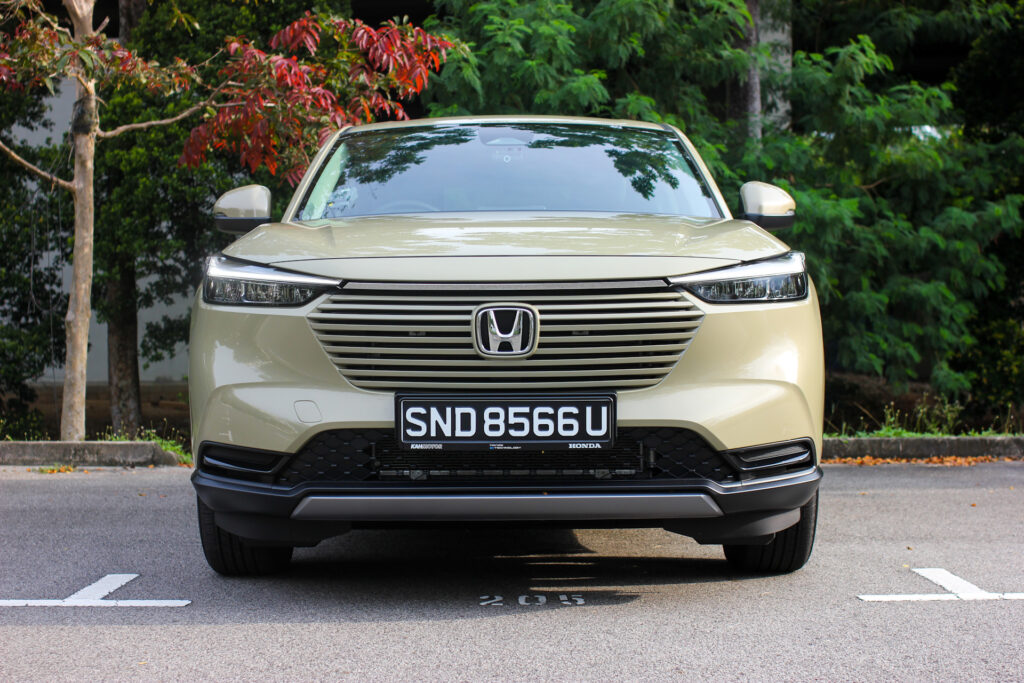 Fast Facts
Honda HR-V 1.5 DX
Engine: 1,498cc in-line 4
Power: 118hp @ 6,600rpm
Torque: 142Nm @ 4300rpm
Gearbox: CVT
Top Speed: 180km/h
0-100km/h: 12.1 seconds
VES Band: B (Neutral)
Price: S$127,999 with COE (as of Feb 2022)
Contact: Kah Motor, 6840 6888
---
Enjoyed this article? Read more reviews of the latest cars here.