VW's flagship SUV makes comeback with more sophistication to raise its luxe credentials.
---
There was a time when only a big sedan was considered a 'proper' luxury car. However, when Porsche built its first Cayenne Sports Utility Vehicle (SUV), this mindset changed for good, and today, no brand — not even Rolls-Royce nor Ferrari — can do without an SUV in its model line-up.
Today, the Porsche Cayenne is still widely regarded as the benchmark in the luxury SUV segment. However, supply chain issues brought on by the pandemic, Ukraine crisis, and a burning car carrier ship in the Atlantic mean that you're likely to have a long wait ahead before local orders can be fulfilled.
However, if you are open to looking beyond the fancy badge, the Volkswagen Touareg tested here will give you about 90 percent of the Cayenne experience for much less sans the wait…
This is mainly because the mechanical underpinnings of the Cayenne and Touareg have been jointly developed by the parent company, Volkswagen Group. In fact, other SUV models such as the Audi Q8, Bentley Bentayga, and Lamborghini Urus are also built on the modular MLB Evo platform from the German auto giant.
As a result, the Touareg is Volkswagen's de facto flagship since it offers enough space and capability to give a BMW 7 Series or Mercedes-Benz S-Class a run for their money.
Volkswagen Touareg (almost) drives itself
Although the Touareg driven here is largely the same as the third-generation model launched about three years ago, the 2022 model is fitted with a higher level standard equipment, as well as a few new party tricks.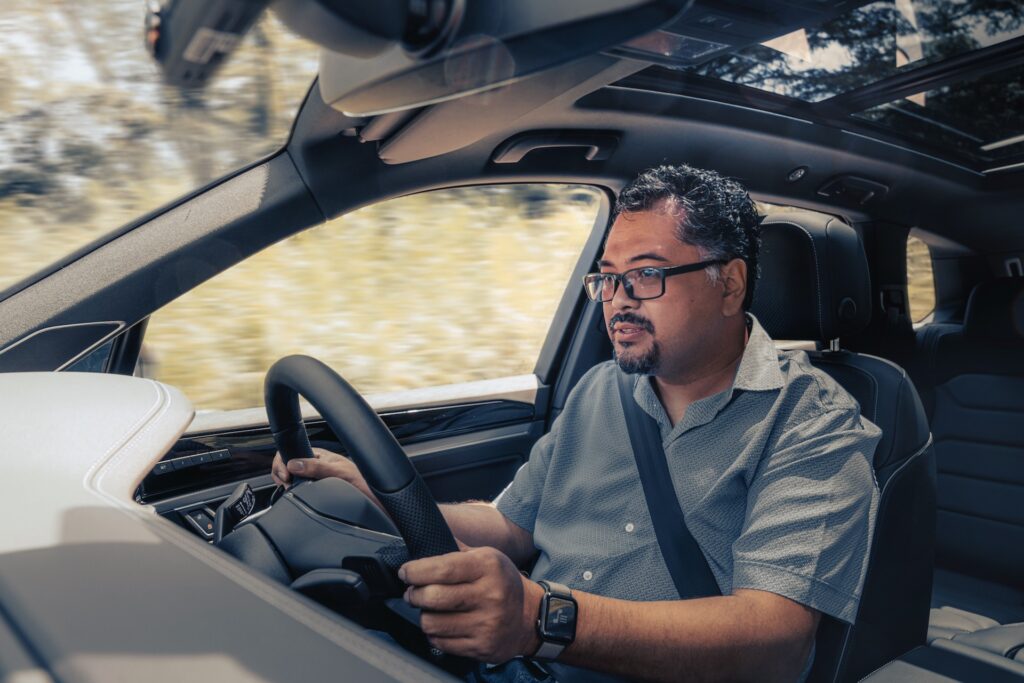 One of these comes in the form of a highly-automated parking aid called Park Assist Plus. With this new feature, the driver needs to only keep a finger pressed on the Park Assist button on the centre console and the car will automatically perform the steering, braking, and even toggle between Drive and Reverse to manoeuvre into the chosen parallel or perpendicular parking spot.
The system will also perform an emergency stop if another vehicle, pedestrian, or any hazard gets in the car's path. The driver can also immediately stop the parking by lifting the finger off the button. To resume, simply keep the button pressed again.
The Park Assist Plus function is also complemented by a new 360º Area View system that gives the driver a bird's eye view formed by four cameras discreetly located around the Touareg's exterior.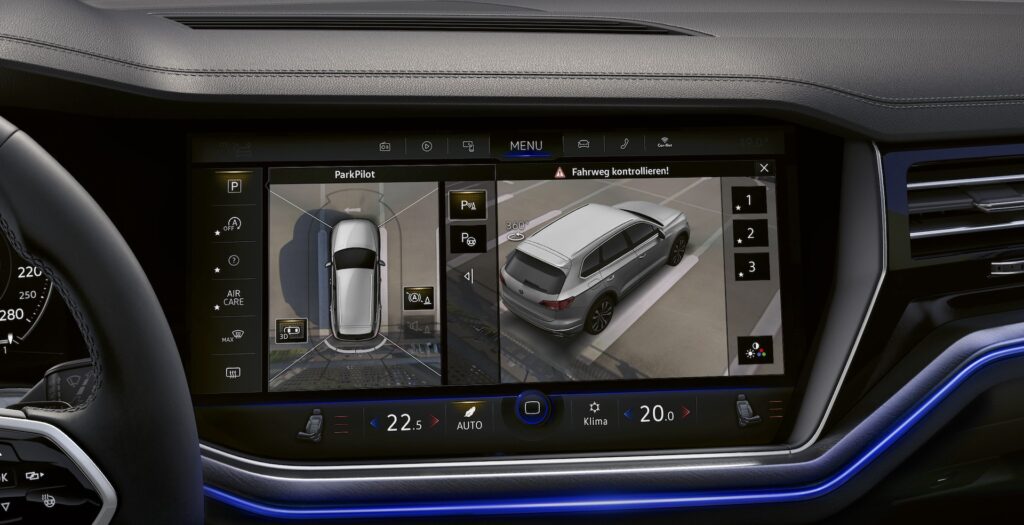 The other new addition is Traffic Jam Assist. This combines the Adaptive Cruise Control and Lane Assist features that can make the Touareg steer, brake, and follow the vehicle in front without the driver needing to lift a finger. In fact, the driver needs to keep his or her hand on the steering wheel to comply with legal requirements.
On our test drive, we found this system to work much more smoothly and intuitively than many other systems we have tried.
Drives like a boss
Following the philosophy of: "If it ain't broke…" the 3.0-litre turbocharged V6 unit that powers the Touareg continues in this 2022 model. With 340hp and 450Nm on tap, these output figures can also be found on the mechanically-identical Porsche Cayenne.
Naturally, this translates to identical levels of performance, evidenced by the ability to accelerate from to 100km/h from a standstill in 5.9 seconds, as well as a top speed of 250km/h.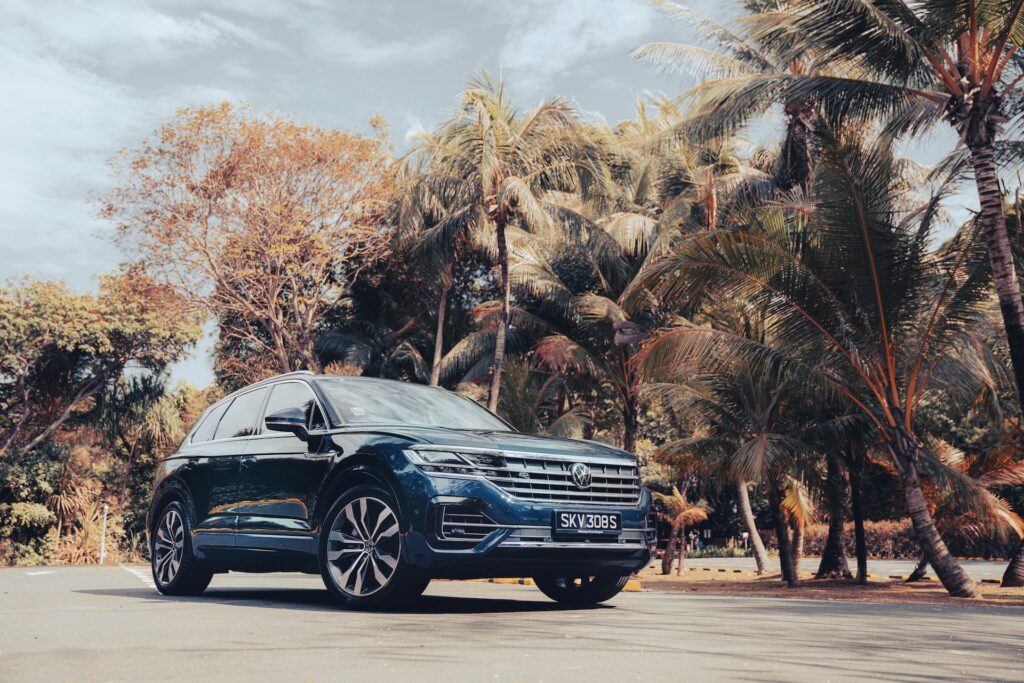 However, it is in the ride comfort department where the Touareg excels. We drove the R-Line version that commands a $33k premium over the base model, known as Elegance.
Which to go for, R-Line or Elegance?
Besides front seats with a massage function and a smattering of R-line badges throughout the car, the main highlights are active air suspension, four-wheel steering and 21-inch wheels.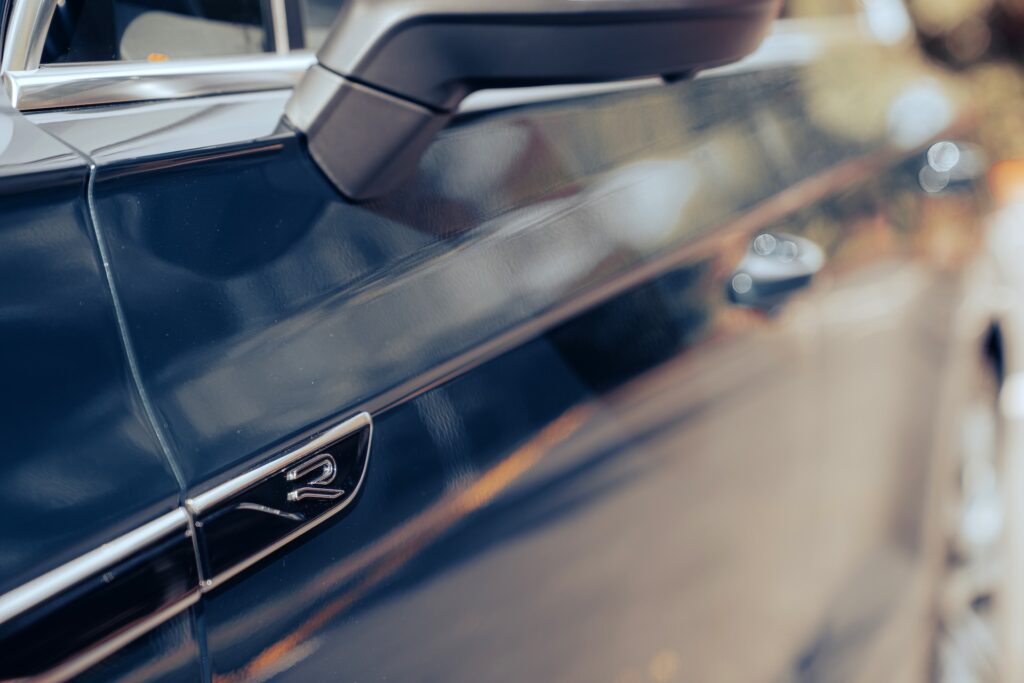 On a stretch of unpaved road with lots of potholes, the air suspension of the Touareg R-Line did its magic and drove over them without missing a beat. Although the majority of owners will never take their cars off-road, it is heartening to know that VW still bothers to equip its flagship SUV with proper overloading ability that's made accessible by the Driving Mode selector, and the air suspension can be made to rise to increase the ground clearance.
The rear-wheel steering, which is now standard on the Touareg R-line, also makes short work of manoeuvring around tight spaces in the city a cinch. It also makes this big SUV feel more nimble than it has any right to be.
The entry Elegance model, on the other hand, does without active air suspension, rear-wheel steering, and 20-inch alloy wheels. All is not lost, however. On a reference drive in this version, it wasn't a million miles away from its costlier sibling in terms of ride comfort and handling.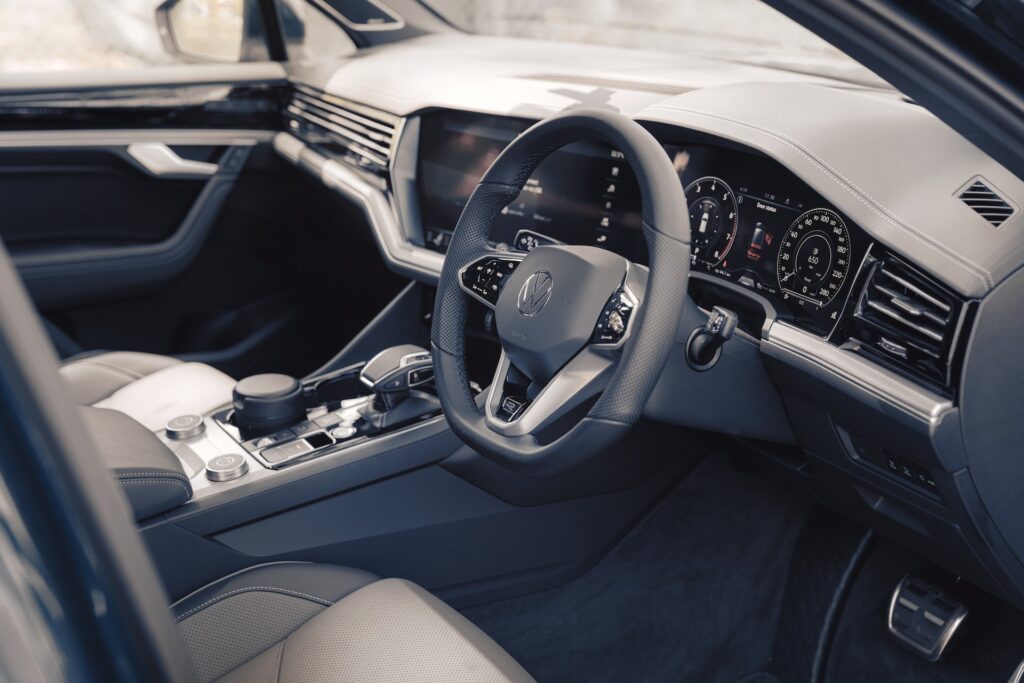 Body roll under hard cornering is kept in check impressively and the steering is responsive enough to not miss the R-line all-wheel steering at all.
Externally, however, the smaller wheels and the fixed ride height of the Elegance model doesn't look as sexy as the R-line's lowered ride height. A set of oversized all-terrain tyres, however, could easily fill those wheel arches and might come in handy if you fancy an off-road venture.
Conclusion
Endowed with comfort and decent performance, the Volkswagen Touareg is a very capable SUV that can convincingly pass for an alternative luxury sedan. The pace offered by its engine combined with the ability to swallow copious amounts of luggage also makes it perfectly suitable for long-distance touring.
While the R-line is a compelling package in its own right — a similarly-spec'd Porsche Cayenne would cost at least $100k more even before you add another $100k or so for the COE — I actually find the Elegance model more appealing.
The combination of adaptive dampers with steel spring suspension holds the promise of potentially, a more trouble-free ownership experience in the longer term. That it doesn't feel like a compromise at all in terms of ride comfort and handling only served to make the Touareg Elegance the one I'd recommend in this segment.
Technical Specifications
Volkswagen Touareg
Engine: 2,995cc V6 turbo
Power: 340hp @ 5,300-6,400rpm
Torque: 450Nm @ 1,340-5,300rpm
Transmission: 8-speed automatic, 4wd
0-100km/h: 5.9 seconds
Top speed: 250km/h
VES Band: C2
Price from: $399,900 with COE (Touareg R-Line)
$366,900 (Touareg Elegance)
+ Comfortable and capable
– No wireless smartphone charger
---
Check out the latest car reviews here.