The Softail Standard captures the essence of classic Harley-Davidson while being approachable.
---
Man
As collection day loomed, I found myself sweating more than usual. No, this wasn't just hyperhidrosis.
For context, my own bike, a KTM Duke 390, is essentially a featherweight 171kg Class 2B bike powered by a 373cc Class 2A engine. The last time I'd ridden a "big bike" was during my Class 2 Traffic Police or TP test at Bukit Batok Driving Centre (BBDC), a Honda NC750S adventure bike which some say is allegedly detuned for students' safety.
And here I was faced with the potentially daunting prospect of riding a motorcycle that weighs almost double that of mine and with nearly five times the engine displacement.
Welcome, folks, to the Harley-Davidson Softail Standard. Cue heavy metal music playing in the background.
Machine
The first thing one notices about the Softail is that its seat is situated quite low. At 680mm, those of longer legs will need to take a little bit of time to get used to the seating position, possibly with initial hip and inner thigh cramps as yours truly experienced.
However, these dissipate soon enough and one can get comfortable quite quickly. Best, then, to have a seat with the side stand down and both feet up on the pegs to acclimatize to the Softail before the first ride.
Next item of note, especially for those of us who ride bikes set up for sportier street handling, are the mid-mount foot controls and pegs. Though not unique in and of themselves, when combined with the lower seating position, one needs to rethink how to move the left foot off the peg and onto the road when coming to a stop, lest the peg itself gets in the way.
It's not a pain, just that it requires some deliberate thought the first few times until such action becomes muscle memory.
Then come the handlebars. One reaches forward and a bit more upward to grab them once seated. They're chromed, cuz 'MURICA, and are situated such that they remain comfortable during one's ride, and all controls fall easily to hand. The rear view mirrors may look small, but once seated on the bike, one finds that they're perfectly sized and offer tons of rearward vision over one's shoulder.
Speaking of controls, there's no need to stick a key into a keyhole to start the bike, since the Softail comes with keyless start. Simply mount up, turn the kill-switch to the run position, wait for the fuel pump to finish priming and the warning lights to extinguish, hit the starter switch and Bob's your uncle with a rumble.
Likewise, when parking, simply turn the kill-switch off, dismount and walk away. Even the gas cap has no lock on it in a nod to the good ol' days, but this shouldn't be an issue in Singapore though.
The starter switch brings to life the rumbling heart of the Softail – the Milwaukee Eight 107 (as in 107 cubic inches or 1,745cc) V-twin engine with that all-familiar Harley-Davidson soundtrack. You feel it through your bones, and this is one of the reasons why people buy a Harley.
It also has a lumpy idle when warmed up, and one might be inclined to think that the engine is about to die, but it doesn't. On the move, the soulful Harley-Davidson soundtrack is ever present, and picks up into a throaty throb when the throttle is opened. Cue 'MURICAN eagles soaring overhead ready to hunt.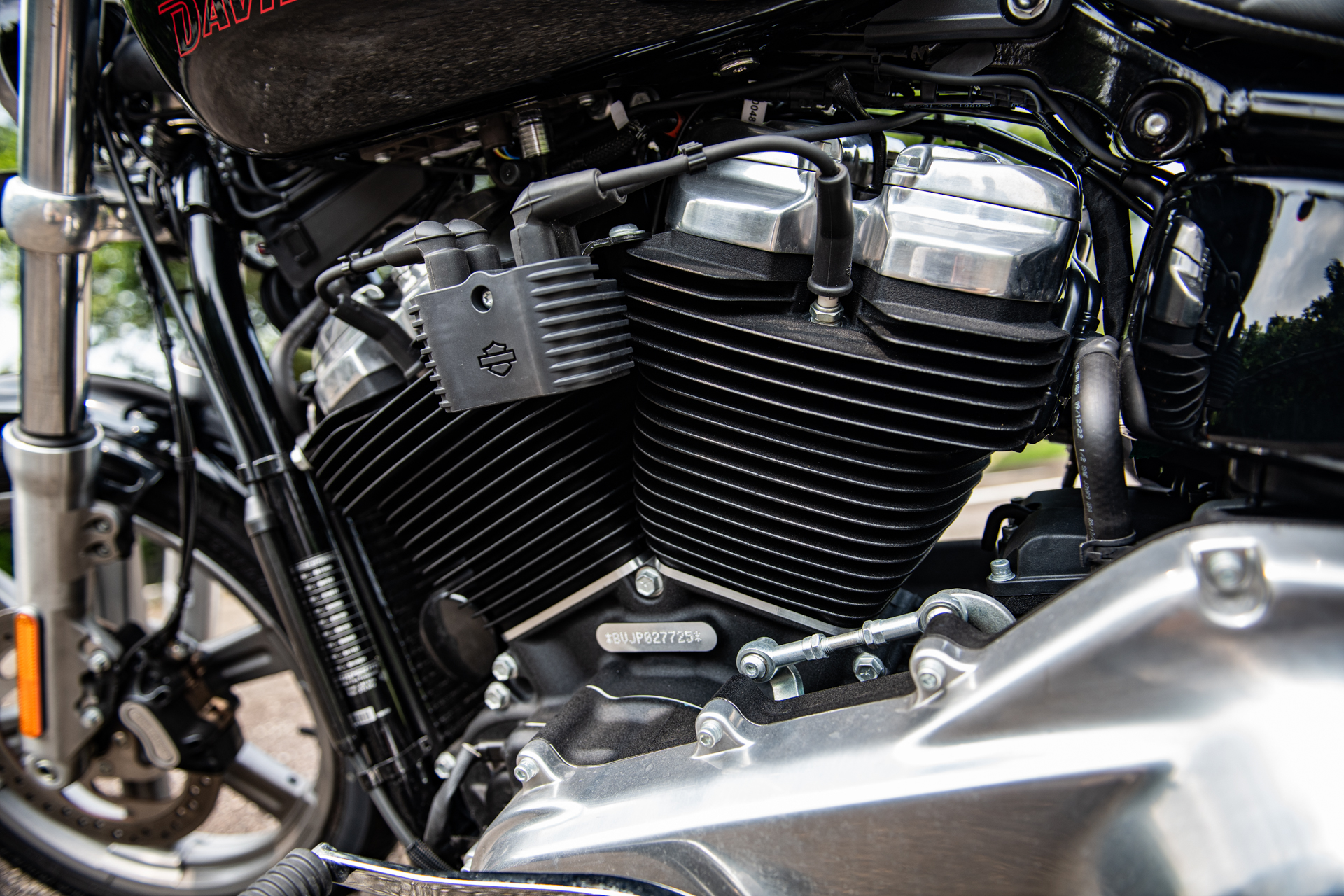 Drive is via a six-speed manual gearbox with a chain-driven primary drive from engine to gearbox and belt-driven secondary from gearbox to the rear wheel.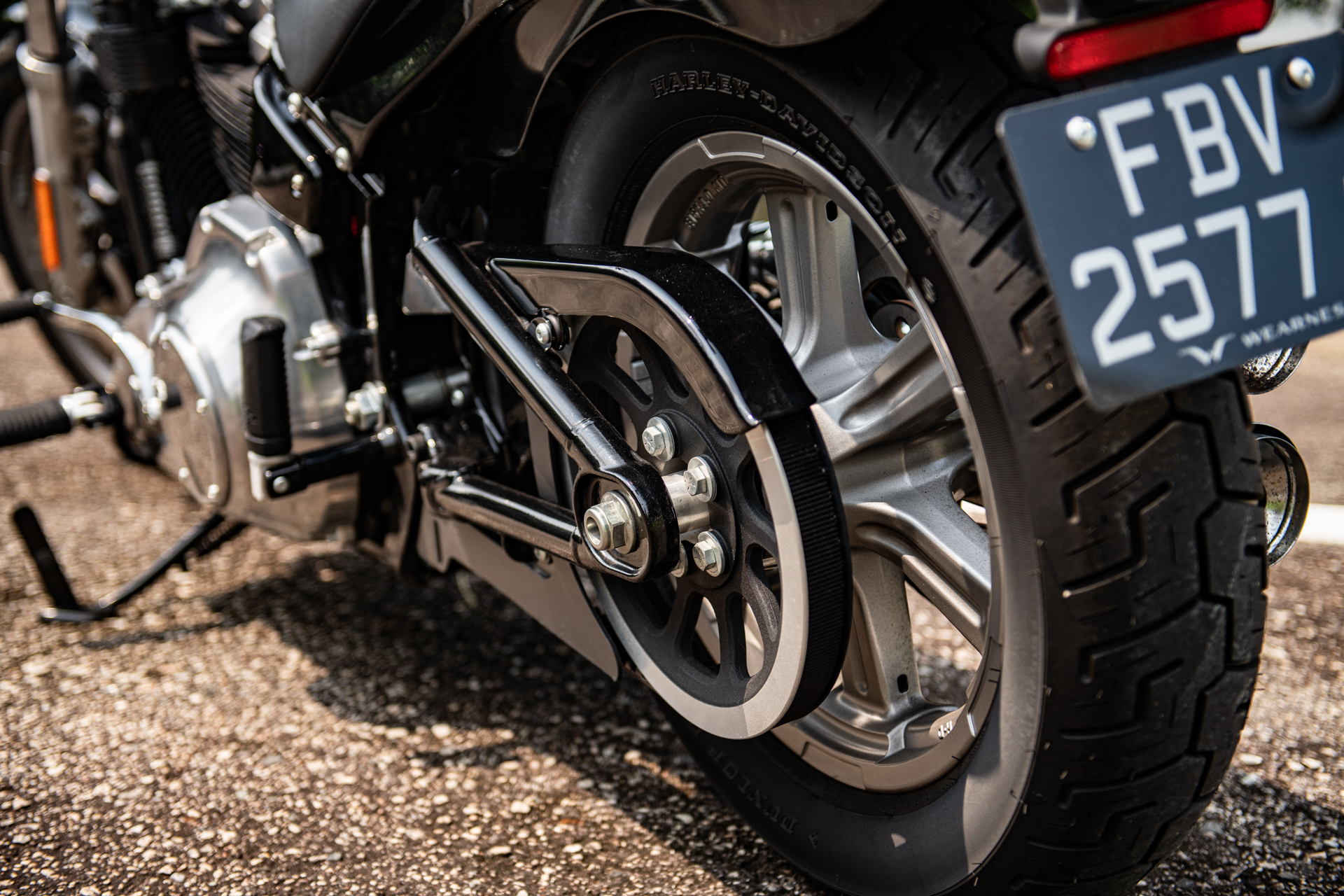 The rims are chunky six-spoke items wearing Harley-Davidson branded Dunlop D401F 100/90B19 and 150/80B16 tyres front and rear respectively.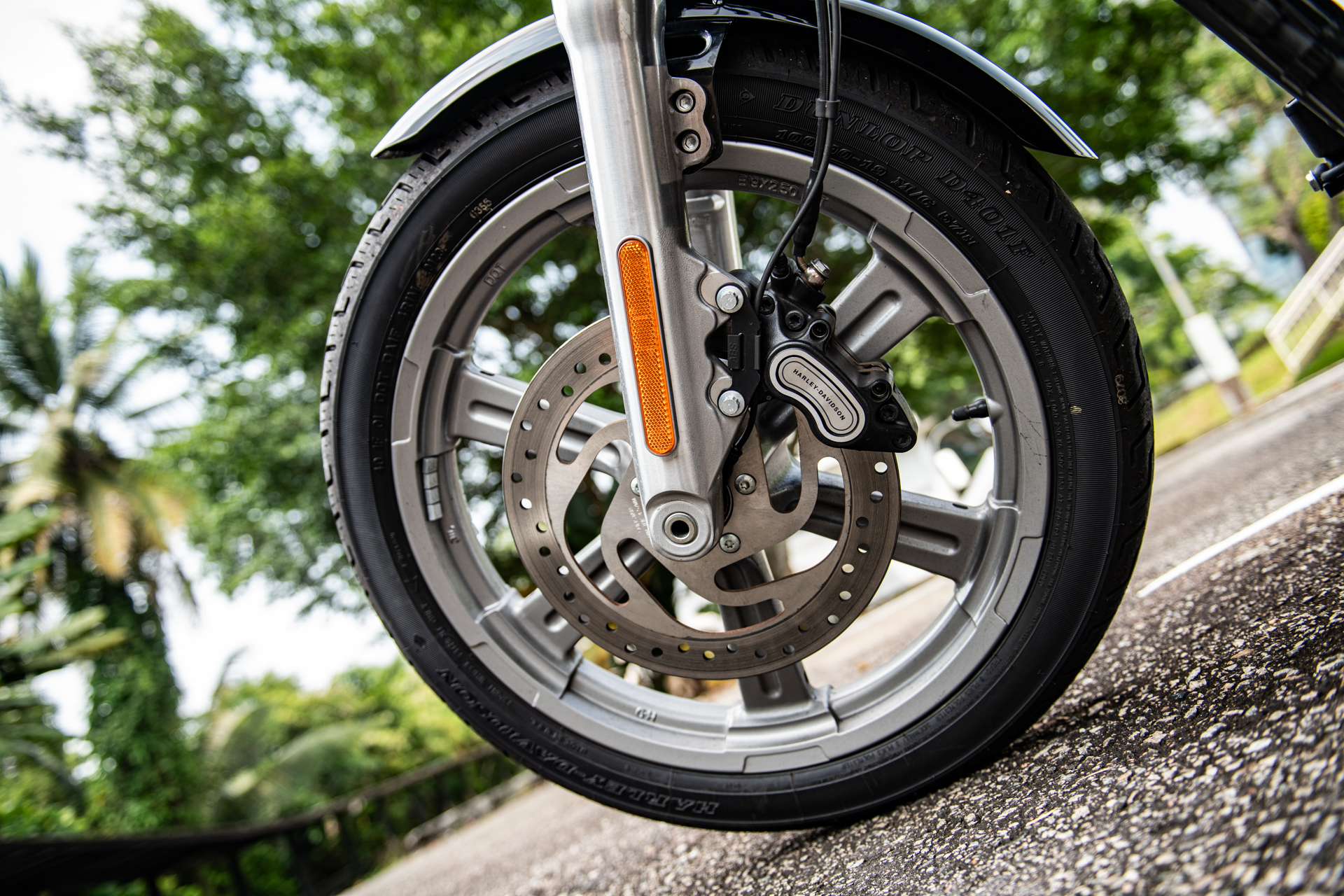 B stands for bias-ply, and these are blackwall or BW tyres, as opposed to whitewall ones, which is worth mentioning since some Harley-Davidson motorcycles came with whitewall tyres from the factory back in the day.
Man & Machine
The test ride began around 4.30PM on the highway, with yours truly wrongly assuming that vehicular flow would be rather smooth, only to run into heavy traffic on the AYE between Buona Vista and Clementi Avenue 6, and headlong into this Harley's first real-world riding test – lane filtering.
Easy peasy throttle squeezy.
The Softail responded beautifully, slicing in between rows of slow-moving vehicles with supreme confidence. Being relatively narrow in its build helped immensely, and the bike remained rock-stable through it all, expertly lane filtering right along with Malaysian-registered kapchais and the like.
When it came time to pick up steam, a simple twist of the wrist saw the Softail accelerate briskly, carried forward by its surf wave-esque 144Nm of torque. Although it can, the V-twin doesn't appear to particularly like being wrung out to higher revs with things getting really buzzy, so the idea here is to short-shift, ride the mountain of torque and simply settle into a relaxed cruise, accompanied by that unique throbbing exhaust soundtrack in the background.
The Softail is a cruiser after all. Never once during my time with this bike did I feel the need to rush anywhere. That said, this Harley can and will sit at triple-digit speeds with ease.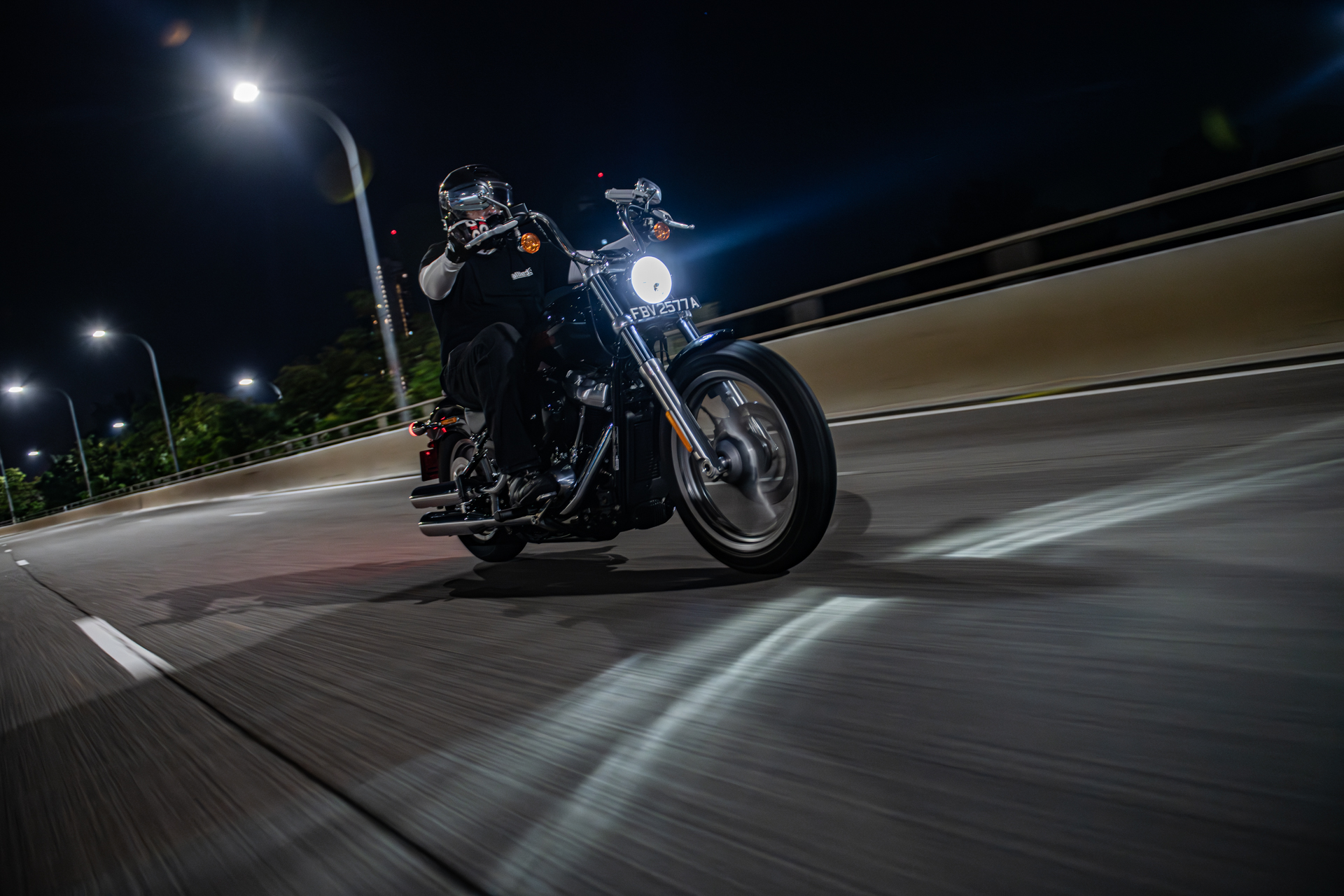 Slow-speed manoeuvring is also rather easy and confidence-inspiring, given how low one sits on the Softail. This Harley is also quite eager to take u-turns and scrape its footpegs in the process. I know this because I had my foot turned slightly outward on the pegs, and scraped my boot on the road on one u-turn.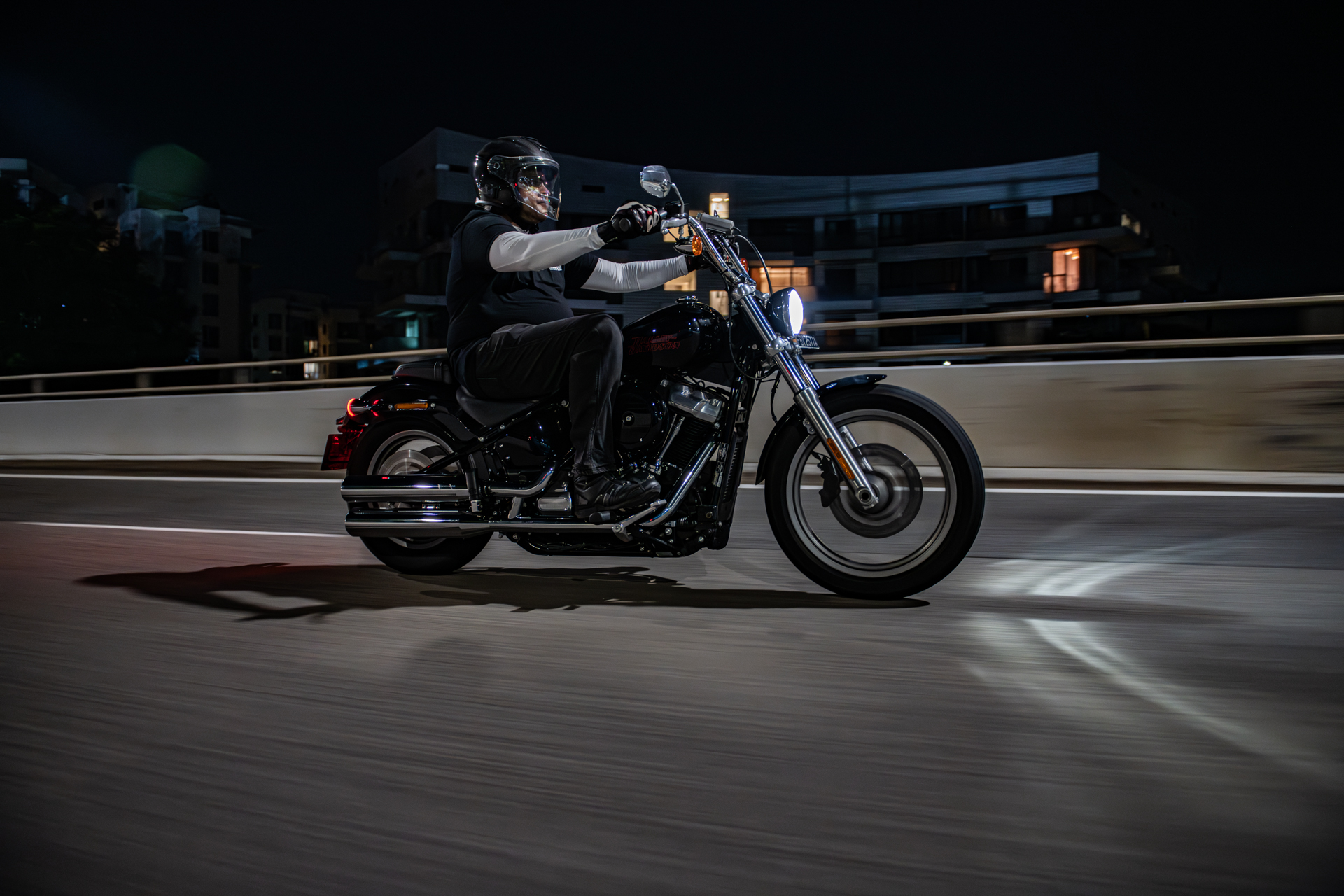 Being of South Asian descent, I thought I had a lot of hair on my chest until this Harley came along and caused a severely dense undergrowth overnight, which now requires an industrial-strength lawnmower powered by a big-block V8 to keep neat and trimmed.
That it drinks like a fish just adds to this alpha experience that is wont to flip normies off while not giving two hoots about what anyone thinks. Harley-Davidson owners ride to the beat of their own drums aka exhaust pipes, and this is a truly visceral experience from the word go.
All said, for those considering embarking upon their first Harley-Davidson experience, the Softail represents a very compelling entry-point. Though it may look rather plain and simple, think of it as a blank canvas for the Harley owner's creative expression to customise to their heart's content. Have a ride and feel it for yourself.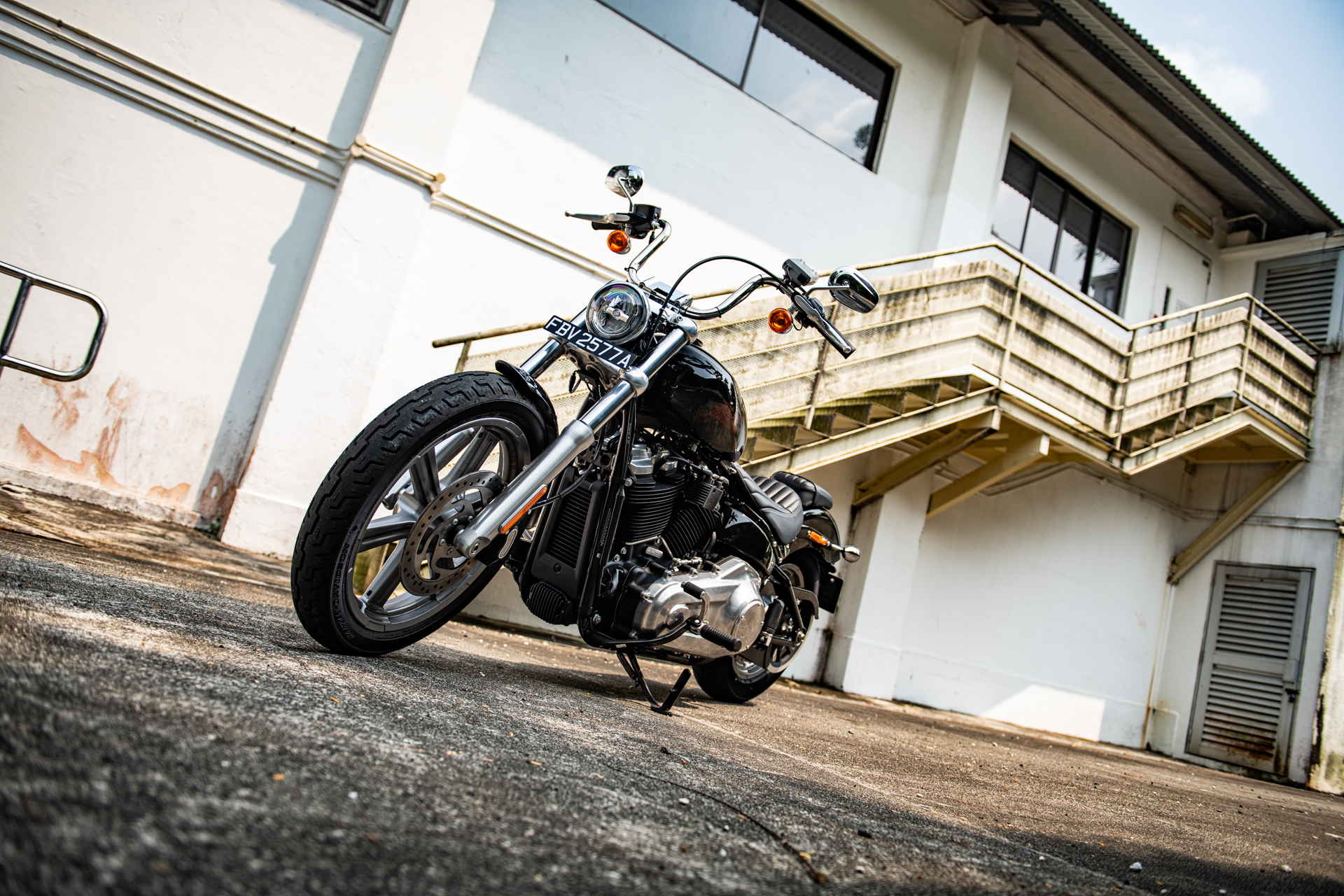 After returning the Softail and while riding my Duke 390 home, my first lingering thought was "how come the gear shift lever so smol wan aaaah?"
Photo Credits: Sean Loo (@auto.driven)
Technical Specifications
Harley-Davidson Softail Standard
Engine: Milwaukee Eight 107 1,745cc V-Twin
Transmission: 6-speed manual
Driveline: Chain-driven primary, belt-driven secondary
Power: 86hp @ 5,020rpm
Torque: 144Nm @ 3,250rpm
Fuel Economy (combined): 5.5-litres/100km or 18.18km/litre (claimed)
Fuel Tank Capacity: 13.2 litres
Weight (in running order): 297kg
Length: 2,320mm
Wheelbase: 1,630mm
Unladen Seat Height: 680mm
Ground Clearance: 125mm
Lean Angle (left): 28.5-degrees
Lean Angle (right): 28.5-degrees
Price: $60,900 (with COE, accurate at the time of this article)
Contact: Harley-Davidson Singapore
---
Read more automotive news at AutoApp, or check out our latest videos on Ignition Labs TV!