The new Hyundai Kona Hybrid looks great and is more spacious than ever; a modern family hauler that hits the mark.
---
Since it was a fairly late addition to the smörgåsbord of SUVs when it hit the market in 2017, the Hyundai Kona Hybrid has been playing catch-up ever since. So, it comes as no surprise that its transformation into this second-generation version has come around rather quickly.
The ingredients for success were all there for its predecessor, but it was a commercial underachiever compared to its rivals. So, in line with customers' demands, the new 2023 Kona gets more interior and boot space than before, and gets a more grown-up, boldly-detailed SUV look to fit neatly in the range alongside the Tucson and the Santa Fe.
But, have these improvements made it a better car? Let's find out.
An Evolution in Style
The new Hyundai Kona Hybrid has styling that looks like it's straight off the set of a futuristic movie. If you considered the old Kona but found it a bit tight inside, this latest version is longer, wider, taller, and therefore more practical than before.
With its sleek and flush front and rear adorned with captivating lighting bands, it represents Hyundai's leap into bold design territory. Those intricately surfaced sides allow it to stand shoulder-to-shoulder with the Santa Fe, boasting distinctive lighting signatures that match the Kona's unique style. Yet, it's not a jarring contrast but rather a futuristic fusion. If you've seen it on the road, you know it's hard to miss.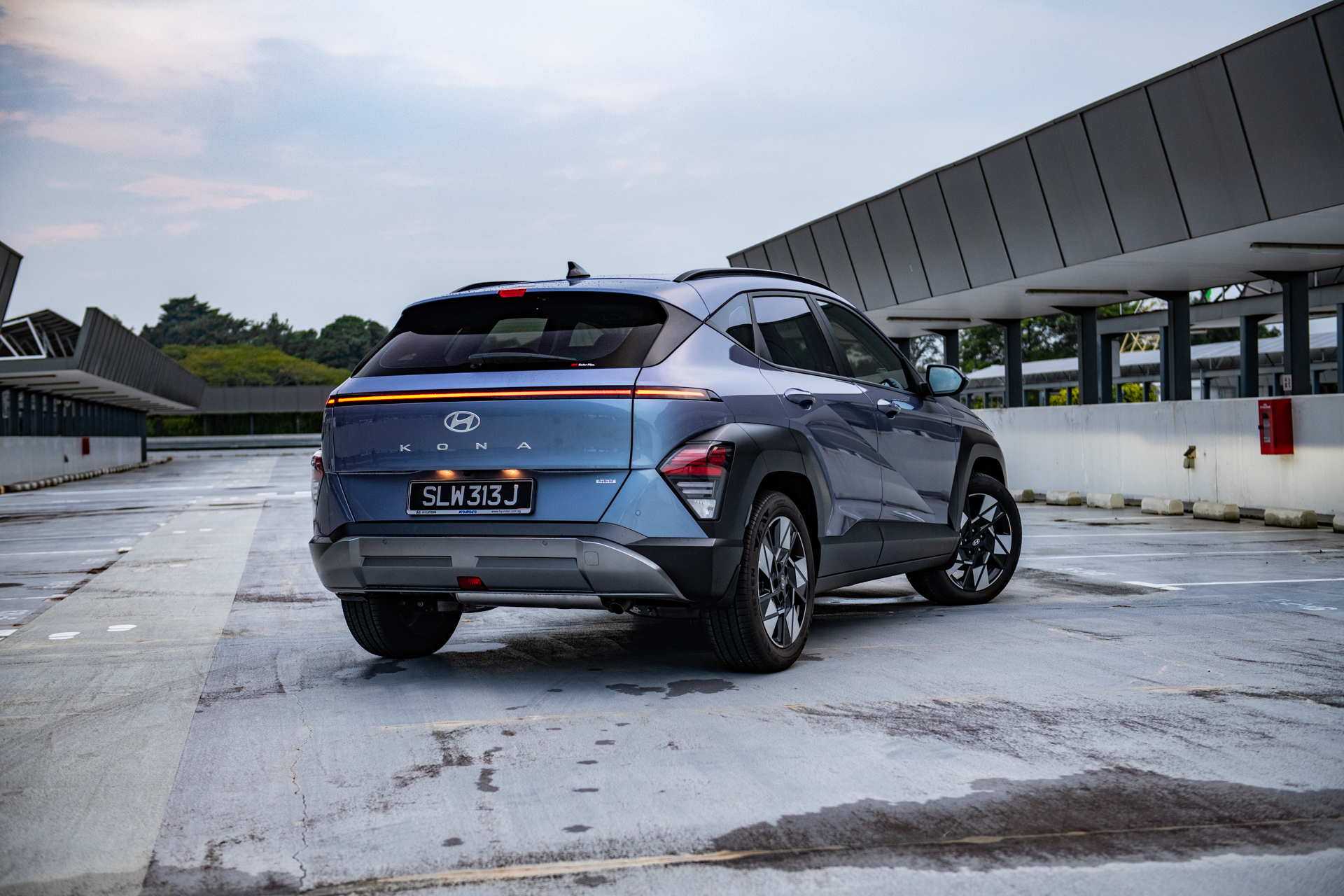 Built on the same K3 platform as the Kia Niro, the Kona has grown, gaining 175mm in overall length (now 4355mm) and 60mm in wheelbase (measuring 2660mm). This expansion also translates to a more generous interior (more on that later).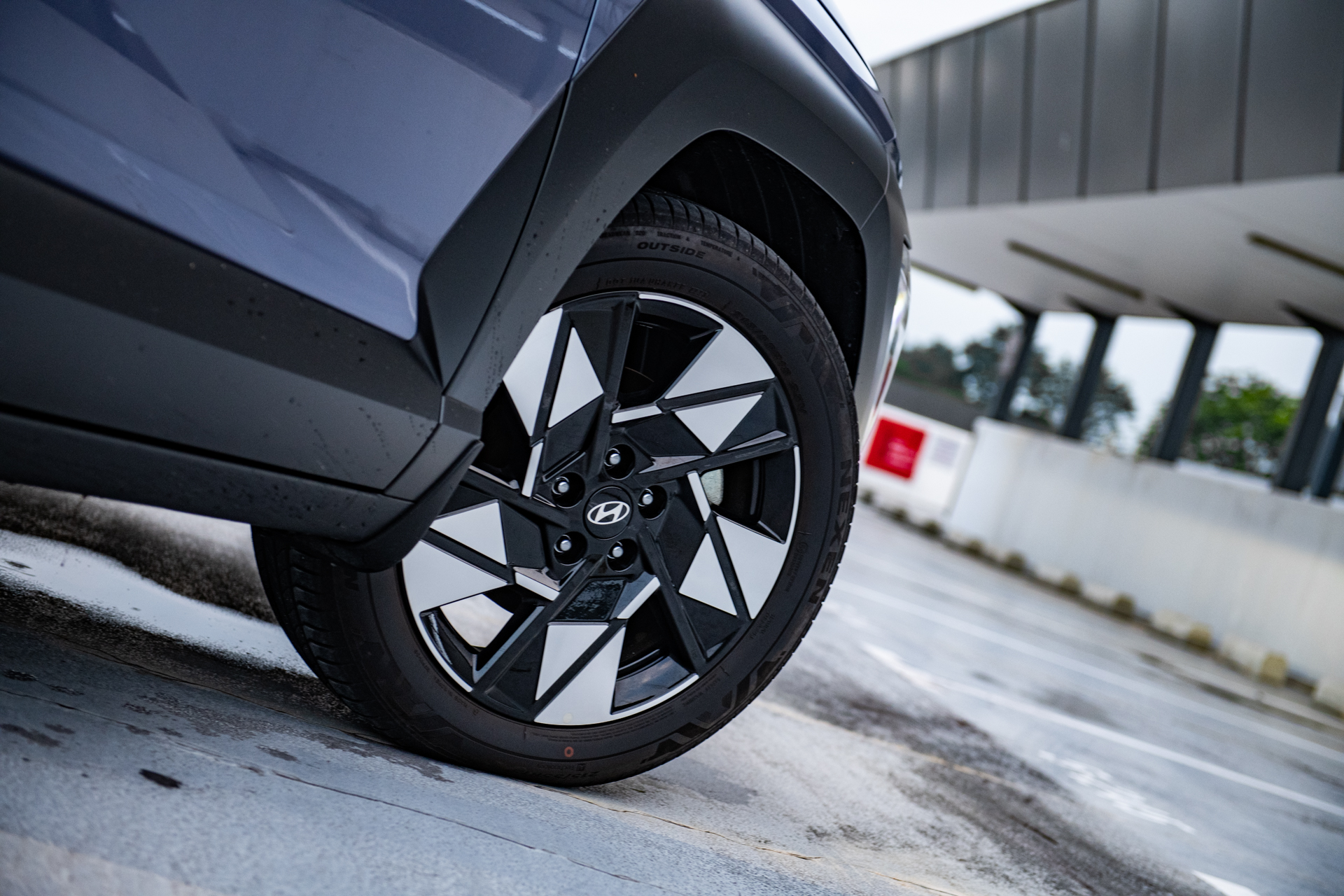 It's a bit like your bank balance; bigger really does mean better. And with so many other small family SUVs to consider, that extra boost in practicality certainly helps make a case for the Kona.
A blend of Classic and Modern
Step inside, and you'll find a blend of old and new. The Hyundai Kona offers an up-to-date twin-screen dashboard setup, but it doesn't shun the traditional chunky buttons that simplify navigation and other essential controls. This fusion imparts a pleasingly retro vibe without feeling outdated.
Unlike other modern cars with complex touchscreen controls, this setup ensures you can tweak settings quickly while keeping your focus on the road. Thank you Hyundai.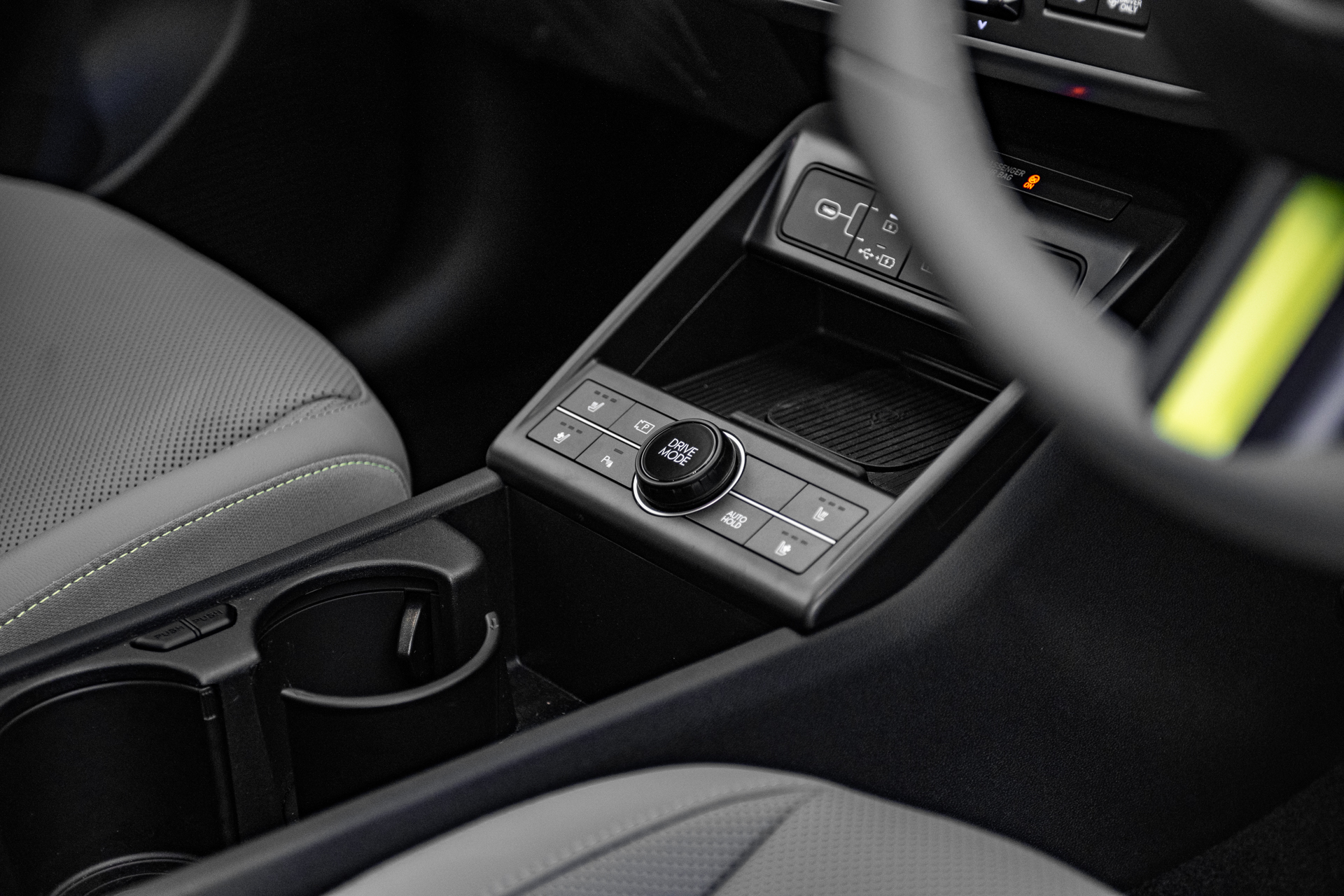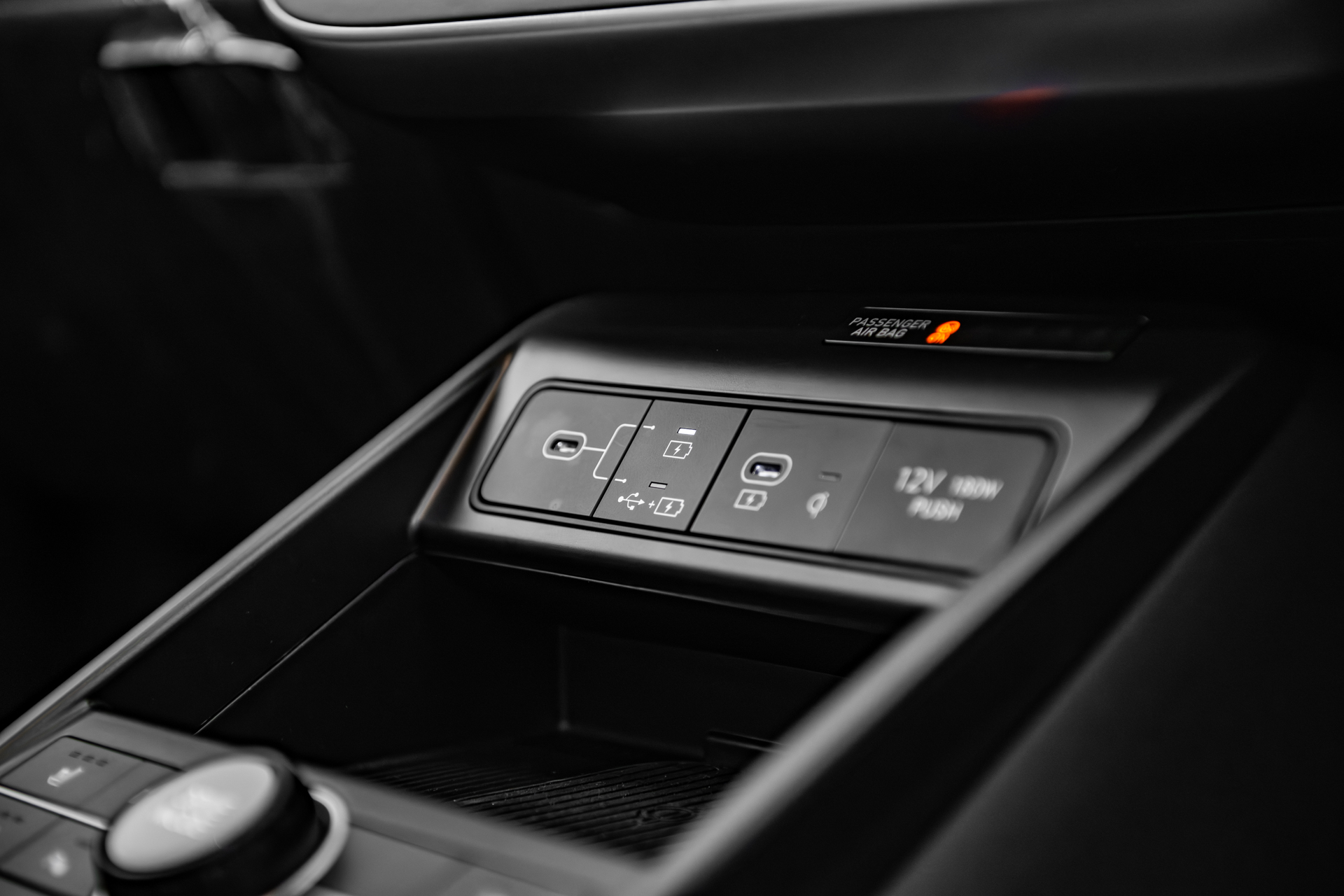 Despite this nod to tradition, the overall ambience in the cabin speaks of quality. The design is elegantly straightforward, avoiding distractions. However, if you go poking around, you might discover some slightly cheap, scratchy plastics.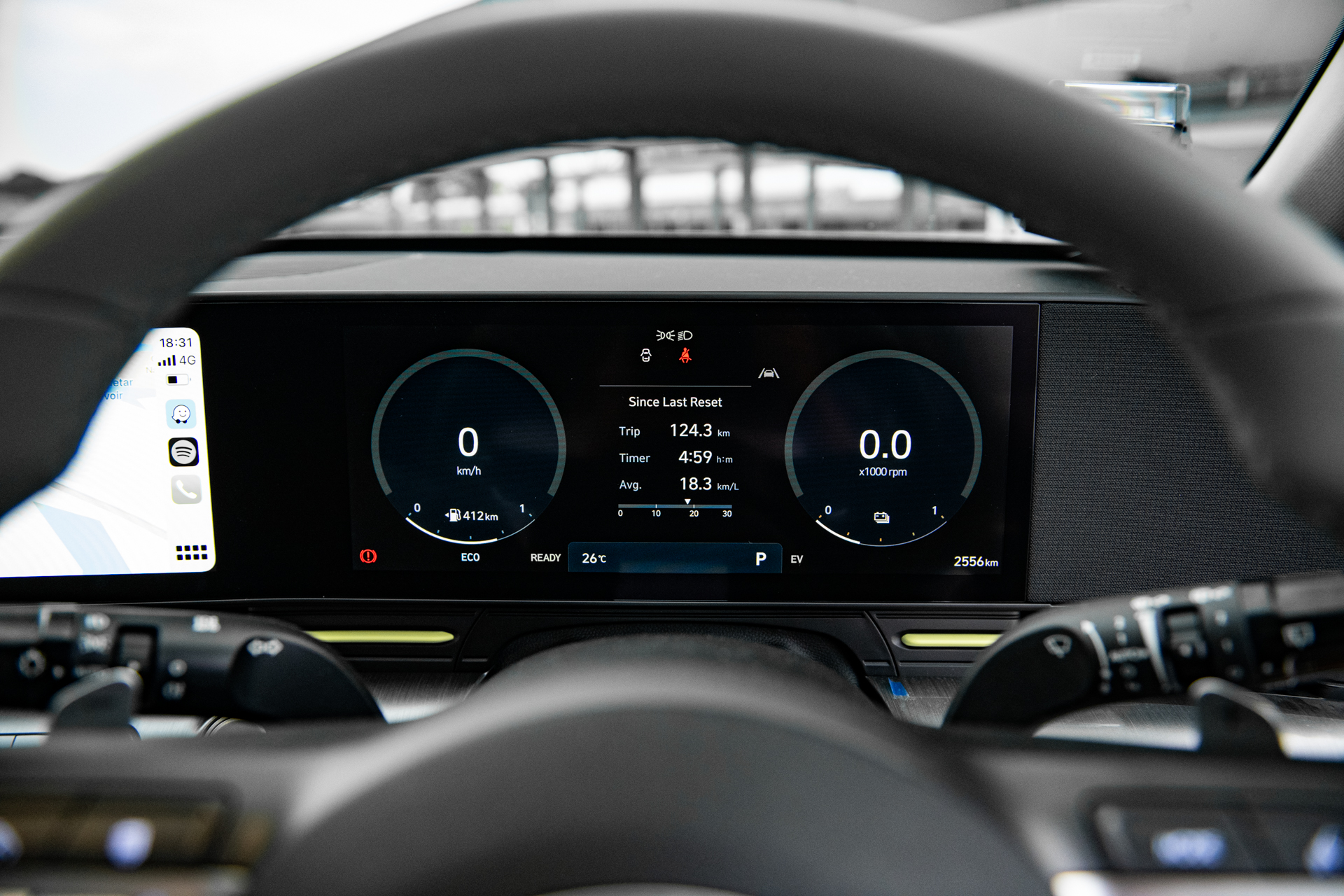 The touchscreen interfaces are sharp and responsive, featuring intuitive menus, ensuring you won't waste hours just to change a setting. Both displays stretch 12.3 inches, and you can also integrate your playlists and maps swiftly using wireless Apple CarPlay and Android Auto.
Since it's wireless, you can also pop your smartphone into the wireless charging dock and forget about it for the journey ahead.
Storage options abound, from a roomy area between the passengers to stow your odds and ends, complete with retractable cupholders for added versatility. The armrest cubby hole proves delightfully capacious.
Even the door bins don't skimp on space, though some soft lining might have been a nice touch to prevent items from rattling around.
There's no shortage of rear space either. Even taller passengers will revel in generous legroom and headroom. Thanks to the considerable width, it's not too cramped for three occupants side by side.
The rear door bin doesn't quite match the front's capacity, but it's spacious enough for a typical beverage bottle. Furthermore, a small storage compartment is nestled between the front seats, equipped with a couple of USB-C slots.
Fitting a child seat is a breeze without the need to shift the front seats forward, thanks to the ample room. With doors that swing open to nearly 90 degrees, access is a breeze. The ISOFIX mounting points are easy to reach, though not completely flush with the seat cushion, making alignment a bit finicky but far from a deal-breaker.
Most folks will spring for the Elite trim too, which adds a nice sunroof and colour-matching upholstery to boot. Plus, your front LED strip is one continuous bar, and you also get a smart-powered tailgate.
Venture into the boot, and you'll find it remarkably practical, boasting a capacity of 466 litres. Fold those seats down, and you unlock 1,300 litres of space; more than plenty for the odd furniture run.
What seals the deal for the Kona's practicality is the ease with which you can load and unload your gear. The low-sitting bumper and absence of a lip make it a breeze. Underneath the floor, you'll discover ample space, perfect for keeping items hidden or maximising capacity.
Packing a Punch on the Road
The Hyundai Kona offers two trim options: GL and Elite. Rumour has it that an all-electric Hyundai Kona may soon grace our shores. For now, both petrol variants are equipped with the same 1.6-litre Smartstream engine, delivering a respectable 129bhp and 265Nm of torque. While its century sprint time might not break records at 11.4 seconds, the Kona feels surprisingly nimble, making it ideal for darting in and out of junctions or merging onto expressways.
The driving position is spot on, offering ample adjustability to secure a clear view of the road ahead. Taller drivers won't feel claustrophobic.
Thanks to a light steering feel, the car is easy to manoeuvre in busy traffic. Plus, it comes with front and rear parking sensors, along with a rear-view camera, as standard, which is a welcome addition.
Ride comfort is generally satisfying, as the suspension handles road imperfections without delivering jarring impacts. Nevertheless, the Kona might exhibit some jitters and a sense of unease on exceptionally rough roads.
The hybrid powertrain truly shines in urban settings. The electric motor ensures swift throttle response and seamless transitions between petrol and electric propulsion. Economy is notably better in the city, where the electric motor plays a more significant role. However, the petrol engine may kick in earlier than expected, even with a half-charged battery.
On the flip side, the driver assistance systems can be a bit irksome. While some prove more valuable than others, the constant barrage of alerts and warnings can become distracting, especially when it's unclear what the issue is. Fortunately, you can create a shortcut to deactivate them swiftly, although they will reactivate every time you start the car.
Despite the occasional intrusion of assistance alerts, the standard lane-keeping assistant, which keeps you within the lane lines, is quite effective and only intervenes when necessary. Smart cruise control is also included (in the Elite), making long journeys effortless.
While the petrol engine can be a tad noisy during acceleration, it settles into a quiet hum at cruising speeds. Coupled with minimal wind and road noise, the Hyundai Kona provides a comfortable environment for your drives. Certain road bumps might produce audible thuds, although they won't disrupt the car's composure.
When you take the Hyundai Kona for a spin on twisty roads, it won't disappoint. Of course, this was designed to be a gentle cruiser so the steering feels somewhat light, not providing you with complete confidence in tyre grip and road feel. Nevertheless, it's relatively direct and won't leave you fearing a potential rollover.
Thanks to its hybrid powertrain, the car can easily do 20-25km/litre even if you don't put effort into keeping a light throttle. I claimed an average of 21.2km/litre across my whole test drive, and that included some idle aircon enjoyment and speedy acceleration. Good stuff this.
And for all you soon-to-be Kona PHV drivers out there, you do not need to oscillate your foot to save some petrol on the move. The car will handle everything for you, so just drive smoothly, please?
A Modern Family Hauler That Hits the Mark
The latest Hyundai Kona is a surefire hit. It's a fantastic all-around family car, offering impressive range, robust performance, and exceptional refinement, all at a price that's bound to make competitors raise an eyebrow or two.
If you are looking for a compact family SUV but don't wish to make the transition to EVs that quickly, this should be high up on your consideration list.
Technical Specifications
Hyundai Kona Hybrid Elite
Engine: 1.6-litre 4-cylinder direct injection
Power: 104 kW (139 bhp)
Torque: 265 Nm
Gearbox: 6-Speed (A) Dual Clutch
0-100km/h: 11.4 seconds (claimed)
Top Speed: 165 km/h
Fuel Capacity: 38 litres
Fuel Consumption: 21.3km/litre (claimed)
Price: S$194,999 with COE (accurate at the time of this article)
Contact: Hyundai Singapore
Photo Credits: Sean Loo (@auto.driven)
---
Read more automotive news at AutoApp, or check out our latest videos on Ignition Labs TV!