With a high-class cabin, a smooth ride, and space for the whole family, it's easy to see why the Hyundai Palisade has been a hit for the Korean automaker.
---
While it feels like the Hyundai Palisade had just stormed the three-row SUV scene, it's actually receiving a mid-cycle refresh for the 2023 model year. This, conveniently, provides another excuse to review what is a thoroughly excellent SUV.
The Korean automaker's largest SUV runs the gamut as a spacious, comfortable place for the whole family, and the 2023 revamp hews to the "don't mess with success" maxim.
Commanding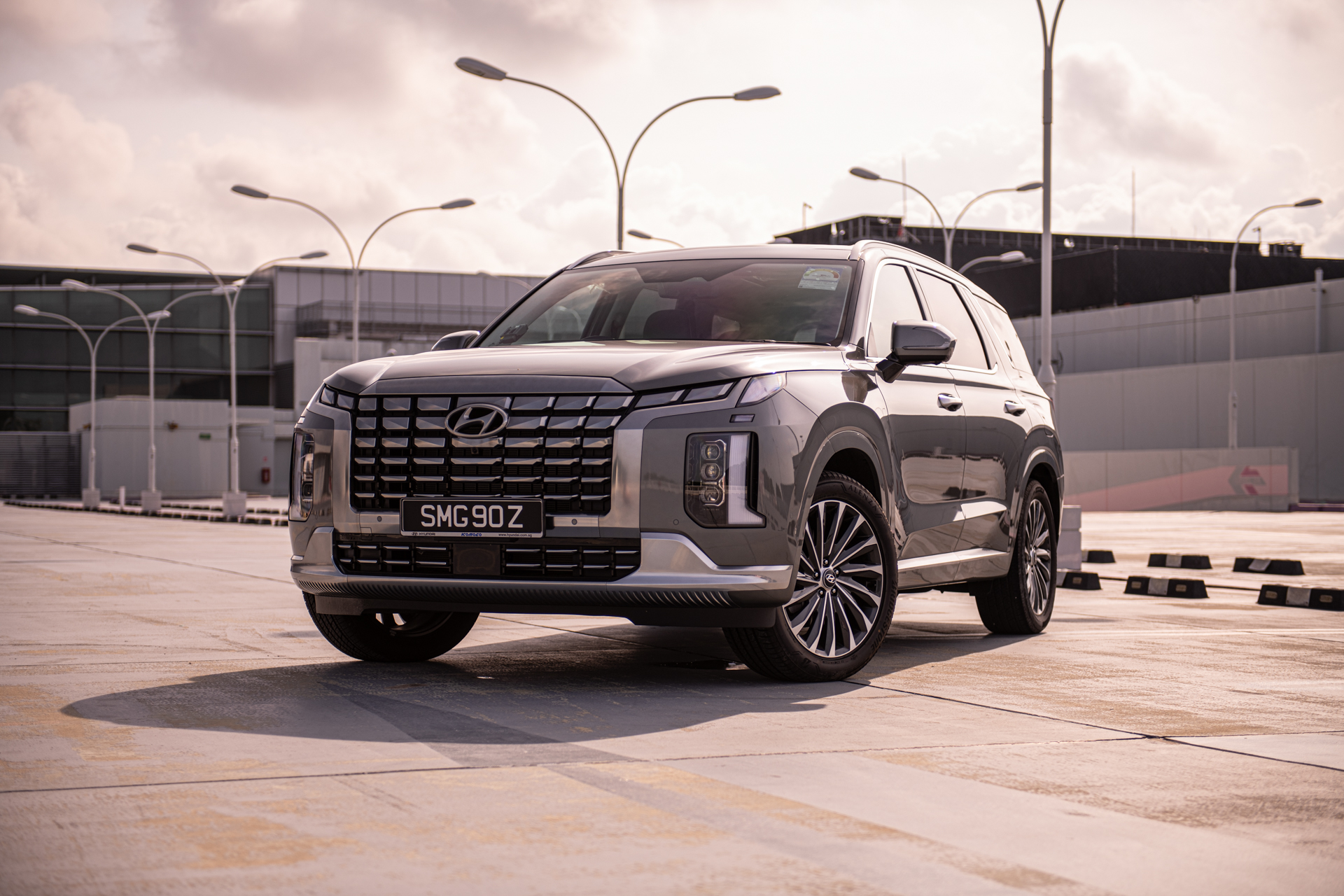 Hyundai quotes the 2023 Palisade modifications as a "product enhancement". The more colloquial "facelift" would have been an apt term, because the car received some major aesthetic surgery upfront.
A shiny new grille sits front and centre and makes the Palisade feel more squared-off and upmarket. It's a lot of look, but like its Genesis cousins, the big grille is a look the Palisade can pull off confidently without looking too garish.
More importantly, the new visage is a definite upgrade over the previous variant, and it gives a more muscular appeal to the already bulky facade.
Spacious
Of course, if you're in the market for one of these, the inside is where it really counts. And this is the main calling card of the Hyundai Palisade – Space.
Not only is this hulking Korean a noticeable size up from its smaller Santa Fe sibling but it can also be specced in either an eight or seven-seat format. The difference between the two set-ups is the second row, which can be a conventional bench with room for three, or with two captain's chairs and a narrow aisle in between.
There is definite merit in the seven-seat set-up. While having an extra seat in the middle row has obvious appeal, the extra wiggle room in the middle can pay dividends if you're planning on having baby seats fitted more often than not.
Adults can easily slink along in between the seats and get into the back too; not something that can be easily done with a conventional three-abreast middle row.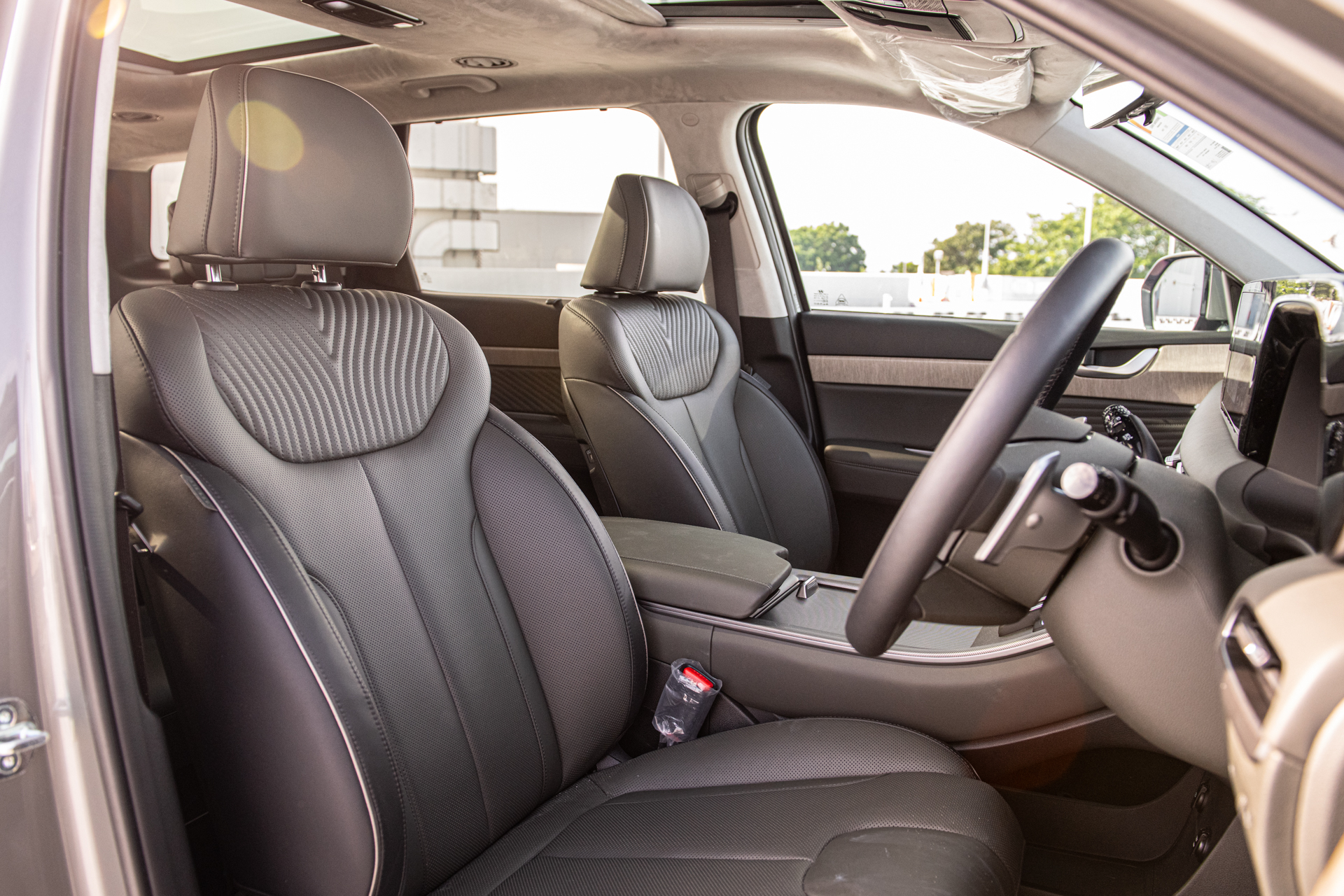 Because of the squared-off exterior, the amount of cabin space available is great. Front runners get eight-way electric seat adjustment, and heating/ventilation is standard for front and rear outboard seats. Even the third row is quite comfortable and fitted with good amenities. If you're planning on carrying more than four full-sized adults in proper spacious comfort, then the Palisade delivers.
But that's also where the car's main caveat comes into play. While the Hyundai Palisade competes with other large seven-seat SUVs, the space it projects also gets in the crossfire of MPVs like the Kia Carnival and Hyundai Staria. It sort of puts the car in a no man's land between an SUV and MPV.
Other updates for the 2023 variant are the new dashboard design, updated infotainment display, and refreshed steering wheel. It feels fresh and modern, especially with that full-length air vent, but still has a strong eye for practicality. There's good storage available underneath the gear shifter, and a big topside storage bin that can fit a lot of stuff.
There are loads of USB outlets dotted throughout the cabin, along with multiple cupholders and bottle holders. The twin cupholders in the second-row doors are a small trinket which actually makes a lot of sense design-wise. 
The 12.3-inch infotainment display, up from 9.5 inches before the facelift, is a clear improvement. Sitting proud and wrapped in a piano-black surround, it gives the Palisade enough pace to keep up with the growing competition. Wired Apple CarPlay and Android Auto are available, though I wished this was wireless like in other Hyundai models. 
The infotainment screen now matches the 12.3-inch digital instrument cluster. It mimics analogue gauges with a large tachometer and speedometer dominating most of the real estate. But, if you want to keep your eyes on the road, a heads-up display is available too.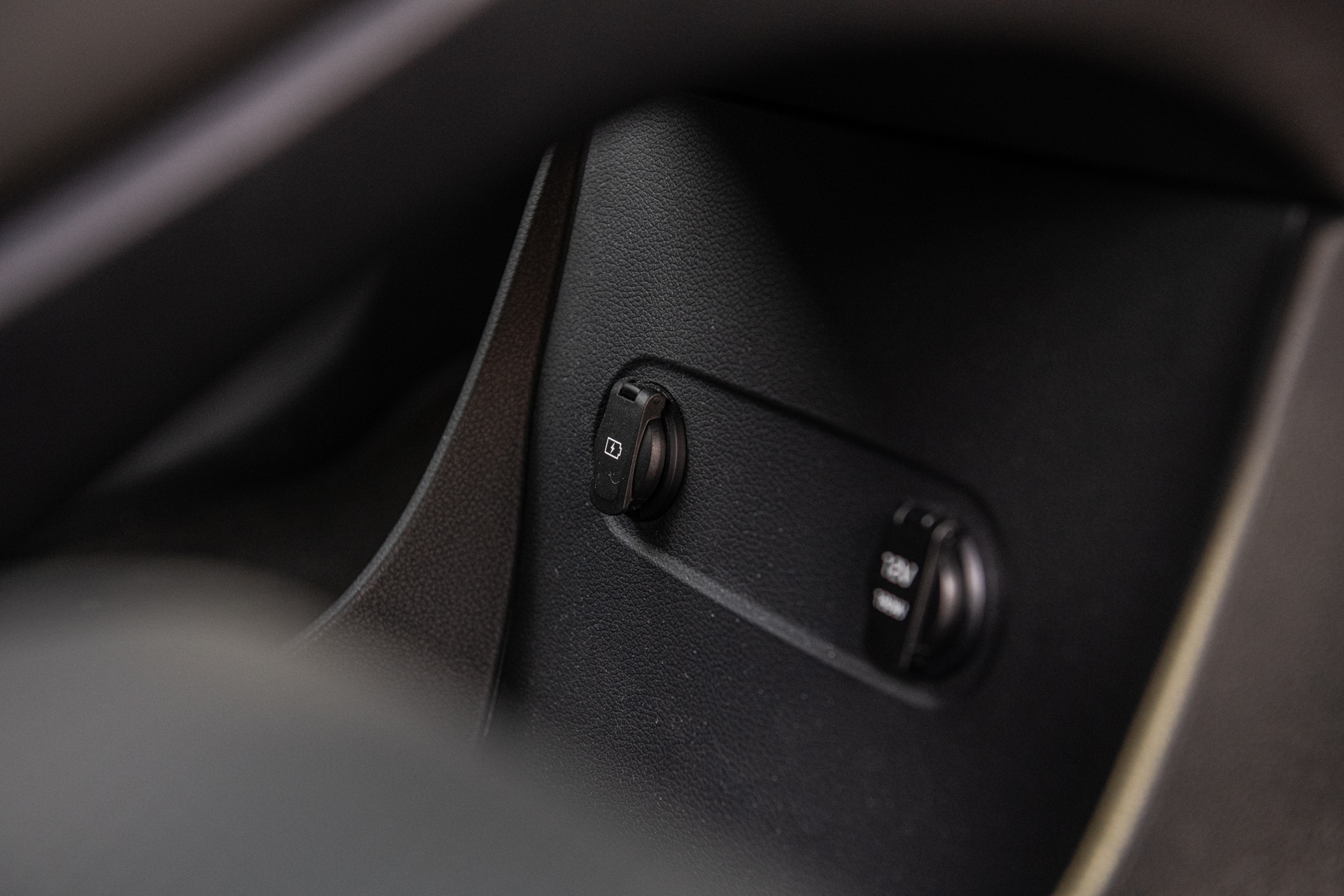 And while the Palisade doesn't go full-on Genesis with knurled buttons, it has large well-spaced ones to easily adjust everything without being distracted from the road. Audio is belted out by an Infinity-branded unit with 12 speakers and an external amplifier.
The blend of materials and overall build quality seems very good in this case and suited to the hardships of everyday family affairs.
Powerful
Most car owners, especially large family hauler owners, are unlikely to push the limits of their vehicles. They drive within a specific moderate band of the car's capability; one that overlaps very little with traits required for the Nürburgring.
That moderate zone is where the Palisade excels. It's smooth, quiet and reasonably quick without intending to rush anywhere. It rounds turns nimbly, and it's relaxing and pleasant without aiming to be much more than that.
Rough edges will show at the Palisade's limits if you are trigger-happy with the accelerator, late braking into corners or mashing power through the auto gearbox.
The 3.5-litre V6, while having plenty of torque, is mediocre and can groan under duress. The cabin can be a bit of a ruckus if you're really booking it, but stick well within sensible limits and you can cruise to seventh heaven.
Cruising slowly will do wonders for your fuel economy too, which is the biggest Achilles heel of the Palisade. The lumbering V6 out front gave me an average of 7km/litre over the course of my media drive. That's not notably bad for this segment of cars but be prepared to rack up points quickly with your favourite petrol station brand.
Worth it?
Ultimately, when you are considering a family car, you want a car to be stress-free and seamless; as a parent, the rest of your life often isn't. The Palisade delivers on this aspect. The Palisade presents itself as a dependable companion that's got your back; a blend of comfort, style, and reliability that's ready to take on whatever life throws your way.
Family life can be chaotic, but your family car doesn't have to be.
Technical Specifications
Hyundai Palisade 3.5 V6 7-seater Sunroof
Engine: 3,470cc V6
Power: 274bhp 
Torque: 336Nm
Gearbox: 8-Speed (A)
0-100km/h: 12.2 seconds (claimed)
Top Speed: 175km/h
Fuel Economy: 10.5km/L (claimed)
Price: S$297,999 with COE (accurate at the time of this article)
Contact: Hyundai Singapore
Photo Credits: Sean Loo (@auto.driven)
---
Read more automotive news at AutoApp, or check out our latest videos on Ignition Labs TV!