The all-new Nissan X-Trail will be the next model debuting with the company's electrified e-Power drivetrain.
The Nissan X-Trail has seen almost seven million units sold over two decades, making it one of the world's most popular SUVs. Nissan has taken inspiration from the well-established DNA that runs through all three of the previous generations: muscular design, flexible utility, and advanced all-wheel drive capabilities.
Modern, muscular styling
The exterior styling of the new 4th-gen X-Trail has been styled very much in line with Nissan's current design language, with elements such as the floating two-tone roof, V-motion grille, and blockier proportions all resulting in a more imposing road presence compared to its predecessor.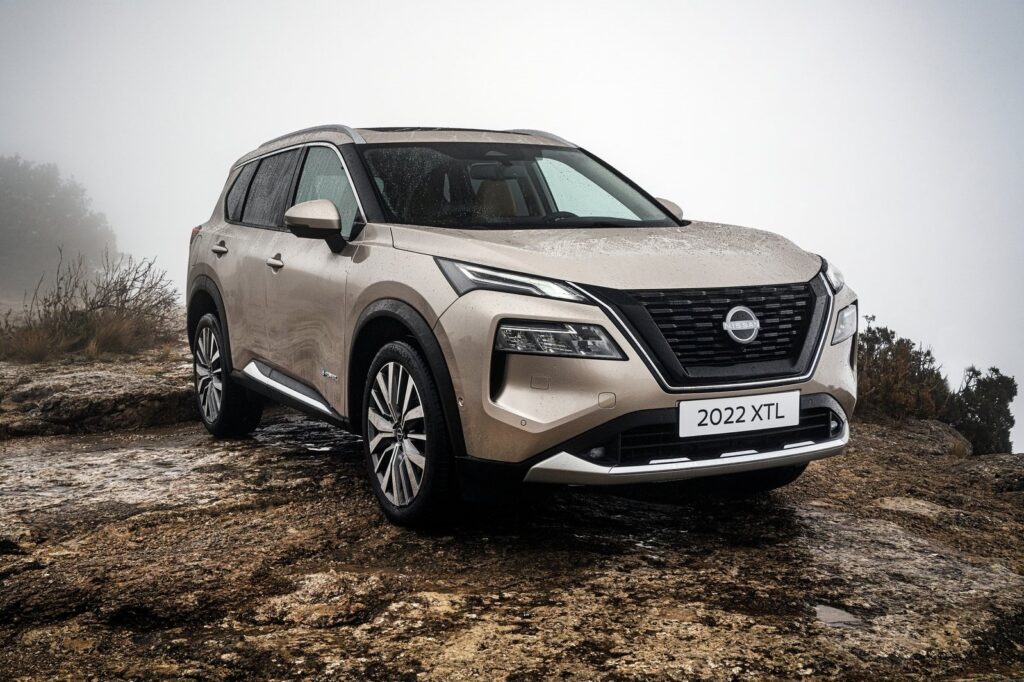 As seen on the Qashqai unveiled earlier this year, the headlight cluster on the X-trail appears to be moulded within the bodywork. At the rear, split taillights allow for a wider trunk opening.
For aerodynamic efficiency, the X-Trail also features various design elements to allow for cleaner airflow around the car. "3D" tyre deflectors at the front direct air around the wheels, an active grille shutter controls air flow into the engine compartment, special A-pillar and underbody covers manage air flow under the vehicle, and a unique "air curtain" directs air flow from the front to the sides of the X-Trail.
The new X-Trail will be available in 10 body colours with 5 two-tone combinations, a welcome sight that gives customers more to choose from, instead of the usual monochromatic colour palette a lot of modern cars tend to offer.
Premium yet practical interior
New premium materials, smart features and acute detailing give the X-Trail's interior a waft of luxury. Extensive attention has been paid to the ergonomic and tactile quality of the switchgear and buttons to give them a high quality feel.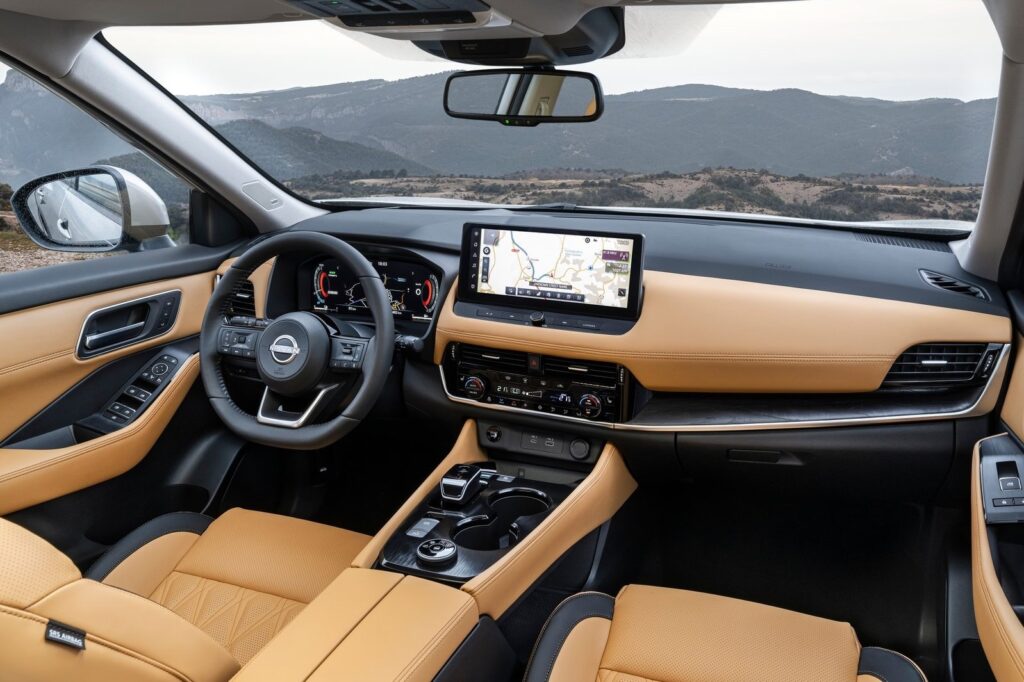 Bucking the modern trend of lumping practically every in-car control into the touchscreen, Nissan has mercifully opted for easy-to-use buttons for the HVAC system, reserving the 12.3-inch central screen for functions such as audio and navigation. The centre console features the e-shifter, drive mode selector, twin cup holders, as well as a 15-watt wireless smartphone charging pad. Dedicated controls for HVAC are available for 2nd row passengers, with two USB type-A and USB type-C ports placed underneath for charging.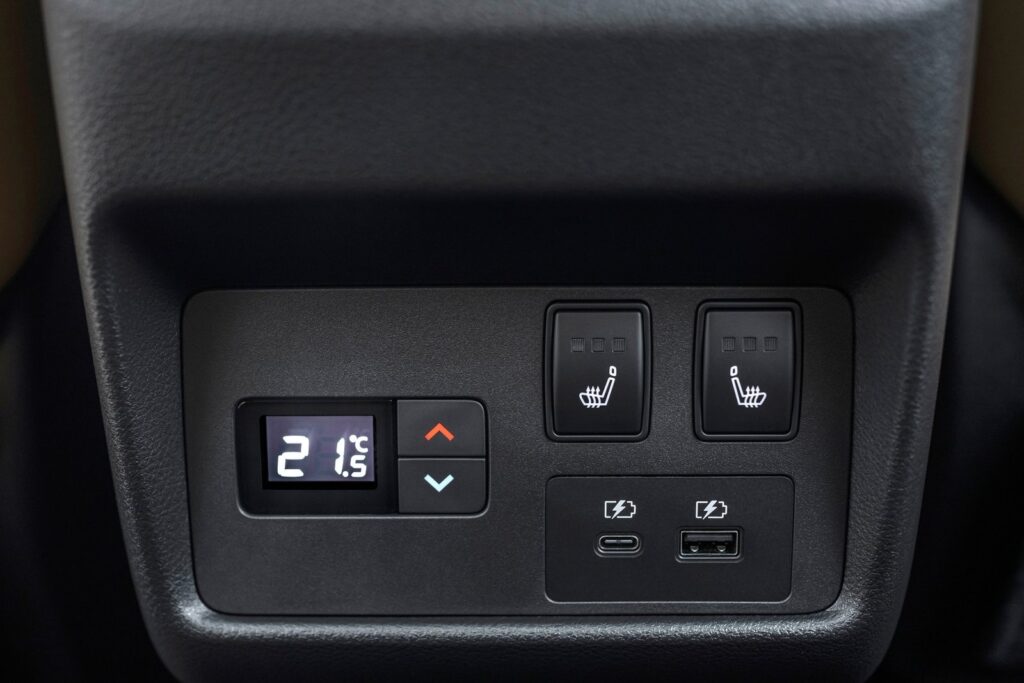 The rear doors of the X-Trail are now able to open nearly 90 degrees, allowing for easier ingress and egress. The second row of seats folds down 60:40 for more cargo space, plus there is a ski hatch for longer items. The second row of seats can also slide forward to maximise trunk space and allow easy access to the third row on the 7-seat configuration.
In the 7-seater variant, the third row seats fold into the floor and are designed to accommodate passengers up to 160cm in height. The space has also been optimised to ensure that third-row passengers can put their feet under the second row of seats. With the rear seats down, the X-Trail has 585 litres of cargo space available, with a powered hands-free tailgate for easy access.
Connected control
To enhance comfort, the X-Trail offers an advanced infotainment system with services including smartphone pairing, in-car Wi-Fi for up to seven devices, NissanConnect Services and a dedicated app with which to interact with and monitor the vehicle. Home-to-Car skills are also compatible with Google Assistant and Amazon Alexa devices.
A large high resolution 12.3-inch NissanConnect display screen is compatible with both Android Auto® and Wireless Apple CarPlay®. Plus, a new fully electronic 12.3-inch TFT multi-information screen offers different configurable layouts to display navigation, entertainment, traffic or vehicle information. This display is now aided by a new 10.8-inch windscreen Head-Up Display (HUD).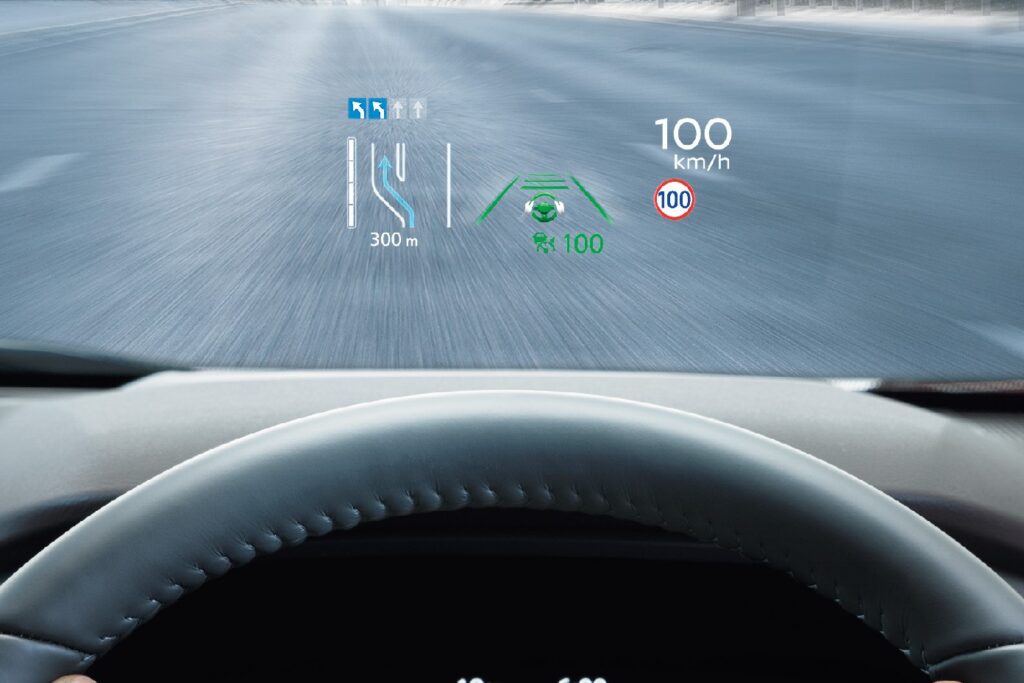 The NissanConnect Services app provides owners with vehicle control functions such as remote horn and lights, as well as remote door lock and unlock. Smart alerts can also be set including speed, time and zone with app notifications.
Aside from the navigation apps found on smartphones, drivers can also ultilise Nissan's native 3D Maps & Live Traffic system, which includes advanced navigation features such as over-the-air map updates, real-time traffic conditions, Google Street View and fuel prices.
Enhanced e-POWER
First introduced in Japan on the Note in 2016, e-POWER is an innovative solution which combines an electric motor to drive the wheels, a small battery, and a traditional petrol engine to act as an onboard generator. This gives drivers the instant response and acceleration of an EV, without the hassle of plugging in for hours to recharge. 
The X-Trail's e-POWER system consists of a high-output battery and powertrain integrated with a petrol engine, power generator, inverter and 150kW front electric motor. Thanks to the pure electric motor drive there's no delay in acceleration, with instant response delivering agile acceleration.
Given that most driving time is likely spent in built-up city areas, Nissan has further developed its one pedal drive mode, now calling it e-Pedal Step. Designed to take the repetitive strain out of stop-start urban driving, e-Pedal Step allows drivers to accelerate and brake using only the accelerator.
A mild-hybrid sibling to tag along
While the e-POWER variant is slated to be the default choice for buyers, Nissan will also offer the X-Trail with a mild-hybrid turbocharged 1.5-litre variant. With 160bhp and 300Nm of torque, it will only be offered with front-wheel drive, with power to the wheels being transmitted via a Xtronic CVT transmission. A torque boost of around 6Nm can be generated under acceleration with the mild-hybrid's battery.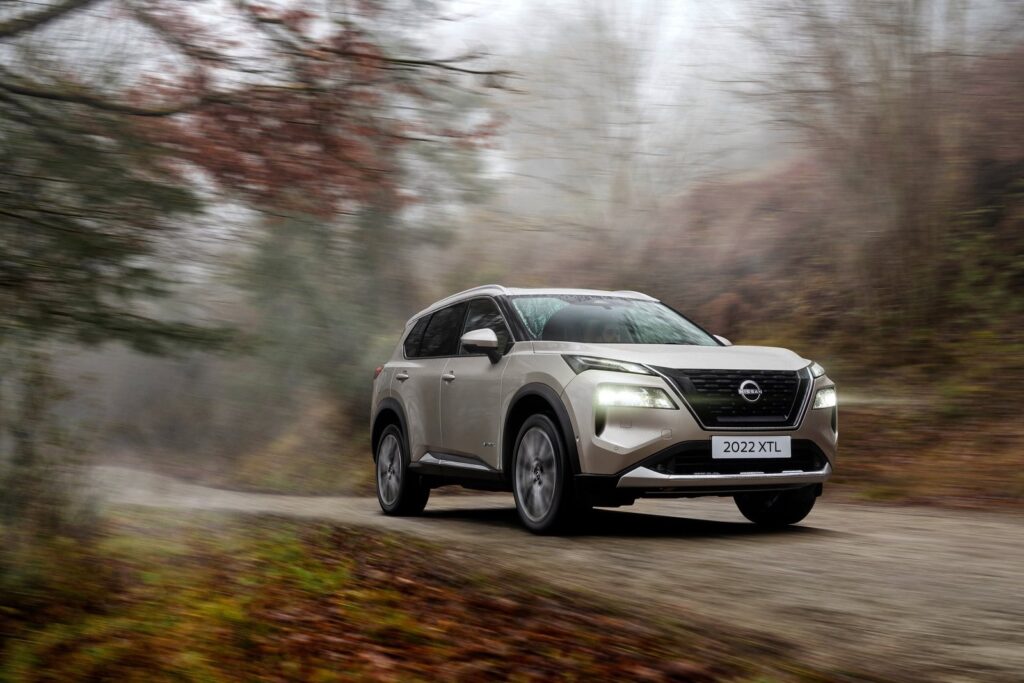 e-4ORCE
A new all-wheel drive system designed to work with Nissan's electrified powertrains will also be introduced on the X-Trail. Dubbed e-4ORCE, it utilises separate front and rear electric motors, enabling different amounts of power to be sent independently to either end of the X-Trail. This output is also complemented by an "ultra-high-precision" motor control unit, offering responsive yet smooth acceleration.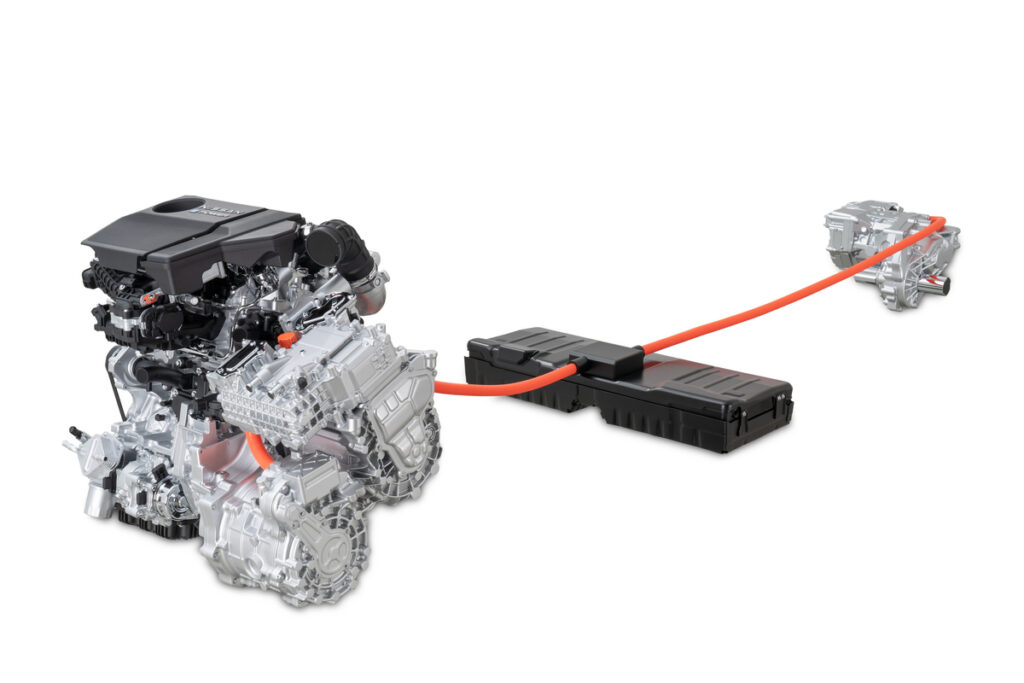 Nissan claims this system will deliver sufficient traction and confident acceleration in all weather and terrain conditions. The high end dual e-motor system will have a total output of 157kW, with a 0-100km/h time of approximately 7 seconds.
In addition to optimising front and rear torque allocation, the system applies independent brake control at each of the four wheels to maximise cornering force. This delivers dependable cornering with minimal steering adjustments.
Upgraded ProPILOT assist
The new Nissan X-Trail is equipped with the next generation of ProPILOT assist, which is a suite of driver assist systems that combine Nissan's Intelligent Cruise Control and Steering Assist technologies. This brings greater driver support in a wider array of circumstances, reducing fatigue and stress while driving.
ProPILOT assist can accelerate and brake the vehicle within a single-lane on expressways, accelerating the vehicle to cruise at a set speed and bringing the vehicle down to a halt in heavy stop-start traffic.
The updated system can also adapt the car's speed according to additional external circumstances. When the car crosses into a lower speed limit zone, the system can read road signs and slow the X-Trail to the appropriate speed. The system can also use data from the navigation system to adjust the speed for approaching curves on the highway that have a tighter radius.
Furthermore, ProPILOT assist with Navi-link can now link with the X-Trail's blind-spot radars to help intervene and prevent a lane-change manoeuvre if there is a vehicle in the blind-spot zone.
Active and passive safety
As with most new modern cars, the X-Trail comes equipped with an array of safety features to keep its occupants safe on the roads. Safety at night is enhanced as the headlights can dip automatically according to approaching traffic.
Another feature on-board the new X-Trail is the new central airbag, which deploys from between the two front seats, preventing the front row occupants from making contact in the event of a side-impact. The central airbag supplements the driver and passenger airbags, as well as the side and curtain airbags fitted as standard to the all-new X-Trail.
Unfortunately, there is no indication yet from authorised Nissan dealer Tan Chong Motors of when the new X-Trail will arrive on our shores, but we'll provide updates as more news gets updated.