The legendary Volkswagen Golf has been given a detune, enabling it to break through into the COE Category A segment.
---
There's not much that needs to be said about the Volkswagen Golf. Now in its eighth iteration, it has been proven time and time again to be one of the best-selling hatchbacks in the world.
The 8th-gen arrived in Singapore back in mid-2021, but astronomical COE prices have meant it didn't sell as well as its predecessors. Thus, brands like Volkswagen have started to adapt by importing variants that are able to fly under the Cat A banner.
It took a while to get here, but the Volkswagen Golf Life has finally joined the party, and boy is it a riot.
Right, let's get down to business
The Volkswagen Golf which debuted previously has 150bhp from its punchy 1.5-litre turbo engine. Coupled with 48-volt mild hybrid assistance, it was essentially the perfect runabout hatchback, but the ever-expensive category B COE segment cut its life short.
So what did Volkswagen do? Well, they've improved on the engine, now called the 1.5-litre eTSI. Same car, same engine, but now detuned to 130bhp. Coincidentally, category A cars can only have a maximum output of 130bhp. Sneaky fellas.
Peak torque now stands at 200Nm, a 50Nm deficit from the Cat B sibling. This drop in power translates to a slower century print timing, now taking 9.4 seconds to get up to speed. But, do these power changes affect the overall driving experience?
Absolutely not.
When I say that, you do need to adapt your driving style to fit. Gone are the days of powering your way through, instead you'll need to employ a more momentum-based driving style.
Time your overtakes, maintain your speed in the corners when possible, and you'll find that the Golf is still as sharp as ever.
The new engine is also a gem, with mild hybrid assistance allowing the car to coast along with the engine deactivated when it has enough charge. You save lots of fuel this way, and short expressway bursts can easily yield economy figures in the 20s.
Over my few days' test with the Golf, I've managed to achieve an average of 15.5km/litre, and that's with some enthusiastic pedal pressing and jammed traffic thrown into the mix.
With steep petrol prices an ever-present issue, the fuel economy of the Golf is a big advantage. If you're frugal, you can even achieve about 800km on a single tank.
Should you wish to explore some bends at hush-hush speeds, the Golf can deliver in spades too. The main structural difference between the Cat A variant is its torsion beam rear suspension setup.
On paper, it does seem like a downgrade from the fully independent rear suspension of the Cat B Golf R-Line. But, this isn't necessarily a bad thing, as it makes the car more predictable while coming around a bend. The car feels settled even at speed, and any bouts of understeer can be mitigated as easily as letting your foot off the throttle.
I recently took said Golf on a road trip to Desaru, and it handled some twisty B-roads as easily as Sunday morning.
Looks you know and love
Despite its power deficit, the Volkswagen Golf Life looks virtually identical to other variants in the lineup, save for the aero bits on the Golf GTI. You still get all of that Golf goodness wrapped up in a nice little package.
Spring for the Life Plus trim instead and you get upgraded LED lights all round, plus 18-inch alloy rims.
With the same ol' cabin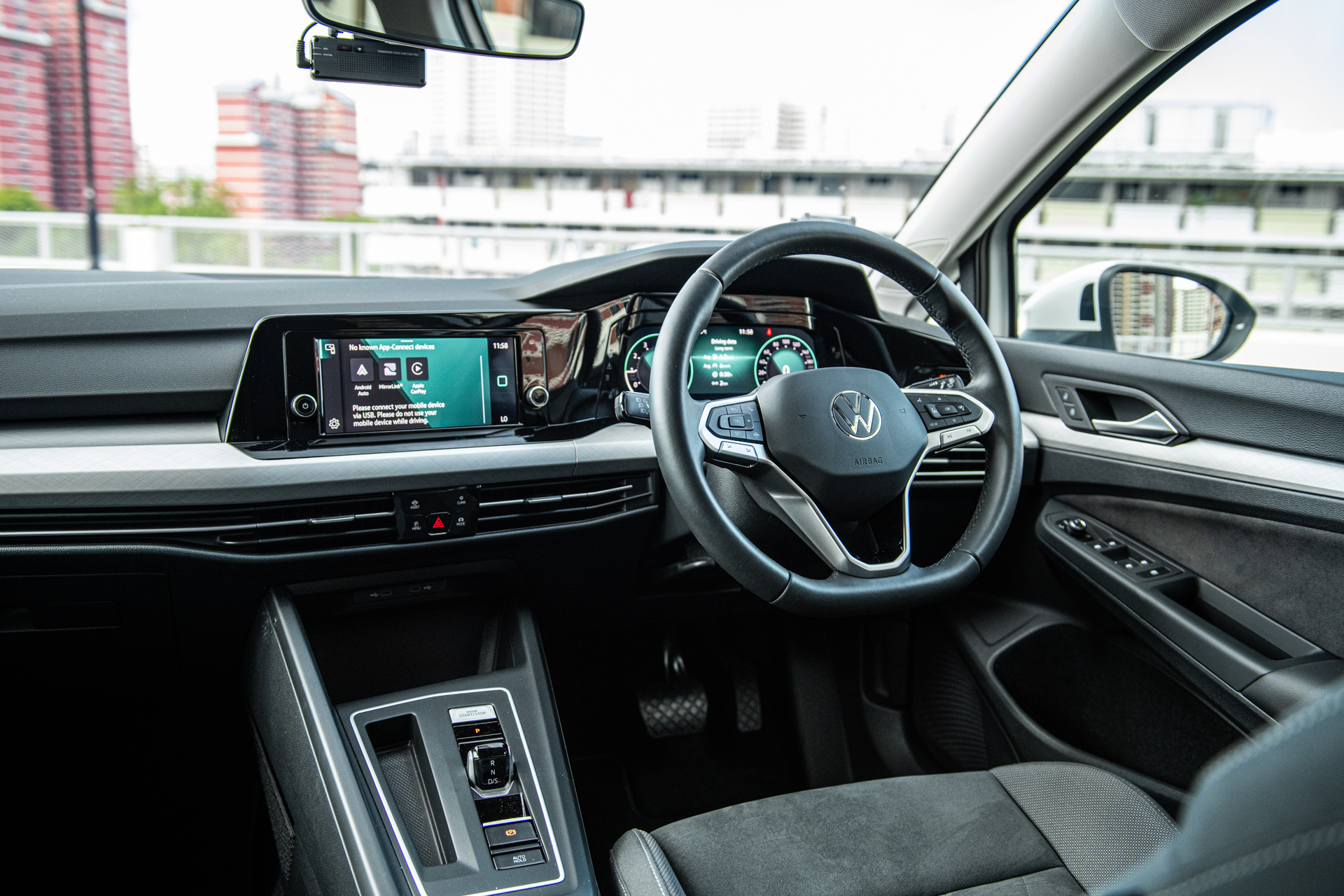 Even in this 'base' model Cat A Golf, you still get a fully loaded digital cockpit experience. The 8.25-inch central infotainment screen is simple and easy to use, with ambient light customisation enabling you to doll up the cabin space.
Apple CarPlay and Android Auto connectivity is achieved simply by plugging in your smartphone, and you also get a wireless charging pad to juice up.
Quick menu settings and controls are dealt with a mix of touch panel operations and rotary knobs.
While I don't prefer the haptic cluster of buttons located underneath the centre screen, the rest of the tactile buttons are a good mix and really amp up daily functionality in the Golf.
To keep the centre console flushed and neat, the gear selector lever is just a tiny toggle switch, vaguely resembling a nugget. How this size is achieved is thanks to new-fangled electronic gear selection, rather than using traditional mechanical linkages. For those who wish to row their own gears and have some fun in the corners, paddle shifters are located on the steering wheel.
It's tried and tested, and it's a great interior. What more could you ask for?
Safe lil' space
It even has ample space to boot. The hatchback-esque proportions give way to ample headroom for rear occupants, and 3 adults can get cosy in the back without much debate.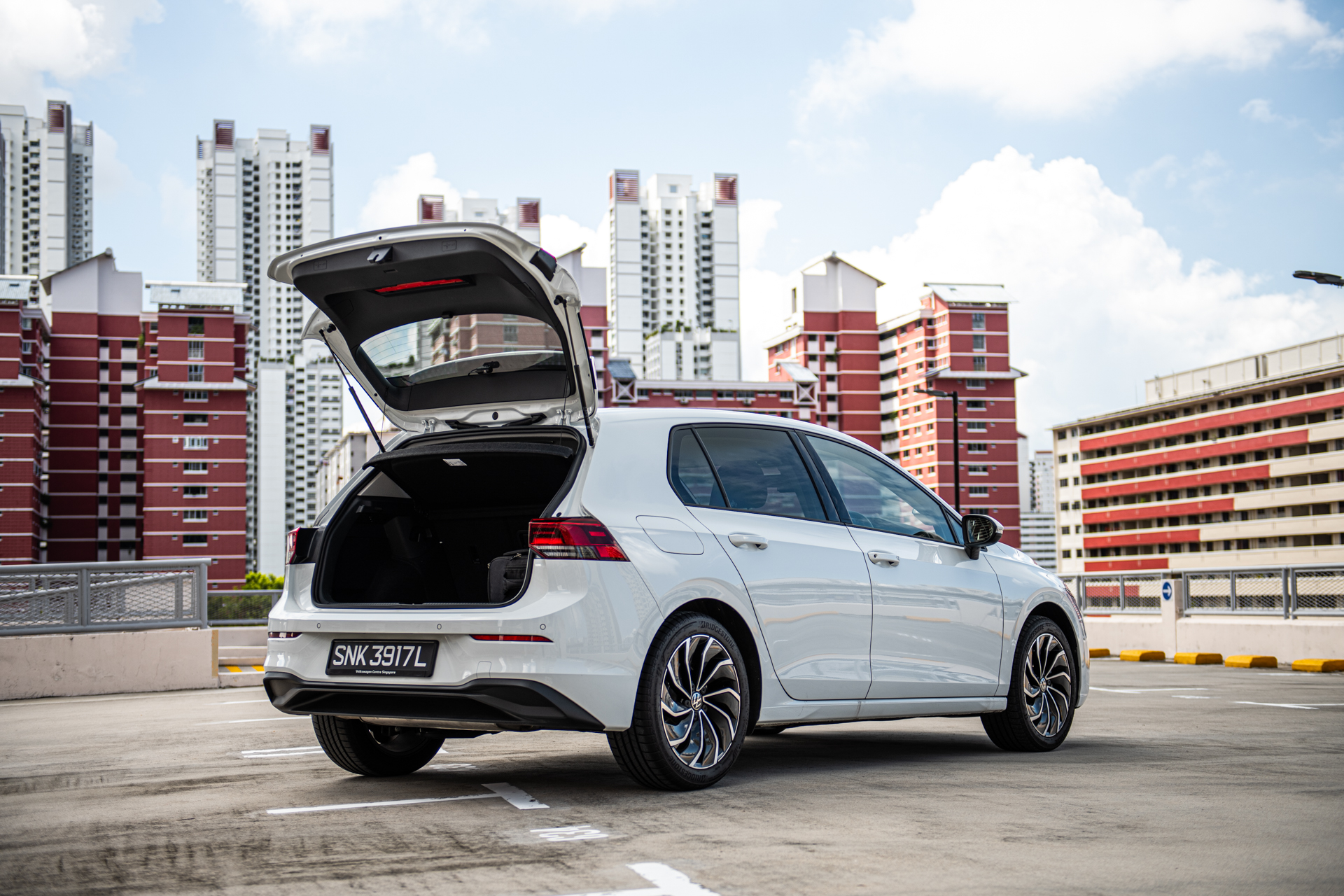 Cargo space is decent for a hatchback as well, spanning 380 litres. Drop the rear seats, and this figure swells to 1237 litres. It was more than sufficient for my trip to Desaru and back with the Volkswagen crew, check it out here.
You choose it because you want to
The Volkswagen Golf Life is simply a fantastic all-in-one bit of kit. Fun to drive, practical for its size, and saves you petrol.
This is all well and good, but the main caveat of the Golf is that Volkswagen is priced as a value-for-money, yet 'premium brand' in Singapore. This puts it in a price bracket with fierce competition.
If you are looking eastbound, cars like the Kia Niro Hybrid and Toyota Yaris Cross Hybrid come to mind. If you're looking at 'continental' brands, you'll find lots of friendly fire. There's the new 1.0-litre Skoda Octavia and 1.0-litre Audi A3, both are found within the VAG group of friend companies. Given all of these attractive options, is it still wise to pick the Golf?
Well, it's the most affordable Golf you can buy in Singapore today, and it hasn't lost any of its world-renowned fun. There's a simple kind of magic with the Golf, beckoning you to take your next drive as soon as possible, and making you turn back to look at it once you've parked.
If driving essence is one of your primary criteria in deciding on a car, and you want something that puts a smile on your face each time you're behind the wheel, the Volkswagen Golf is definitely something that should be on your radar.
Technical Specifications
2023 Volkswagen Golf Life
Engine: 1,498cc in-line 4 turbocharged, mild hybrid
Power: 130bhp
Torque: 200Nm
Gearbox: 7-speed DSG
0-100km/h: 9.4 seconds (claimed)
Top Speed: 213km/h
Fuel Economy: 20.8km/L (claimed)
Price: S$173,900 with COE (accurate at the time of this article)
Contact: Volkswagen Singapore
Photo Credits: Sean Loo (@auto.driven)
---
Read more automotive news at AutoApp, or check out our latest videos on Ignition Labs TV!