Toyota Singapore recently announced the release of 8 new exclusive colours for the Yaris Cross Hybrid, in a new Urban Palette Collection. 
---
According to Toyota, the Yaris Cross Urban Palette Collection draws inspiration from the energy and vibrancy of urban environments, with each colour featured in the series reflecting the uniqueness and personality of city life. A total of 8 bright and bold colours are now available to prospective customers, and you can check out the new colours below: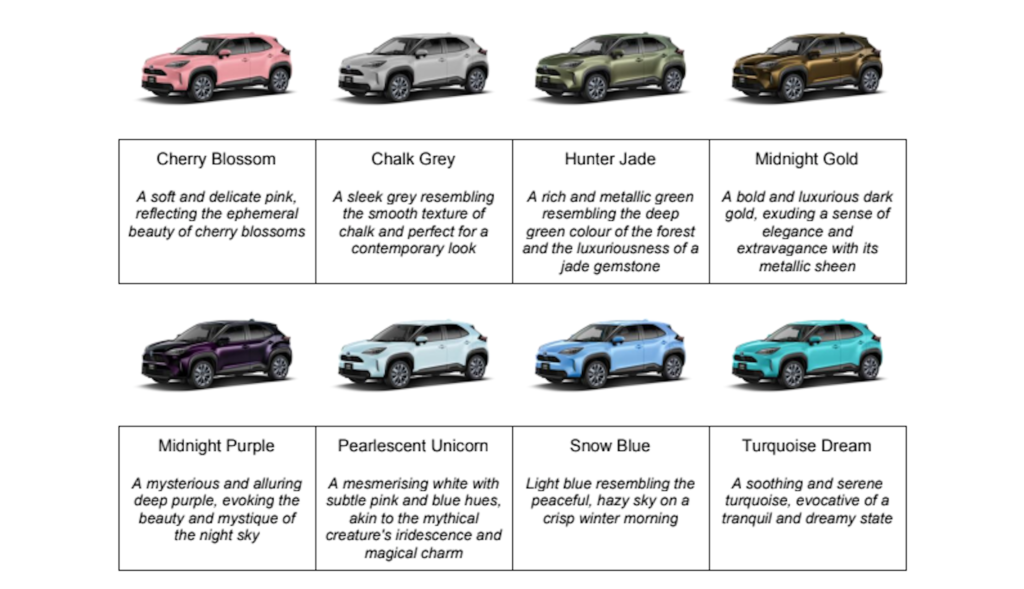 To achieve the look on these new cars, Toyota Singapore has partnered with Inozetek, a renowned provider of top-quality vinyl wraps.
Each wrap uses Inozetek's Supergloss line of vinyl wraps, known for exuding a glossy finish that looks remarkably similar to fresh paint. These vinyl wraps are not only lightweight, but also extremely durable and long-lasting, providing reliable protection for your Yaris Cross. Toyota also teamed up with Imperial Auto Style as the partnering installer for the wraps.
"We're thrilled to introduce the Yaris Cross Urban Palette Collection which offers customers eight premium wraps to personalise their Yaris Cross according to their style and preferences. This new collection represents an exciting new chapter in the evolution of the Yaris Cross, as it allows customers to further express their individuality and make a statement on the road while enjoying practical everyday driving." said Adley Low, Marketing Director of Inchcape Greater China and Singapore.
These 8 bright new colours were available for the first time at the recent Cars@Expo, held on the weekend of 15-16 April 2023. If you've missed the show, fret not! Interested parties can get a hold of them by topping up with their new Yaris Cross vehicle purchase. The first ten Yaris Cross units are entitled to a special top-up price of S$1,388, while subsequent top-ups will cost S$2,388. Inozetek's premium vinyl wrap is reportedly valued at S$3,200.
For more information, customers may visit Toyota Singapore's website.
---
Read more automotive news at AutoApp, or check out our latest videos on Ignition Labs TV!