Setting the 'tonale' for the future, the Alfa Romeo Tonale's arrival in Singapore geared for Q4 2022.
---
Alfa Romeo is a company any petrolhead wants to love, but in recent years has not been performing its best. The rear-wheel drive Giulia saloon and Stelvio SUV, launched in 2015 and 2016 respectively, were meant to start a renaissance of sorts for the brand, but despite a warm reception from enthusiasts and the media, this limited two-car lineup was nowhere close to realising Alfa's potential. With that in mind, CEO Jean-Philippe Imparato promised last year that the company would be launching one new model every year till 2026, and this, the Alfa Romeo Tonale, is the first of this product offensive.
Tonale is a smaller brother to the Stelvio, aimed to serve the compact SUV segment. First shown as a concept in 2019 at the Geneva Motor Show, Tonale has finally taken shape in production form and we can't wait to see it in real life when it's expected to hit our little red dot's shores around the fourth quarter of this year. Tonale's dimensions are pretty compact too; at 4.53m long, 1.84m wide and 1.6m tall, Alfa Romeo says it "encompasses the uniqueness of Italian design and the original, contemporary style typical of Alfa Romeo".
The line-up
Think 'Ti' and most graphics-card enthusiasts would think "Nvidia!", and with good reason. It's been awhile since we've seen the Turismo Internazionale or 'Ti' moniker applied to an Alfa Romeo, and as introduced to Stelvio back in 2019, it is also found here on Tonale alongside the 'Super' trim level. There's also a Veloce trim, which, if its usage on the Giulia and Stelvio are any indication, would likely be a higher-performance variant. We wonder if there will be a hot Quadrifoglio yet to come.
Electrifying Alfa
Tonale moves Alfa Romeo's game into the future with the company's first range of hybrid powertrains. Kicking off the range is a 1.5-litre turbo petrol engine in Super trim featuring 130hp and 240Nm of torque, connected to a 15kW 55Nm 48-volt hybrid system. Mated to a 7-speed dual clutch transmission, drive is sent to the front wheels. This hybrid system allows Tonale to be started up and driven at low speeds in electric-only mode. Next up is the also-hybrid 160hp version of the same powertrain in Ti trim which adds a variable geometry turbo to the petrol engine and more oomph than the regular Tonale. Crowning the range is what will presumably be called Ti Veloce, a 275hp Q4 plug-in hybrid which features a smaller 1.3-litre MultiAir turbo petrol engine driving the front wheels, and an electric motor to drive the rear. This Tonale Q4 is said to offer up to 80km of electric-only range in town and up to 60km in the combined city/highway cycle. A full battery charge is said to take 2.5 hours when using a 7.4kW fast charger to juice up Tonale Q4's 15.5kWh battery pack.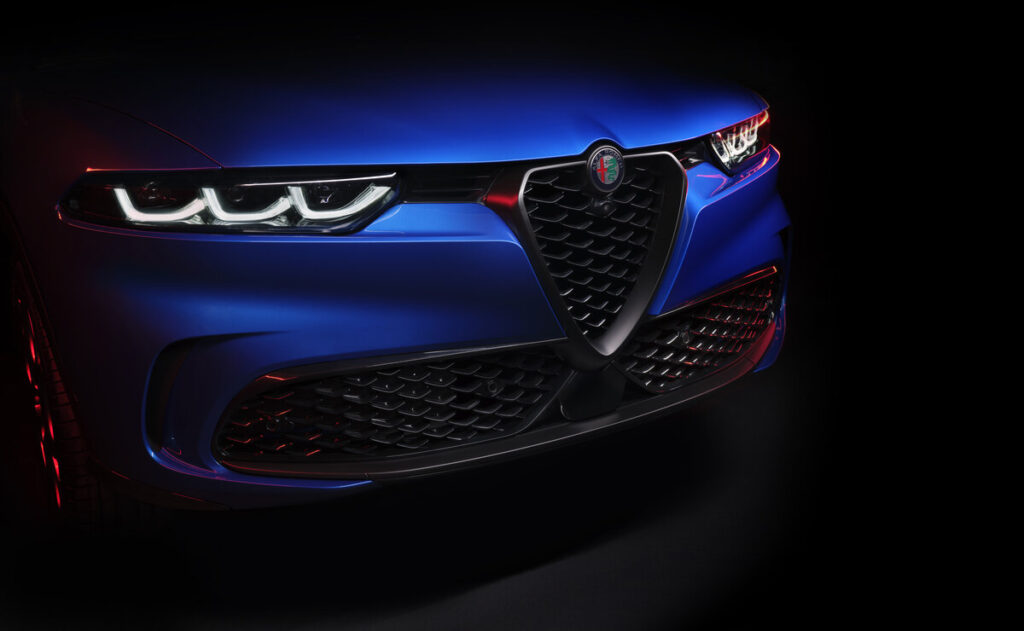 Sporty without
Tonale appears to borrow design elements from cars of yesteryear, namely the pre-facelift 156, 159 and Brera. Where the grille on post-facelift 156s and beyond became longer and part of the bumper, Tonale features a "new floating 'Scudetto' shield" that's "no longer a part of the bumper but a distinctive element." The 159 and Brera's three-pod headlight design appears on Tonale but with a much more modern twist, which Alfa Romeo call "'3+3' headlights inspired by the SZ Zagato and the Proteo concept car". These full-LED adaptive matrix headlights, developed together with Marelli, are loaded with modern technology such as "Adaptive Driving Beam, which constantly adjusts the dipped headlights according to speed and specific driving conditions so as to not dazzle opposing traffic", as well as a module that activates when turning corners so you can see better round the bend.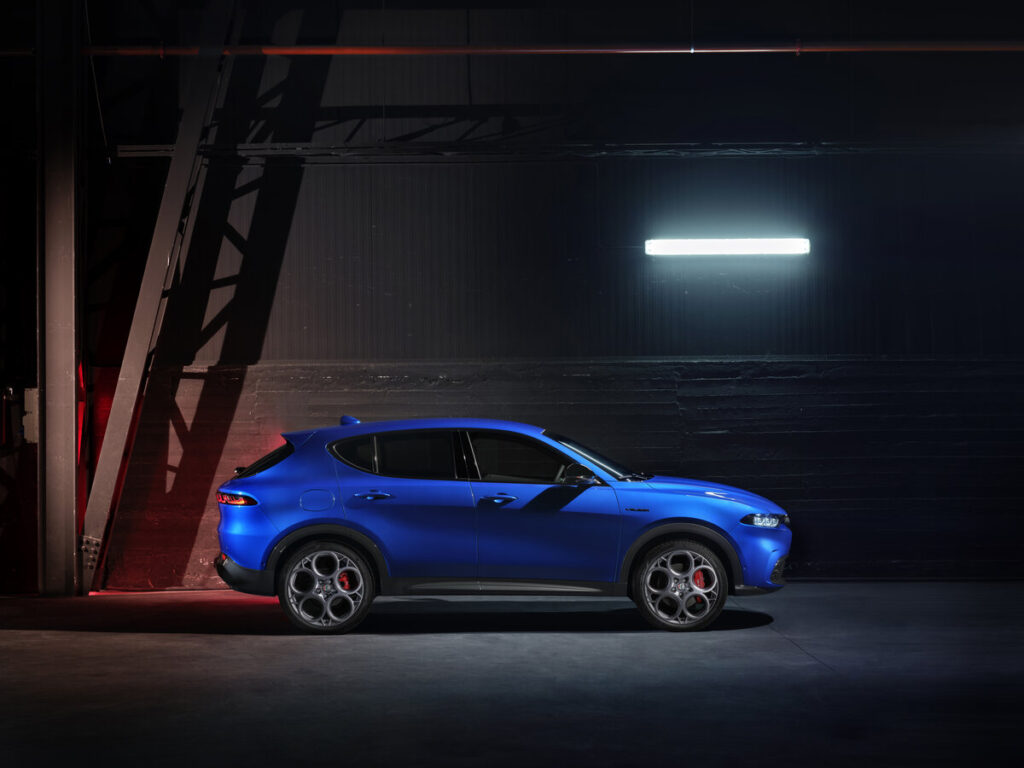 Another unique design element is what Alfa Romeo call "the 'GT Line', which runs from the rear to the headlights, giving definition to the car's body and its profile. In the lower part of the sides, special modelling of the surfaces conveys sensuality and athleticism in the car's body." Along with 17- to 20-inch "telephone dial" rims wrapped in sporty Pirelli P Zero rubber, they combine to endow Tonale with what is a distinctly sharp and sporty Alfa Romeo side profile.
Sporty within
An Alfa Romeo interior should evoke strong feelings of passion and flair, and Tonale does not disappoint. "Everything is driver-centric, even though the interior is also designed for the comfort of passengers." We're also thankful that Tonale features physical climate controls. "All the controls are at the driver's fingertips and easily accessible, both the physical ones and the digital controls, accessed from the central display. As such, customers can enjoy an engaging driving experience free of distractions, where passion and safety coexist." If Stelvio's driving position is anything to go by, we're pretty confident that Tonale's ergonomics will also be spot-on. To move things more upmarket, Alfa Romeo has seen fit to include an insert on the dashboard "with a backlight effect, so when the panel is off a graphic appears and when on the graphic vanishes and a new background is shown, using the multicoloured backlight."
If it isn't already obvious at this point, we're eagerly looking forward to the fourth quarter of this year to sample the Alfa Romeo Tonale in Singapore. Are you?
---
Need more car reviews to chase away the blues? Read them here!