Ford's best-selling Ranger has received a refresh, and aims to satisfy a wide range of customer bases.
---
Commercial vehicles aren't usually the first thing customers look for when shopping for a vehicle in Singapore, as you would require the vehicle to be registered under a company or pay exorbitant fees to register it as a private vehicle.
But, for those who are interested in a crew-cab pickup, there's a new kid on the block. The all-new, next-generation Ford Ranger has just landed in Singapore.
The Ranger is the middle child of the family, positioned between its larger sibling, the F-150, and the compact Bronco SUV in Ford's international sales lineup. And the formula is proven to work. In 2022, it was the world's second-best-selling truck, second only to the legendary Toyota Hilux. 
In Singapore, the Ford Ranger is only available with a 2.0-litre turbo diesel engine pushing out 168bhp and 450Nm of torque.
The 10-speed automatic gearbox is mated to an electronically switched transfer case, providing the freedom to choose between 2WD, 4WD high, and 4WD low gear ranges. This one-ups the Singaporean Toyota Hilux, which operates solely on 2WD. Doubt one could use all 10 gears though, as commercial vehicles here are legally limited to 70km/h.
It looks meaner than its predecessor too. With box-ier flanges and high-riding proportions, the Ranger's front fascia has a more aggressive stance, accentuated by signature C-Clamp headlights.
A subtle shoulder line gracefully runs along the sides, incorporating more prominent wheel arches.
The inside is no slouch either. The Ranger, known for its more upmarket qualities, showcases a superior selection of soft-touch materials that surpass the offerings of other utilitarian trucks. The interior has embraced a more car-like ambience, further enhancing the overall driving experience.
At the heart of the spacious cabin lies a vertical touchscreen featuring Ford's SYNC 4 connectivity and entertainment system. This advanced system features wireless Apple CarPlay, Android Auto, and Mirror Screen functionalities.
Additionally, the customisable and multi-functional instrument panel presents vital off-road driving information such as the truck's tilt angle and steering angles.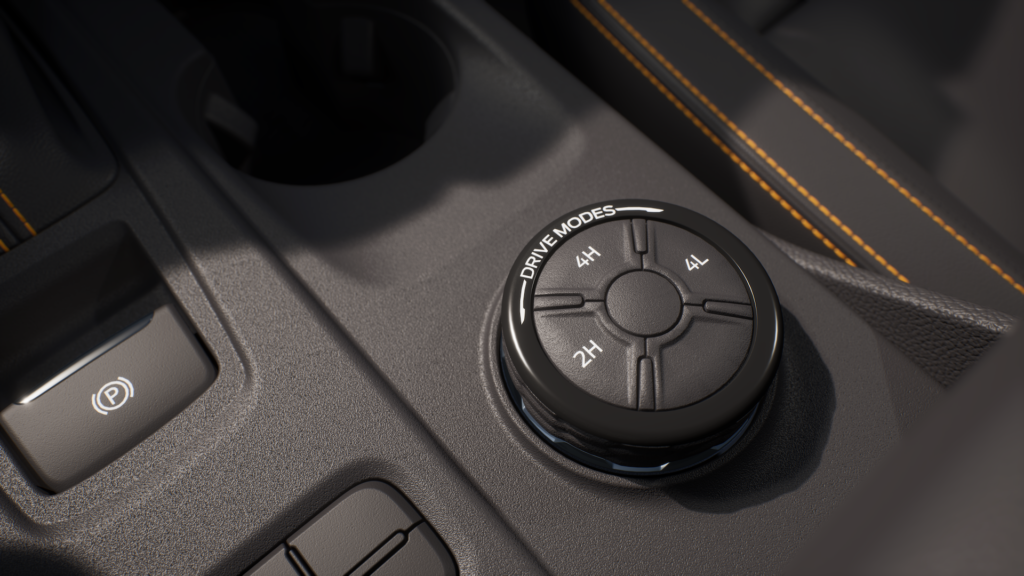 Ford proudly declares the Ranger as a recreational truck tailored for the connected age. I mean, which vehicle brand isn't doing this nowadays?
As such, it offers convenient storage spaces for smartphones, including a generous centre console bin designed to securely stow portable gadgets. The dashboard itself conceals an upper glovebox, and additional storage bins can be found under and behind the rear seats.
For prospective customers, the Ford Ranger will be available in showrooms very soon. Stay tuned.
---
Read more automotive news at AutoApp, or check out our latest videos on Ignition Labs TV!