Borneo Motors Singapore, Lexus' authorised car distributor, revealed the launch of the all-new RZ 450e, Lexus' first 100 per cent Battery EV (BEV).
---
This is a significant milestone for Lexus, as it marks a new era for the 'Lexus Electrified' vision, moving Lexus towards its goal of a sustainable global society.
The RZ retains all of the exquisite qualities of performance and craftsmanship that are distinctive to Lexus, down to the luxury, comfort and craftsmanship that come with the premium Japanese brand.
Evolution of Lexus Driving Signature
As Lexus' first global BEV model, the all-new RZ embodies quintessential Lexus DNA and a unique driving experience made through advanced, electrified technology. 
To qualm any potential EV charging niggles, the RZ includes a high-efficiency compact, lightweight onboard charger. Both AC and DC Charging are available, and the system allows for 10 to 80 per cent fast charging within just half an hour.
The utilisation of a BEV-specific platform (eTNGA), as well as a lightweight and highly rigid body has also enhanced performance by achieving optimal weight distribution. Plus, avant-garde technology such as DIRECT4 – an all-wheel drive (AWD) system that achieves quick and linear responses according to the driver's input – and a Steer-by-Wire system bring the Lexus Driving Signature to even greater levels.
The RZ also marks the first application of Lexus' new e-Axles, which are dual motor units that work in conjunction with the new DIRECT4 all-wheel electronic drive torque control. This results in better handling stability and optimised power consumption, enabling the RZ to rock the century sprint in just 5.3 seconds.
Lexus is also debuting its first Steer-by-Wire system. It enables steering controls to be transmitted via electrical signals and not a traditional mechanical linkage. The control's steering angle is also stable and precise, eliminating the need for hand-over-hand operation at intersections, U-turns and winding roads. However, the Yoke that was supposed to debut in this car isn't available yet for Singapore, and will only arrive sometime in the near future.
Other innovations include improved Frequency Reactive Dampers and an all-new Braking Posture Control. The Frequency Reactive Dampers are frequency-sensitive absorbers that alter dampening force in response to different road surfaces, while the Braking Posture Control refers to a new pressurisation unit that enables coordinated front and rear regenerative braking through independent front and rear hydraulic control.
New looks that retain old charm
Designers for the all-new Lexus RZ have given it distinctive new looks but kept most of Lexus' existing design language. The signature spindle grille is now replaced by a BEV Spindle Body since the front does not require any inlets for cooling.
The new front end focuses on aerodynamic efficiencies, optimised proportions and style, and this styling evolution ushers in a new aesthetic for Lexus EV offerings moving forward. The car is available in six futuristic exterior colours and three dual-tone colours, including metallic textures like Sonic Copper.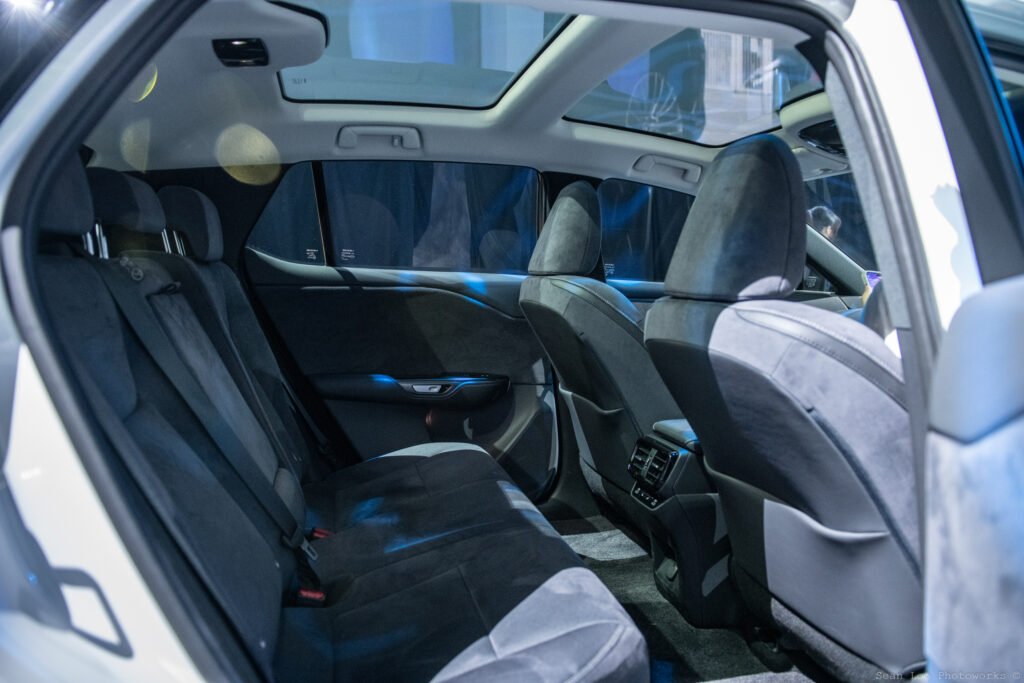 Lexus also wants the RZ to exude sustainability. This is done through the application of mindfully sourced materials, where the Tazuna-inspired cabin is adorned with high-quality suede door trims and premium seat upholstery made with 30 per cent bio-based sustainable materials.
Peace of mind through advanced safety technologies
Of course, safety is all the rage these days, and the all-new Lexus RZ is equipped with the latest Lexus Safety System+3.0 alongside a host of innovative safety features. These include:
Pre-Collision Safety
Lane Departure Alert
Advanced Park
Emergency Driving Stop System
More miles mean more smiles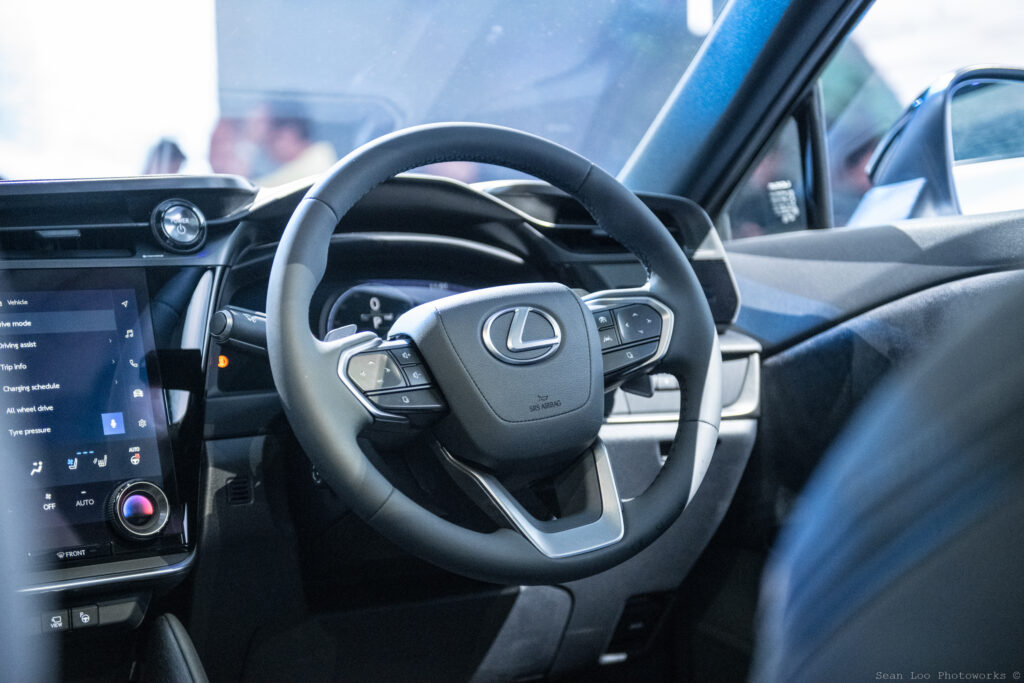 To celebrate Lexus' first pure BEV, Borneo Motors Singapore (BMS) and Shell are collaborating to offer new RZ owners in Singapore up to one-year free Shell Recharge credits:
3,300 kWh for non-landed property owners
600kWh for landed property owners
BMS will also provide new RZ owners with an eight-year Bumper to Bumper warranty,  including the EV battery. There is also a five-year 'Lexus Electrification' package customised for EV owners, covering a wide range of essential servicing replacement items such as brake pads, tyres and wiper repair.
"We are thrilled to kick off a new chapter and reimagine electrified driving by introducing Lexus' first pure Battery Electric Vehicle to Singapore. Expect a dynamic and even more intuitive driving experience with the RZ 450e which will quench drivers' desire for driving satisfaction and luxurious comfort. Lexus will broaden its 'Lexus Electrified' portfolio to exceed the needs and expectations of a more diverse set of luxury consumers," said Jasmmine Wong, CEO of Inchcape Greater China and Singapore.
---
Read more automotive news at AutoApp, or check out our latest videos on Ignition Labs TV!