The Volvo C40 Recharge is a new milestone for Volvo, marking the brand's first model designed as an EV from the ground up.
---
Volvo's commitment toward full electrification by 2030 is well underway with the unveiling of the all-new C40 Recharge in Singapore this week.
Aerodynamic, future-focused on the outside
The all-new Volvo C40 Recharge has all of the benefits of a conventional Crossover but boasts a lower and sleeker design, promoting safety and enhancing driving comfort.
Gloss black trim pieces such as the roof, side mirrors and side window offer a nice contrast to the exterior, while an embossed Recharge logo on the C-pillar is a subtle nod to the car's electric drivetrain.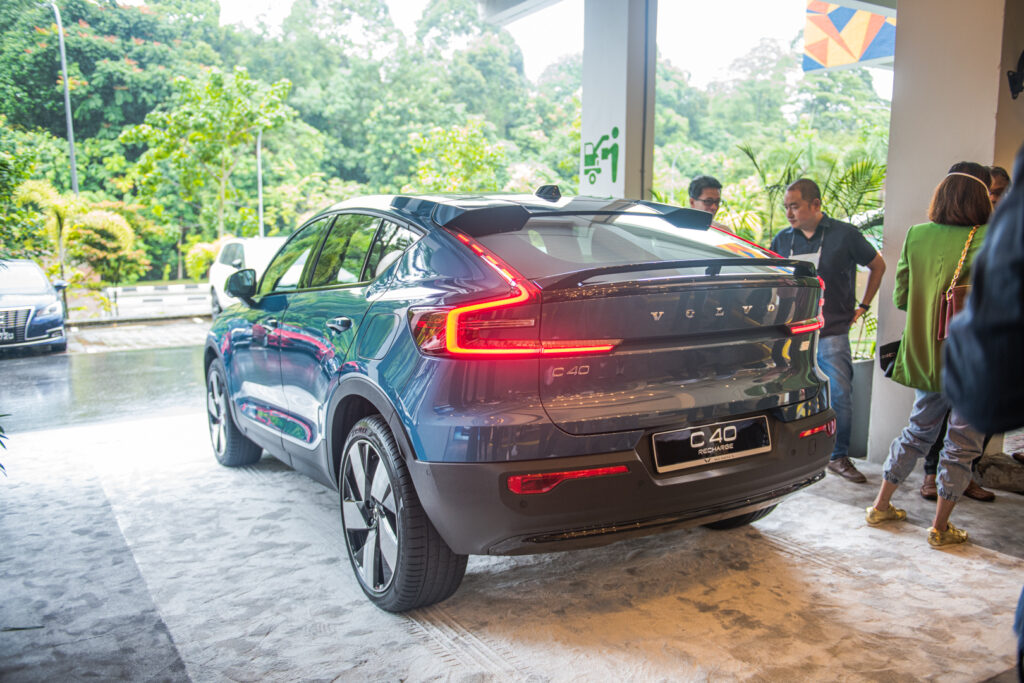 The rear of the C40 tapers off towards the boot, with a small spoiler complementing the rear tailgate, while the new front design showcases the car's EV nature with the lack of grilles and vents.
The lights are also fitted with new pixel technology developed by Volvo. The 84-pixel LEDs in each headlight unit adapt to traffic while continuing to illuminate the road ahead efficiently.
For added style, the Volvo C40 comes with 20-inch sporty alloy wheels, Pirelli P Zero Elect tyres specifically designed for EVs, and an all-new exclusive colour, Fjord Blue, as seen on this launch unit.
Functional and practical on the inside
Volvo has taken a step further with the C40's interior, decking it out with a multitude of eco-friendly materials. The floor carpets, for example, are made from recycled materials. The entire cabin is created without the use of any leather, while still maintaining that quintessential Scandinavian aesthetic.
A new premium Microtech leather-like fabric is used for the surfaces instead, which is durable enough to minimise scuffs and marks. One notable feature is the topography embossing in the door and dash pieces, apparently, a nod to one of Sweden's national parks.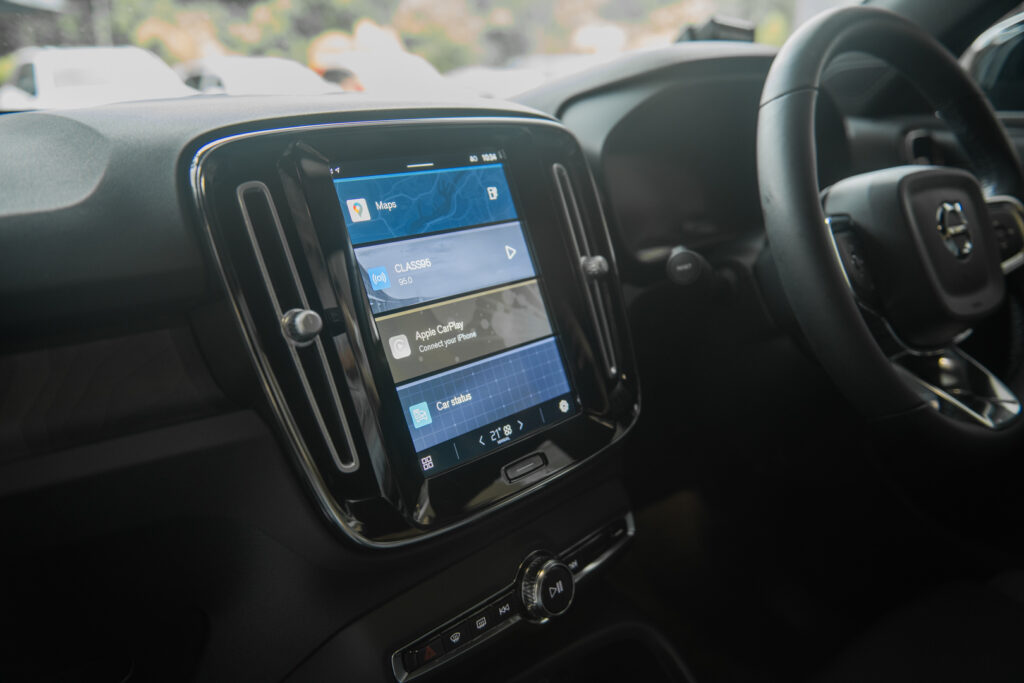 Even with new sustainable features, the driver still gets various technological upgrades, including a 12-inch fully graphical instrument cluster and a 9-inch vertical infotainment touch screen equipped with a hands-free Android-powered infotainment system that features Google Maps and Assistant.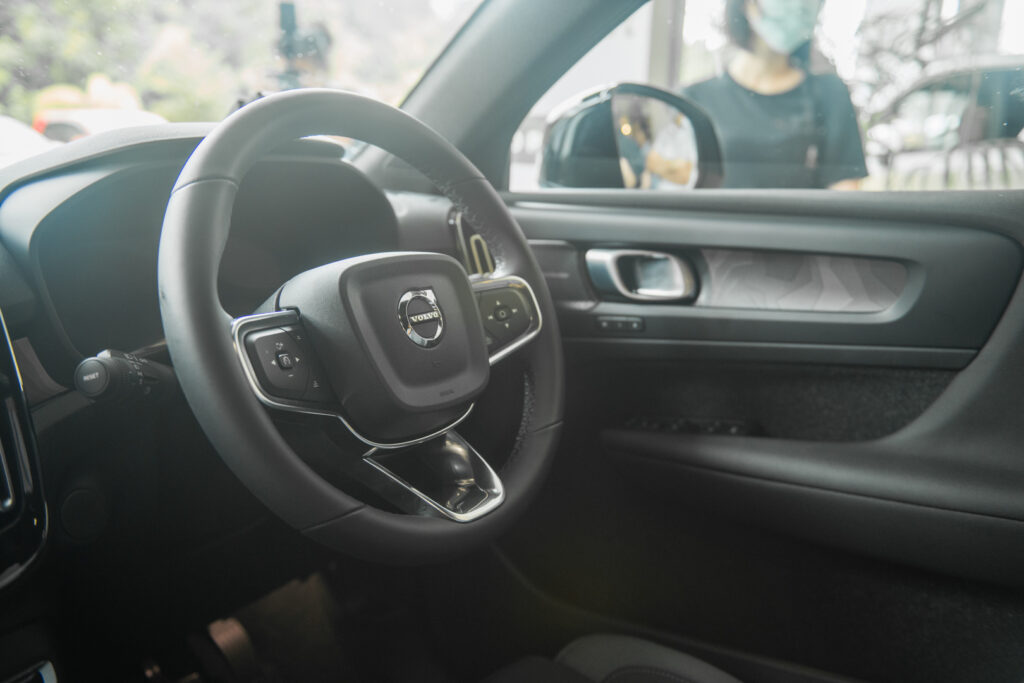 For connectivity, your Android smartphone is able to be wirelessly charged and connected, while a premium Harmon Kardon sound system shells out good-quality music as you drive along. iPhone users will have to contend with a USB connection to access Apple CarPlay, and the C40 is also designed to start receiving automatic over-the-air updates.
The panoramic roof in the C40 comes as standard and features laminated tinted glass that provides effective protection against harmful UV radiation. While protecting, it also diffuses more light into the cabin, creating a calm environment in the cabin with natural sunlight.
Safe yet powerful on the roads
Don't be fooled by its calm demeanour, as the C40 Recharge is both efficient and quick off the line. The car is powered by twin electric motors delivering 300kw (408hp) and a cool 660Nm of torque. 0 to 100km/h happens in just 4.7 seconds, and the car has an estimated real-world range of up to 450km on a single charge. Driving strain is also reduced thanks to one pedal drive, which minimises the need to rotate between the accelerator and brake.
The C40 now features IntelliSafe Surround, an active safety system that consists of an array of radar cameras and ultrasonic sensors.
IntelliSafe Surround comprises of Blind Spot Information System (BLIS), Cross Traffic Alert, Rear Collision Warning with braking at standstill, and City Safety. City safety combines the car's automatic braking functionality and collision avoidance systems, enabling the C40 to cover a multitude of potential accident scenarios. It is also the only system on the market that detects pedestrians, cyclists and large animals.
For added convenience when parking, the C40 comes equipped with a 360-degree camera system. It highlights objects or vehicles that may be hard to spot, making it especially useful when clearing tight spaces.
Help is just a call away
As part of Volvo's efforts in ensuring their customers receive the best in terms of customer care. Volvo On Call is a system that provides direct access to emergency services should any driver require it.
A Volvo On Call button is located in the cabin for a direct line to official dealer Wearnes Automotive. For dire emergencies, an SOS button is also located by the rearview mirror. In the event of a collision, the SOS function will be automatically activated for emergency services.
The C40 Recharge will be available soon for viewing at Wearnes Singapore. More details can be found on Volvo's website.
---
This article was originally posted on futr.sg. Need more news? Get more of the latest in car news here!