Gimmick-free and an easier onboarding experience than most EV competitors, the Audi Q8 Sportback e-tron boasts sleek looks and a serene driving experience.
---
Audi has had a confusing few months rebranding their lineup of cars, and their quest to confuse us further continues at pace with the new Q8 e-tron.
Though it shares the same name, it has nothing associated with the existing internal combustion (ICE) platform Q8. Rather, this is a heavy facelift of its first EV attempt, the e-tron SUV, introduced way back in 2019.
Like the ICE-powered Q8, the Q8 e-tron sits at the top of the SUV range, a roomy city cruiser that's ready for charismatic day trips or making day-to-day errands feel important. And that's why it's quite an endearing car to get around town with.
Sharp looks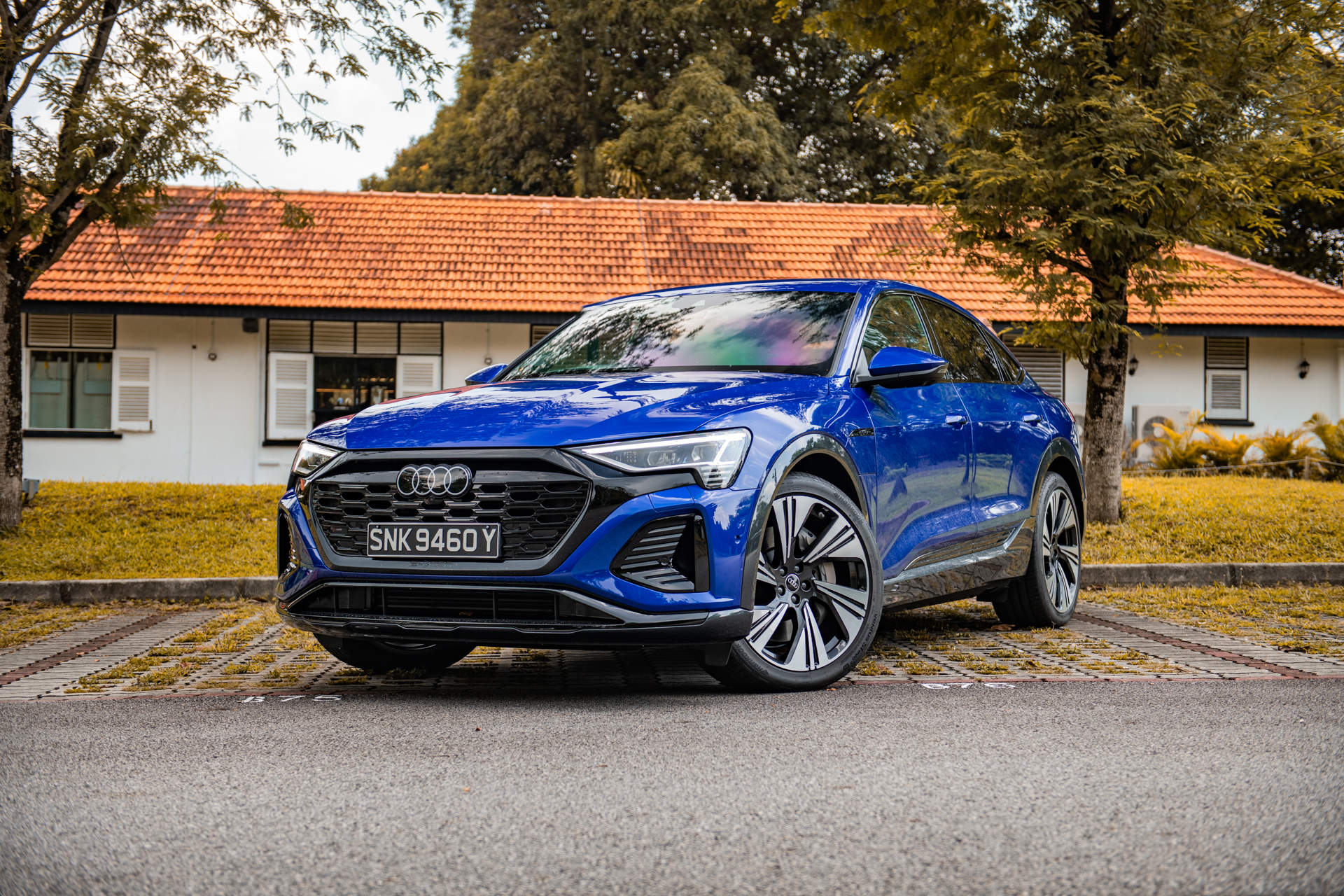 With a more aggressive facade, the Q8 e-tron Sportback is the sleeker sibling of the two variants on offer.
There isn't much else that compares to it in the EV space; Mercedes-Benz has the EQE SUV, and BMW has the looks-only-a-mother-can-love iX. So, next to its German peers, this Audi looks like a model on the runway.
Personally, the Sportback, despite its coupe-like ambition, comes off a bit gawky to me. My money's on the SUV version, but it's nice that Audi offers democracy for individuals from both camps. And you get the same business-class styling for both cars – A front grille that effortlessly merges into those mesmerising headlights, and an obligatory full-width light bar on proud display out back.
Audi cars always exude a certain degree of sleekness, and the Q8 e-tron doesn't disappoint in that department. You look just as home on the golf course as you do in the heart of the financial district.
Business class
Step inside, and you'll find yourself in typical Audi territory – it's all about premium quality, solid construction, and impeccable design. The designers did a bang-on job of not including extravagant accents or buttons in odd places, just a well-thought-out space with everything logically laid out; a rare find in the world of cars today.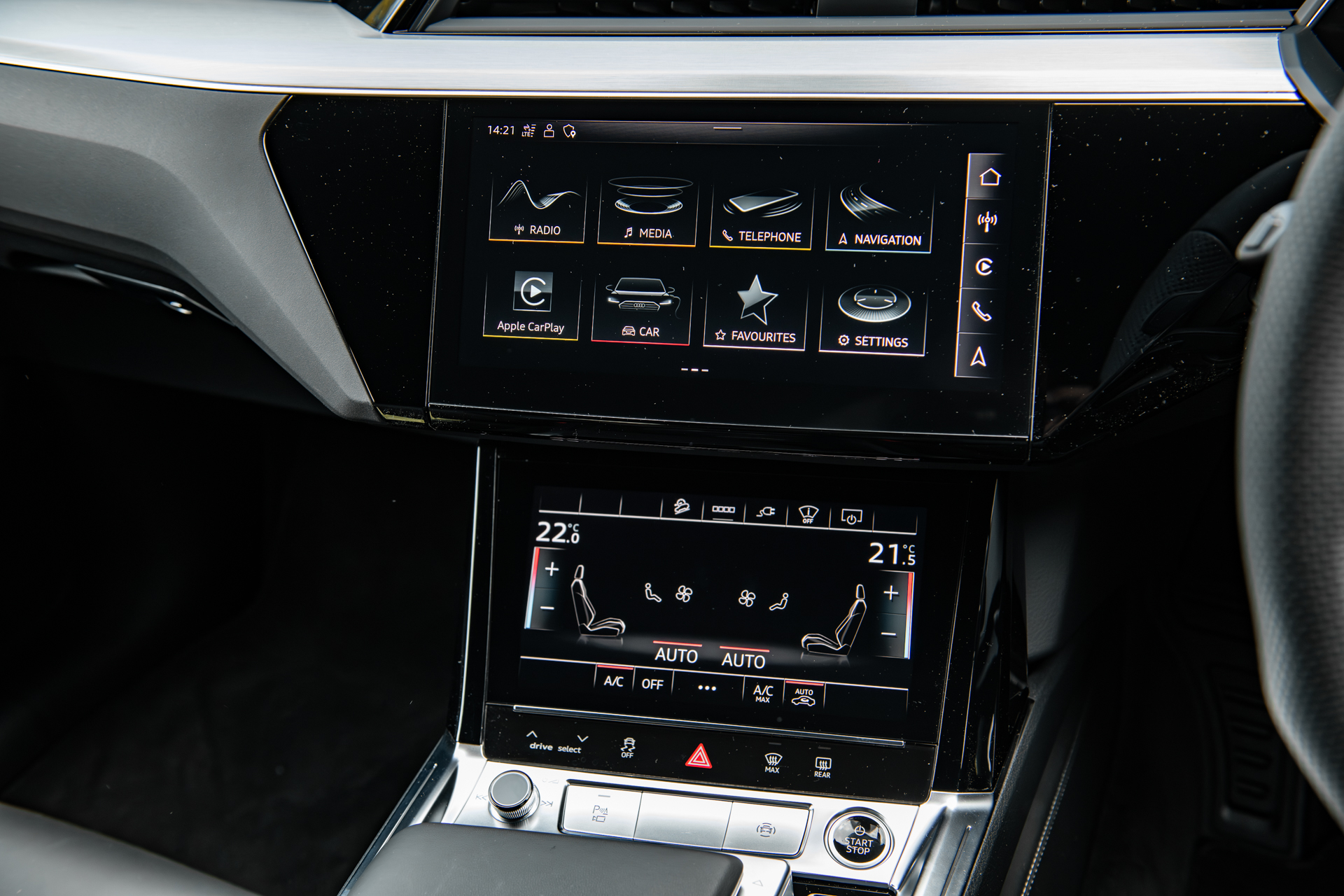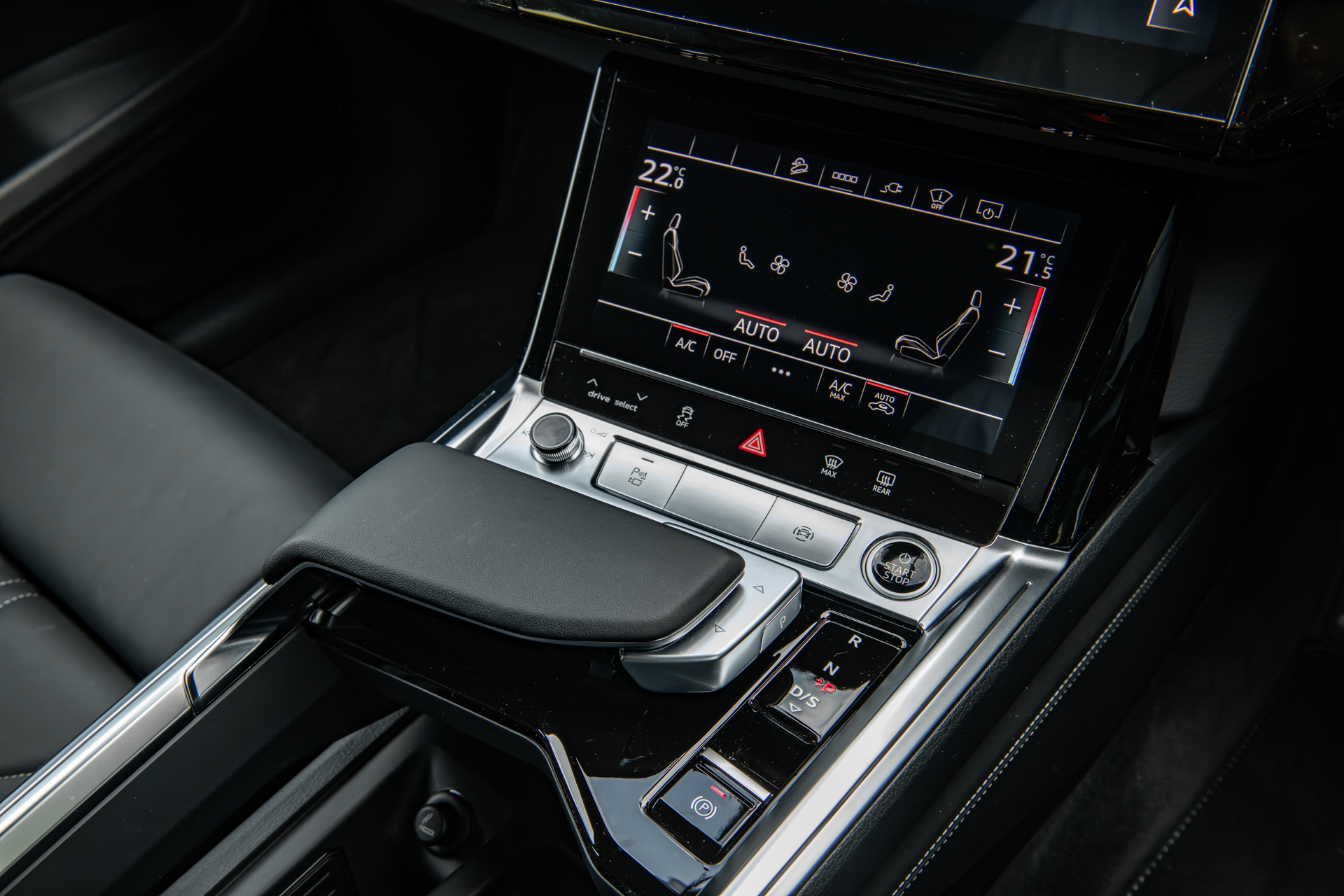 However, the centre console, while it does look cool, feels like some space has been squandered there. The gear shifter doesn't move, but there's a button on the handle that you twiddle with your thumb to select drive or reverse. It works, but there's a nagging feeling that something more intuitive could have been designed.
And the cubby with the cupholders? It's deep, but load it up, and you'll find your items escaping onto the seats. While I still do not prefer touchscreen controls, at least Audi gave the HVAC settings a separate screen, so it doesn't impede your entertainment.
Rear passenger space is great; the sloping roofline doesn't impede headroom much, although I still prefer the space in the SUV sister. But, if you're travelling with three adults, that middle passenger might not be thrilled with the legroom, thanks to the large centre console.
Even with the sloping roofline, the Q8 e-tron Sportback boasts a generous 528 litres (569 litres in the SUV variant) with the seats up and expands to 1,567 litres (or 1,637) with them down, more than enough for the weekend shop plus some extra goodies. There's even a clever 62-litre frunk, perfect for hiding charge cables and odds and ends.
Audi designed the Q8 e-tron well in this regard, maintaining all of the brand's quintessential functionality without alienating customers with over-the-top innovation which we've come to see in other manufacturers.
Core competency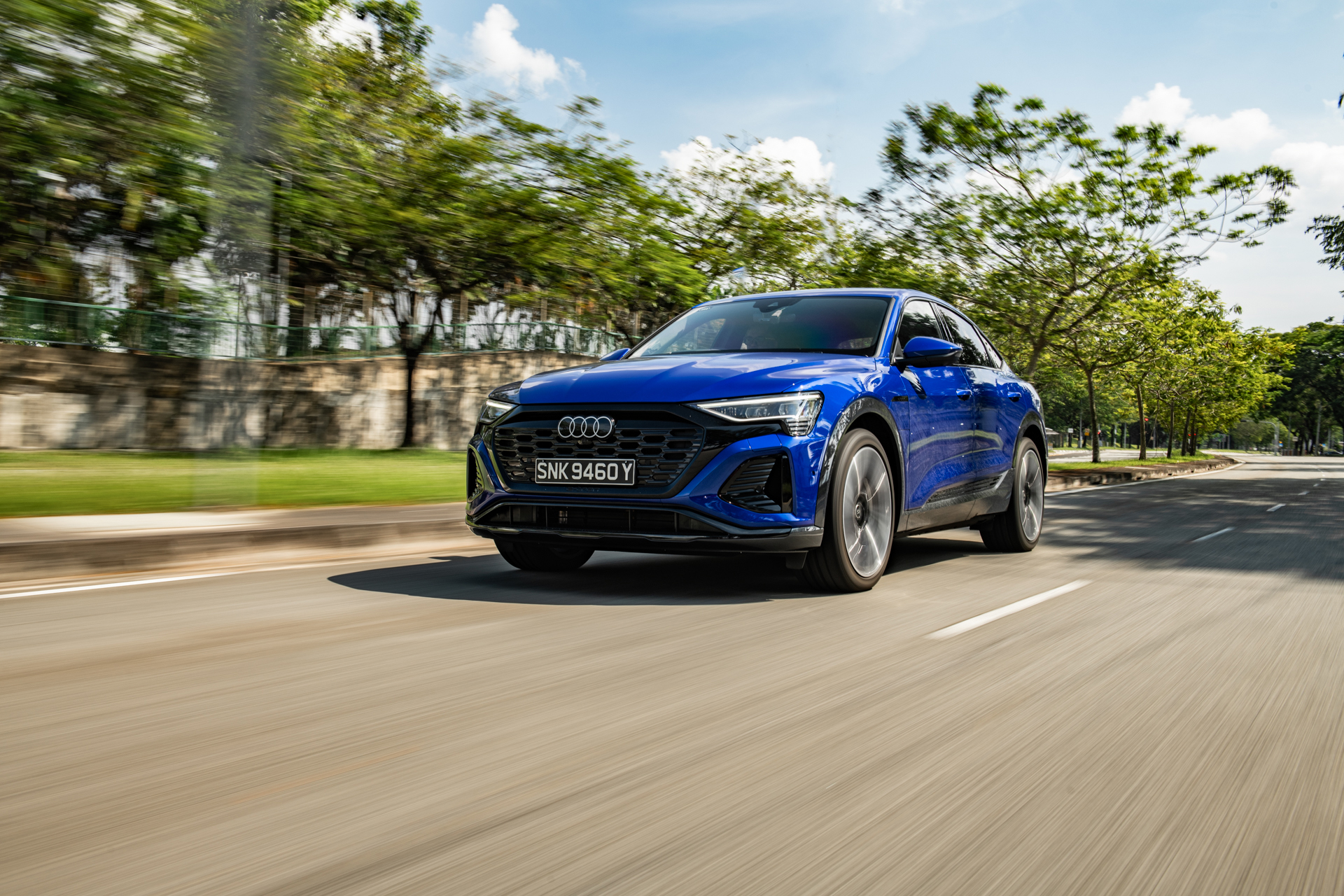 On the roads, the Q8 e-tron is smooth – from the steering to the pedals, everything feels substantial. Even the brakes, though initially firm, transition smoothly between regenerative and disc braking.
Audi boasts about the regen capabilities during braking, and it's clear they've engineered it well. It's an electric vehicle that doesn't scream "I'm electric," which is a welcome change.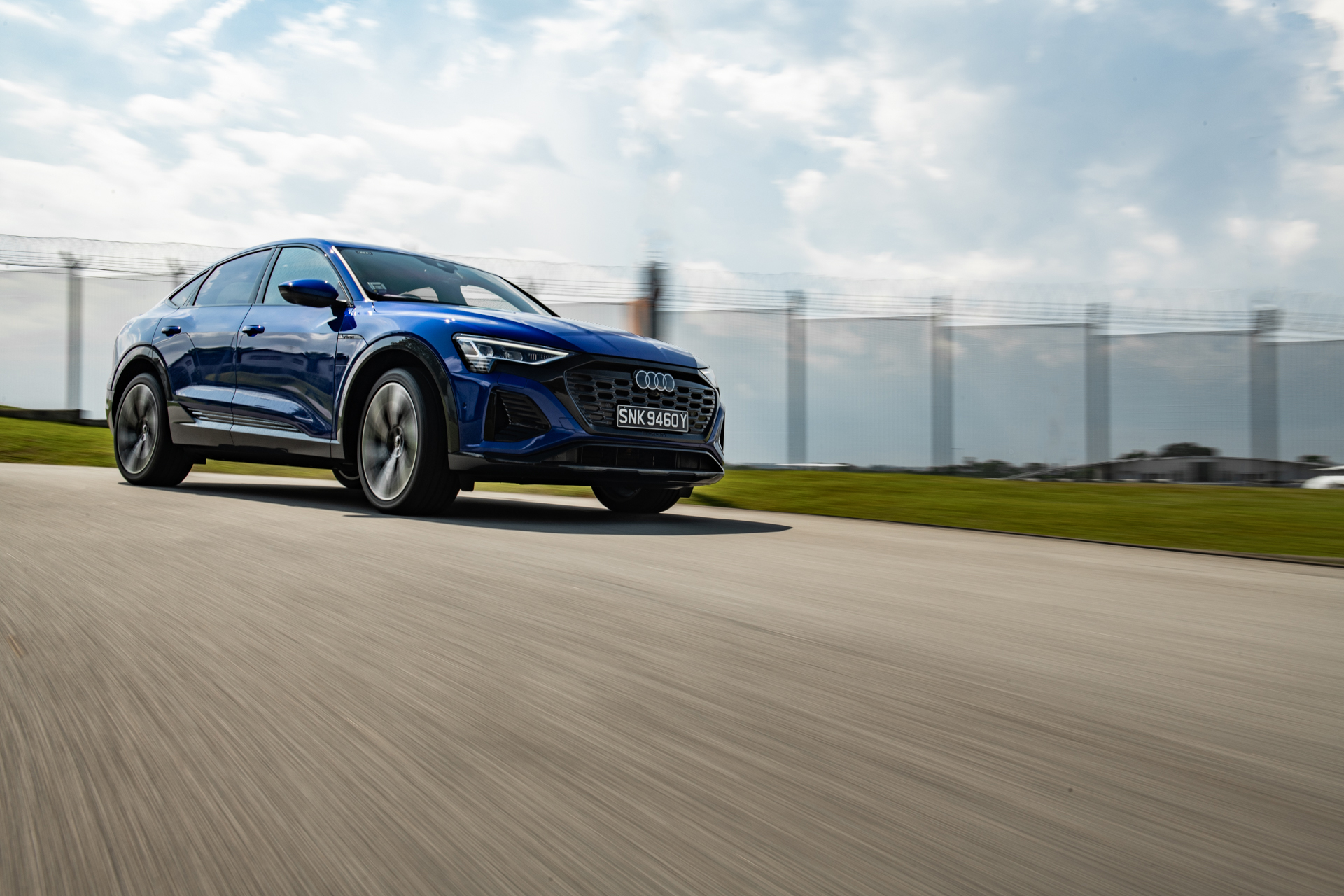 On the flip side, it's easy to get carried away, forgetting you're in an electric car and not a gas-guzzling machine. Mind you, this is a 2,500kg+ car that you'll never throw around with intent; it's a waft-express that's extremely comfy, isolating you from the hardships of the outside world.
Parking can feel a bit tricky due to the lack of creep when reversing, but the array of sensors and cameras on hand work well to keep everything around you in view.
When it comes to power, you have a few options. The 50 setup offers 250kW (335hp) and 664Nm of torque, completing 0-100km/h in 6.0 seconds. The 55 model, which is the one I've reviewed, kicks it up with 300kW (402hp), shaving four-tenths off the century sprint. Keep your foot down, with both variants capable of rocketing you up to 200km/h.
Both have e-motors on the front and rear axles for all-wheel drive. It's no Land Rover, but it has enough traction to keep you steady on tricky terrain.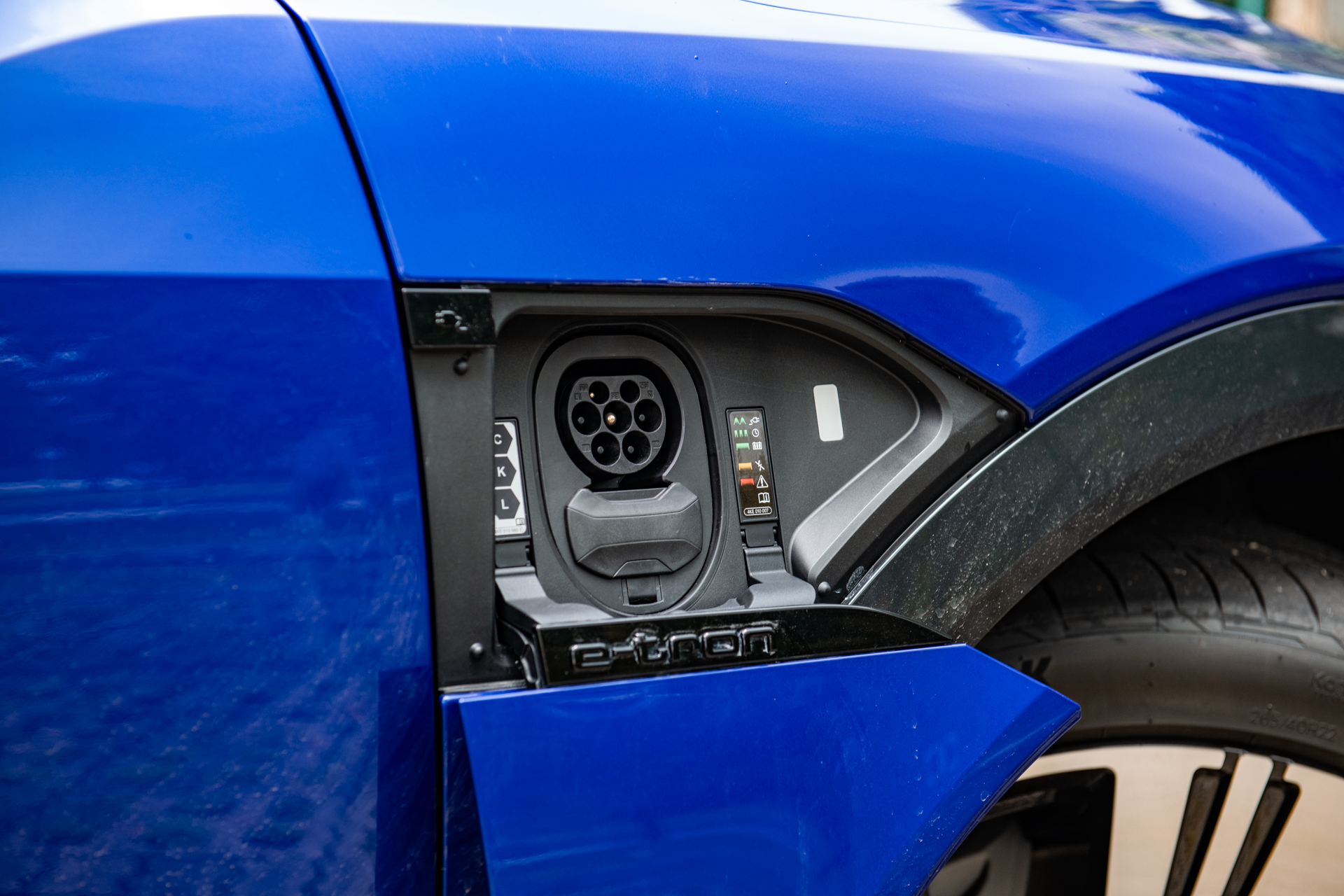 As for range, the 50 version comes with a 95kWh battery and a claimed range of up to 500km. The 55 gets a larger 114kWh battery, allowing it to achieve up to 584km.
I recently did an efficiency challenge with the Q8 e-tron, and the best rating I've achieved was 12.2kWh/100km. In normal human terms, this equates to a staggering 868km of range. But, to get this kind of results, one needs to turn the aircon off and drive ridiculously slow everywhere, so it's not realistic in the slightest.
With regular city driving, this number plummets to an average of 24.2kWh/100km, giving me an estimated 450km of range; more in line with what Audi claims. Still, that's more than enough for the weekly charge cycle, and range anxiety never felt like a throbbing problem as I went about my day.
Electric vehicles and SUVs lend themselves to comfort and luxury. Audi was wise to recognize that and not attempt to make the Q8 too focused on handling or acceleration. The improved range means less worry about recharging, allowing drivers to relax and enjoy the smooth, quiet ride.
Driving the Q8 e-tron makes you feel dignified, and even those who haven't driven an EV before will find the learning curve a relative breeze, a big plus point.
Staying ahead of the curve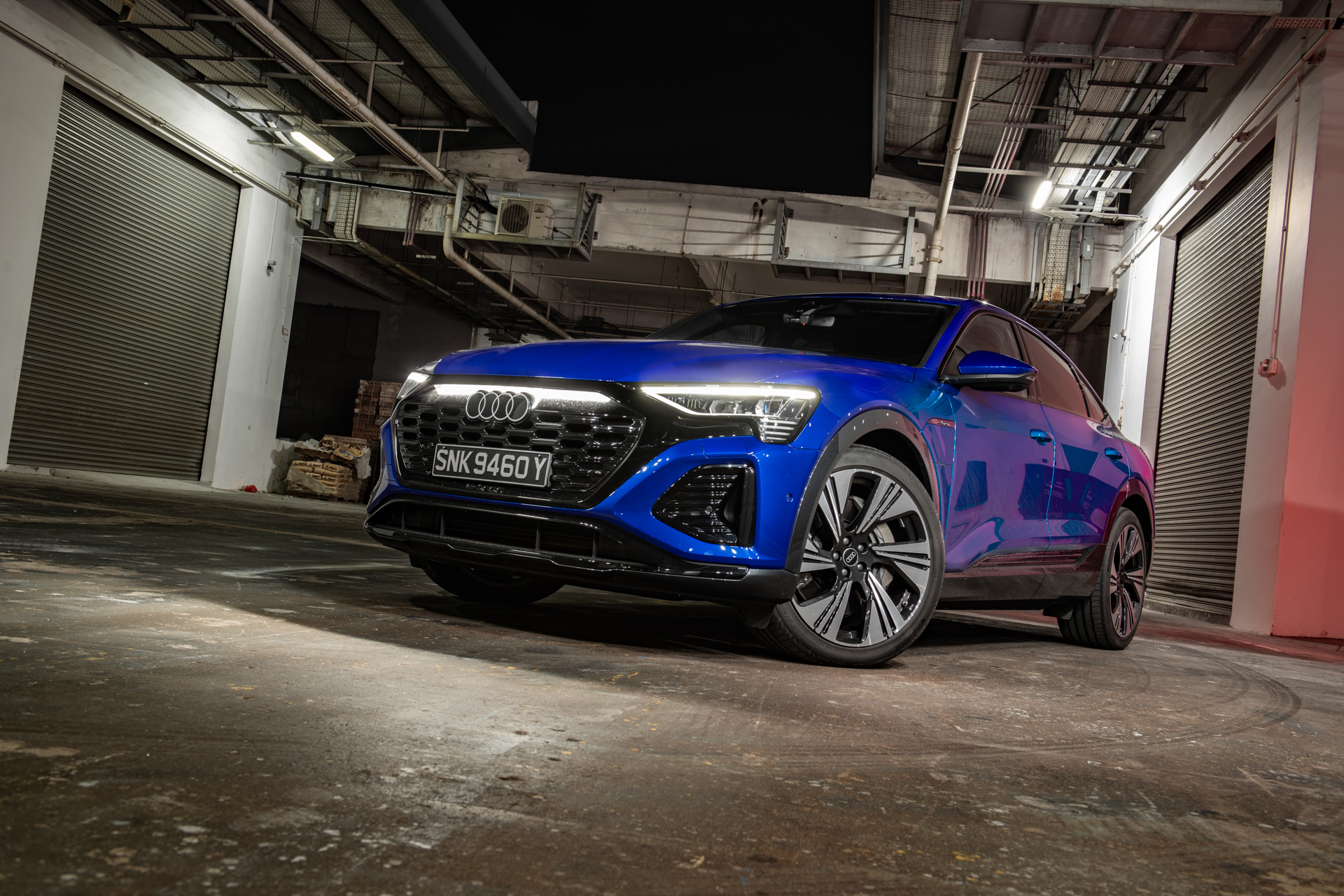 If you're currently driving an ICE car but are considering going EV next time around, the Q8 e-tron will provide you with an easy transition. Its design and overall vibe are similar to the models we're already accustomed to, and the only element that has adjusted is the powertrain.
Yes, it's heavy and comes with a hefty price tag, but it's a luxury tool for those who value refinement and comfort in their grand tourer.
Audi's made a strong case for itself in the electric luxury car segment, and for those with deep pockets, it's an easy and refined choice.
Technical Specifications
Audi Q8 Sportback e-tron 55 quattro S line
Engine: Two Permanent Synchronous Motors
Power: 300kW (402bhp)
Torque: 664Nm
Gearbox: Two-stage planetary gearbox with single gear (A)
0-100km/h: 5.6 seconds (claimed)
Top Speed: 200km/h
Battery Capacity: 114 kWh
Drive Range: 584 km (claimed)
Energy Consumption: 19.5 kWh/100km (claimed)
Price: S$559,952 with COE (accurate at the time of this article)
Contact: Audi Singapore
Photo Credits: Sean Loo (@auto.driven)
---
Read more automotive news at AutoApp, or check out our latest videos on Ignition Labs TV!

Check out more green rides here, or check out our latest videos on Ignition Labs TV!