Shares the same name as the e-tron family, but brings much more to the EV table.
---
Most people would have forgotten by now that the original Audi e-tron launched way back in 2018, buried in the EV avalanche. A good pool of manufacturers has released new EVs since then, burying Audi's electric SUV into the pages of obscurity.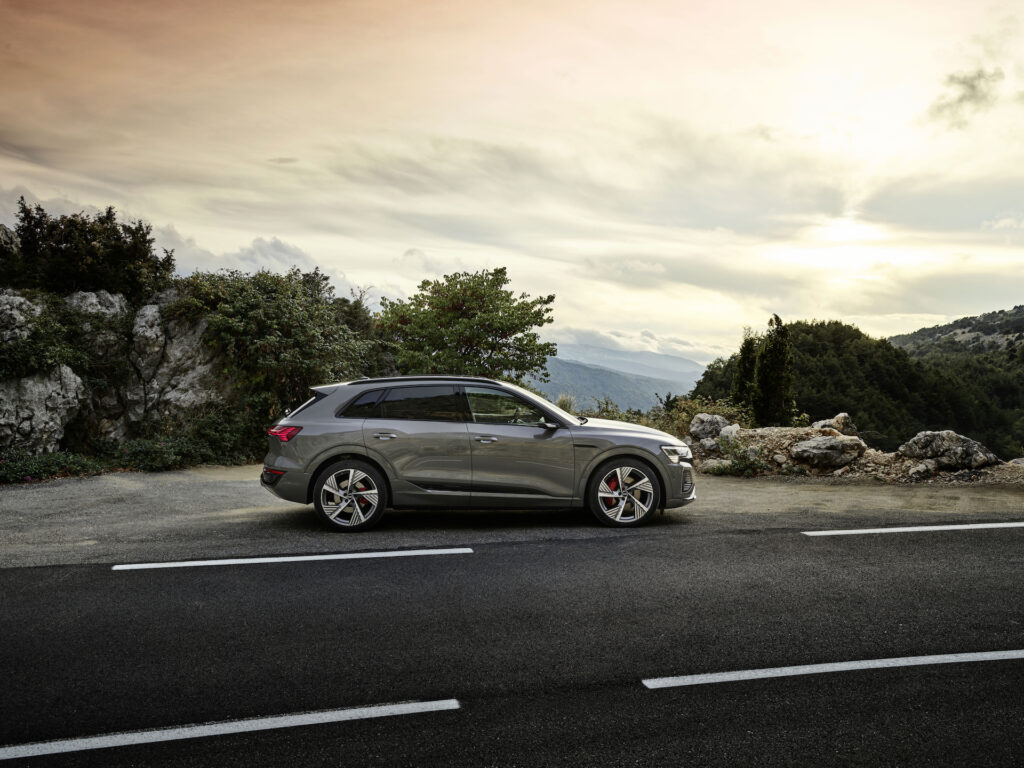 Of course, it was only a matter of time before a new e-tron update was revealed, and here it is, and it's back with a vengeance. The new model is now been renamed the Audi Q8 e-tron, making it easier to differentiate from its older brethren.
With its new name, the Q8 e-tron is now denoted as the electric counterpart to the standard Audi Q8 SUV. Fear not if you're not too keen on the boxy SUV body shape, as prospective buyers can also get it in the sexier coupe-SUV Q8 Sportback e-tron form, which is in the pipeline.
So what's new?
A new grille with hexagonal slots sits front and centre, padded by new grille surrounds and new digital LED matrix headlamps. The rear bumper has also been sculpted more voluptuously.
The new bodywork has also improved the aerodynamics of the Q8 e-tron, dropping the drag coefficients of both the Q8 e-tron and Q8 e-tron Sportback to Cd 0.26 – 0.24 in the Sportback and Cd 0.28 – 0.27 in the regular Q8 e-tron. Pretty remarkable for a lumbering SUV.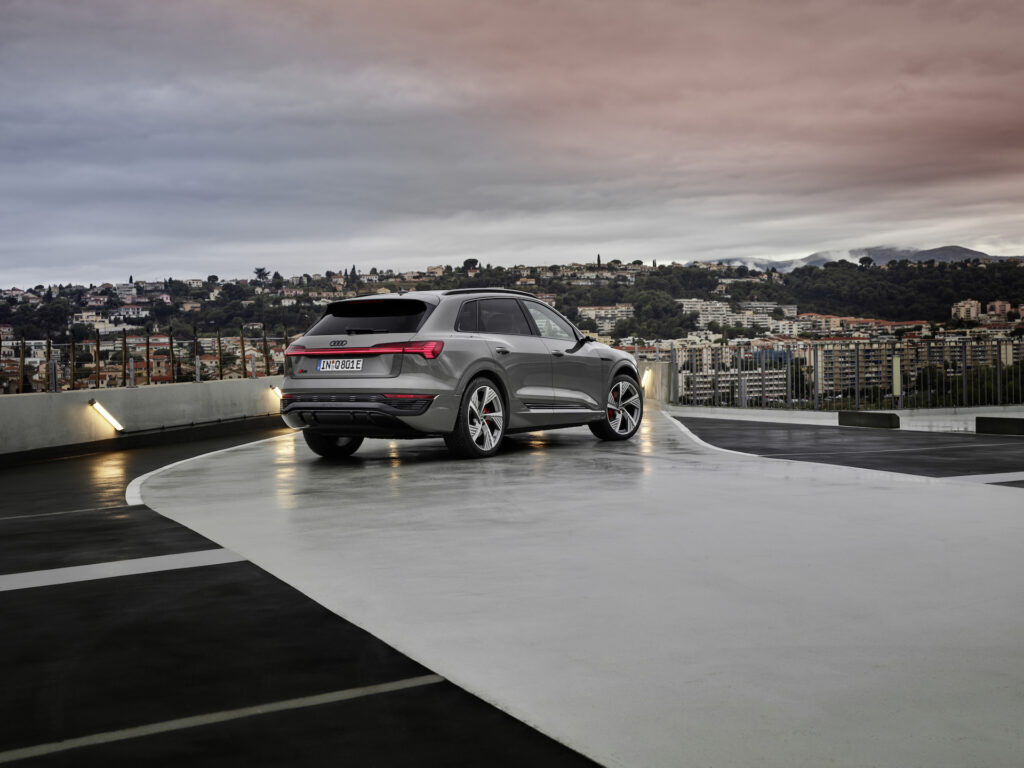 Unfortunately, interior details have not yet been revealed yet, but we are guessing the Q8 e-tron will follow a similar design language to the current Audi e-tron GT.
Yes, it has a battery. A huge one.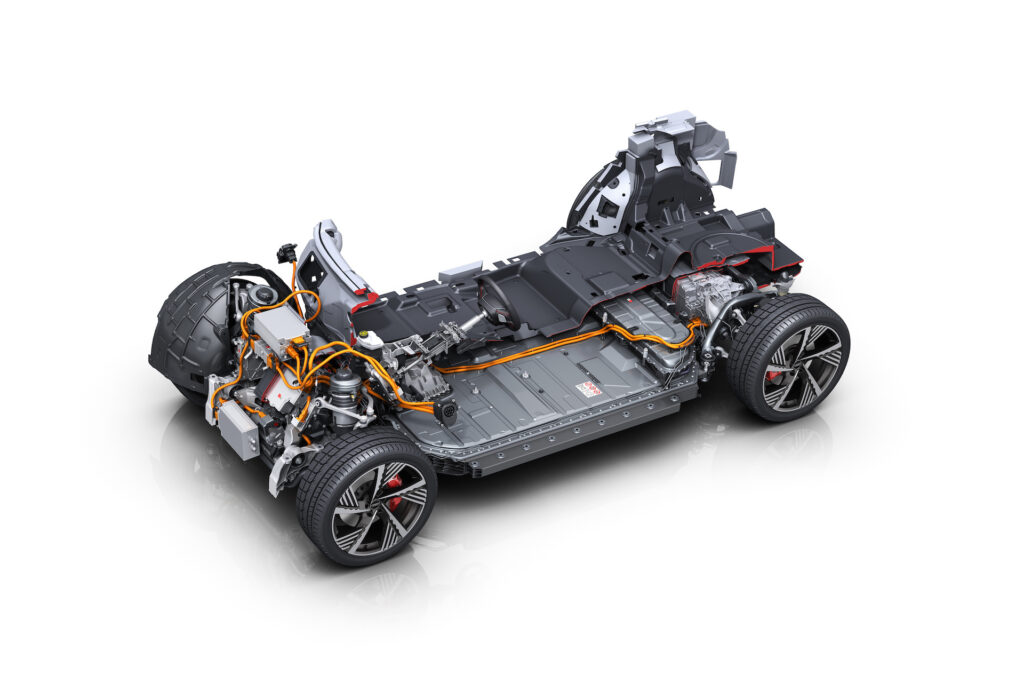 Three motor variants will be available for the new Audi Q8 e-tron. Entry point to the range starts with the Q8 50 e-tron, which houses a 95kWh battery and twin-motor all-wheel drive. Peak power output sits at 335bhp, or 250kW, and a range good for up to 491km (WLTP). 

Spring for the more powerful Audi Q8 55 e-tron, and power jumps to 402bhp, or 300kW. Crucially, a higher capacity 114kWh battery is fitted as standard, allowing for a total range of up to 600km (WLTP). This puts it in firing range of the Mercedes-EQ EQS 450+, which is currently the top dog in terms of EV range you can buy in Singapore, at the time of writing. 
But, if you really want to be the fastest SUV, or by extension EV, on the block, then the Audi SQ8 e-tron and SQ8 Sportback e-tron may be up your alley. Both feature three electric motors touting a combined power output of 496bhp, or 365kW. Not that impressive? Well, couple that with 973Nm. There you go. Shame that the top speed is electronically limited to only 210km/h. Total range for the SQ8 Sportback e-tron is rated at up to 513km (WLTP).
Major EV improvements all round
Fast charging is even faster in both Q8 55 e-tron and SQ8 e-tron variants, thanks to charge rates of up to 170kW. This equates to a 10 to 80 per cent charge in just 31 minutes. While not necessarily the runt of the litter, the base model Q8 e-tron has to make do with just 150kW on tap.
For trickle overnight charging, all Q8 e-tron variants will accept 11kW AC charging, with faster 22kW AC power also available.
The new e-tron is able to push more torque out thanks to more coil windings in the motors. The original e-tron SUV had 12 coils around the individual motor rotors, and this new version increases this to 14 coils. The extra windings enable more torque, plus it draws less power when the car is cruising at constant speeds. More powerful and efficient at the same time? Win-win!
Ride height can also be altered thanks to standard-fit air suspension, which can alter the car's height by up to 76mm depending on the driving mode. Other notable updates include revised progressive steering, giving it a more direct and quicker input while driving.
It's coming really soon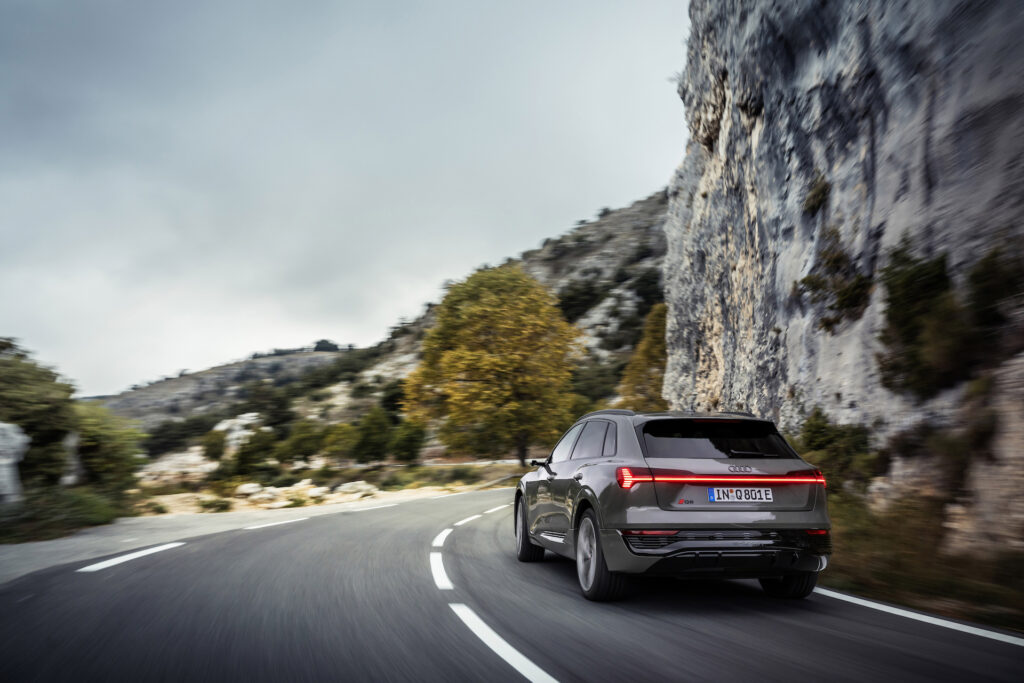 The Audi Q8 e-tron is expected to arrive in Singapore beginning in the second half of 2023. Prices have not yet been released at the time of writing.
---
Enjoyed this article? Check out more news on AutoApp here!