Your Christmas tree is up, you've done your Christmas shopping, and you've ordered the turkey – but have you made sure your car's prepared for the Christmas holidays? Here're some things you can do yourself at home!
---
♫ It's the most wonderful time of the year ♫ …if your car is working fine, that is. As you busy yourself with Christmas preparations at home, it's important that you don't neglect your car's health!
In our previous article, we highlighted some tasks that required a workshop, such as getting new tyres fitted. Today, however, we bring you some tasks that can be easily completed yourself (or with some help) right at home!
If you don't have time to get these jobs done, AutoApp is here to help. To make sure you have a very merry Christmas, we're giving all first-time users complimentary Collection & Delivery (U.P. $68) on your first AutoApp booking!
Clean your car up
To make your car not just look better, but also be a nicer place to be in, start by cleaning it both inside and out! As a car owner in Singapore, it'll certainly lift your mood to see your $100,000 investment clean, glossy and shiny.
Weather conditions in Singapore aren't the most optimal for keeping a car in tip-top shape. Throughout the year, the harsh sunlight and occasional thunderstorms tend to make cars look dull on the outside, with mud and debris easily tracked into the interior.
This Christmas, give your car some TLC by cleaning it up with a simple wash and vacuum at home. Although you probably already do this on a fortnightly basis, take the opportunity to do a thorough cleanup for the festive season!
Don't want to sweat it out with the sponge and car shampoo? With our panel of grooming partners to tackle all car cleaning tasks, AutoApp can help! Want to get your car's interior not just clean, but reaaaaaly clean? Our ProActive sanitisation service takes disinfection to the next level!
Inspect your car's essential life fluids
Perhaps the simplest and most vital aspect of car maintenance is checking on all of a car's fluids. What's more, fluids play a huge role in almost every aspect of your car, impacting fuel economy and your car's longevity. Keeping them at the proper level will help your car last longer and drive better, a logic we can't argue with!
When inspecting a vehicle's fluids, it's always important to cover these six essential life fluids. While you're at it, inspect not just fluid levels, but the condition of the fluid too! If they've got an unusual colour or sediment in them, it's a good idea to have them replaced.
Engine Oil
Brake Fluid
Transmission Fluid
Power Steering Fluid
Windshield Washer Fluid
Coolant (both the expansion tank and radiator)
All fluid reservoirs have a min/max line, and sometimes they need a little cleaning for accurate measurement. If the fluid levels are slightly difficult to read, shine a torchlight through the opposite side of the reservoir!
Make sure the exterior lights and windscreen wipers work as intended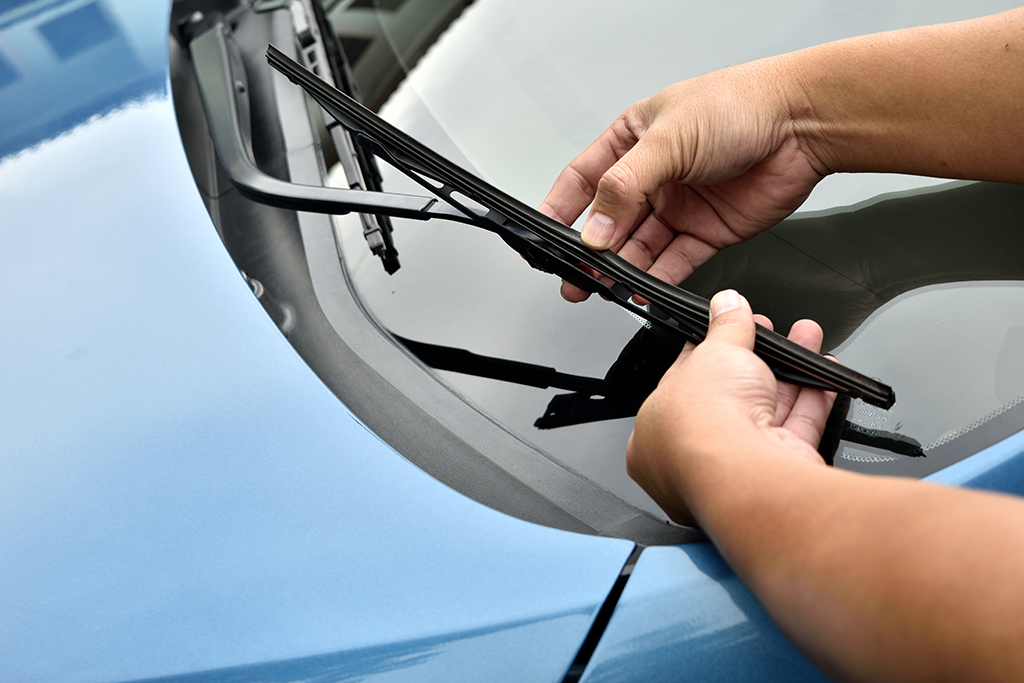 Singapore doesn't see rain as much as the UK with their lovely British summers, but when it rains, it really pours. So much so that the incidents of floo- sorry, ponding – have increased, creating a nightmare to drive in.
While you can't avoid the rainy weather, you could make driving in it a bit better. Keep an eye out for two basic items that help you see and be seen — your lights and wipers.
Your headlights, taillights and indicators all serve a common (and important!) purpose of making your car visible to other motorists. Thankfully, they're really easy to inspect too — simply flick all lights on and take a quick walk around the car. To inspect the brake lights, have a family member assist you in stepping on the brake pedal.
To replace a blown bulb, start with locating the offending bulb's socket. Holding it firmly, twist anticlockwise to unlatch the bulb holder from the socket, then pull outward to remove it. When replacing headlight bulbs, be careful not to touch the glass with your bare hands; the oils from your finger can weaken the bulb's glass surface, significantly shortening their lifespan.
If you find that your windscreen wipers don't get rid of water as effectively as before, or if they leave water streaks on your windscreen, you most likely need new windscreen wiper blades. During the rainy season, it's downright dangerous to drive with worn wiper blades, especially when they're so easy to replace!
To replace the wipers, lift them off the glass surface, then press the locking tab to remove the old wiper blades from the wiper arms. You can now press the locking tab aside and push the new blades into place. If done correctly, you'll hear a 'click' noise as it locks into position.
---
Found an issue that needs professional assistance? Let AutoApp help!
Sit back, relax, and let our friendly Service Ambassadors get your car ready for the holidays, while you stay home and decorate the Christmas tree.
To learn more about AutoApp, or to download the app on your device, head on over here. If you need to contact us urgently, we're just a text message away at 91-028-028!