Hardcore Defender purists beware, this review might not go your way. We've driven the new one, and in short, we LIKE IT!
A version of this article was first published in evo Singapore.
---
To be 100% fair, I've never driven the OG. So I have absolutely nothing to compare it to in terms of model evolution. But any proper petrolhead will know that the new Land Rover Defender is NOT meant to be a replacement of the old one. If you want the full analogue experience, there are still many previous-gen Defenders on sale although their values are rising.
The new car is a thoroughly modern take on the capable classic, and in our opinion, Land Rover has done an outstanding job.
How it looks outside
Let's start with the looks. It has taken some distinctive cues from the old car in the way of a boxy shape. It isn't easy to make an old design look good while throwing in a modern interpretation for good measure, but the new Defender is spot-on. The squarish headlamps, Alpine windows (above the C-pillars) and rugged wheel arches all hark back to the previous model. Yet, the overall look is clean-cut, chic and up-to-date as can be.
The car we're driving has items found in the add-on Explorer Pack. This includes a raised air-intake, lightweight roof rack, mud flaps and a matte black decal detailing on the bonnet. All that, plus the huge and aggressive looking 20-inch twin five-spoke rims wrapped in Goodyear all-terrain tyres work well to make this First Edition P400 model look sweet. There's nothing else that I'd add to it!
How it's like inside
Jump in, and the modernisation of the old elements continue. There are exposed screws, grip handles and a rugged, chunky design that fills the whole cabin. The materials used in the Defender are meant to be hardy and easy to clean. You could, for instance, you can remove the mats and hose mud off the floor.
Yet, you're not deprived of the modern features that everyone needs nowadays. It comes with a sleek 10-inch infotainment touchscreen system with Pivi Pro software that boasts a marked improvement in terms of response time as compared to previous 'modern' Land Rovers we've driven. Although it was still a little buggy when connecting to my phone – it sorted out itself after a few attempts for the rest of the time I had the car.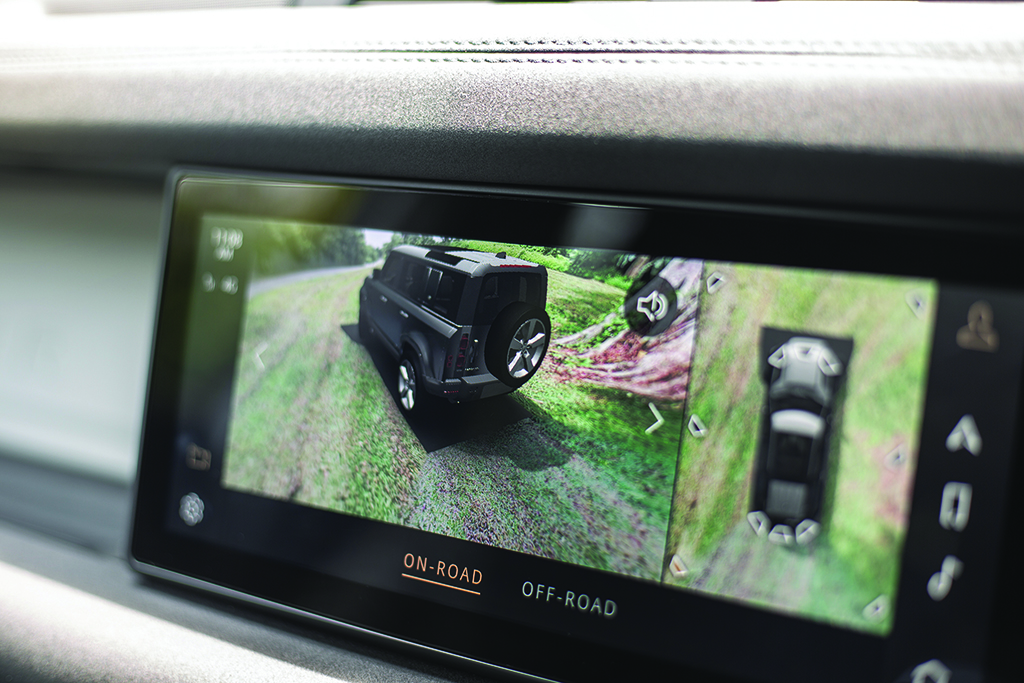 The interface is beautiful. As a designer myself, I take notice of colour schemes, fonts, graphics, and the interface design is gorgeous. The software has a nifty 360-degree camera that allows you to view a virtual representation of the car 'from outside' as if there was a drone hovering around you. Super cool!
Then there is also the cool (pardon the pun) chiller in the centre divider upfront that will fit a few cans of drinks, and the multiple compartments and USB charging points that I lost count of. In the boot (which you assess by opening the rear hatch sideways like a regular door), there is even a standard three-pin plug which you can hook up anything from a hair-dryer, guitar amplifier or laptop charger. Tell me this is not starting to look like a mobile home!
How it drives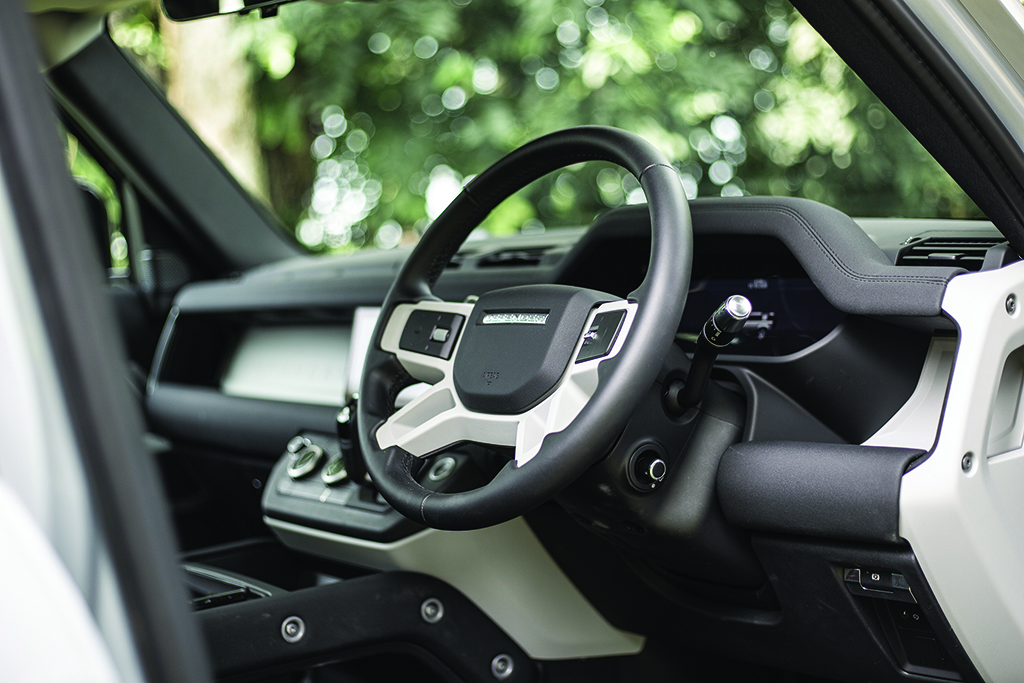 Driving the Defender is another surprisingly good experience. You might imagine that the enormous 2.3-tonne car would be challenging to manage, but you'd be mistaken. While it is a large vehicle and some caution would be needed for navigating it through tight roads and lower ceiling heights, the 395hp 3.0-litre turbocharged engine is more than sufficient to get the large SUV moving speedily on the road. It's so quick that you only need 6.1 seconds to hit the 100km/h mark from a standstill!
With 550Nm of torque, the car never feels short of breath or heavy. However, despite the 48V mild hybrid system, the car does seem a bit thirsty as it emptied half a tank over the three days. It's a good thing the power delivery of the turbocharged in-line six-cylinder unit is aided by a smooth eight-speed gearbox, keeping it well-balanced for a vehicle of this size and stature.
Can I off-road it?
So but can it go off-road? Alas, I can't give you a full report on this as we did not have the terrain to try this out entirely. But I did take it off the asphalt and onto some gravel and grass-filled grounds to give the adjustable suspension and Terrain Response system a go. The new Defender has a configurable set-up that allows drivers to adjust the throttle and gearbox response, in combination with the various ride heights, to navigate different terrains.
You can save four of your favourite individual settings into the system via the touchscreen panel for easy assess to your preferred configurations. Needless to say, the tasks I gave the Defender in my short off-road exploration were dispatched in a cinch. Perhaps when things open up, a trip up north to some rocky roads would be in order.
I'm curious to see how the 2.0-litre turbocharged variant will fair in comparison. Also, what will the two-door Defender 90 will look like in the metal? In the meantime, this 110 P400 model is pretty much the stuff of dreams for me. The new Land Rover Defender is genuinely one of the most refreshing cars I have reviewed this year. Whether it will go down as a classic like its predecessor, remains to be seen.
---
At a glance
Land Rover Defender 110 Mild Hybrid 3.0 P400
Engine: In-line 6cyl, 1991cc, twin-charged
Power: 395hp @ 5,500 rpm
Torque: 550Nm @ 2,000-5,000 rpm
Transmission: 8-sp automatic, 4wd
Kerb weight: 2,361 kg
0-100km/h: 6.1 seconds
Top speed: 191 km/h
VES Band: C2 (+S$20,000)
Base price: S$319,999 with COE
Contact: Wearnes Automotive, 6378 2626
---
You might also be interested in the new Jeep Gladiator!