Earlier this month, we highlighted a list of makan places offering kerbside takeaways. Extremely convenient, they allowed you to pull up and collect your food, without leaving your car.
---
Much as it is great for us consumers, there wasn't a huge number of eating establishments with this service. This was largely due to manpower constraints, as staff had to leave the premises to pass us our orders.
However, we've still got the option of doing things the good ol' fashioned way; parking and walking to buy our food. In a perfect world, we'd be able to park right in front of the stores we're dabao-ing from, but that just isn't possible due to how densely populated Singapore is.
At AutoApp, we're all about making life easier. Just any old way of dabao isn't going to cut it. It has be convenient! The next best alternative – takeaways with easy parking. Really, as a driver, is there anything better than having a parking spot waiting for you at your destination?
The AutoApp team has put together this map of dining establishments that still require you to get out of the car and place your order (first world problems, right?) but at least the parking is easy. Our criteria for this list is parking right outside the establishment, or just behind the premises. At these eateries, it'll take less than a minute to go from car to counter. You'll be on your way home with your meal earlier than you expect.
If you're befuddled by the sheer number of choices available, we've highlighted three spots below that are personal favourites of the AutoApp team! Some are hidden gems you might not have heard about – there's zi char in Simpang Bedok, fishball noodles in Redhill, and dim sum in Sembawang. Bon appétit!
Hong Kong Street Family Restaurant Bedok
For Chinese families, zi char is often the default choice when dining out. Not only does it fit the traditional 'three dish one soup' (三菜一汤) ideal, zi char stalls usually have a massive variety of dishes to choose from. It's got dishes to fit all budgets, too – be it a simple yang chow fried rice for one, or a chili crab and seafood feast for the family.
Unfortunately, most zi char places are located within non-air-conditioned coffeeshops, and that usually doesn't go well with Singapore's muggy weather. On that front, Hong Kong Street Family Restaurant marries a comfortable air-conditioned environment with tasty dishes served up at coffeeshop prices. It's the best of both worlds!
A must-try here is their Prawn Paste Chicken, which is a near-perfect rendition of the classic zi char dish. Coated in an airy batter and deep-fried to perfection, the taste profile balances flawlessly between regular fried chicken and prawn paste.
For a single-dish meal, try the Sum Lor Hor Fun (三捞河粉), which pairs thickly-sliced snakehead fish, beansprouts, and a generous helping of aromatic, wok-hei laden horfun. If you prefer something soupy, you can't go wrong with the Fried Fish Bee Hoon, serving up fresh chunks of fried fish and thick bee hoon in a flavourful broth.
Address:
430 Upper Changi Road
#01-67, East Village Mall
Singapore 487048
Phone:
6245 3881 (Pre-orders via phone available)
Parking:
An open-air URA car park (EPS parking) is located directly in front of the restaurant.
Block 58 Lengkok Bahru Minced Meat Noodle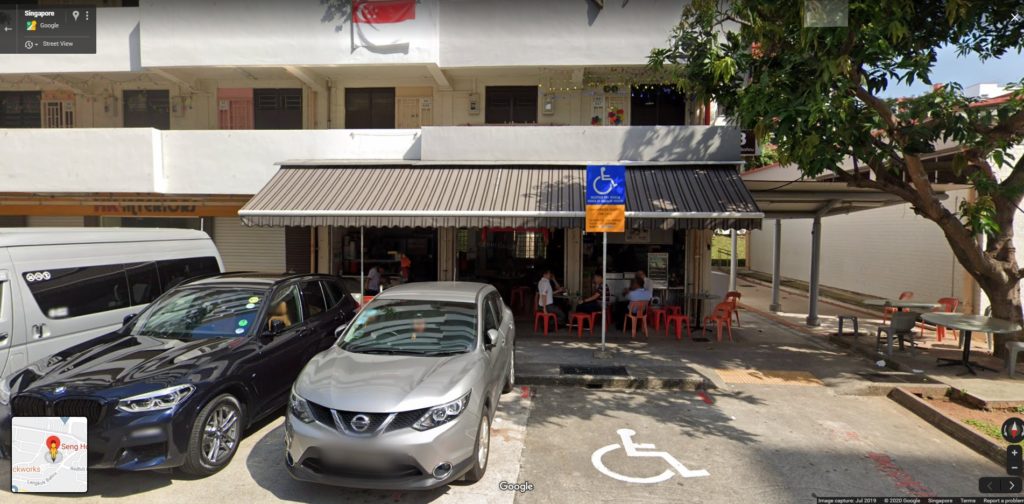 Fishball noodles are an overwhelmingly Southeast Asian thing, where you'll find (slightly differing) versions in each country. In Singapore, fishball noodles are somewhat of a comfort food. You can have it in soup or dry-tossed in sauce, with chili or tomato ketchup, and with a variety of noodles from thin mee kia to kuay teow.
Then, there's the fishballs. Some foodies insist that a good fishball noodle must include handmade fishballs, and not the factory produced versions. Others though, argue that factory-made fishballs are just as good if made with fresh yellowtail fish.
At the rather simply named Block 58 Lengkok Bahru Minced Meat Noodle, fishballs are of the factory-made variety. However, when paired with its bowl-mates of fishcake, minced pork, and pork slices, its origin becomes slightly less significant.
Over here, the combination of the soup base and the ingredients make an extremely homely and comforting meal, especially when served with the al dente dry mee pok. With an egg added to the soup, the taste-to-value ratio is hard to beat, at just $3.50 a bowl.
Address:
58 Lengkok Bahru
#01-521
Singapore 150058
Phone:
N/A
Parking:
An open-air HDB car park (EPS parking) is located directly in front of the coffee shop.
East Bistro
"Har gow, siu mai, char siu bao!" This is the chant you'll commonly hear at traditional dim sum joints, where waitresses will push a trolley or carry a tray full of steamed treats. Thanks to COVID-19, however, it might be ages before we get to hear these dim sum ladies again.
Dim sum is an extremely 'dangerous' meal to go out for. You look at the long list of dishes, twiddle your fingers a bit, and inadvertently end up ordering enough food to feed double the dining party. I don't blame you – because that's usually what happens when I go for dim sum with friends.
At East Bistro, the alluring pieces of har gow (shrimp dumplings) and siu mai (steamed dumplings) and perfectly sized to pop in to your mouth in one bite. Stuffed with fresh shrimp and pork respectively, they burst in your mouth with a pleasant sweetness as you bite in.
Helmed by the former head chef of acclaimed Cantonese restaurant Lei Garden, Chef Tony Wong, you can't really go wrong with any of the dim sum dishes over at East Bistro. Although, if you're (gasp) not in the mood for dim sum, try their pao fan (泡饭) which is a rice porridge served in a hearty broth.
Address:
10 Jalan Tampang
Singapore 758954
Phone:
6634 2998 (Pre-orders via phone available)
Parking:
URA street parking (coupon parking) is available right next to the restaurant.
Feeling a bit pudgy after all that eating? Try this four-week workout plan put together in collaboration with Fitness Core's JQ Chew!
Do you know of a stall that's got easy parking, but isn't featured in our map? Send us a message on Facebook at www.facebook.com/autoappsg, and we'll add it in so everyone can share the joy!
We are still open! Find out about the available AutoApp services at https://www.facebook.com/autoappsg/.