The Bavarian automaker's second-generation mini MPV continues to break new ground for the brand.
---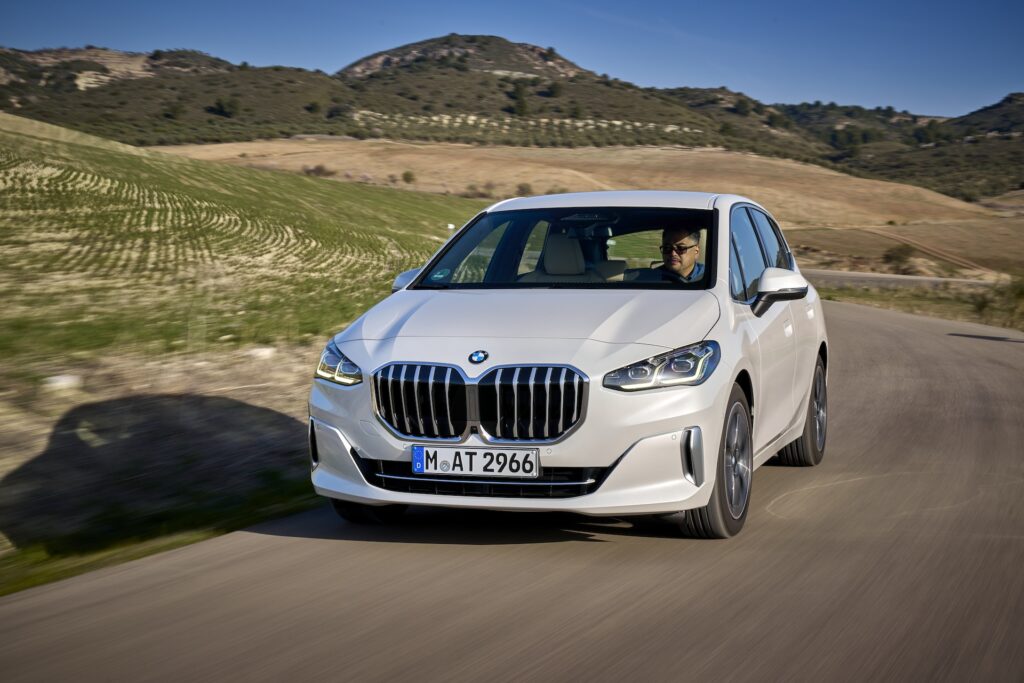 MALAGA, SPAIN – The 2 Series Active Tourer may not fit the description of the classic BMW. It is, after all, a front-wheel drive mini-Multi Purpose Vehicle (MVP) made by a brand that was once synonymous with sporty, rear-wheel drive sedans and sports cars.
Breaking out of its comfort zone however has apparently paid off for the Bavarian carmaker. From the 430,000 units of the previous-generation, 2 Series Active Tourer produced, 80 percent of the sales were from first-time BMW customers. So in terms of brand conquests, this car plays a crucial role.
Naturally, BMW has seen fit to build on this success with the replacement driven here. Codenamed U06, the all-new BMW 220i Active Tourer continues the formula of a predominantly front-wheel-drive layout. Having the engine powering the front wheels translates to a more spacious interior with a flat(ter) floor so the three passengers on the rear bench can sit abreast more comfortably.
It seems, the segment of customers that the 2 Series Active Tourer panders to, prioritize qualities like interior space and are not particular about which wheels propel their car.
Also, in so doing, BMW finds itself in an almost unique position of offering a premium alternative to mainstream mini MPVs such as the Citroën C4, Renault Scenic or Volkswagen Golf Sportsvan amongst others. 'Almost' being the keyword here as its Swabian rival, Mercedes-Benz has a class competitor in the form of the B-Class…
What's new about the BMW 2 Series Active Tourer?
If you like the latter-day styling of humongous front grilles on BMWs, you won't be disappointed with the all-new 2 Series Active Tourer. Taken as a whole however, this BMW manages to impart a friendly and accessible visage that somehow reminds me of a capybara. You know, those giant rodents from the Amazon?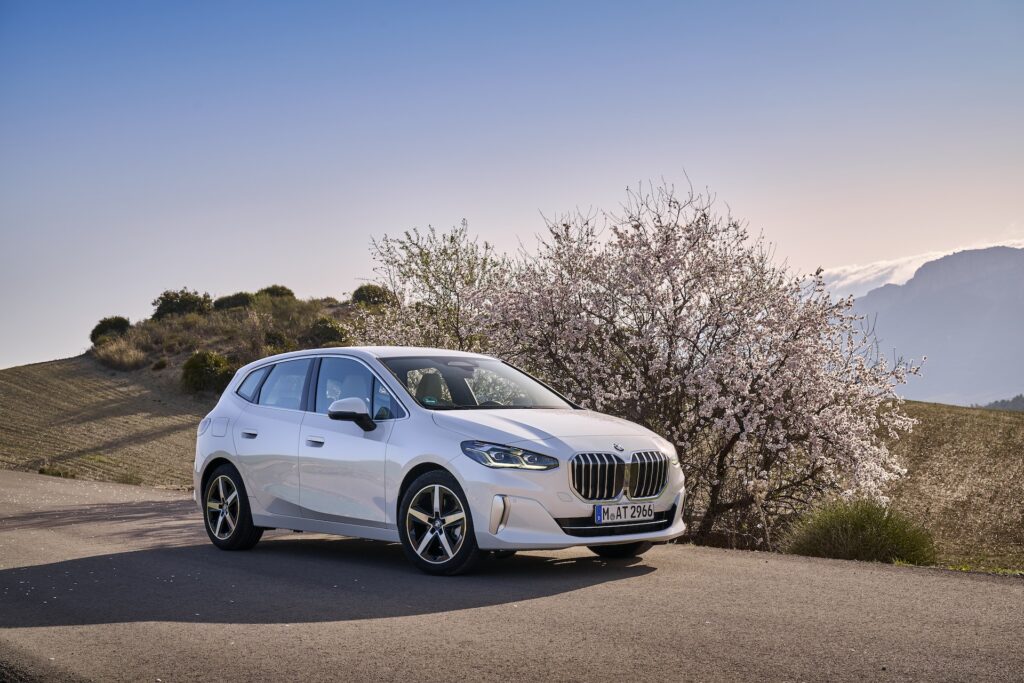 Anyway, it looks every inch the family car while the wheels being pushed out to the corners reduce the perceived overhang and adds a sporty touch.
Inside however, is where you'll find the biggest change. The round iDrive controller that can be found in every BMW built in the last 20 years, has disappeared altogether. Apparently, the cabin has been designed around a touchscreen interface with the central infotainment display curved and situated closer to the driver.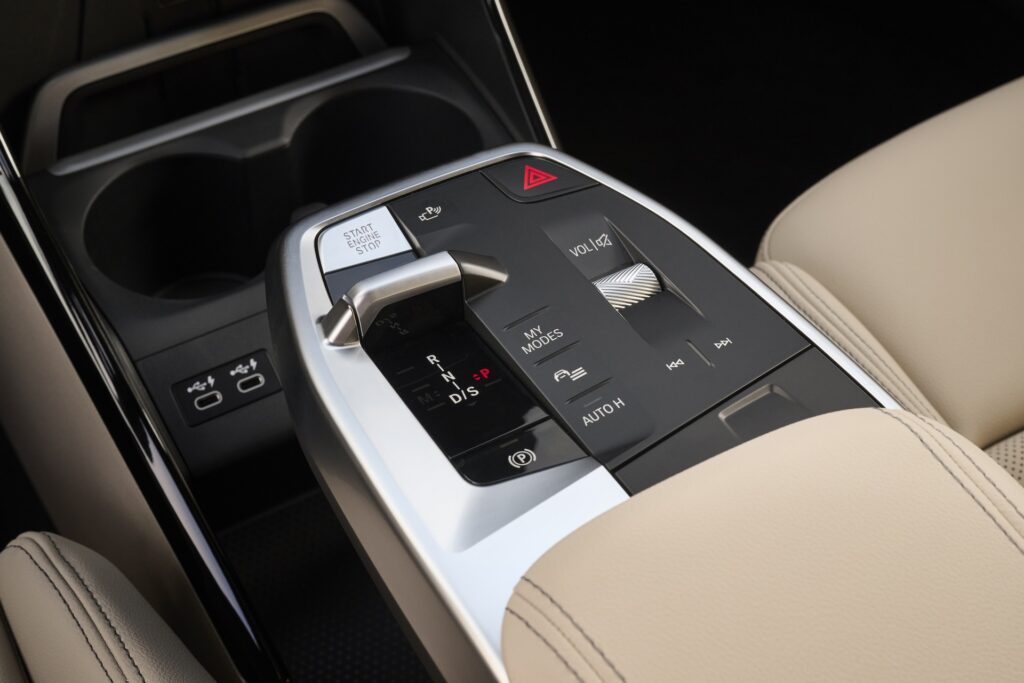 So the BMW development leads I interviewed for our brand-new podcast, Podcars (coming soon!) explained that the iDrive rotary controller is unnecessary and so it goes without it. It's also nice to see that this same ethos was applied to the exterior design that doesn't sport decorative (read, 'fake') side vents like those on the X3…
So is it a real BMW then?
There was a time when BMW resolutely stuck to a rear-wheel drive format, even for its entry 1 Series hatchback. A large part of this was to preserve the characteristic feel that was defined by steering that felt direct and unsullied by engine vibrations and torque steer.
The previous 2 Series Active Tourer felt like its engineers worked hard at making feel like a proper BMW and succeeded at it.
Since then, the brand's portfolio has grown to include a wider variety of vehicles that include Sport Activity Vehicles, (BMW-speak for Sport Utility Vehicles), and EVs.
Even its sedans like the 3 Series don't quite feel like they used to anymore. So, it shouldn't come as a surprise that the all-new 2 Series Active Tourer has lost that loving feeling as well.
Don't get me wrong, there's nothing wrong with the way it drives, but it is now much harder to distinguish. What exactly is a characteristic BMW feel anymore?
What is it like to drive?
That said, the BMW 220i Active Tourer is a car that the whole family is bound to enjoy rather than just the driver. There's lots of space to lounge in and the rear seats can be made to slide in sections to optimize the passenger-to-cargo ratio depending on what's needed at any given time.
Next, all occupants sit high up to enjoy a commanding view out. This is enhanced by low window sills to keep Little Ones in car seats enthralled throughout the drive. There's also the obligatory plethora of USB Type C outlets to be found throughout the car to ensure that the mobile devices of everyone on board are always charged up.
Although the wireless charging tray in this car is generously sized to accommodate even the biggest smartphones, it is just half-an-inch shy of being wide enough to hold a second 'phone which would have been really nice. The small horizontal bar holds the device in place to ensure constant contact with the charging pad makes it look like your phone is going for a roller-coaster ride.
This brings us neatly to how it handles. For this, the roads around Malaga are some of the best in the world. Take a short drive to the mountain range of Andalusia and traffic lightens up significantly. And speed limits? Well, they seem to serve more as suggestions than being strictly enforced.
In short, these are the kind of roads that make 250hp feel good, 350hp even better and 500hp, just about right…
The BMW 220i Active Tourer driven here, however, rocks up with only 170hp. On these spectacular sweeping roads, it can feel a bit like bringing a butter knife to a gunfight at times. While the 7-speed double-clutch automated gearbox provides enough ratios to make the most of the available horsepower, these roads can show up the limitations of the chassis. At times, it scrabbles for grip when you accelerate too aggressively from a tight bend.
Which BMW 2 Series Active Tourer versions are we getting?
The question should really be: "Which versions should we get?" To begin with, the BMW 2 Series Active Tourer is initially launched in four flavors; 218d, 218i, 220i and 223i. At the launch event, only the 220i and 223i were available for us to drive. Unfortunately, only the 218i is being planned to be sold in Singapore so you'll have to wait until we get our hands on a local unit before we know if it still delivers the sort of experience the 220i and 223i provides.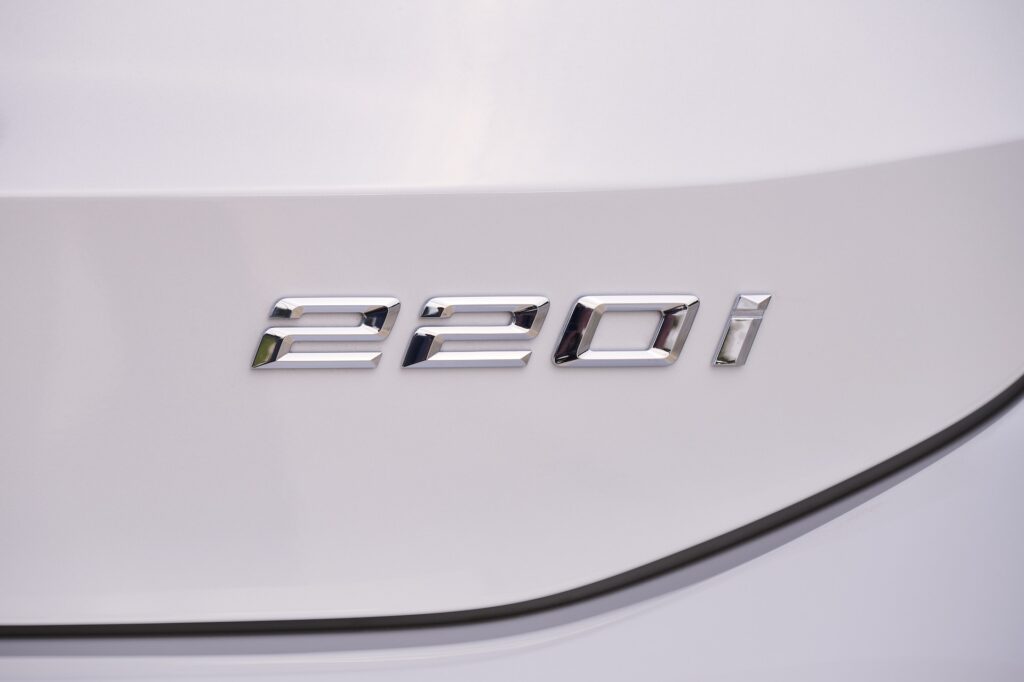 2 Series Active Tourer Plug-in hybrid
Additionally, we also got to drive the BMW 230e xDrive Active Tourer which is technically a pre-production prototype. When this version is launched, this would be the one to go for.
The previous-generation 2 Series Active Tourer was available in Singapore as a Plug-in Hybrid Electric Vehicle (PHEV) and proved to be quite popular even if its capabilities were rather limited. Its all-electric range was a paltry 50km or less while it could only charge at a maximum rate of 3.7kW. This made for excruciatingly slow charging with little range to show for it.
The all-new model promises to be better in every measurable way. For starters, it has an all-electric range of 90km and can charge at up to 7.4kW which is effectively twice as fast as the previous model.
The total system output of 326hp and 488Nm might help, making a case for itself, of course.
More to the point, this generation of 2 Series Active Tourer feels like it is optimized for some form of electrified motoring. The 220i and 223i are fitted with a 48v Mild Hybrid Drive (MHD) which gives these cars low-end torque and snappy acceleration.
The 218i Active Tourer that is destined for Singapore however, does not come with 48v MHD. Maybe it doesn't need it? After all, Singapore's roads are nothing like those in Spain. It might be the pick of the bunch after all.
Technical Specifications
BMW 220i Active Tourer
Engine: 1,499c, in-line 3cylinder turbocharged
Power: 170hp
Torque: 280Nm
Transmission: 7-sp double clutch automated
0-100km/h: 8.1seconds
Top speed: 221km/h
---
Interested in other BMW models? Read more about the 4 Series here.