BMW's bread and butter 3 Series has undergone a facelift or an LCI (Life Cycle Impulse) update in BMW-speak. Here, we test the handsome and capable entry-level 318i M-Sport and tell you what's new and what's not.
---
Let's cut to the chase. The grill and headlights are the most obvious edits to the front end. The headlamps are now less fussy and sport a cleaner rectangular shape that connects to the grille. The front and rear bumpers have also been redesigned, featuring more pronounced black inserts in this M-sport guise.
You'll also notice that the new adaptive LED headlights have some blue surrounding accents to tell them apart from the outgoing model.
As with most facelifts, the complete changes aren't immediately noticeable; however, I must say that the 'cleaning up' of the latest 3 Series does modernise the car and brings it up to date with the trendier minimalist look that many cars now have (especially EVs).
Another new item is the set of two-tone 5-spoke wheels with Bridgestone 225/45 R18 Turanza tyres, which also work well to give this red test car a sporty and striking look. I'd opt for a set of 19s to fill the wheel arches more, and it'll look perfect!
On the inside, though, the updates become more evident with a new (and wide – about 27 inches) BMW Curved Display that suspends from the dash and greets you the second you lay your butt on the leather seats.
The screen runs on the company's latest OS 8 and combines the main display at a width of 12.3 inches and a control display at 14.9 inches.
I'm not the biggest fan of letting a screen control the majority of the features of a car, but I guess this is where the market is at right now, and as far as these go, the system in the 3 Series is right up there in terms of resolution, refresh rate and ease of use.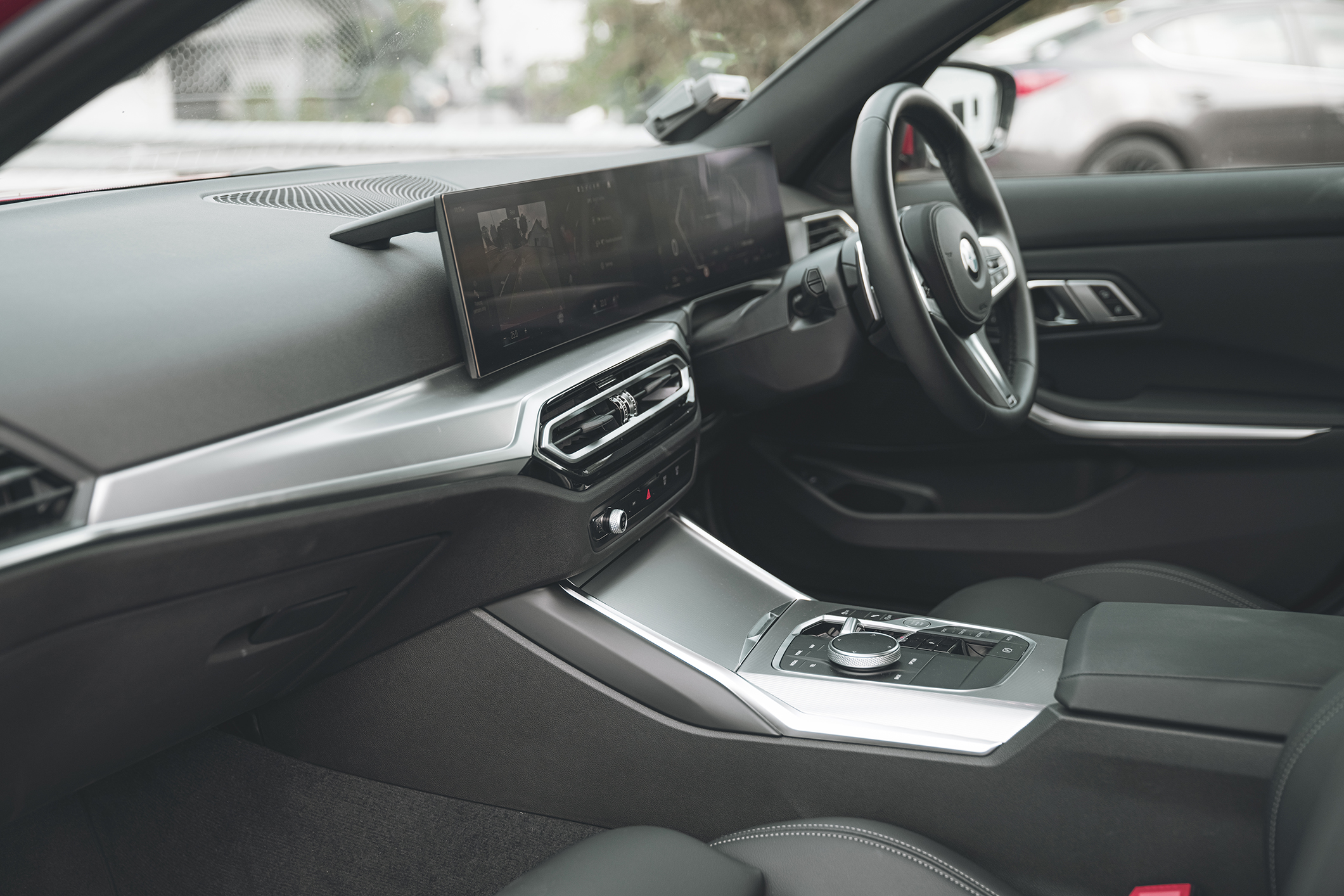 Much of the other parts within the interior remain the same, and that's not a bad thing at all. The 3 Series is an excellent and comfy place during your daily commute.
A modern and slick interior with aluminium trimmings, lots of leather, tech and entertainment features to keep you connected – there's little more to ask for.
In any other country, the 3 Series would be seen as an entry-level luxury sedan from BMW; here in Singapore, with prices exceeding $300k, the German saloon is every bit a premium ride. So, it has to do everything and be everything to justify that price.
Thankfully, though, it does. For a base sedan, the 318i rides superbly. It's also comfortable to cruise on the highway and absorb bumps on undulated city roads. Get up to some spirited driving, and the car handles superbly, too, feeling planted and flat through corners and sweeping bends.
Well, by 'flat', we don't mean Lotus Elise flat. Still, it exhibits very commendable body control for a family sedan, inspiring any keen driver to push it harder than they usually would.
Brakes are also good and effectively cut speeds generated by the peppy 2.0-litre four-cylinder B48 turbo unit, an engine that remains unchanged from the previous car.
The power unit pushes a sufficient 154 bhp and 250 Nm of torque and is managed via an eight-speed automatic transmission with steering wheel-mounted paddle shifters.
With the updated 3 Series, BMW has extended what was already a winner for a few years more. It's a car that speaks to someone who enjoys driving more than having a three-pointed star badge. It remains an enthusiasts' sedan with its front-engined rear-wheel drive set-up, yet it delivers on the essential requirements of a daily practical sedan.
Technical Specifications
BMW 318i M-Sport
Engine:  1,988cc turbocharged inline four-cylinder
Transmission: 8-speed Steptronic automatic
Driveline: Rear-wheel drive
Power: 154hp
Torque: 250Nm
0-100km/h: 8.4 seconds (claimed)
Top Speed: 223km/h (claimed)
Fuel Economy (combined): 15.4km/litre (claimed)
Fuel Tank Capacity: –
Price: $307,888 with COE (accurate on 10th November 2023)
Contact: BMW Singapore
---
Read more automotive news at AutoApp, or check out our latest videos on Ignition Labs TV!