If ever there was a reason to take the plunge into an extravagant vehicle, the 735i is it.
---
Before we delve into this G70 BMW 735i, a confession first. I've always had a soft spot for the 7 Series, more so than its smaller sibling 5 Series. Take for example BMWs from the late 90s to early noughties. Given the choice between an E39 5 Series and the E38 7 Series, my choice will always be the latter. That's no slight against the brilliant E39, just a personal preference in that at that price point, I'd much rather be cosseted in the lap of luxury and be slower on the road.
This G70 735i represents the entry point into BMW's flagship luxury sedan. There's also the i7, but we're talking internal combustion in this article, not electric. At its $611,888 with COE list-price, the 735i occupies mid-market, with the Audi A8 3.0 TFSI sliding in under it at over $35,000 less, and the Mercedes-Benz S450L sitting above the Bimmer and costing a whisker shy of $700,000 (prices accurate at the time of this article.)
With-out
There's no denying that the 735i looks imposingly polarising. That front-end makes people react strongly. I think this is exactly what BMW was going for, in a definite departure from the subtle looks of 7 Series of yore, to this brash "LOOK AT ME!" visage. Introverts be warned that it attracts fixated-stares and attention up the wazoo, especially in the test car's two-tone colour scheme.
And it's big. B-I-G-G. At 5,391mm long with a 3,215mm wheelbase, 1,950mm wide and 1,544mm tall, we need to remember that the G70 7 Series forms the basis of the Rolls-Royce Ghost which is slightly longer, wider and taller. Moreover, this G70-generation 7 Series will only be offered in long-wheelbase guise, which the 735i is. Gone is the 'L' notation in the model name, for it is no longer needed.
The front-end of this luxo barge features a humongous kidney grille, which juxtaposes against the slim split headlight and daytime running light (DRL) cluster. The latter is imbued with Swarovski crystals, which come to life and glimmer when the car is first unlocked. So does the carpet lighting on either side of the 735i, which glimmer on the ground with their triangle-motif. Check out this light show at night in a darker area for maximum effect.
The B-I-G-G-ness continues with the wheels. Staggered-width 21-inch M Star-spoke rims are wrapped in Pirelli P Zero Star mark 255/40R21 and 285/35R21 tyres in the front and rear respectively. While the air suspension is nice, supple and comfortable down the road, I couldn't help but wonder if it could have been more supple with 20-inch rims and tyres with thicker sidewalls instead, and if it were my money, that is how I'd have my 735i configured.
The triangle-motif theme carries on with the rear quarter-light, which interestingly is frameless. Where one would expect the trim around the famed Hoffmeister kink to surround the quarter-light when the door opens, it surprisingly remains on the C-pillar while this portion of glass appears without frame.
The same triangle-motif can be found on the side of the taillights. Rounding the back brings us to an equally imposing rear end, but one that's strangely attractive in the same way certain squared-jaw faces are attractive.
Within
The boot lid whirrs open electrically to reveal 540-litres of luggage space. Not massive but adequate, and certainly enough to fit three golf bags for that country club excursion.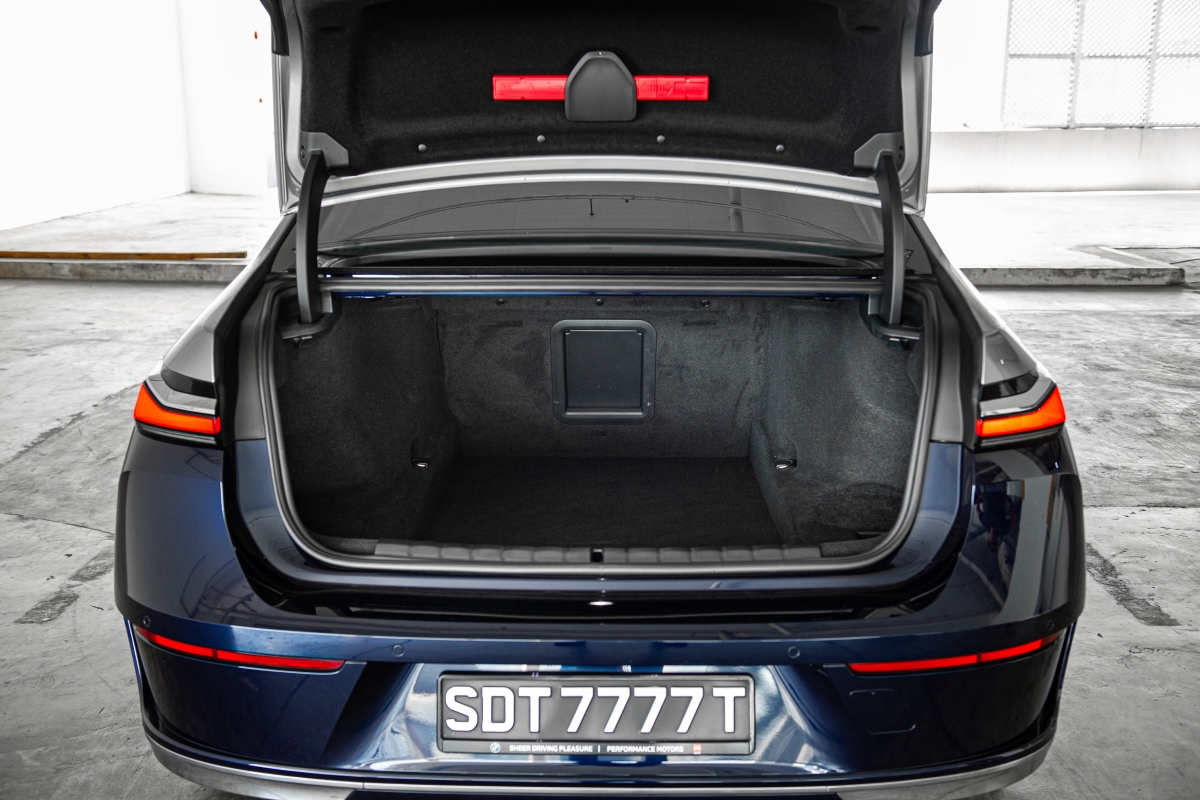 Most would agree that the back seat area would be the business end of a luxury sedan, and any towkay seated back here would have plenty to be happy about. There is oodles of legroom to stretch out, the seats are plush, supportive and comfortable, and sun blinds on the side windows, rear quarter-lights and rear windscreen keep things nice and cosy back here. However, if one prefers natural light to stream in, a panoramic fixed-sunroof sees to this.
Each door features a touchscreen panel to control a myriad of settings, from said blinds including the sunroof cover, to rear climate controls and even the audio system. To make things easier for Sir or Ma'am, there's also a button on each door just above the touchscreen which, when pressed, electrically opens the door if closed or closes the door if opened. No need to strain to open and close the door in the regular way anymore. The doors also feature soft close, so there's no need to slam them shut either.
The centre armrest, which features a wireless phone charger, can be flipped up if three need to ride in the rear seats, although the centre occupant will have to contend with a rather large transmission tunnel.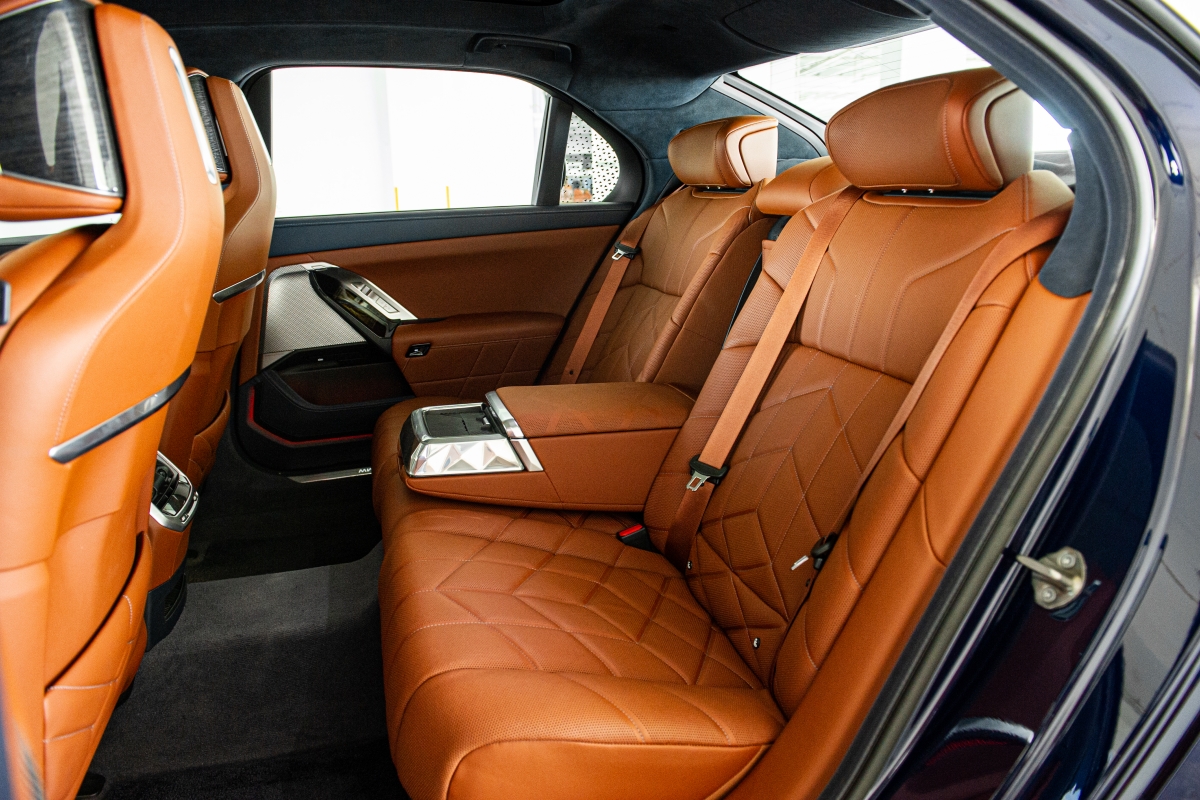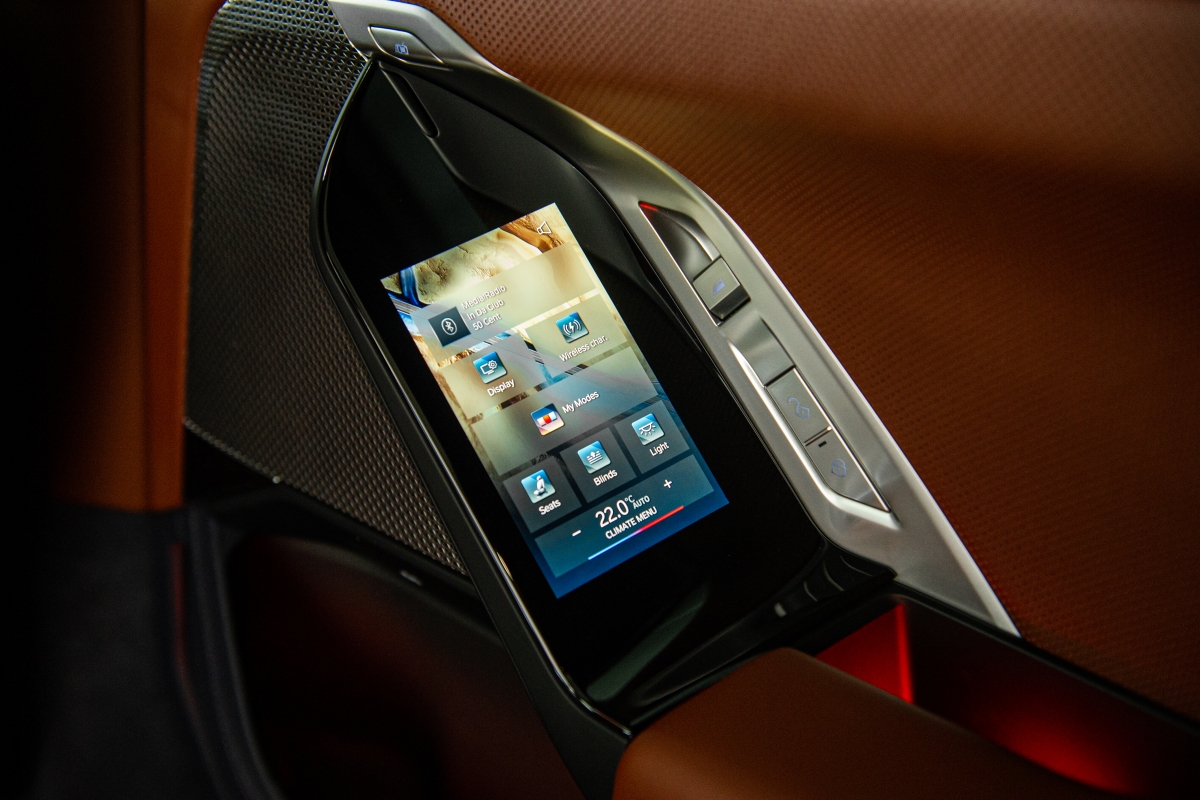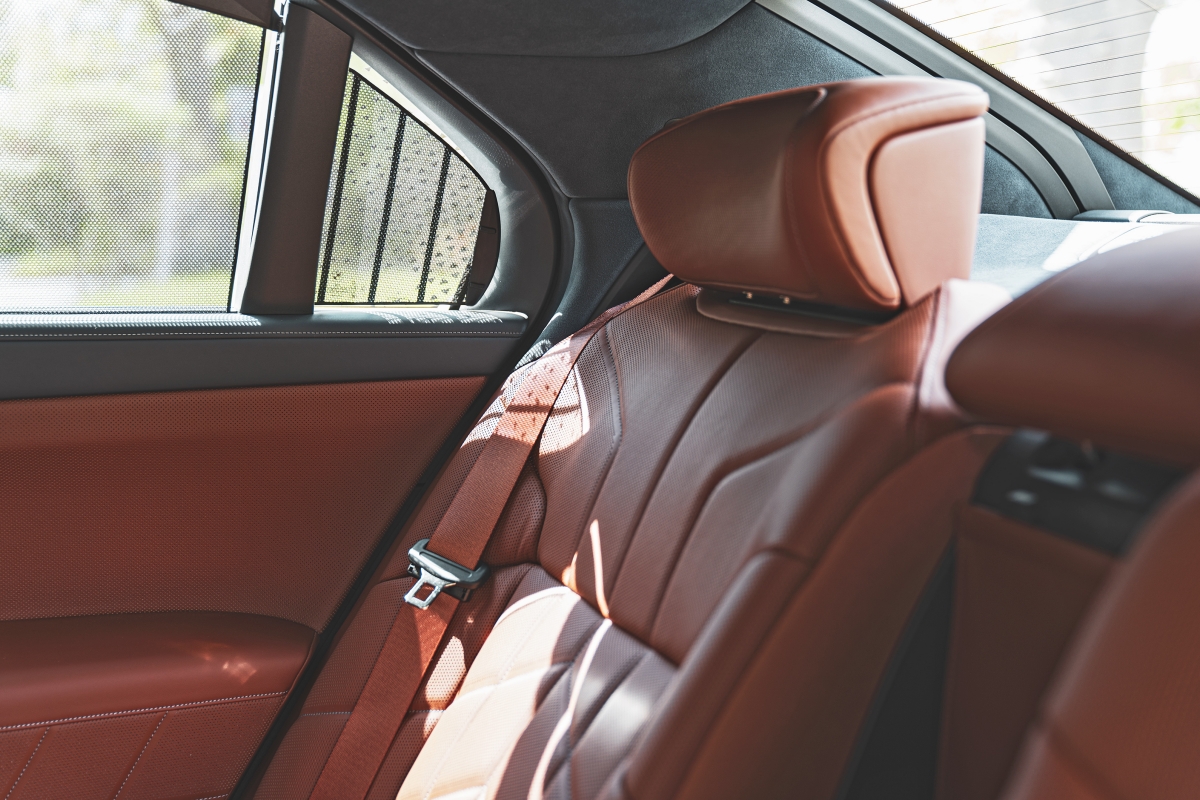 The luxuriousness and suppleness carries on to the front seats, with one caveat. Regular readers would know that 1.82-metres tall Daddy Long Legs-esque yours truly needs to set his seating position further back and higher up to compensate for being longer of limbs and shorter of torso. There's no issue with the front seat's vertical adjustment, but it just didn't go back far enough.
Much to Sean's amusement, this left me with a rather 'sporty' seating position with bent knees which would have been more appropriate during a track-day outing in a BMW M3 or M4. This limitation of rearward seat adjustment was probably done to not intrude into rear legroom, especially so in the Rolls-Royce Ghost, but given its long wheelbase this should not have been a concern in the first place.
To alleviate the lack of under-thigh support, the back of the seat's base was set to its lowest position and the front raised a fair bit to bring things more toward the comfort zone. Adding to this comfort are the seats' cooling, heating and massage functions, the first and last of which came in immensely helpful during my test drive.
The double-spoke steering wheel is of a good size and was a pleasure to hold while driving. Again, due to the rearward adjustment limitation of the front seat, I'd to set the steering wheel all the way up and in toward the digital instrument screen, which luckily remained fully visible and was sufficiently large and bright and clear to read with some customization available.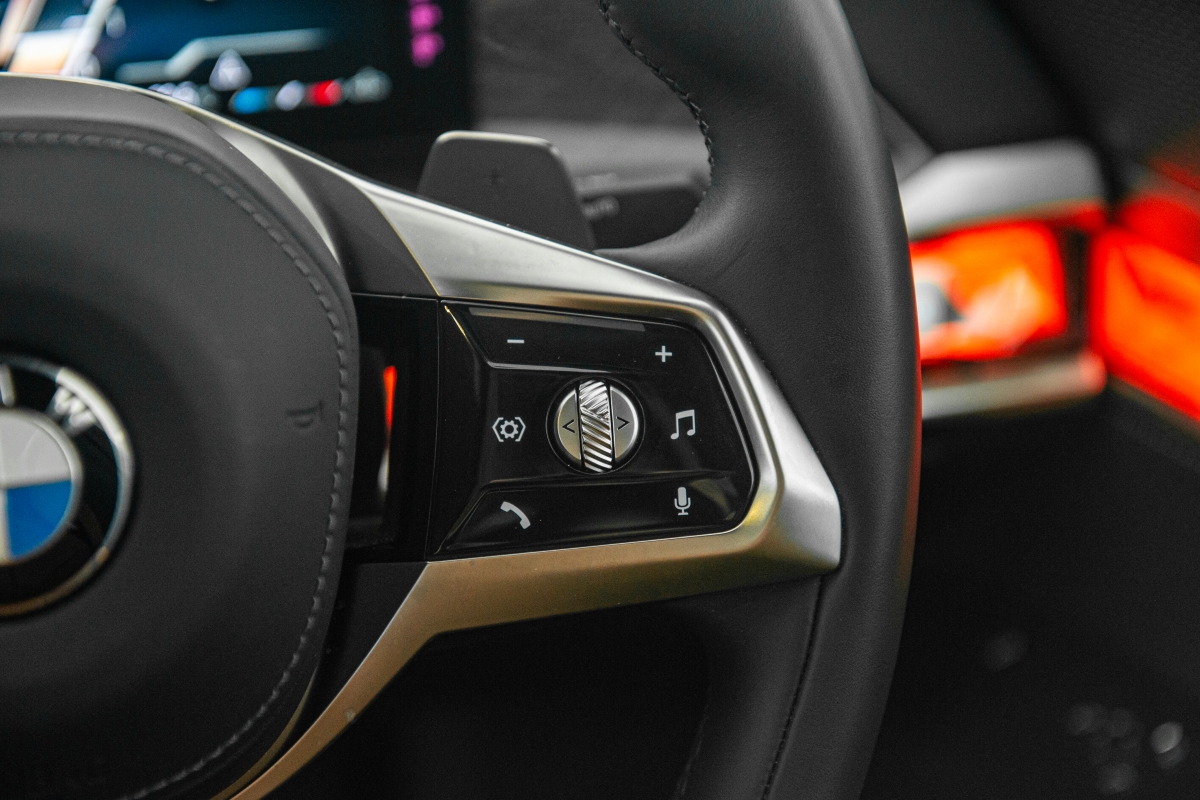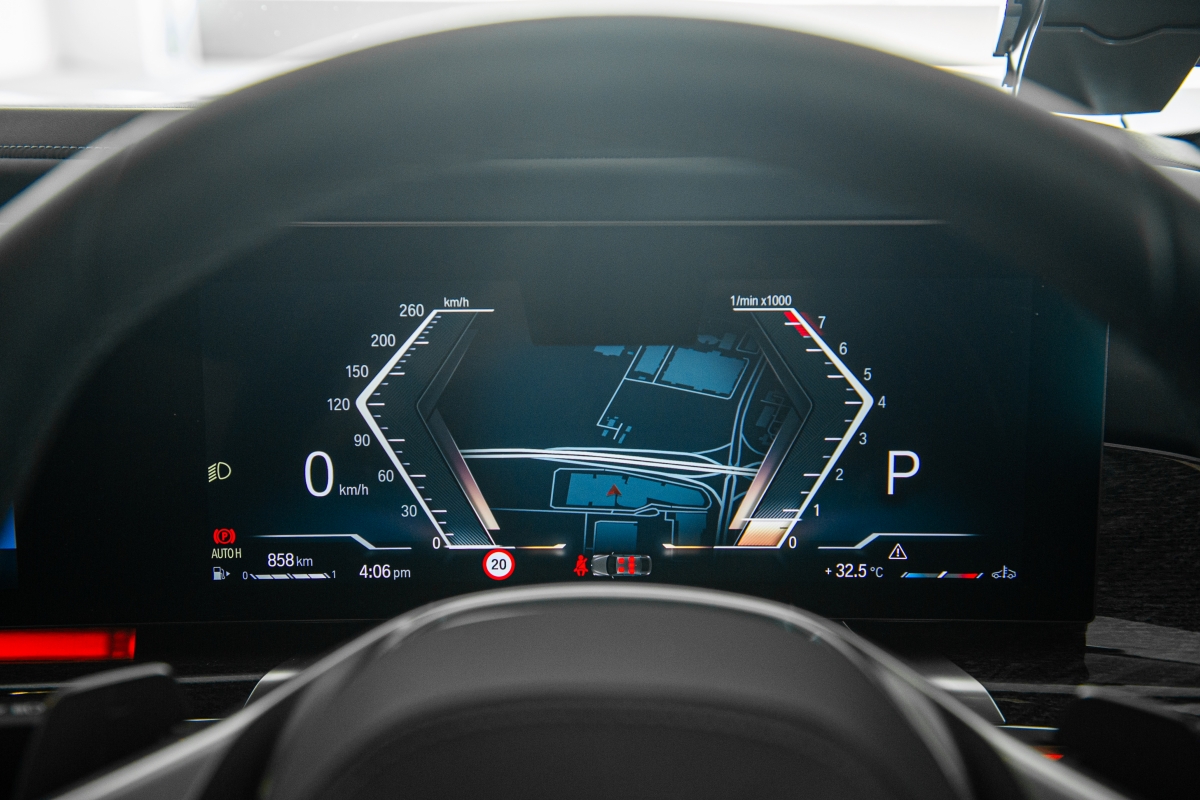 iDrive 8 features in the infotainment system. I was initially dreading having to use the touchscreen climate controls, but once set just so and in Auto mode, the climate control did a bang-up job of keeping me nice and comfortable. Thankfully, voice activation could be used to adjust temperature and fan speed.
The infotainment can also be controlled by the crystal iDrive controller in the centre console, but I completely forgot about this for most of the drive and used the touchscreen instead. Use the controller if you don't want fingerprint smudges all over the infotainment screen.
The test car featured a banging Bowers & Wilkins sound system with 36 speakers and 1,965-watts of music power on tap. It takes a little bit of setting up to one's preference but can be decently customized to where it causes goosebumps when the cymbals crash during the crescendos of London Philharmonic Orchestra's superb rendition of Led Zeppelin's Kashmir, and seamlessly transitions to raising more goosebumps when David Draiman's OW-WA-A-A-A! screech ushers in hard-hitting drums and electric guitars while one gets Disturbed and Down With The Sickness.
Like the rear doors, the front doors can also be opened and closed automatically with a touch-sensitive panel below the driver's and front passenger's side aircon vents respectively. Mom appreciated this feature, for it meant not having to manhandle a large, heavy door with her petite stature in her golden years. Mom also enjoyed the faceted BMW Interaction Bar through which the 735i's mood lighting glowed and decorated the entire width of the dashboard and into the doors as well. Turn on the hazard lights and this bar flashes along with the indicators.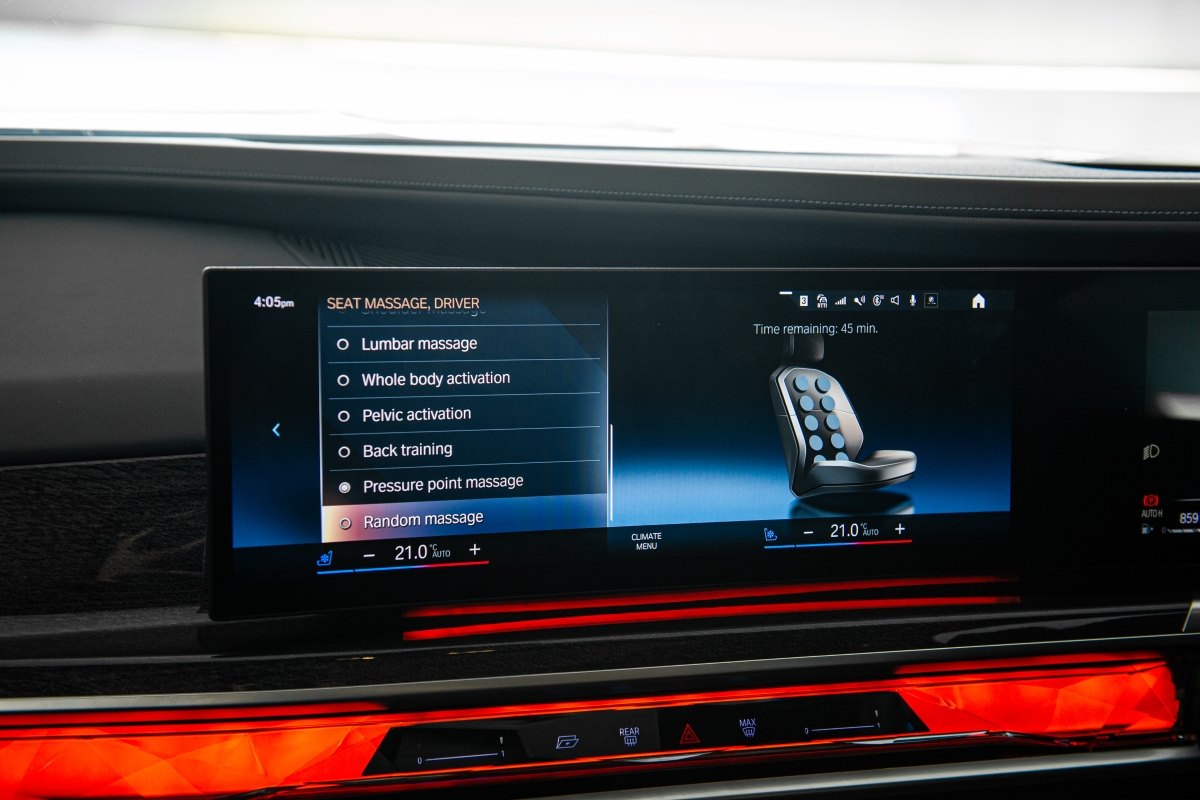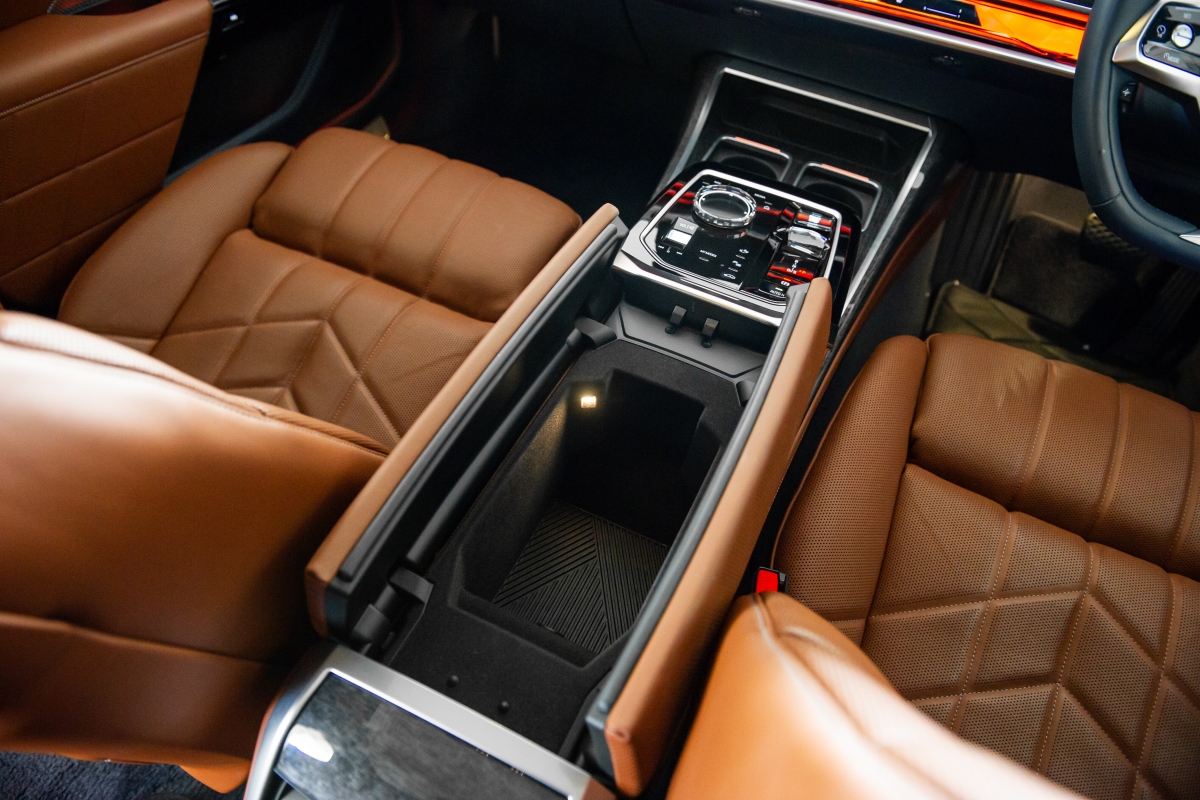 Driving
It's SOOOOOO comfy. Unlike other air suspension systems which can induce crashiness into the cabin over sharper bumps and jolts, the 735i's system remained nice and composed, and flowed down the road as though riding on a pillow of air. There's no escaping the fact that this is a large and heavy sedan though. At nearly 2.2-tons unladen, this car can be hustled through a set of bends but it's not exactly pleased to do so. That said, it did manage to surprise the driver of a more nimble and smaller sedan through a tightening-radius curved highway off-ramp on the INSIDE line.
Parking the 735i is also relatively easy, thanks to its bird's-eye view camera system and parking sensors, which shows a high-definition image on the infotainment screen along with guide lines and highlighted warning zones which go from green to yellow to red. Again, this is a large sedan, so one still needs to be mindful of its dimensions when parking, for it is likely that its front or rear or both will overhang a parking spot. However, rear steer helps with manoeuvring into and around tighter parking spots and carparks.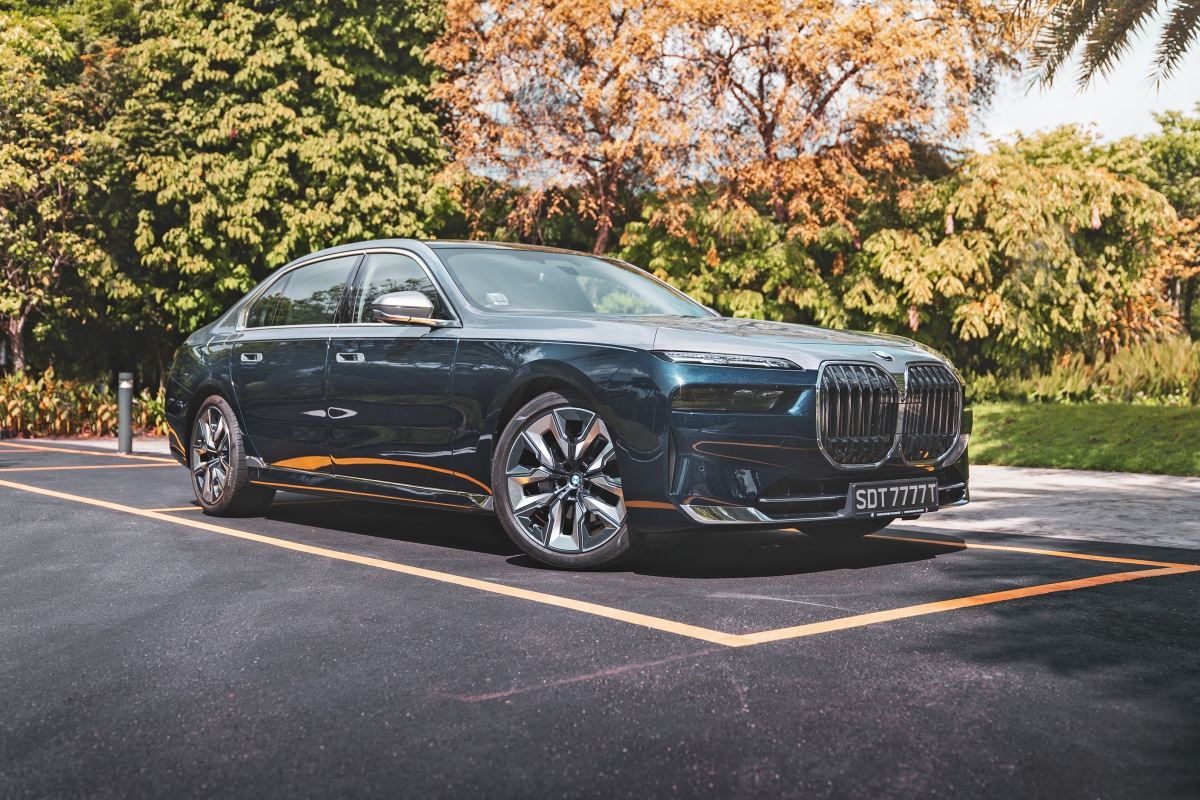 The outside world is pretty much insulated from inside the 735i, which remains hushed and quiet except over rougher tarmac. Otherwise, there is nothing to complain about the way it drives….
…except one minor detail. The anchors are of the brake-by-wire (BBW) variety and can be tricky to modulate smoothly down to a stop unless one learns "the trick." This involves braking normally down to about 5km/h, easing off the brake pedal while still maintaining a little bit of pressure, and then easing back on the pedal again to bring the car to a smooth stop. More engineering work and real-world learning needs to go into BBW systems, since the 735i is not the only BBW-equipped vehicle to experience this braking-idiosyncrasy.
Speaking of engineering, one would be inclined to conclude that at the 735i's price point, fuel economy would not figure into the equation. However, ignoring it would do a major disservice to BMW's engineers.
Underhood lies a three-litre six-cylinder turbocharged engine with 272hp and 400Nm of torque on tap, mated to a ZF eight-speed automatic gearbox. Acceleration from a standstill is adequate, but once one the move, overtaking manoeuvres are pretty easily done. However, the real gem of this engine, which is mated to a mild hybrid system, shows in the way it sips fuel, relatively speaking.
How about a calculated overall average fuel economy of 14.5km/litre or 6.9-litres/100km across a test-driven 522.4km, which beat BMW's claimed 12.2km/litre or 8.2-litres/100km? Even at its worst in stop-and-go pure-street traffic, the 735i managed 10.3km/litre or 9.71-litres/100km. Remember, this luxo barge weighs nearly 2.2-tons. That's seriously impressive for a vehicle of this size.
The mostly-highway portion was done with adaptive cruise control set to triple digits for most of the drive, and it did a stellar job of keeping up with traffic while remaining fuel efficient. Given its 74-litre fuel tank, achieving 1,000km on a single tank is not out of the question. As usual, the obligatory "your mileage may vary" disclaimer needs to be added.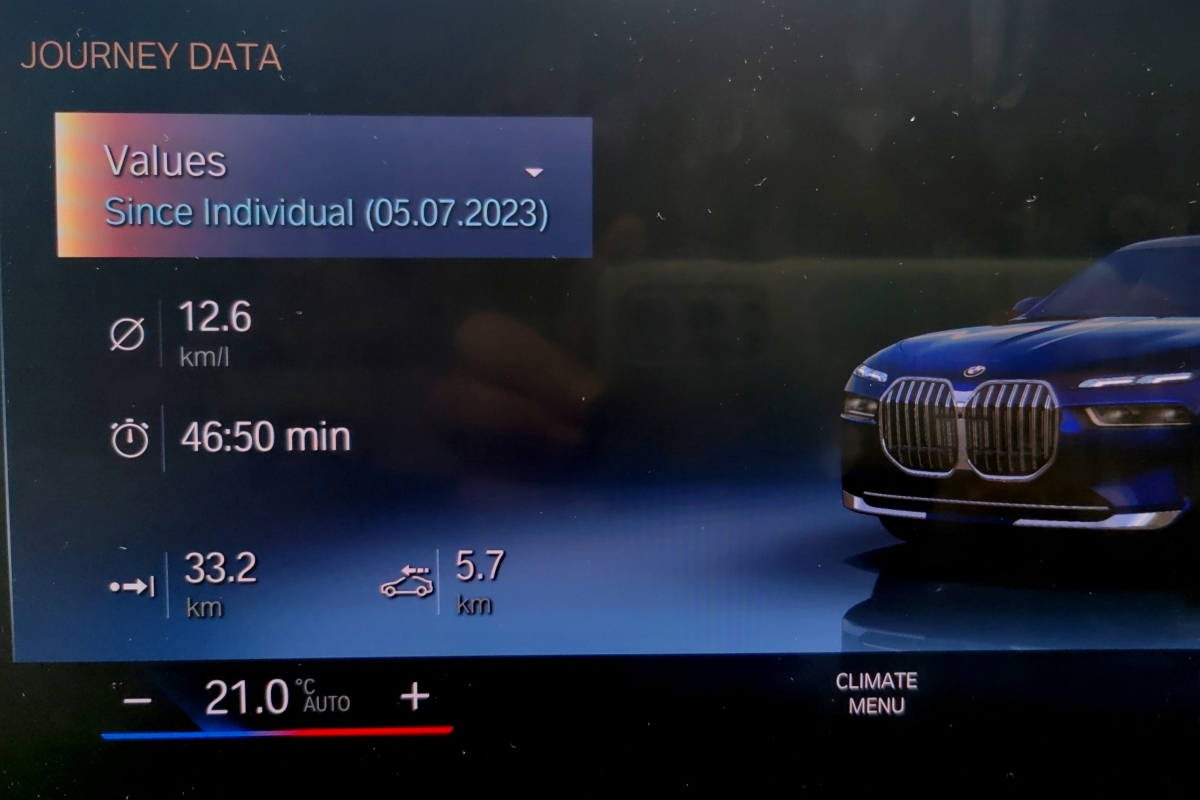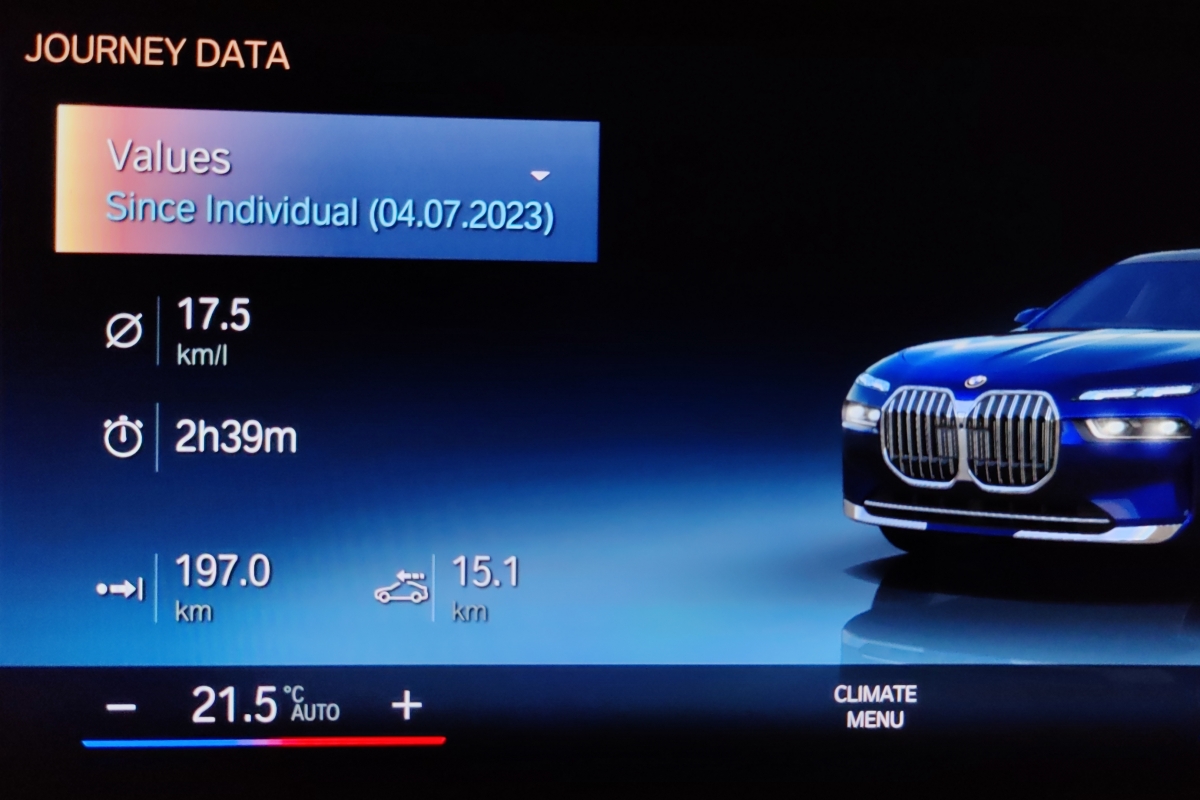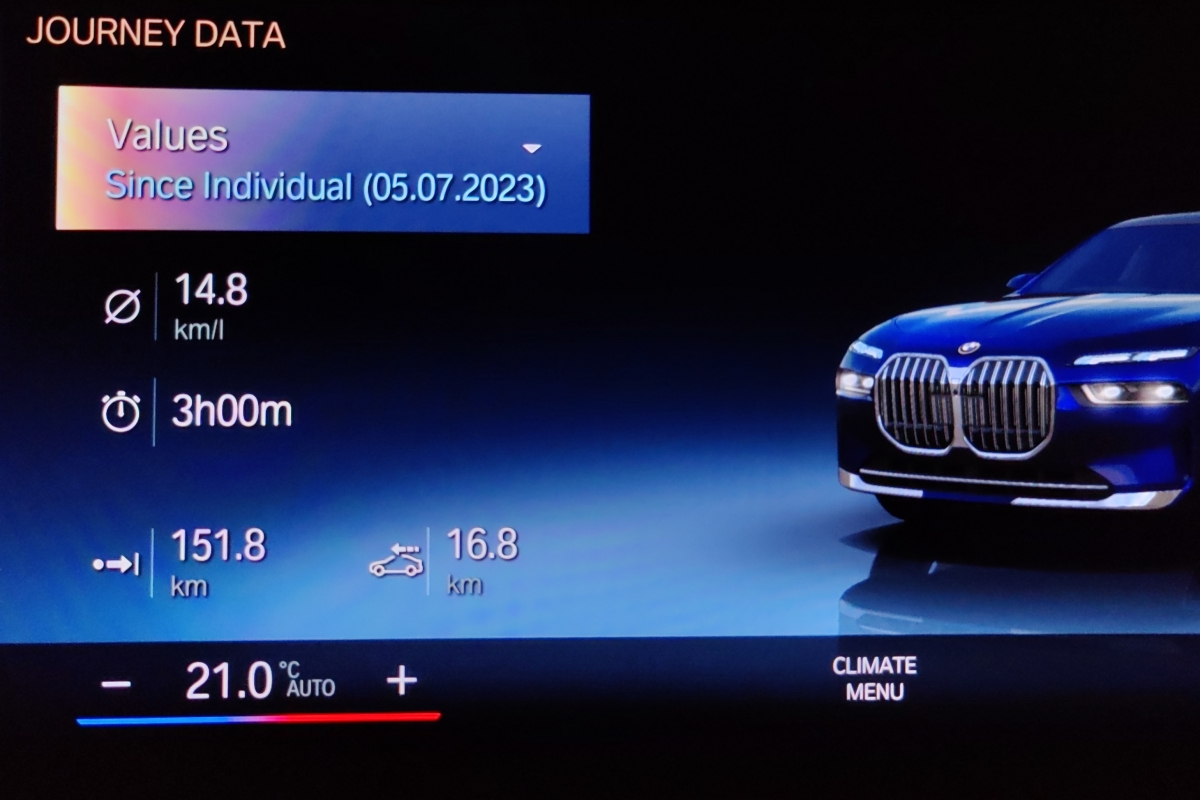 BMW has moved the game on with this ostentatiously opulent G70-generation 7 Series. It was very difficult to hand the key back after the test drive, for I truly enjoyed my time with the 735i.
Sure, its looks may not be for everyone, but as an introvert myself, I didn't care about the attention it was attracting either since I was driving and minding my own business while my sore lower back was being massaged by the plush and comfortable driver's seat. During my drive, I found myself more relaxed and at ease, and this is what a luxury sedan needs to do.
In spectacular fashion, the 735i reminded me yet again why I have a soft spot for the 7 Series. If ever there was a reason to take the plunge into an extravagant vehicle, this is it.
Photo Credits:
Sean Loo (@auto.driven)
Joel Tam (@r129_365)
Technical Specifications
BMW 735i Pinnacle
Engine: 2,998cc inline six cylinder, turbocharged
Power: 272hp @ 5,000-6,500rpm
Torque: 400Nm @ 1,600-4,500rpm
Transmission: Eight-speed automatic
Estimated Fuel Consumption: 8.2-litres/100km (claimed)
0-100km/h: 6.9 seconds (claimed)
Top Speed: 250km/h (claimed)
Price: from S$611,888 with COE (accurate at the time of this article)
Contact: BMW Singapore
---
Read more automotive news at AutoApp, or check out our latest videos on Ignition Labs TV!