The new BMW X1 impresses with its cheerful demeanour and wallet-friendly price.
---
SUVs. Love or hate them, they're here to stay, and it seems the general public can't get enough of them. A tall stature, good boot space, room for 5 to fit comfortably, and it's off to the races.
BMW has a proven track record of great SUVs, or SAVs as they're more locally coined. The German marque is no stranger to the crossover platform, and it has just released a new update to the X1.
Bigger dimensions, better infotainment, and crucially a Cat A COE-friendly propulsion system. The list seems ticked off well, but is the BMW X1 all that cracked up to be?
Macho looks
BMW did a great job by giving this car a bright and showy paint job. Specifically, this shade of orange is Utah Orange Metallic, and it makes the car stand out from other bland and boring SUVs, whose monochrome colour schemes make you wonder if their factories ran out of coloured ink.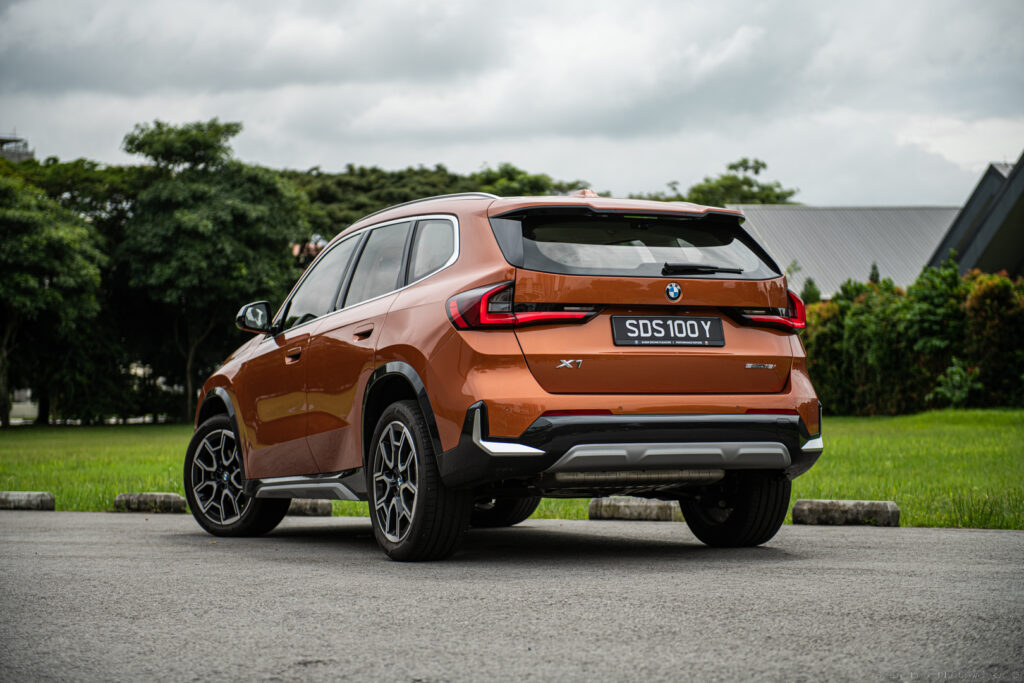 You will catch the attention of others, and not just with the nice colour. The new X1 has macho looks, and its boxy stature weaves in distinct, angular lines. Squared-off wheel arches show off the X1's new 19-inch alloys, further accentuating the X1's bold character. It's also noticeably bigger than its predecessor, despite being the smallest instalment in the BMW X lineup.
Yes, the kidney grille is larger, but I'll go off on a limb here and say that it actually looks decent on the X1. It's somewhat proportional and doesn't disrupt the rest of the car's aesthetics.
Thoughtful design language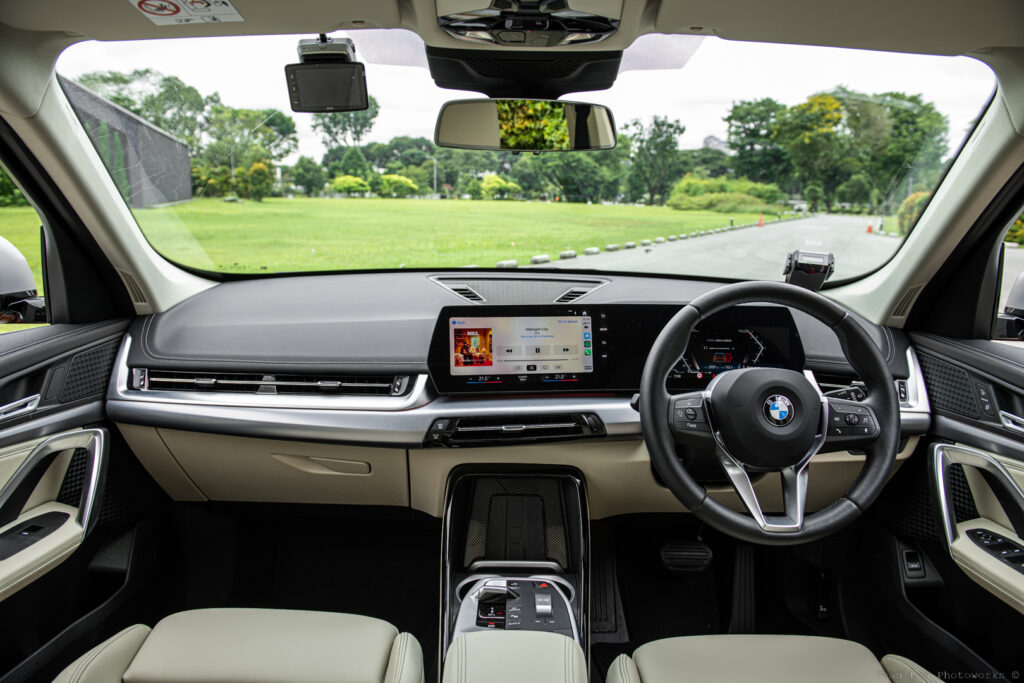 The X1 has a very similar design language to the BMW 2 Series Active Tourer on the inside, one that is thoughtful and simple to use, even if you're someone who is not well-versed in cars. Like its MPV cousin, BMW's latest iDrive 8 is included and runs on two large displays spanning 10.25 and 10.7 inches. Both displays are contoured in a nice stylish curve that sits behind the steering wheel, a design cue probably inspired by the BMW iX.
There are few systems I enjoy using more than BMW's iDrive system. Wireless Apple CarPlay and Android Auto work an absolute treat, and the UI is responsive should you need to alter settings whilst driving.
Interestingly enough, a large smartphone wireless charger sits front and centre in the car. Don't get me wrong, this charger is incredibly useful, as I can just chuck my phone in and it'll instantly connect to iDrive. But, with such a large footprint, perhaps BMW could have installed two slots instead, providing the front passenger with some charging options too.
Big props to the small plastic clip that holds your phone in too. Small detail, but it prevents your phone from flying off should you wish to take the next set of corners at more enthusiastic speeds.
A roomy interior seals the deal for those looking for a comfortable compact SUV. Even taller rear occupants will be satisfied thanks to the X1's tall roofline, and with 540 litres of boot space to erm… boot, the X1 can handle most items a typical family carries with ease.
Dependable as your daily
The biggest question you might be wondering is how did BMW allow the new X1 to fall under Category A of the COE scheme? Well, pop the hood, and to the surprise of no one, a cutesy 1.5-litre 3-cylinder turbocharged engine sits pretty within the engine bay, sending 121bhp and 230Nm of torque to the X1's two front wheels. There is no thundering engine that grunts to eleven each time you mash the throttle, nor all-wheel drive capabilities in the X1.
The engine can deliver its peak amount of torque from as low as 1,500 rpm, which is handy for 'off-the-line' applications. Even with its lacklustre performance figures, the X1 doesn't feel like a slouch at low speeds. However, in situations where you need to mash your foot to the floor, the lack of more horses does become an apparent problem, as the engine starts to run out of breath and screams for help.
On the roads, the X1 offers a nice and comfortable ride for most scenarios. Despite its SUV proportions and soft suspension setup, it also remains fairly planted and stable when going around corners. However, I wouldn't maintain dizzying speeds in this thing, as the steering in the X1 does feel sketchy at higher echelons of speed.
My advice is, be gentle with it, employ a more momentum-based driving style, and the X1 performs well as a city-runner. It even has decent fuel economy numbers to boot. During my test drive, I got almost 12.8km/L with mixed city driving, pretty respectable for an SUV.
Don't overdo it, and you'll enjoy it
The BMW X1 was never designed to be that overly athletic person at the gym, nor does it try to pose as one. Its ease-of-use and can-do spirit are what most people need in a city-oriented SUV, and the X1 delivers that experience to a tee.
Sure, you may long for more action in some areas, but you cannot deny that when you really need to count on it, the X1 is really a dependable companion for everyday errands.
Technical Specifications
BMW X1
Engine: 1,499cc inline three-cylinder, turbocharged
Gearbox: Seven speed automatic
Drive: Front wheels
Power: 122hp @ 3,900-6,500 rpm
Torque: 220Nm @ 1,500-3,600 rpm
0-100km/h: 10.5 seconds (claimed)
Fuel Economy: 6.8-litres/100km or 14.7km/litre (claimed)
Price: S$241,888 (xLine), $243,888 (M Sport), both with COE (accurate at the time of this article)
Contact: BMW Singapore
---
Catch the latest automotive news right here on AutoApp!