The BMW XM is not just an ordinary luxury SUV; it's a statement piece.
---
If you happen to have a cool million dollars lying around, BMW now has a solution to spend it all in one go.
This is the BMW XM, and it's a monstrous plug-in hybrid (PHEV) sport utility vehicle (SUV) that also comes with a monstrous price tag – S$1,003,888 to be exact. Thank god that price includes the certificate of entitlement (COE).
Making a statement
It's expensive, but the high premium is not just influenced by exorbitant local taxes. Rather, it is a statement piece from the German marque.
"The BMW XM makes a strong statement from the moment you lay eyes on it. It is the epitome of luxury, extravagance, and breathtaking performance," said Mr Lars Nielsen, Managing Director of BMW Asia. "It is made for those who are unconventional, courageous, expressive, and desire the utmost in excellence and luxury. This SAV heralds a new era in terms of drive technology and driving experience to astound all BMW M fans."
Unconventional indeed, as the XM's controversial styling hasn't won over many fans since it was teased late last year. But, its unapologetic styling is charming in a unique way.
Exceedingly luxurious
A boxy demeanour dominates the styling tone of the XM, and the design is befitting of its high-performance stature. Everywhere you look, there are exaggerated curves and aggressive aero elements, complemented by the iconic (and controversial) illuminated kidney grille.
For the Singapore market, the XM will come standard with 23-inch M lightweight alloy wheels, finished in either Jet Black or Night Gold.
Gold trim is also an option which prospective customers can opt for, and it adds a layer of sophistication to the already bonkers exterior facade.
Not to be outdone, the cabin of the BMW XM features M-exclusive design elements like multifunction seats and a model-specific M leather steering wheel, along with BMW M-specific graphics on the instrument cluster and infotainment touchscreen.
To make you feel right at home and cocooned in luxury, the cabin upholstery is done up in a diamond quilted pattern, and the materials are a blend of rich leather and Alcantara. Look up, and there isn't a sunroof to be seen. Rather, a roofliner uniquely textured with prisms turns the cabin into something that is nothing like anything else on the roads.
For banging tunes, a Bowers & Wilkins Diamond Surround System with a 1,500-watt amplifier comes as standard as well.
Potent M power
The BMW XM impresses not only in design but in speed as well. The boffins at BMW M have mated an electric motor to a 4.4-litre V8 engine, which combined produces 653bhp and a monstrous 800Nm of torque. 
This power makes quick work of the century sprint, and the BMW XM can rock it in just 4.3 seconds. Impressive for something that weighs about the same as a Rolls-Royce Phantom. Since it's a PHEV, the BMW XM can also travel around on electrical power alone for around 80 km.
Why so much power? Well, the XM is a combination of two divisions at BMW. The former letter signifies BMW's SUV range, while the latter denotes it was developed by BMW M, the high-performance subsidiary that began life as BMW's racing arm.
Paying homage to the original BMW M1, the XM is only the second standalone car developed by BMW's M division since 1978, and it now holds the title of the widest car that BMW produces. This is because the XM is based on the massive BMW X7 platform, but it ditches the third row of seats in favour of a bigger trunk.
For those who are not satisfied with the already high-performance numbers, an XM Label Red is expected to arrive on our shores later in 2023. What's the difference? The Red will boast more specific design touches, and – get this – a ludicrous 738bhp and 1,000Nm of torque. Enough to eat your heart out.
Would you want one?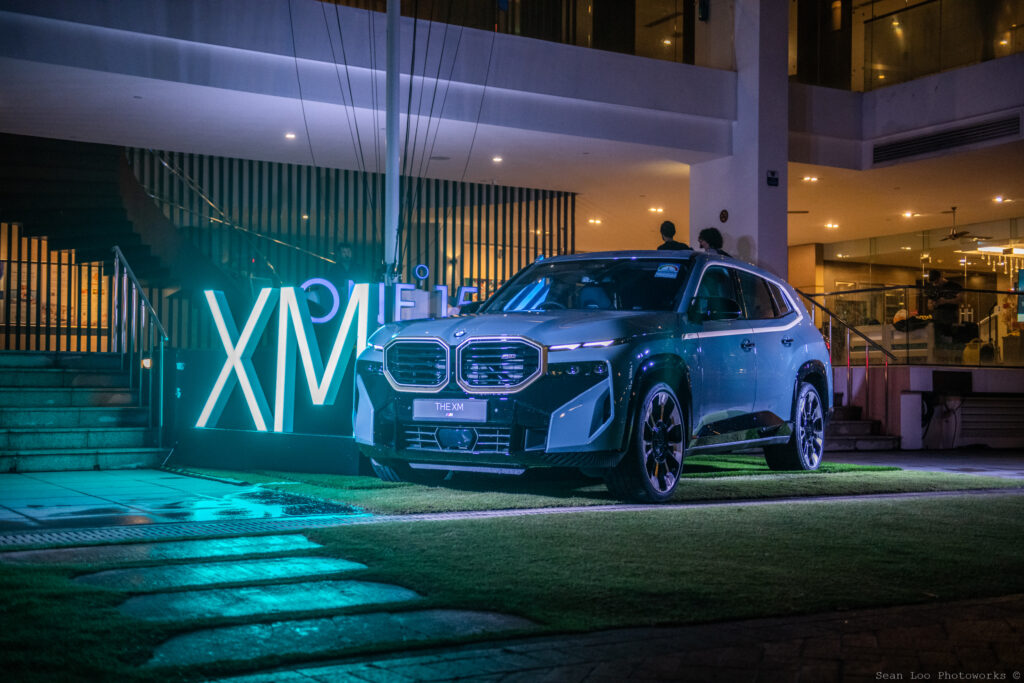 BMW has cautioned that the BMW XM will be available in "very, very limited numbers". So, if you want one, better snag them up while you can. If you want to see how it handles on the roads, we have already taken it for a spin in the United States. Read more about it here.
Photo Credits: Joel Tam (@joel_tam) & Sean Loo (@auto.driven)
---
Read more automotive news at AutoApp, or check out our latest videos on Ignition Labs TV!