Thanks to Borneo Motors and Inchcape, the best used car experience is now available digitally so you no longer have to pop into a showroom!
---
The recent rise in COE premiums might have put new car prices beyond the reach of many buyers. However, they can now look forward to a similar levels of service and buying confidence from Borneo Motors' three revamped used car businesses.
Lexus Certified Pre-Owned is a new digital-first initiative that captures the full value chain for its guests. In line with the brand's commitment to creating amazing experiences, Lexus Certified Pre-owned customers will enjoy the signature omotenashi ownership experience coupled with Borneo Motors' automotive expertise that includes an easy-to-purchase process, consistent service excellence, and a trusted choice for quality.
Toyota Certified Pre-Owned elevates the customer experience to a whole new level and helps the automotive brand establish stronger, long-lasting relationships with customers. This brand-new customer excellence-focused initiative will provide drivers seeking to purchase pre-owned Toyota cars in Singapore with a seamless omni-channel experience, and experience a trademark quality assurance experience that only Toyota can provide.
Inchcape Certified Pre-Owned is a multi-brand used car dealership that offers a similar level of digital-first customer experience that is found at the Toyota Certified Pre-Owned and Lexus Certified Pre-Owned sales channels.
Q&A with Jasminne Wong, CEO of Inchcape, Greater China and Singapore on digitalizing her company's pre-owned car businesses
AutoApp speaks exclusively to Jasmmine Wong, CEO of Inchcape, Greater China, and Singapore to find out more about the reported $15million investment that went into digitising the new and used car businesses, and why one of Singapore's most established dealerships is setting its sights on the pre-owned game.
AutoApp: Has the recent spike in Certificate Of Entitlement (COE) prices influenced the rollout of the pre-owned businesses from Inchcape?
Jasmmine Wong: I would say "yes" and "no". This pre-owned initiative was decided at the end of last year, long before the COE spike. The reason we wanted to do this at the time was that the customer profile has changed profoundly.
AA: How so?
JW: Previously, the customer would walk into the showroom, look at what cars were there and decide to buy or walk away. Since the pandemic, we notice that customers have gotten more digitally savvy. As a result, our customers expect more. Offering them a pre-owned shopping experience that's on par with that of new car sales, allows more options for our customers to shop at a wider spectrum of price points.
Additionally, our new car business comes with a steady supply of used cars when owners trade in their older models. This then allows us to pick from those in the best condition, repackage these cars with a comprehensive warranty the next owner has better peace of mind.
AA: Could you foresee the upward trend for COEs?
JW: I think so. We anticipated that COE prices would go up. However, it did go up earlier than expected. This tells us that there's still some way to go before prices come back down.
AA: Why do think this is so?
JW: There's a couple of reasons. First, the deregistration numbers are horrible. Owners are holding on to their cars longer — this could be due to the economy. Previously, many customers would change their cars every three to five years. Now we're seeing them hold on to their cars longer to the point where many are extending COEs.
There have also been more luxury cars launched. Tesla is one such brand that has taken a large share of the (Cat B) quota.
With even more luxury players coming into the market, this means that most of the cars sold will be in the upper end of the market. This in turn would price out some customers who would have wanted to shop for a mass-market brand.
So for those who still really, really need their cars, the pre-owned market becomes a sustainable option if they are not willing to pay what news cars and COEs are going for these days.
AA: Inchcape has had a pre-owned division for many years. What is different about this recent rollout?
JW: This time, there is more emphasis than ever on digitalisation. We looked at some of the best practices from Europe, the UK, and also the United States. We have incorporated services like auctions, as well as engaging digital walk-in models. We also have instant quotes are also something that has become very popular.
We went through this digital to make the experience as seamless as possible. What we have as an added advantage is our reputation as one of the most established dealerships in Singapore and we have a reputation to protect. This means that we are very selective about the used cars we choose to sell. Customers who buy these cars from us can expect the same assurance and peace of mind through their entire buying experience.
They will have to worry about having anyone to go back to if anything goes wrong with the car, 'lemon cases', and things like that. Knowing that the customer can always come back to us and our expertise especially in Toyota and Lexus cars where we use original parts gives us an advantage over other pre-owned dealers.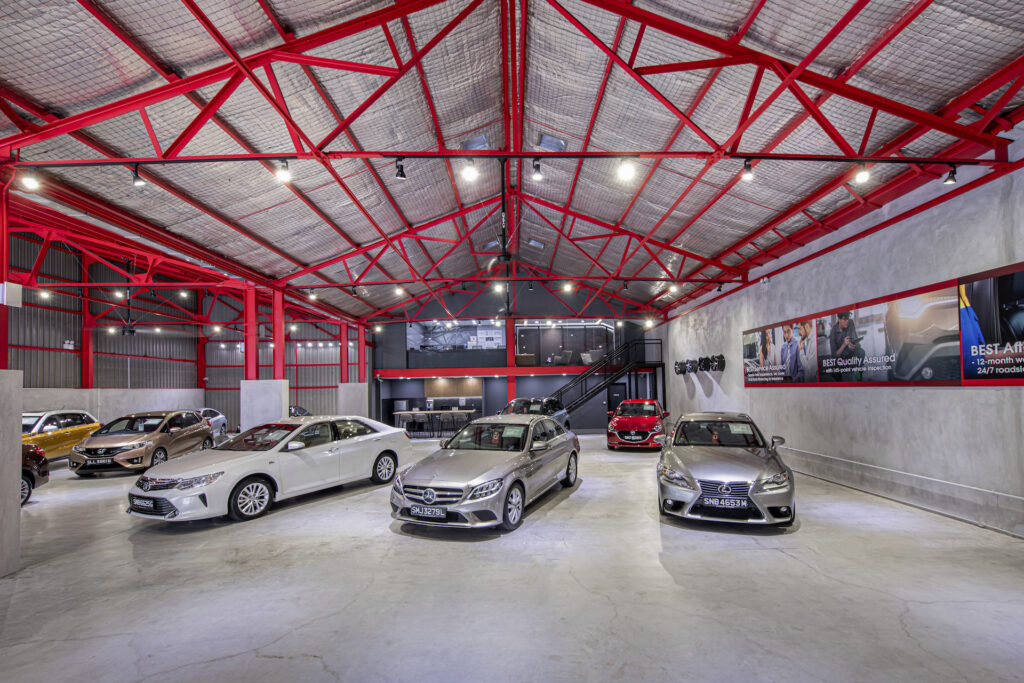 Customers today are more receptive to 'digital' conversations where communication is done through apps such as WhatsApp or Live Chats. We have a full-time team working around the clock who 'talk' to our customers digitally. By the time the customer actually steps into the showroom, we have already walked them through the journey and it almost becomes like an instant purchase.
AA: How does digitalisation make for a better buying experience?
JW: In the past, customers would walk into a used car showroom and then get their information downloaded on the spot. They would then be compelled to make a decision. This created a pressuring environment and it wasn't easy to make an informed choice. Today, the conversation starts online and can even go on for a week or two where the customer can take their time to research the cars they want and ask all the questions they need before they walk into the showroom.
AA: Is this behaviour echoed with new car sales as well?
JW: Yes, it is. We actually started this digital rollout with the new car business and applied it to the pre-owned business. I find that in this era, all car dealers must be equipped with the ability to offer a seamless online journey for their customers. For example, we have even made it possible to purchase a car 100% online, without needing to set foot in the showroom if they wish.
Once upon a time, we used to say that Leng Kee Road is a place to browse for cars it was usually the first step of the car-buying journey. Now, it is where the last step of this journey takes place. By the time they walk into the showroom, they're going in to sign on the dotted line or drive their car away.
AA: Are there any advantages for customers to sell their cars to Inchcape's pre-owned outlets?
JW: The customer who stands to benefit the most are those who bought their cars from us, then them serviced by our workshops, and finally trade-in this car when they purchase another new vehicle from us. These customers can be assured of getting the highest trade-in prices because we know the history of their cars as we have maintained them.
These regular customers make up our biggest source of used cars. It works both ways because these customers already know that they are getting the best prices so they don't waste worrying if they could have gotten a higher price somewhere else.
AA: What makes you think that you have the best used car solution in the market?
JW: First, we start off with a huge customer base. This gives us a natural advantage of a big source of supply of used cars that we could sell. We could easily match anyone in the open market for price and choice. Most importantly, we have natural credibility amongst our customers from being in business for 54 years. If we use these advantages correctly, I don't see why we can't be a market leader in the used car segment like we are in the new car market with Toyota and Lexus.
---
Planning to manage your car-related matters digitally? If so, these five apps are just what you need!