This is how to go the extra distance with an EV in Singapore.
---
(Updated 20 July 2023)
It wouldn't be a stretch to postulate that the Chinese are properly killing it in the electric vehicle (EV) world, and this BYD Atto 3 stands testament to that statement. There's a good reason why, in the first five months of 2023, BYD outsold Tesla in Singapore.
Here we have the 100kW version of the Atto 3, which puts it firmly in COE Category A. Compared to its $178,888 on-the-road price with COE, we find the Hyundai Kona Electric and Nissan Leaf Electric in the $180K+ range while featuring notably smaller battery packs. Even the most affordable Tesla Model Y's price is way off the Atto 3's at above $250,000 with COE, which makes the BYD a much more financially attractive proposition.
Outside
The Atto 3's styling isn't going to win any design awards, but that's a good thing because it is simple, elegant and unoffensive – just the way it should be if one prefers to blend in on the road. LED headlights feature as standard up front and do a good job of illuminating the road at night.
Silver trim pieces juxtapose against black plastic bits, and further add to the elegant design of this compact SUV, while eye-pleasing curves and creases around the sides are well executed and add to the simple elegance without coming across as contrived.
Where the Atto 3 was once shod on rubber named after a certain comic-book superhero (those who know, know), this compact SUV now sits on Atlas A51 SUV 215/55 R18 tyres that wrap around interesting-looking rims.
They're fine for the daily commute, but will start protesting if one gets too enthusiastic in the bends and corners.
Things remain simple and elegant round the back of the Atto 3, with nothing out of place here. A patterned silver panel adorns each D-pillar, bracketing the roof spoiler that shades the rear windscreen.
Just be aware that the boot release button is stowed under the boot lid just above the rear licence plate, so be prepared for dirty fingers if the SUV has just been driven through inclement weather and/or soiled roads. The same goes for the reverse camera that's mounted just beside the boot release button.
Inside
Click that boot release button and the boot lid opens electrically to reveal a decent 440 litres of luggage space for the airport or ferry terminal run. Drop the 60:40 split-folding rear seatbacks and liberate 1,340 litres of Ikea and Giant-friendly haulage.
This 1.82-metre tall longer-of-limbs and shorter-of-torso writer could sit quite easily in the rear seat with the driver's seat in my preferred position. However, since the battery pack is situated underfloor which makes the floor sit a little higher, I found under-thigh support a bit lacking due to my longer legs. Most folks shouldn't have an issue back here though.
Rear occupants can also partake in quickly cooling themselves down on a boiling hot day, courtesy of rear aircon vents, and easily charge their devices via a USB Type A and Type C port.
No worries about feeling claustrophobic either, for the Atto 3 has a panoramic sunroof as standard which bathes the interior with natural light and lifts its airiness to a large extent.
Both front occupants get electrically adjustable 'gaming' seats – six-way for the driver and four-way for the passenger – and they're easy to get in and out of and situated to one's preferred position, and are sufficiently supportive for the daily commute. Again, with the panoramic sunroof extending overhead, things feel much more airy.
There's also a nifty feature with the sunroof, in that if one parks at an open carpark under bright sunlight with the sunroof shade left open, a sensor senses this and closes the shade after a period of time to somewhat reduce in-cabin temperatures in open carparks.
Once seated, the driver finds a five-inch digital instrument screen mounted atop the steering column and peering through the upper part of the steering wheel. I found this screen to be a tad too small. Furthermore, when adaptive cruise control (standard-fit folks!) is activated, its functions appear centrally on-screen in place of any other information that was previously there. A larger screen would have allowed for both to co-exist and be easier to read while on the move.
The steering wheel itself is perfectly sized with a flat bottom for easier ingress and egress, and features various buttons that take a little getting used to but then become more or less second nature.
See the picture above on the bottom right. The top-right button controls the orientation of the infotainment screen, allowing the driver to flip it into portrait or landscape with just one click. However, this doesn't work when Apple CarPlay or Android Auto are active, for those only work in landscape orientation and the infotainment screen will automatically orient itself accordingly.
The infotainment system's built-in functionality is adequate. The user interface (UI) works properly, although I found that BYD needs to apply more logic to the user experience (UX) for better execution. Finding the Atto 3's energy consumption screen, for example, required trawling through too many sub-menus, and resetting said data did not reset the average speed information, which required a different sub-menu to do so.
Climate controls are touchscreen-based, although the voice command system worked very accurately and let me change temperature and fan speed easily on the move. "Set temperature 22 degrees" and "set fan speed three" were quickly understood and executed by the system. The aircon system also has an in-cabin and outdoor PM2.5 particulate concentration readout to show how well the filtration system is working.
Driving
Visibility out of the Atto 3 is good, allowing the compact SUV to be placed accurately on the road and in corners. The steering has two different settings for weighting, namely Comfort and Sport, and I found myself preferring the former since steering weight was better in this mode.
The suspension is cushy and comfy, although going over larger bumps saw the suspension induce wallow in the vehicle, which was rather disconcerting. Road and wind noises are well contained, with the former becoming a bit more intrusive only over rougher tarmac. The addition of adaptive cruise control and auto-hold parking brake make daily driving that much easier and comfortable.
The Atto 3's 100kW motor powers the front wheels and is sufficiently adequate to get the compact SUV up to speed both from a standstill and while merging onto highways. BYD quotes the 0-100km/h sprint in 9.7 seconds, and it feels about right.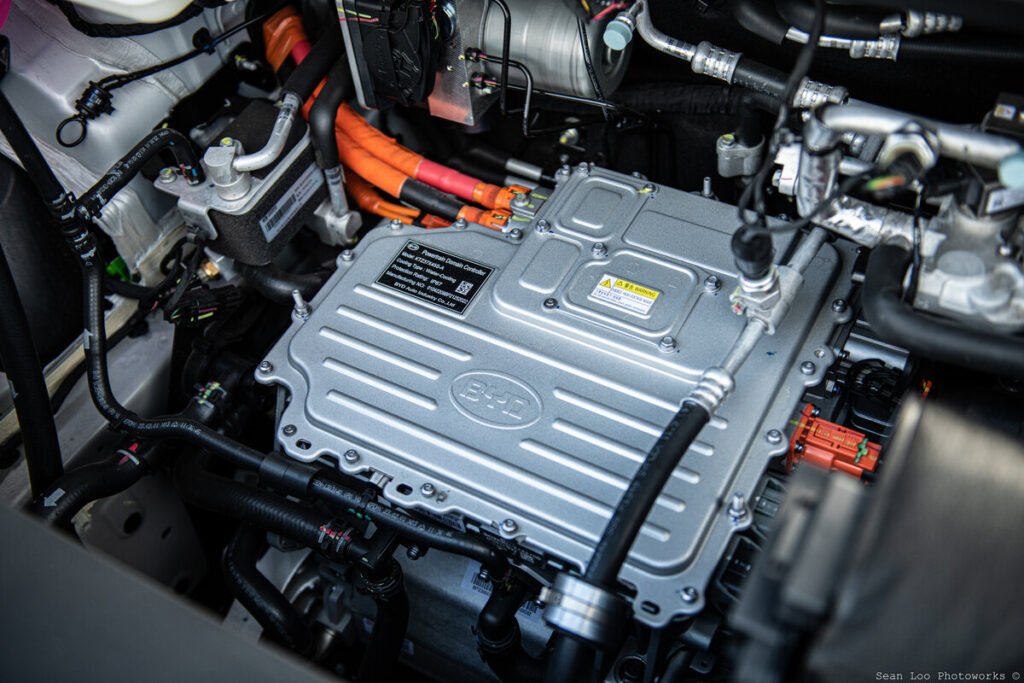 Providing power to the electric motor is a 60.5kW battery pack which can be charged at a maximum rate of 80kW DC or 6.6kW AC, and is said to go from 20% – 80% charge in 42 minutes using a 50kW DC charger.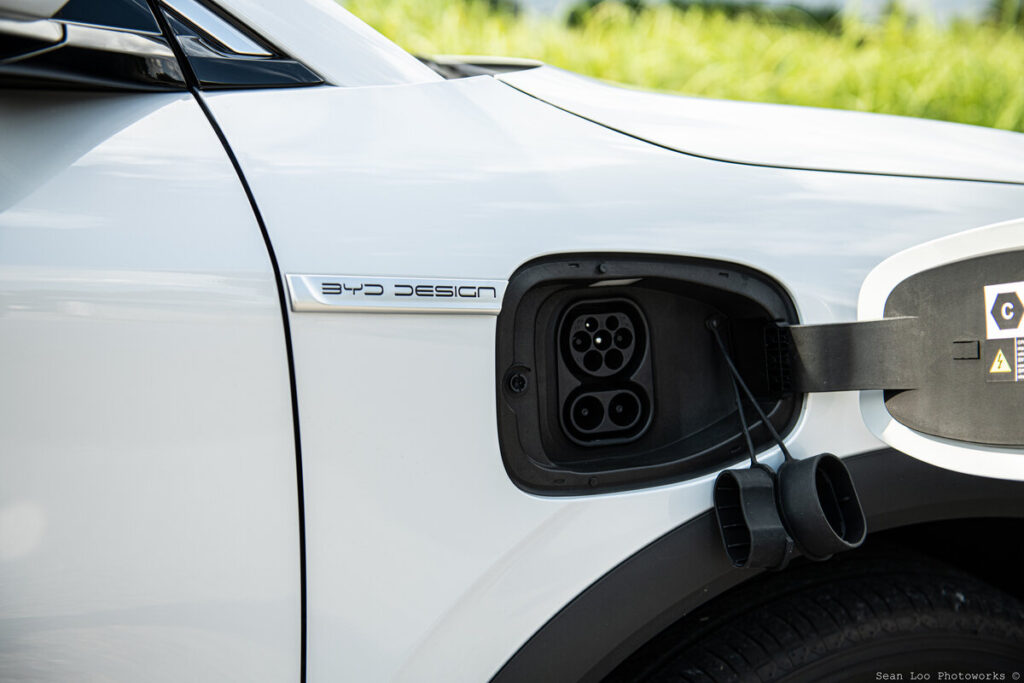 BYD also quotes a combined cycle energy consumption of 16kWh/100km or 6.25km/kWh. My test drive, on the other hand, suggested that that number may be conservative.
On both the pure-street and mostly-highway segments, the Atto 3 returned an impressive 13kWh/100km or 7.69km/kWh, making it the most efficient EV we've tested to-date and dethroning the previous champion Polestar 2 Long range Single motor by a good margin.
(Update: 20 July 2023)
Having put the Atto 3 through only the street and highway routes, I was itching to do a little bit of general commuting and the mixed-drive Tour de Singapour to see what numbers this would bring, and the Atto 3 was once again made available for that purpose. This is what happened.
And then Sheldon chimed in.
Folks, I have NO idea what our Managing Editor has been up to in the background, but whatever it is, his precognitive and possibly other extra-sensory abilities must have been unlocked in the process.
"Eh, why don't you try doing your Tour de Singapour route in the opposite direction? It may be more economical," wrote soothsayer Sheldon on WhatsApp. And so it was.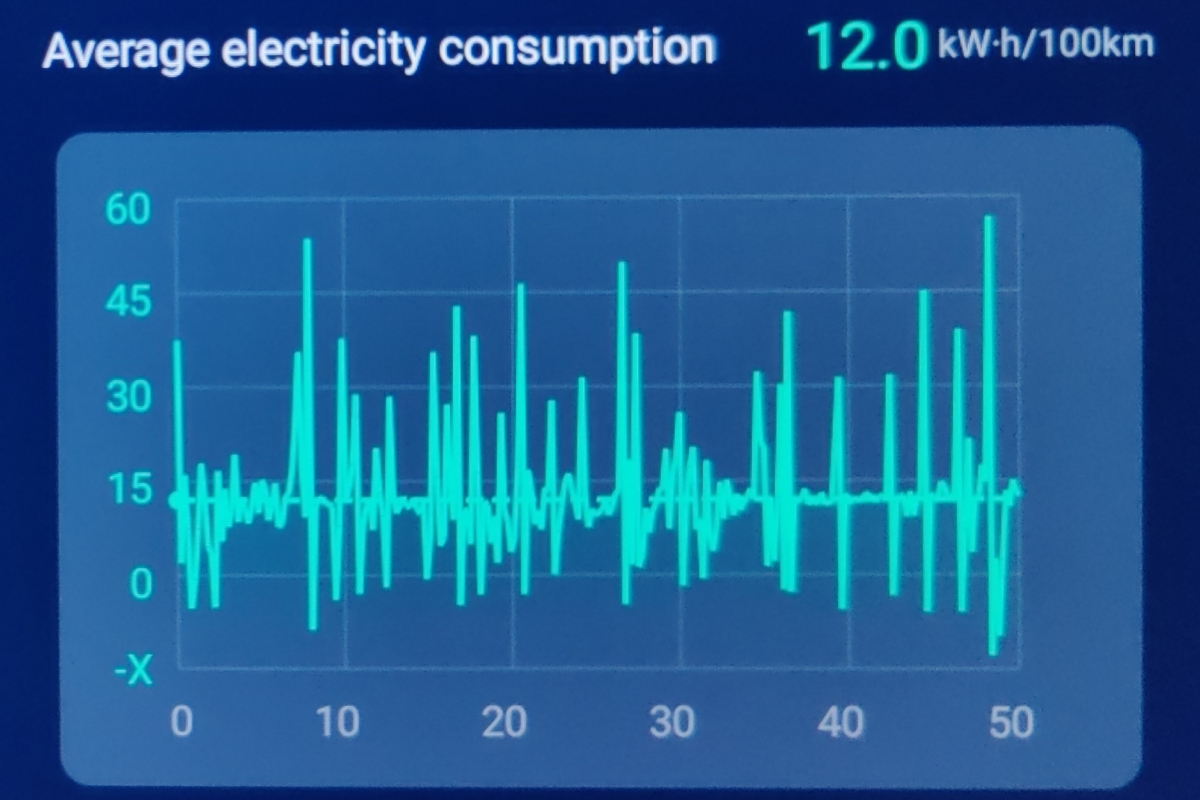 Overlooking the very strong possibility that our Managing Editor might have been at the receiving-end of some sort of bizarre off-world abduction-and-experimentation scenario, the Atto 3 truly shocked me with its frugality at the end of this route.
The additional drives brought the overall average economy to 12.3kWh/100km or 8.1km/kWh over a total test-driven distance of 620km, thereby cementing this EV's position at the top of our economy table. With some superglue thrown in for good measure.
Given its 60.5kWh battery pack, BYD's claimed 420km combined WLTP range is actually very doable, and the remaining-range indicator on the five-inch instrument screen can be trusted. As usual, the obligatory "your mileage may vary" disclaimer needs to be added.
Furthermore, if you fancy a more stealth look, top up $4,000 for the Atto 3 CarbonEdge, which blacks out the front grille-bar, window-surround trims, roof and rear spoiler, and features full-black seats with red stitching on the inside. You get a front boot or trunk aka froot or frunk too!
(/update)
One could easily be tempted to poo-poo the Atto 3 as a basic and utilitarian China-made EV, but so what? It gets the job done pretty well, is pleasant to look at and can go the distance when called upon to do so.
Yes, there are things that can be improved, but I believe that will happen with future iterations. Remember the BYD e6 that Grab used in its fleet from 2017 onwards? The Atto 3 is miles ahead in terms of fit, finish, quality and feel.
So… is it no wonder, then, that BYD has been outselling Tesla in Singapore?
Photo Credits: Sean Loo (@auto.driven)
Technical Specifications
BYD Atto 3 (100kW)
Motor: Permanent Magnet Synchronous
Power: 134hp
Torque: 310Nm
Drive: Front wheels
0-100km/h: 9.7 seconds (claimed)
Top Speed: 160km/h (claimed)
Battery: 60.5kWh
Energy Economy: 16kWh/100km or 6.25km/kWh (claimed)
Price: S$174,888 (Base Package with non-guaranteed COE) / S$178,888 (Excite Package with guaranteed COE) (accurate at the time of this article)
Contact: BYD Singapore
---
Read more automotive news at AutoApp, or check out our latest videos on Ignition Labs TV!