As an entry EV model, this little hatchback ticks all the right boxes.
(updated: 18 August 2023)
---
If you want to see how far and fast China-made Electric Vehicles (EVs) have improved, there is no better example today than the BYD Dolphin tested here.
Barely a COE cycle ago, the e6 was the BYD's first foray into the passenger car EV market, and you literally had to be paid to drive one. This was evidenced by the fact that the majority of these were used as taxis and Private Hire Vehicles.
The Atto 3 is already a quantum leap in terms of improvements, but the Dolphin shows that the company is maturing in the design department at a remarkable rate.
The more compact Dolphin does without gimmicky details such as bungee chords for door pockets and funky air-con vents, for example. Instead, the details are more understated but still attractive enough to make this car in no way compromised, even if it is the entry point to the brand.
Roughly the size of a Honda Jazz, the BYD Dolphin cuts a cheerful stance with strips of LED running lights in front and sporty creases along its sides, finished in a muted shade of lilac that the manufacturer calls Maldive Purple. The other colours are called Coral Pink, Sand White and Urban Black. I suppose all but the last have marine-themed colours because the car is a Dolphin. See what they did there?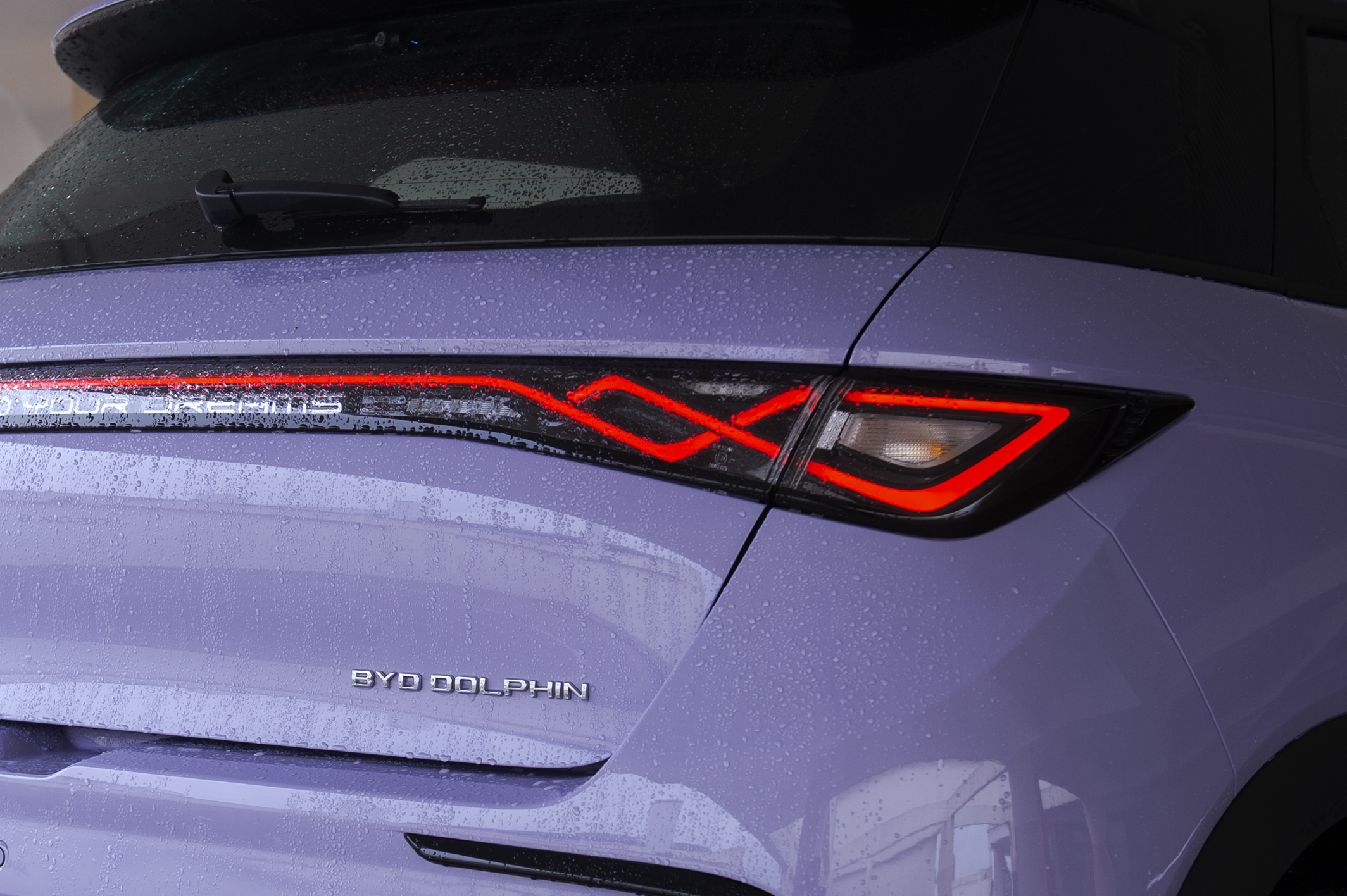 In any case, during the test drive, the purple Dolphin managed to turn many heads as passers-by were caught whipping out their smartphones to take photos of this car. On one occasion, there was even a Mercedes GLA driver who swerved several lanes across the MCE tunnel to get a better look at the Dolphin. It does have an interesting rear light signature, after all.
Driving impressions
Taking 12.3 seconds to reach 100km/h from a standstill, the Dolphin isn't as irritatingly fast as a Tesla Model 3, for example. Most customers, however, would still be fine with the way this little BYD goes about, given its Cat A price and positioning.
These owners would also appreciate a WLTP range of 340km from a fully-charged 44.9kWh battery. Early in this writer's drive, a range estimate of over 390km could be seen on the info display.
(updated: 18 August 2023)
And then our resident OCD-driven energy-economy tester Vivek got his grubby mitts on the BYD Dolphin's dorsal fin steering wheel and put it through its paces to achieve a calculated overall economy of 11.6kWh/100km or 8.6km/kWh across a test-driven 521.4km, thereby bettering BYD's claimed 15.2kWh/100km or 6.58km/kWh economy figure – with the seat cooler going at full tilt during all drives.
Standardized Test Routes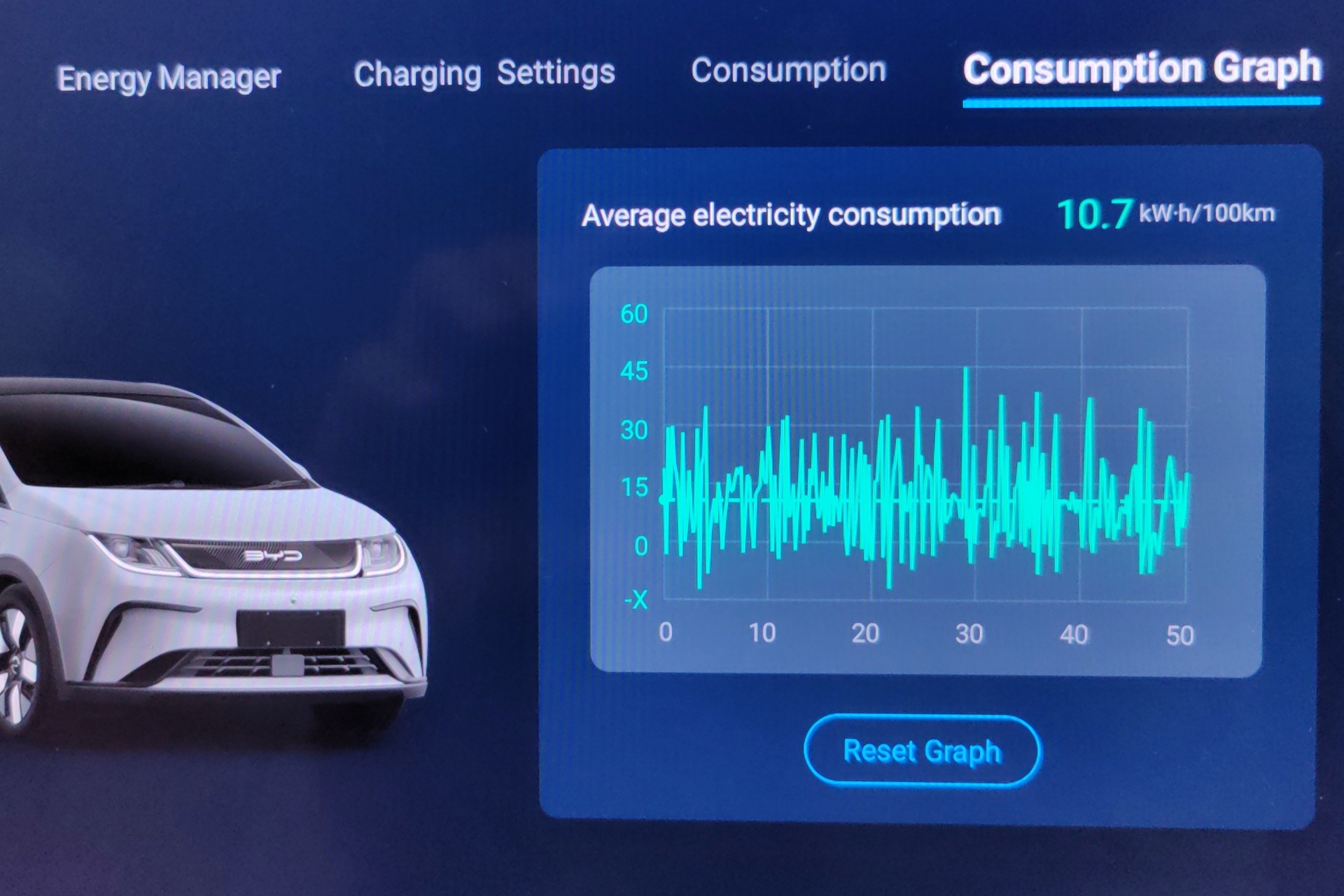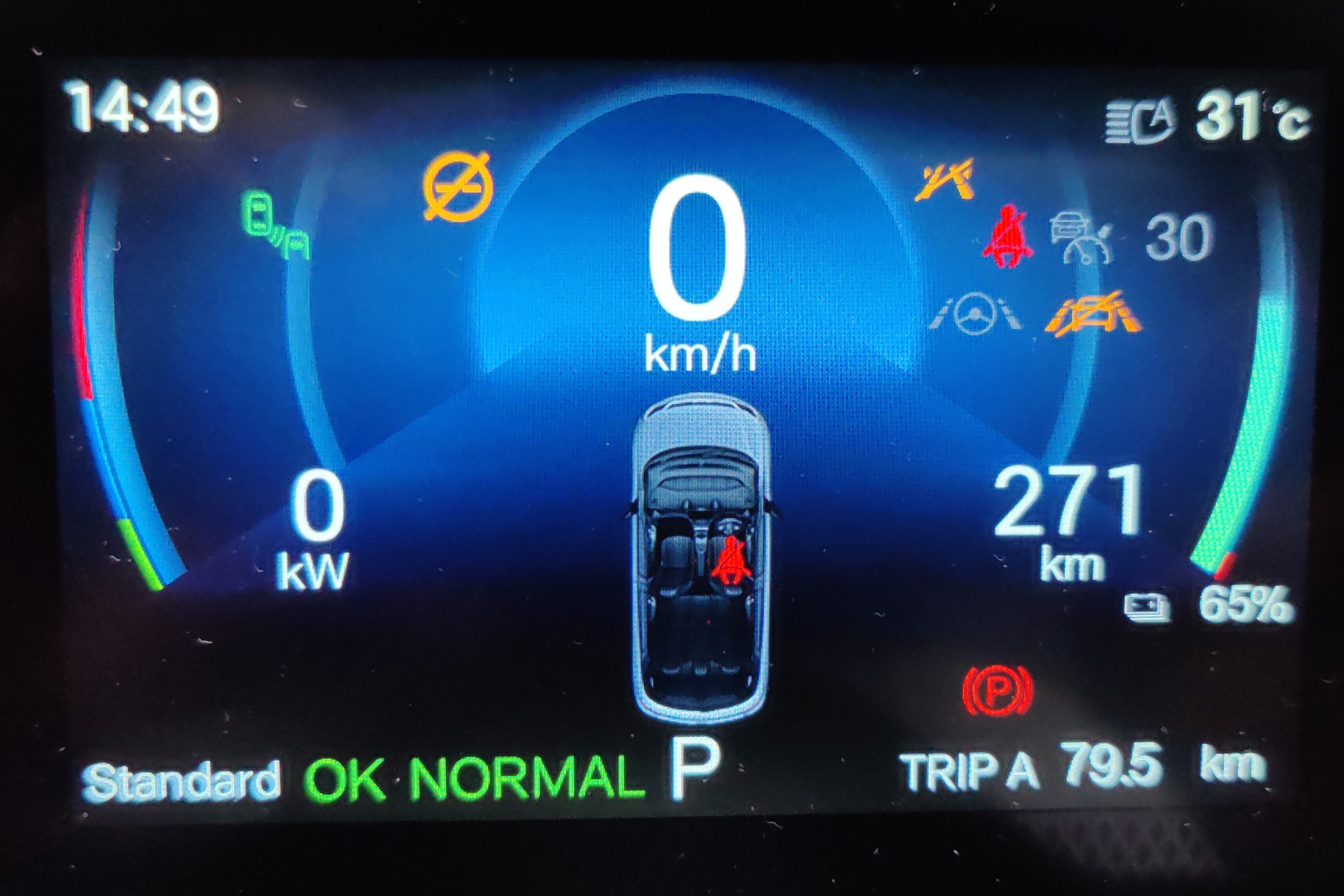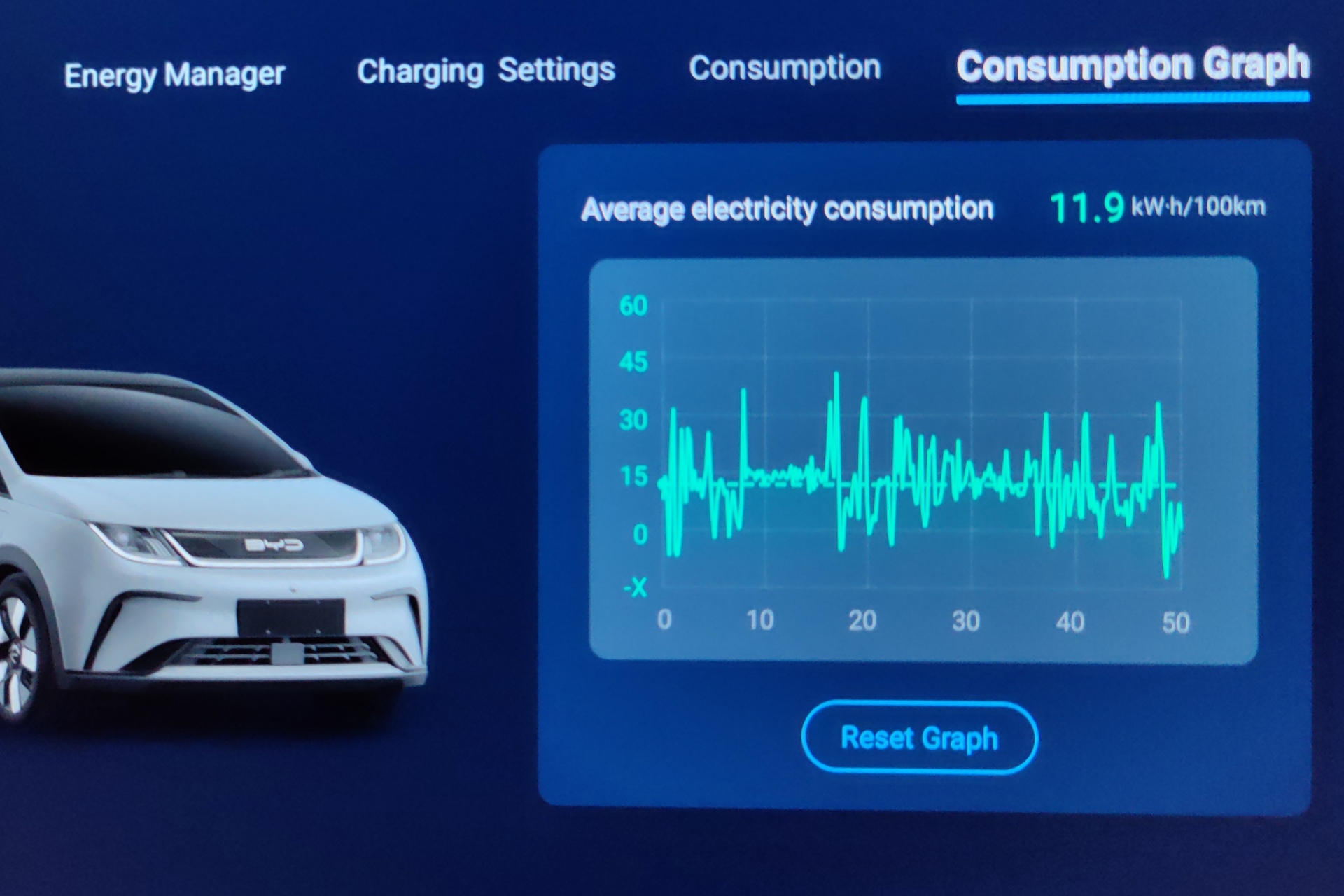 General Commutes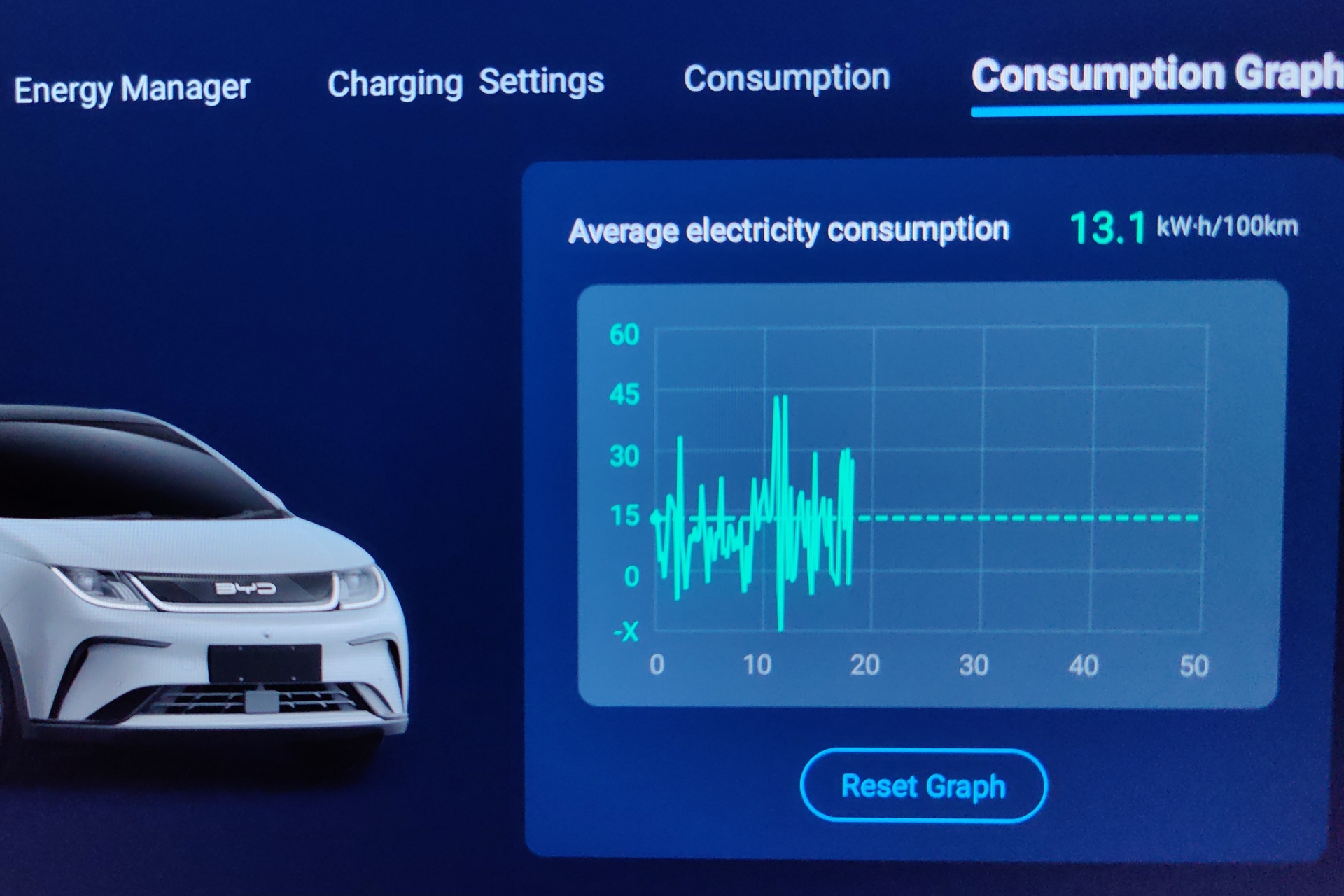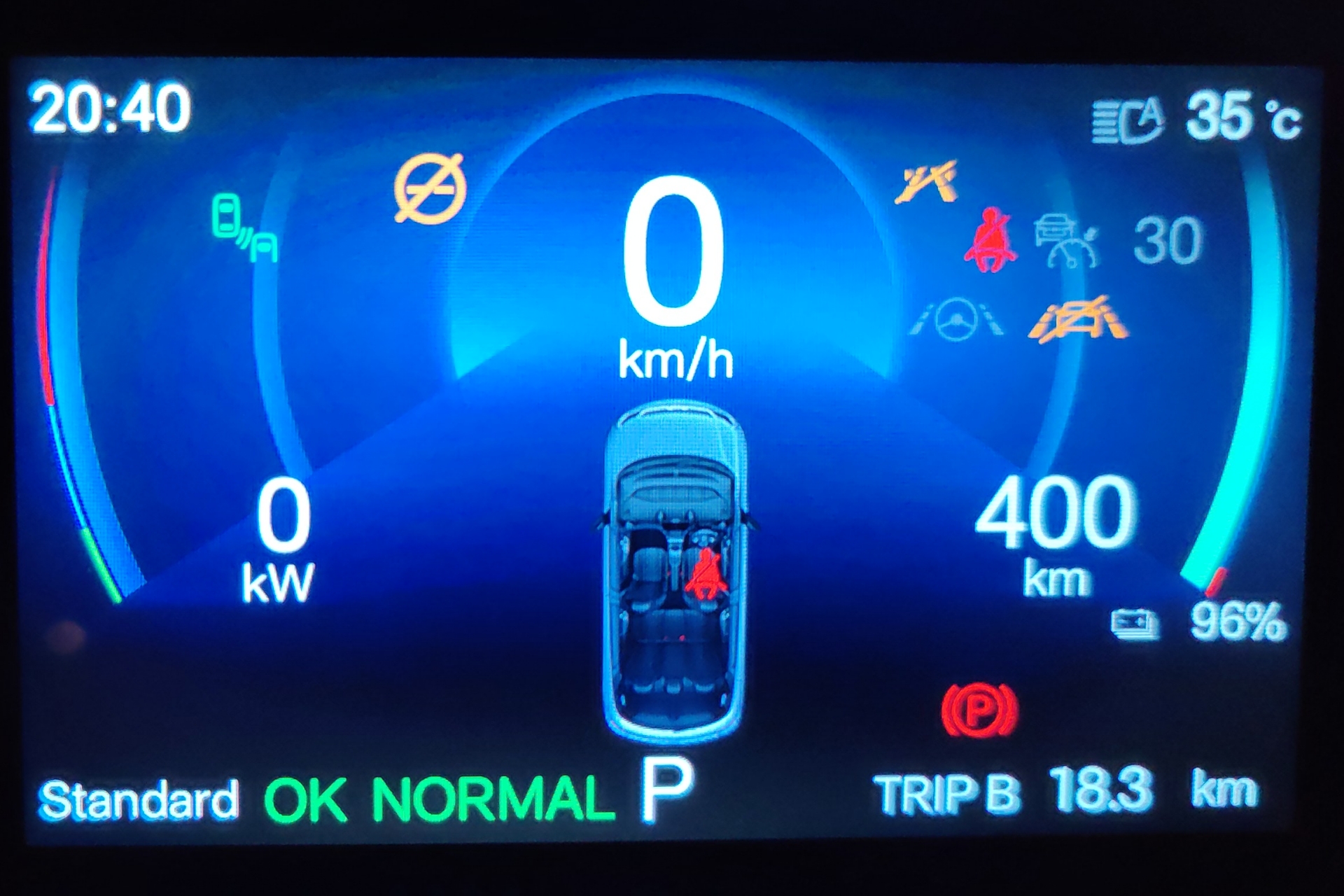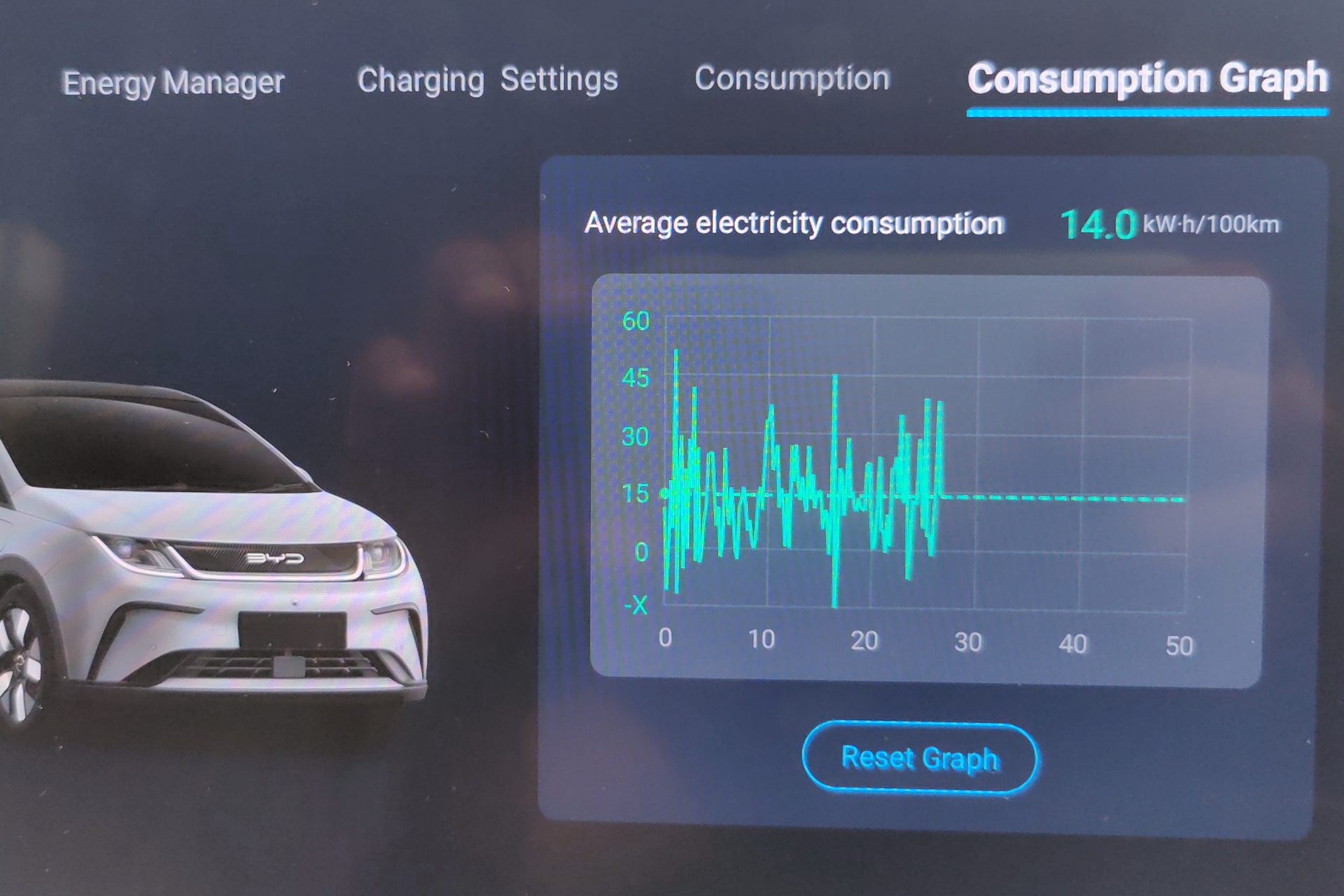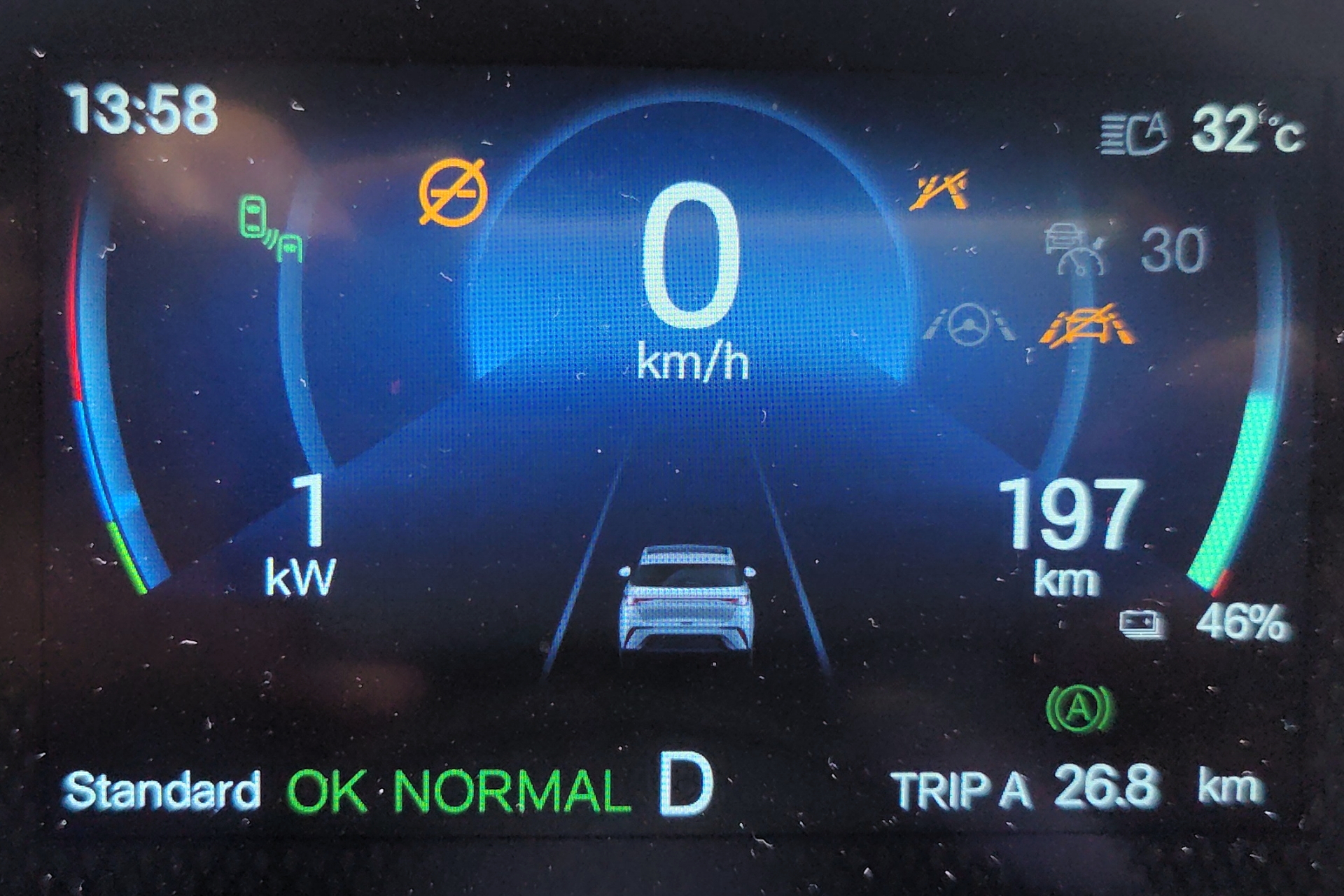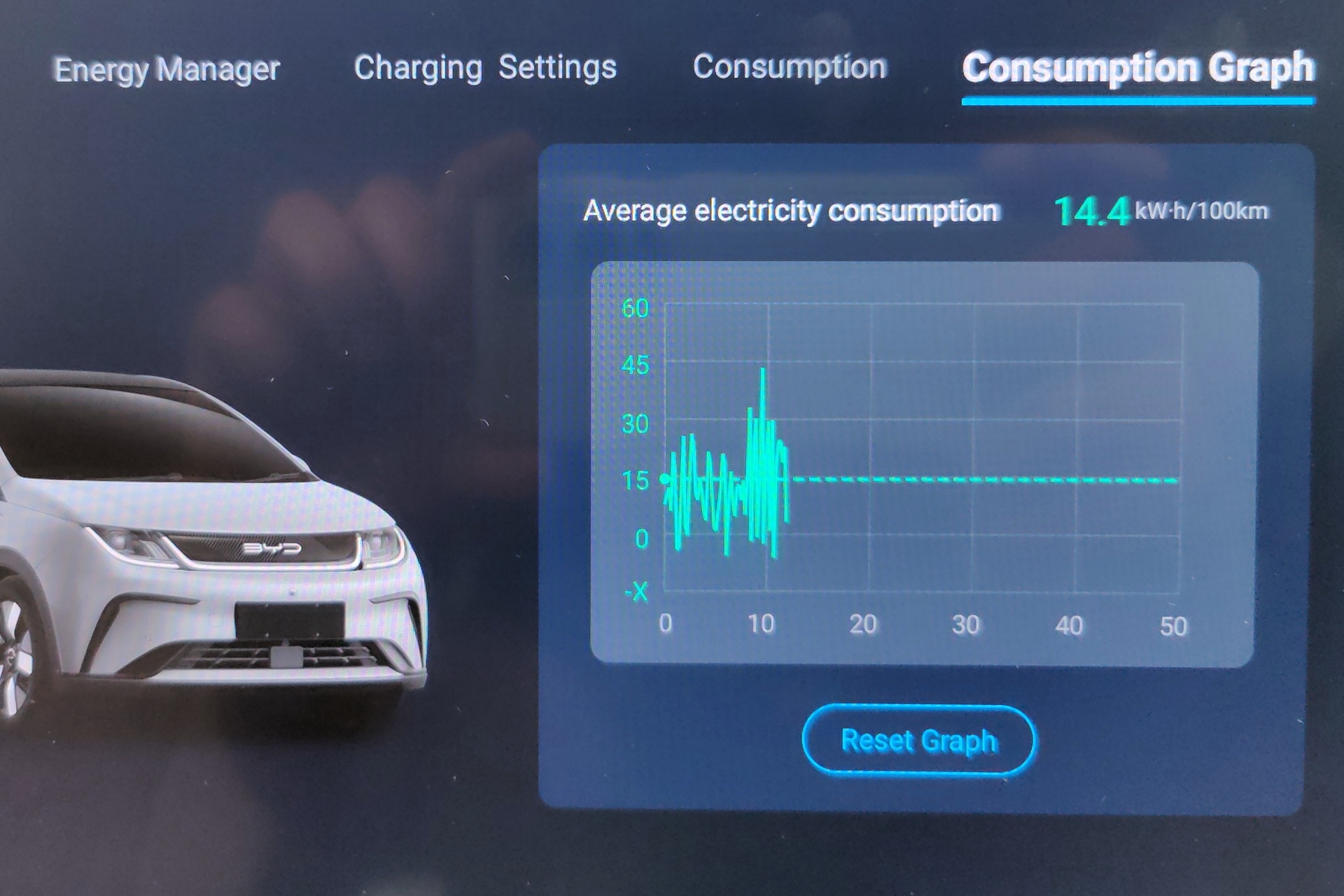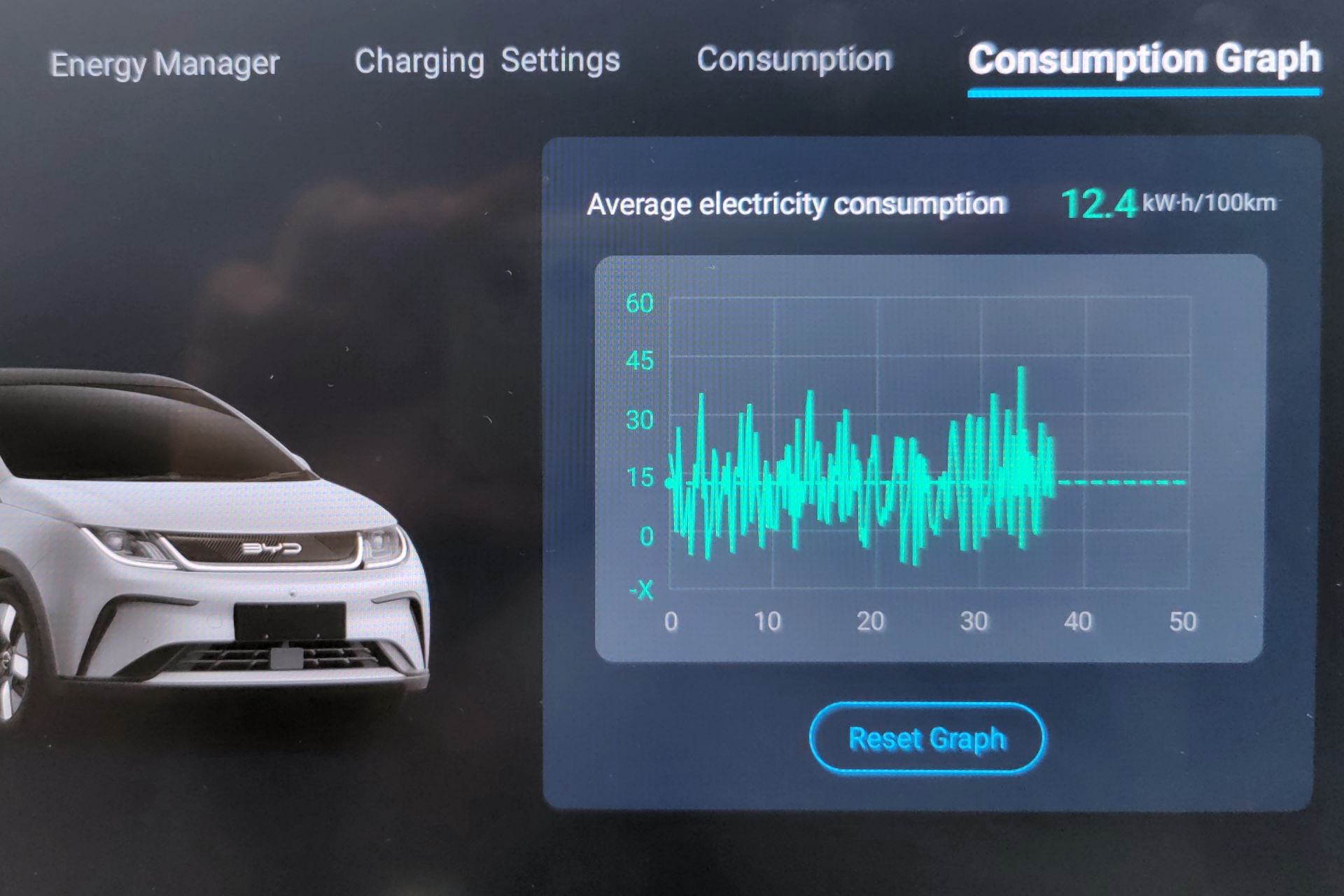 Of note was the fact that the BYD Dolphin appears to prefer graceful and gradual gliding rather than slicing through highways like a scalpel. This actually makes sense since this EV is best suited as a town car, and while highway runs are most certainly doable, it's at its happiest in street traffic.
(/update)
For those new to electric motoring, the Dolphin is an extremely easy EV to switch to. Besides an acceleration that feels comparable to a 1.6-litre internal combustion engine (ICE) car, its regenerative braking force is gentle enough not to show up a novice with a herky-jerky ride for all aboard.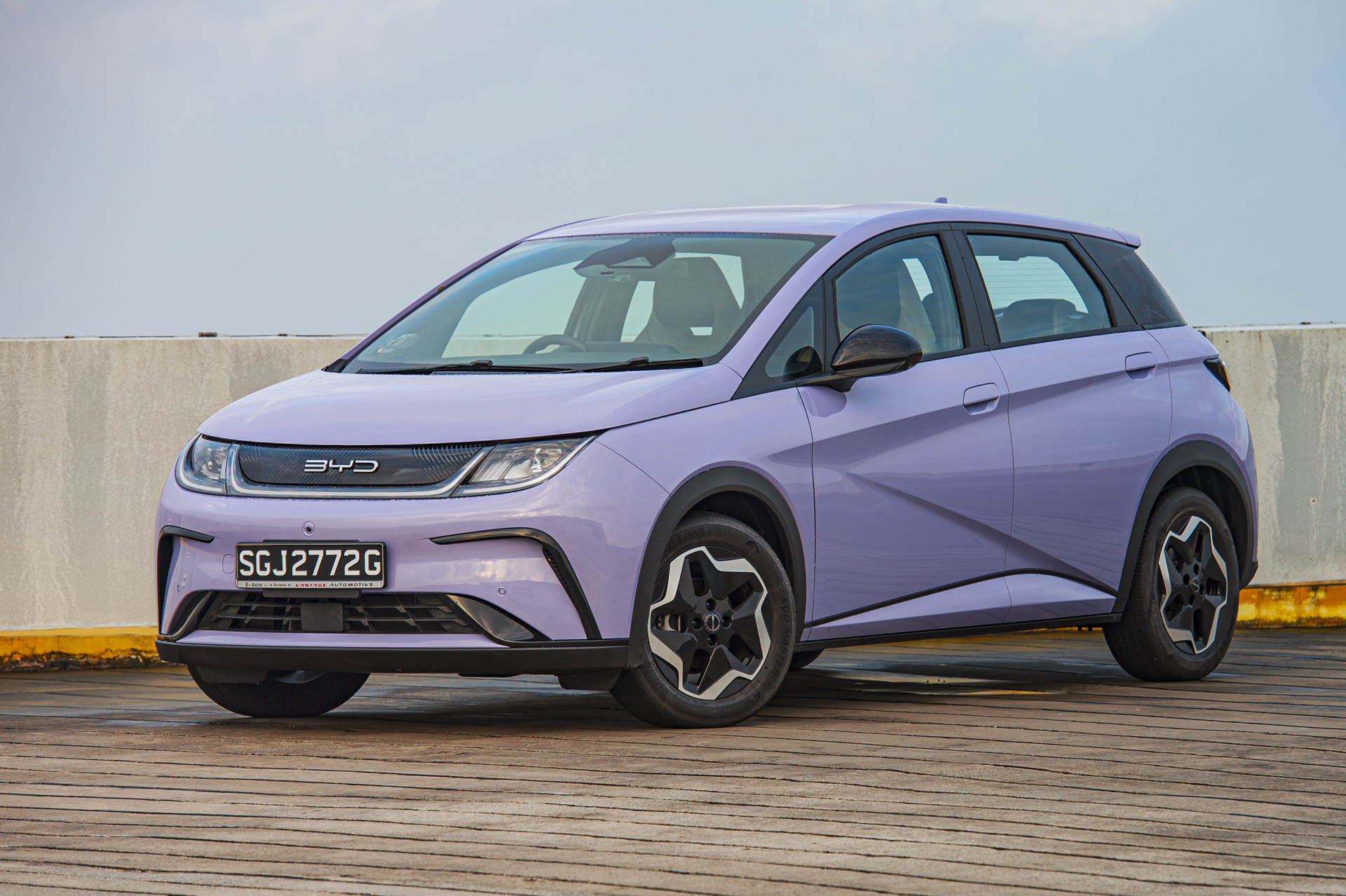 The Dolphin is no hot hatch, but its suspension strikes a lovely balance between agility and comfort. This is something that many EVs, even the higher-end models, suffer from. As EVs tend to be heavier than equivalent ICE cars, mainly because of the big and heavy batteries, it is not unusual that some EVs have compromised suspension setups. The Tesla Model Y and Mercedes-Benz EQB are some examples that come to mind where the ride feels unnecessarily firm without any real benefit to the handling.
A smaller car is an excellent place to start from where suspension design is concerned. Eschewing an SUV or Crossover body style for a conventional hatchback silhouette allows the car to sit closer to the ground so controlling body roll becomes a much easier task. This results in a comfortable and grown-up feel for a car that's about the size of a Volkswagen Polo.
One aspect of the Dolphin that gives the game away as an entry car is a relative lack of soundproofing. At low speeds of 35km/h or less, it emits a chime to warn pedestrians that there is an EV approaching. Many EV makers go to lengths to create unique sounds for this safety feature. BMW, for example, has famously employed Hollywood composer Hans Zimmer to create a distinctive tone.
BYD, on the other hand, seems to have taken theirs from a 7-11 store. Although the playful tone might sound friendly, it can get annoying after a few minutes. There is another tone that can be selected from the vehicle settings, but that seems louder. After a while, the 'ding-dong' chime is probably the better of the two.
The Dolphin is by no means noisy. It is an EV, after all. However, as you get up to expressway speeds, tyre noise starts to intrude to a point where the sound system almost loses the battle to drown out the roar.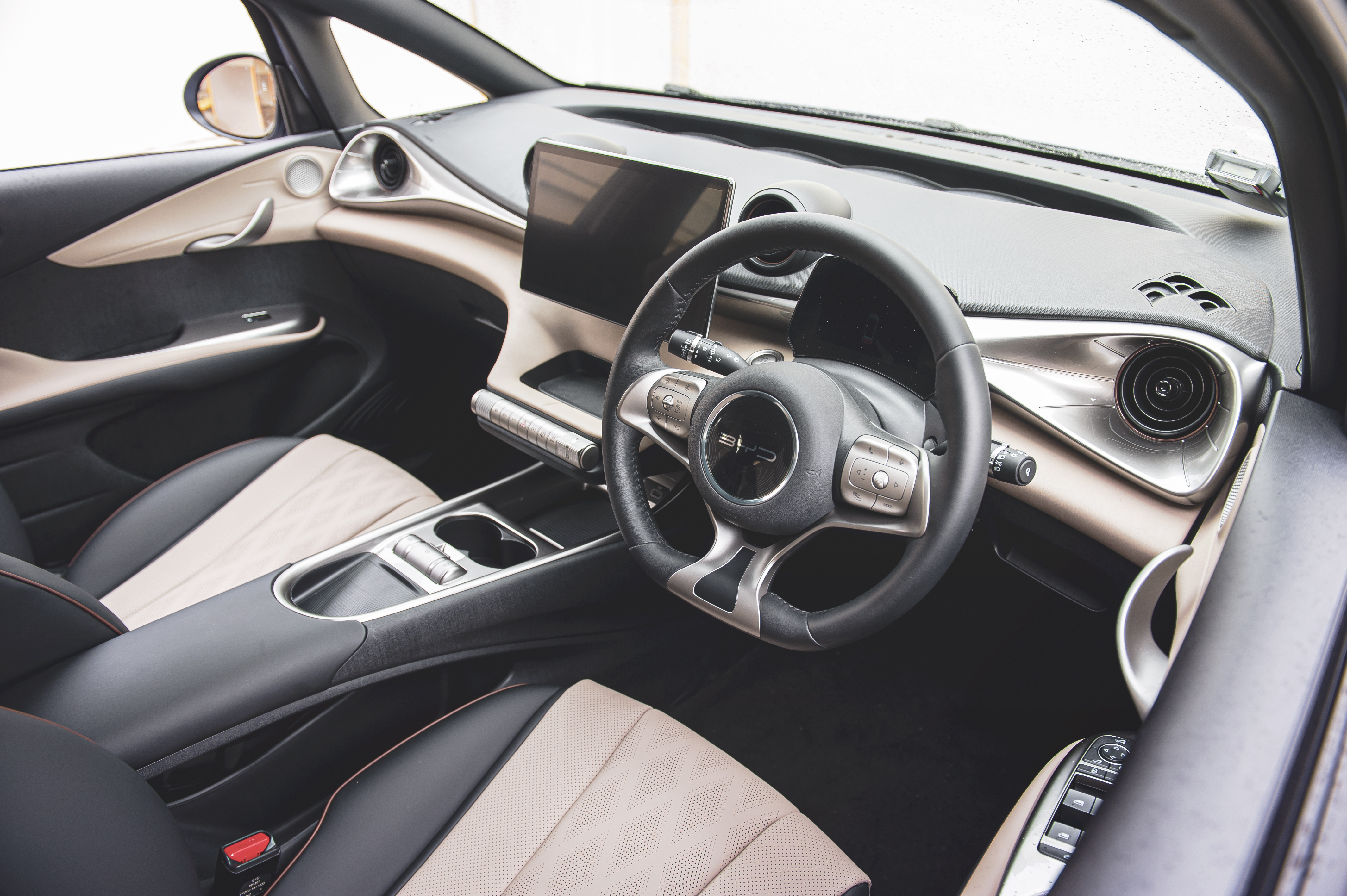 Luckily, these minor niggles can easily be fixed on an after-sales level. Perhaps switching out the factory-installed Ling Long tyres for more premium rubber might do the trick. Also a more powerful amplifier would also be a welcome addition.
Inside line
Occupants of the BYD Dolphin, especially those up front, will find that it is a lovely place to spend time in. Most materials feel good to the touch and look classy enough to forget that you're in an entry EV model.
The impression of sophistication continues with classy convenience features such as electric adjustment for the front seats and even an electrically-operable tailgate – accoutrements most wouldn't expect in an entry model. The luggage bay, however, holds no real surprises apart from the ability to configure a double-tier storage solution. In terms of size, it won't hold much more than two backpacks.
There are, however, some features that we do expect in any model in 2023 that are not present in this BYD. The lack of a wireless charging tray is one such item that no new car should be without. The Dolphin has two thoughtfully designed receptacles, one just below the central display and another that tucks in just under the central armrest to hold smartphones, and an inductive charger could easily be fitted at the dealership level. It would still be cooler if both holders did charging.
Speaking of the central display, the Dolphin, like the bigger Atto 3, sports a 12.8-inch infotainment display that can be made to pivot between landscape and portrait orientations at a touch of a button on the steering wheel or the screen itself.
---
Should you get a BYD Dolphin?
If the idea of owning a China-made car still turns you off, bear in mind that models sold by Polestar, Tesla and Volvo in Singapore are also assembled in the Peoples' Republic.
Still not convinced? Apple boss Tim Cook has said that the reason why most of his company's products, such as the iPhone and MacBook, are made in China isn't about cutting corners or reducing costs. Instead, he cites that no other country has as many highly-trained engineers that can build products that are technically demanding.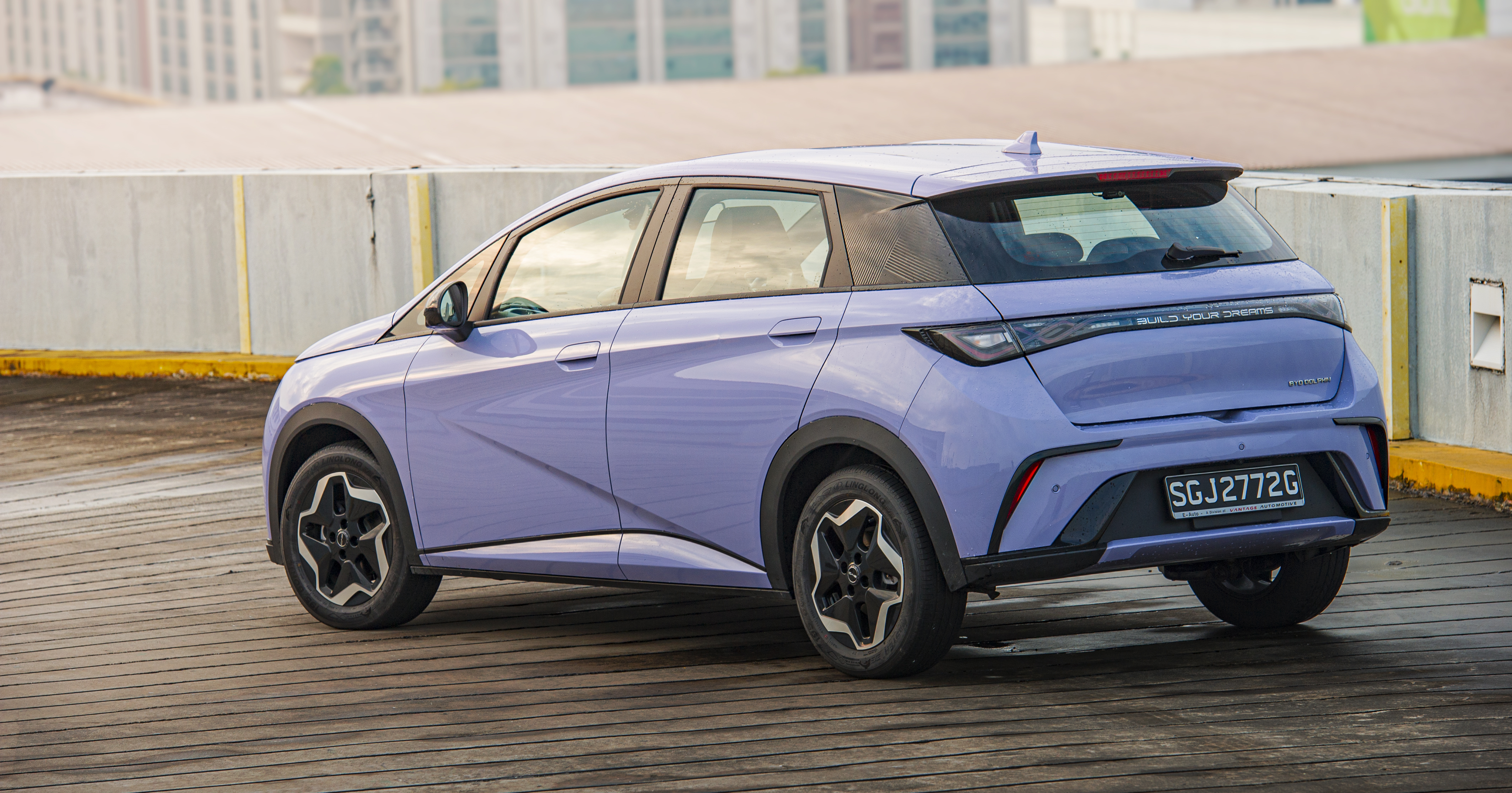 Compared to the latest crop of EVs, the Dolphin can hold its own with a combination of comfort and sophistication that allows it to punch above its weight class.
It may not be perfect, with slightly underwhelming acceleration and a few other omissions. But, the trick up its sleeve is its price, making it the most affordable EV today in town.
Technical Specifications
BYD Dolphin
Motor: Permanent Magnet Synchronous
Power: 70kW (94hp)
Torque: 180Nm
Drive: Front wheels
0-100km/h: 12.3 seconds (claimed)
Top Speed: 130km/h
Battery: 44.9kWh
Energy Economy: 15.2kWh/100km (claimed)
Priced from: S$156,888 with guaranteed COE (accurate at the time of this article)
Contact: BYD Singapore
---
Read more automotive news at AutoApp, or check out our latest videos on Ignition Labs TV!