Members of the public can pay a visit to see the electric EQ models at The Mercedes-Benz Showcase, dubbed 'Crafted for the Future'.
---
Taking place from 24-30 Aug 2023, the 'Crafted for the Future: The Mercedes-Benz Showcase' pop-up experience is located at Raffles City shopping centre.
So what's the fuss all about, you ask? Well, this is where you dive headfirst into the world of Mercedes' electric dreams. The stars of the show? The EQA and EQB SUVs, the elegant EQE saloon, the groundbreaking EQS, and not to forget, the EQS53 AMG – because who said electric can't be thrilling?
Now, this isn't your regular showroom affair. This is an exploration, a journey into the heart of electric mobility. Get up close and personal with the tech that's shaping the future, learn about charging solutions, and yes, they're not holding back. You can even slip behind the wheel of selected EQ models and take them for a spin.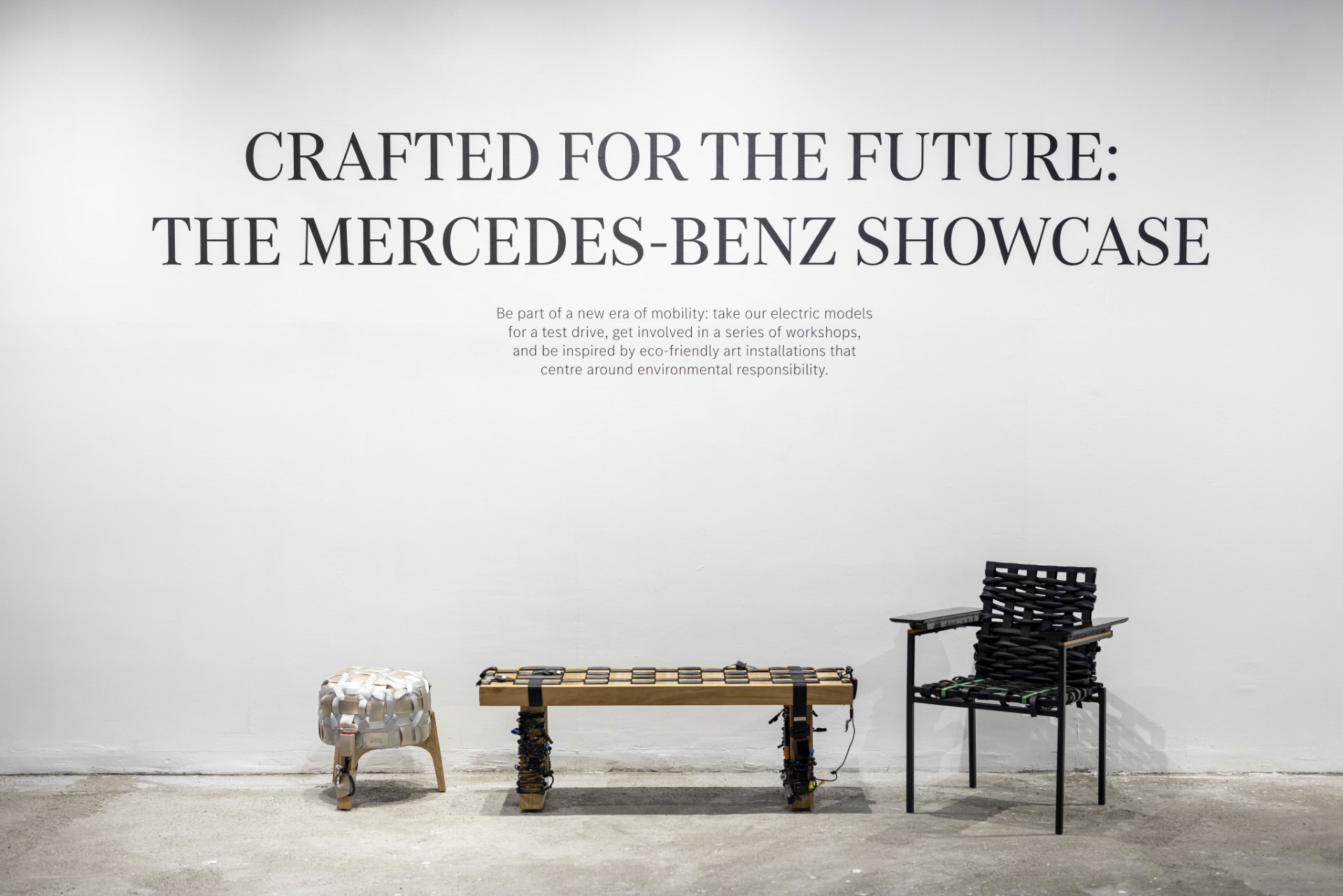 But that's not where the magic ends. There's a collection of upcycled furniture, ingeniously crafted from old car parts. These pieces, born from the minds of TANCHEN studio, are part of the Reincarnation collection that made waves at Green-House 2023.
'Reclaimed Sculpture: Land, Sea, Air' is another innovative example, a striking art piece that stands as a testament to Mercedes' iconic three-pointed star. The materials? They're from the Mercedes-Benz Concept Store in Great World, a place that held its own magic until it closed its doors in March this year.
Now, let's talk about engagement. The weekend of the 26th and 27th of August isn't just any weekend. It's a crafting extravaganza. You can roll up your sleeves and create your very own key tag from repurposed denim offcuts. Oh, and there's more – ever thought you'd make your own scent pouch from Japanese denim offcuts? Well, now's your chance.
Mercedes-Benz has also teamed up with SP Mobility to offer a sweet deal for EV owners. If you're one of the first 50 electric car owners to strut into the pop-up store daily, you get 30kWh of complimentary charging credits. It's like a hug for your eco-conscious soul.
In the words of Claudius Steinhoff, the President and CEO of Mercedes-Benz Singapore, "We're not just dreaming of an all-electric future; we're driving it." And my friends, after stepping into this showcase, you might just believe it too. So go on, immerse yourself in the future of mobility, because at Mercedes-Benz, the road ahead is charged with excitement, sustainability, and the promise of a tomorrow we can all be proud of."
So, mark your calendars, folks. From the 24th to the 30th of August 2023, the 'Crafted for the Future – Mercedes-Benz Showcase' is where innovation meets luxury, where electric dreams become a reality.
---
Read more automotive news at AutoApp, or check out our latest videos on Ignition Labs TV!