In response to sky-high COE premiums, BMW Asia has fitted the 2 Series Gran Coupe with a smaller engine, specially for Singapore.
---
Skyrocketing Certificate of Entitlement (COE) prices made the headlines in Singapore recently, when they hit $99,999 in early April, the most expensive in over 27 years. Not only that, but the gulf between Cat A and Cat B COEs of nearly S$30,000 has proven infuriating for certain cars and brands. Take, for instance, the new Honda HR-V, whose far superior hybrid model is just 1 horsepower over the Cat A power cap, slapping it with a wildly disproportionate price penalty in the price lists.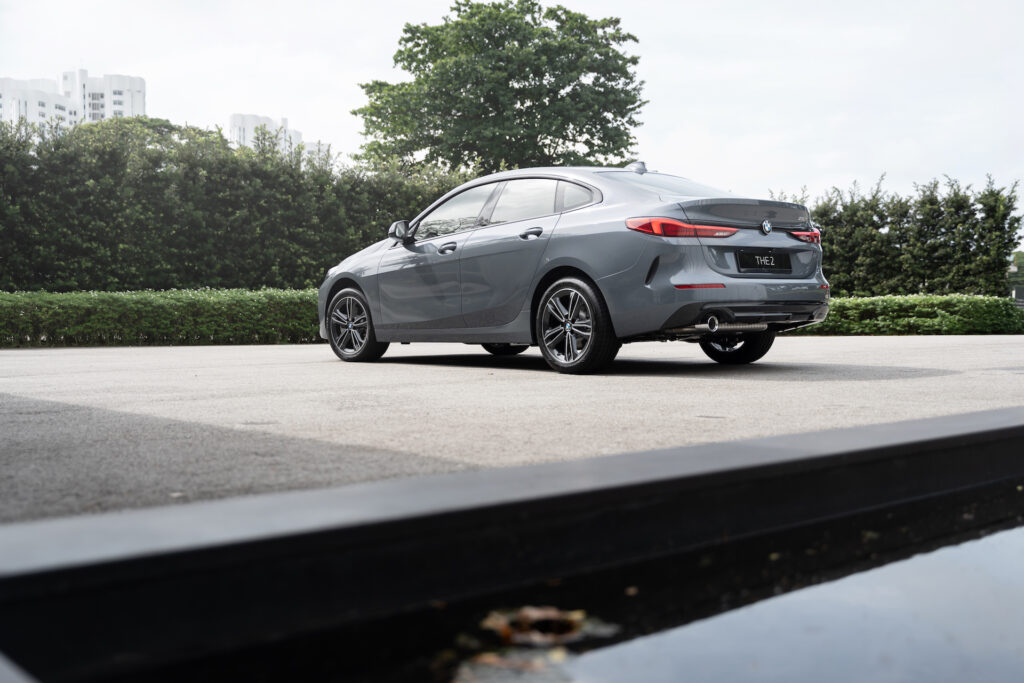 BMW is another company faced with a similar situation until only just recently — up till this announcement, its smallest four-door model, the 2 Series Gran Coupe, made a minimum of 138hp, putting it in CAT B despite only having a 1.5-litre engine. Now though, BMW seeks to regain parity on the forecourt against its rivals, with the new, Cat A-friendly 216i Gran Coupe.
Like the 116i hatchback, the 216i GC features a detuned version of the same turbocharged 3-cylinder engine. It's borrowed from MINI's "One" range, and makes 109hp and 190Nm of torque. You could think of it as something of a Singapore Special; nowhere else in the world will you find this engine paired with this car. Just like the Honda Civic's detuned engine, it's all a result of our *ahem* unique car price structure thanks to COE.
There's more to the BMW 2 Series range than the Gran Coupe… Check out the rest of the family here. Read More >>>
Naturally, performance takes a big step backwards (0-100km/h 10.8s compared to the 218i's 9.1s), but so too does the price: at publication time, the 216i is priced at S$203,888 with COE, S$22k less than the 218i. 
But while yes, BMW's most affordable four-door just got more attainable, it's not all sunshine and roses. That $22k is roughly the difference between Cat A and B COEs at the moment, but curiously, the savings from the 216i's S$15k VES rebate is lost to the wind.
It's not like the 216i features extra equipment either, with BMW's spec sheet showing the two roughly on par. Cruise control becomes an option instead of standard on the 216i, and the leather upholstery becomes synthetic, but having said that, it's still a strong list of goodies: BMW Live Cockpit Professional; Lane Departure Warning with steering intervention; auto emergency braking; adaptive navigation system; electric seats; Parking Assistant – all of these are standard features.
If you like the way the 2 Series Gran Coupe looks, then this announcement will be good news for you. But if all you're looking for is a compact C-segment car with a posh badge, then our buyers' advice is to steer elsewhere. The 116i hatchback is S$10k cheaper and more practical for hauling both people and cargo; the Mercedes-Benz A-Class is $4-6k cheaper, looks better, and is also more spacious. The Audi A3 meanwhile, despite having a much more powerful CAT B engine that's also more economical, is also $4-6k cheaper.
---
Get more of the latest on BMW here, or check out our latest car reviews here!