Move cargo and make deliveries on electric power with the e-Dispatch.
---
It's not every day that an automotive journalist gets the opportunity to review a commercial vehicle, so when Citroën offered their e-Dispatch for a review drive, I just couldn't pass up the opportunity to play "man in a van" over a weekend. Add to that the fact that the last time I'd driven a van was in 2003, and was keen to get behind the wheel again for a spot of "commercial gallivanting" on our streets and highways.
The e-Dispatch's closest competitor is the Opel Vivaro-e, which is basically the same van from parent group Stellantis but at around $4,000 lower in price. Other notable mentions in this category include the Mercedes-Benz eVito 112 Long at around $45,000 more but with a smaller 60kWh battery pack as compared to the e-Dispatch's 75kWh. This then puts the French van in an interesting in-between position in the market.
Outside
Apart from the familiar Citroën chevrons adorning the nose, this van is… well…. van-esque. At 4,959mm long, one needs to manoeuvre the e-Dispatch as though it's a long-wheelbase luxury vehicle and things will be fine. Standing at 1,902mm height means parking in most HDB multi-storey carparks is doable as long as the height limit is 1.9-metres or more, and its width of 1,920mm means it will fit snugly into a parking spot in said carpark.
Unpainted bumpers front and rear mean parking 'incidents' at commercial loading bays can be simply brushed off without too much heartache. Those large rear-view mirrors are necessary for driving the e-Dispatch around, and do a good job of offering sufficient rearward visibility since the standard in-cabin rear-view mirror was rendered useless in the test vehicle due to the solid bulkhead partition between the cargo area and the cabin. However, a reverse-camera rear-view mirror was fitted over the in-cabin mirror, which then made it gobs more useful than the standard item.
Commercial-vehicle 215/65R16C Michelin Agilis 3 rubber wrap around 16-inch steel wheels, and this means one does not have to worry about the risk of grinding up expensive alloy rims when parking as close as possible to a kerb either.
Inside
The rear doors swing outward to reveal the cavernous cargo hold of the e-Dispatch, which is rated to cart 1,000kg of payload. This area can also be accessed by either side door which opens wide, allowing cargo to be loaded and unloaded easily both from the rear and sides respectively. Palletised cargo can be loaded by forklift through the rear doors only.
Once cargo operations are done, it's time to get behind the helm of the e-Dispatch and drive off to the next location. Getting in and out was pretty easy for me at 1.82 metres tall, and with my longer legs, all I had to do was literally have one foot on the ground while sliding my bottom onto the driver's seat bottom. There's a step at the sill to aid ingress and egress, and my Mom, who's a petite 1.52-metre tall and 79 years old could rather easily get in and out of the passenger's seat using this step.
Once inside, the sitting position is rather upright, as allowing more reclining would mean eating into valuable cargo space behind. This is not a problem, even for yours truly with spine issues because the seats are rather comfortable for longer journeys.
The cabin itself is basic. The steering wheel is large, necessitated by the greater amount of turns lock-to-lock required by the e-Dispatch for manoeuvring in tighter spaces, so do keep this in mind when negotiating parking spots, three-point turns and narrower up- and down-ramps in multi-storey carparks.
The gauge cluster is mostly analogue and is clear and legible. The digital display in the centre offers basic information and needs to be toggled through using a button on the wiper stalk on the right. Cruise control of the non-adaptive type is standard fit and useful while traversing Tanah Merah Coastal Road with its 70km/h average speed zone.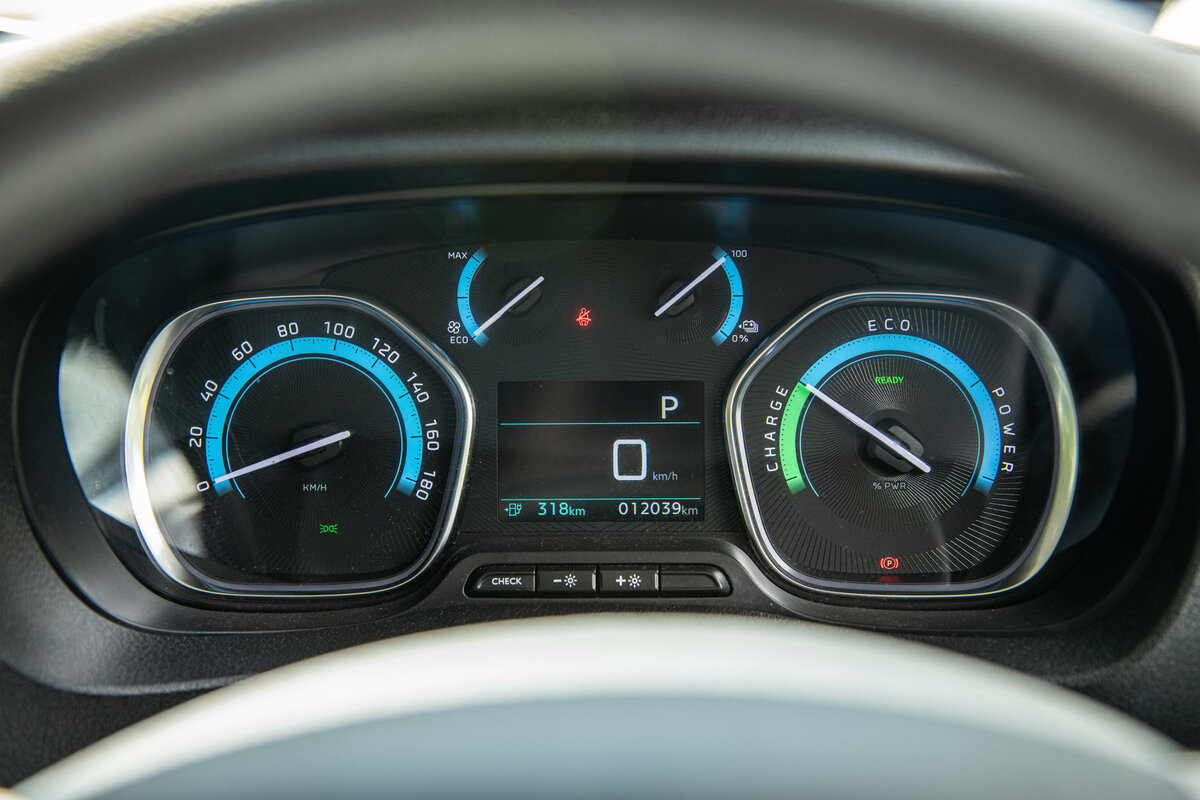 Like the gauge cluster, the infotainment system is also basic, but supports Apple CarPlay and Android Auto via a USB Type-A wired Mirror Screen function. Bluetooth connectivity is also there, although it is slow to pick up the previously-connected device and one needs to be patient until the paired device shows up.
Even pairing my phone required a bit of a think. I'd click the 'phone' button on the infotainment with my phone on pairing mode, and click through in the subsequent screen to pair a new device. Removing the pairing required the same screen to be brought up with my phone disconnected.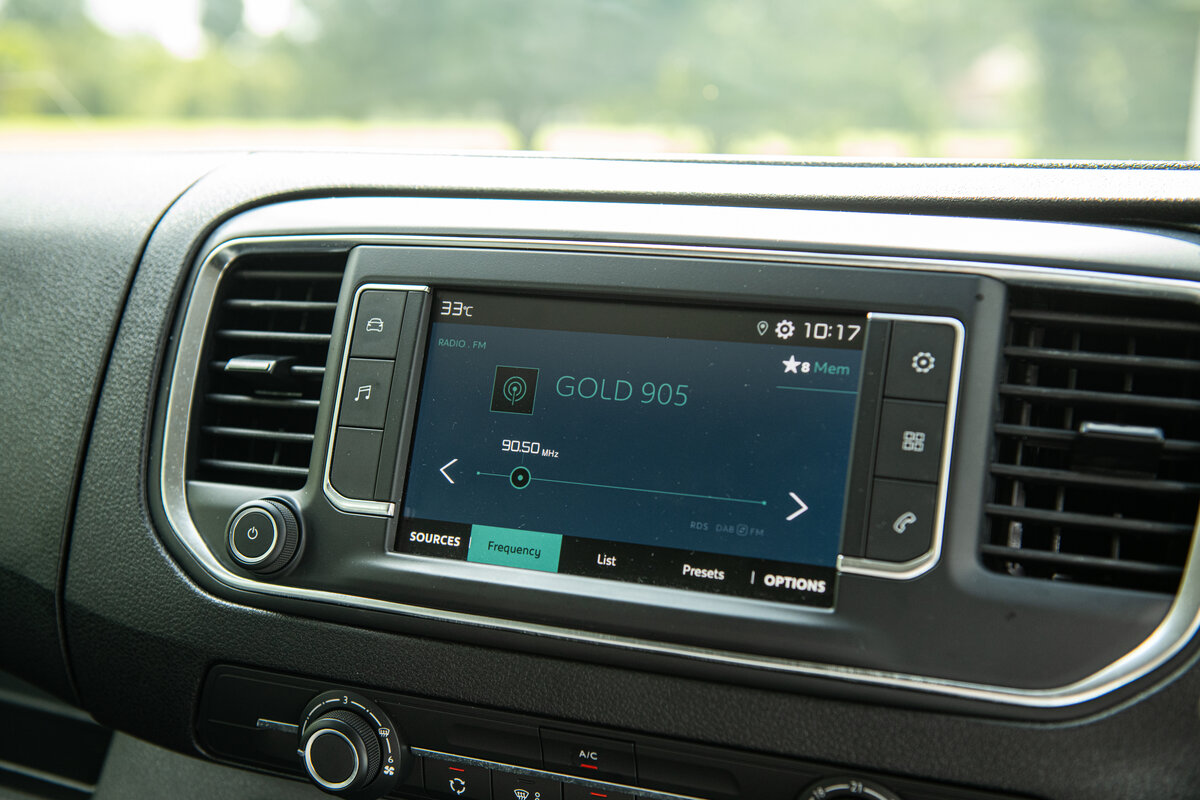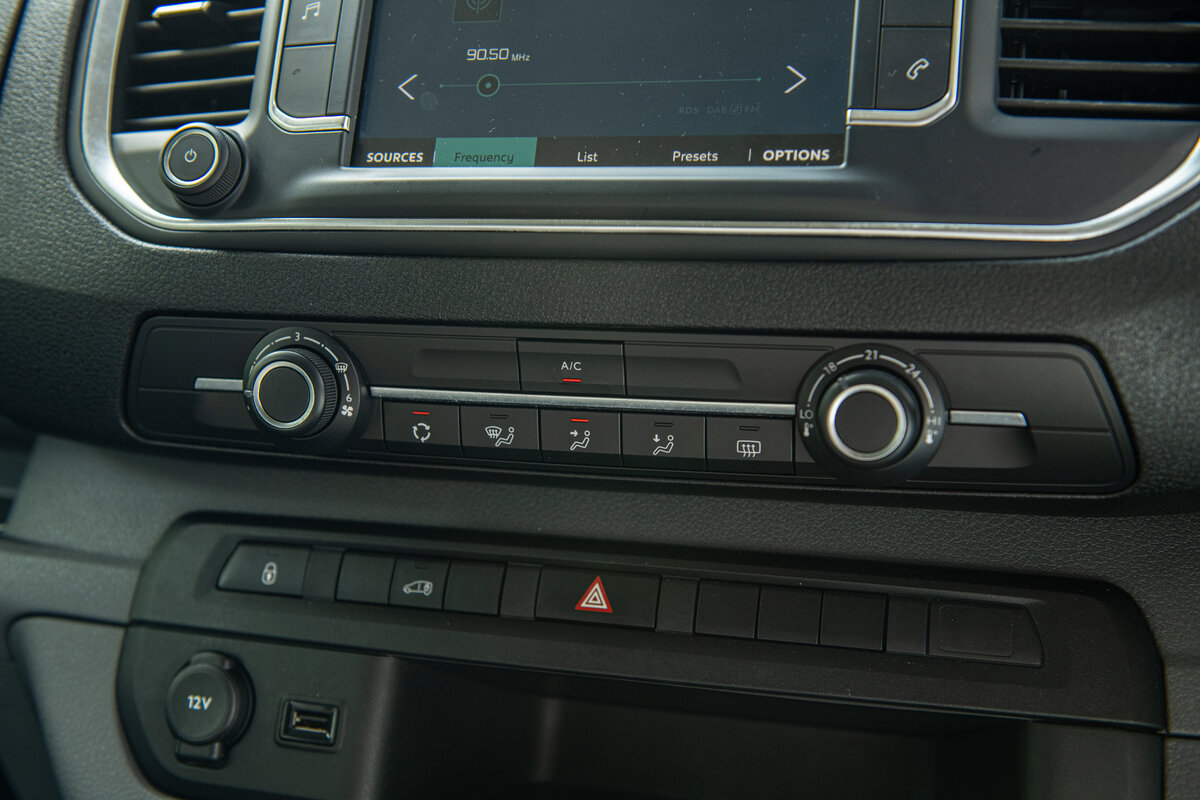 One annoyance, though, came courtesy of the parking brake switch's placement, which I only found on the third day of driving courtesy of an eerie red glow coming from between the seat-bottoms while parked in a darker corner of a multi-storey carpark. Why couldn't Citroën ditch the drive-mode selector and place the handbrake switch beside the drive selector?
Does this van really need 'Eco', 'Normal' and 'Sport' drive modes when just one would do? It's baffling and reeks of parts-bin rummaging to save cost vis-a-vis the e-Dispatch's original internal-combustion engine'd underpinnings.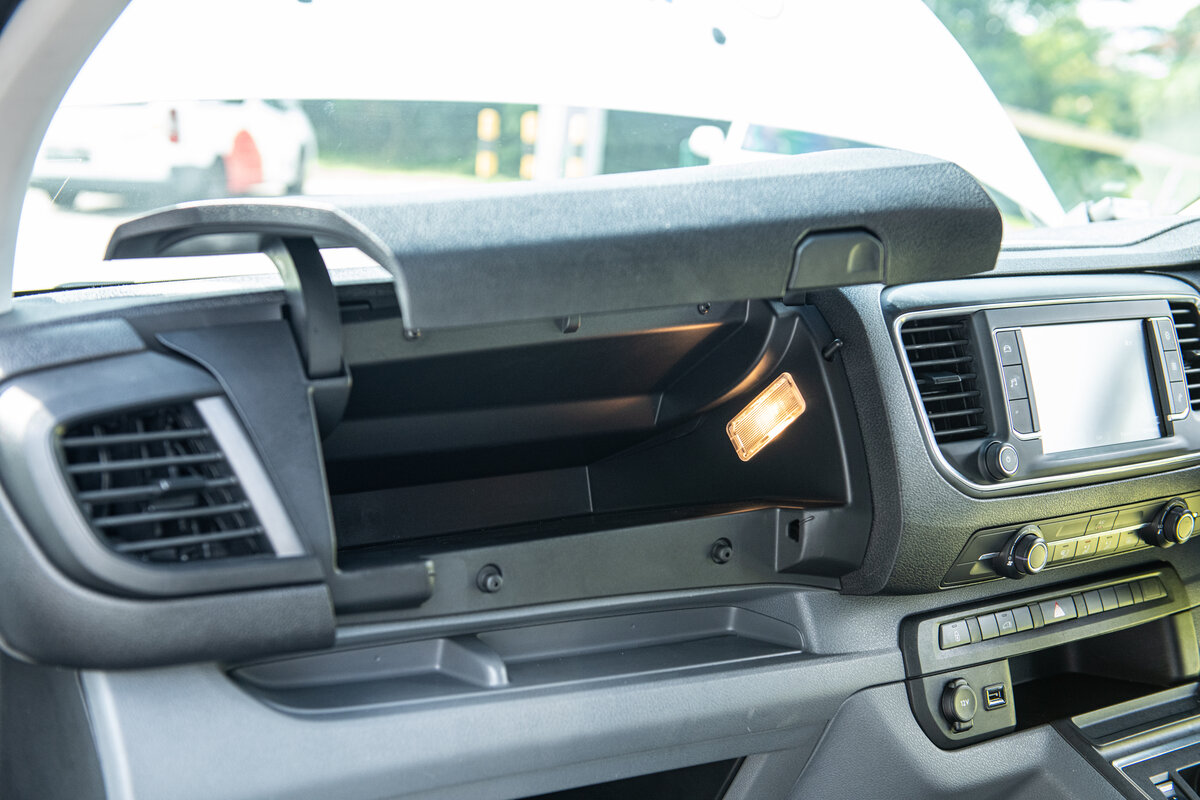 Otherwise, things appear solidly built to last many miles and years of commercial cargo conveyance duties at the hands of harried delivery drivers.
Driving
If there's something the French are really good at most of the time, it's suspension tuning. And so it is here with the e-Dispatch, whose ride was more well-controlled, comfortable and sophisticated instead of a crashy and jarring ride that one might be inclined to expect of a van. So was handling, with the Citroën remaining composed and confident around bends and corners and surprising some cars in the process.
Noise levels were very well contained, with the cabin remaining quiet most of the time except over the more coarse tarmac of certain stretches of highway. This, of course, comes courtesy of the fact that this van is electric, and being electric, its 260Nm of torque is available instantly and also managed to surprise some cars on the streets and highway. Speaking of the highway, the speed warning beeper will start sounding at 68km/h, but it can be mostly drowned out by the audio system, so things are bearable.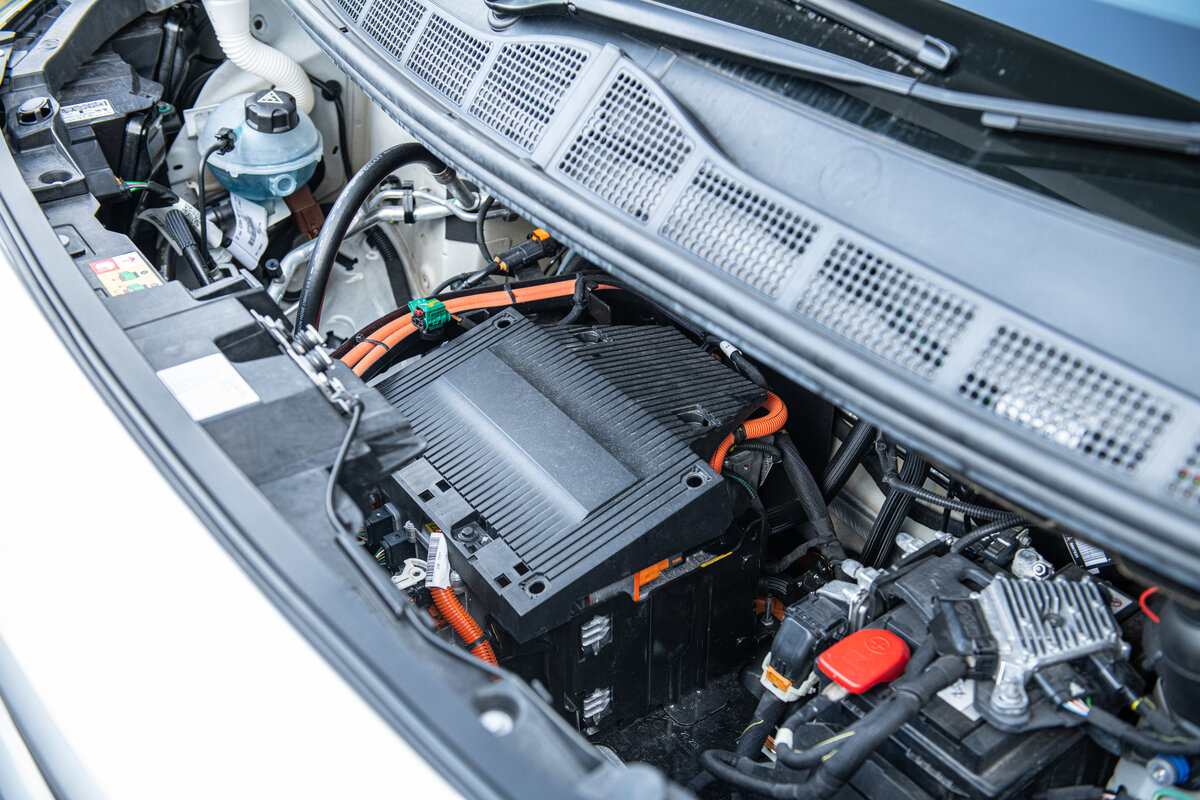 Charging the van, on the other hand, was a rather frustrating exercise. Both of SP Group's 100kW DC charge points at King's Centre refused to initialize and kept timing out, resulting in a wasted parking fee. Cell reception at the charger was also atrocious.
Over at Gardens By The Bay, one of SP Group's 100kw DC charge points initiated its handshake with the van, but also timed out. Sweating profusely and praying pathetically to the deities of electric charging at this point, I plugged the second cable in and thankfully it worked. These are possibly firmware-update-related issues, but it does mean charging escapades may end in frustration for many.
Anyway, the charging process, once started, was pretty good with the e-Dispatch seeing up to 80kW charge rate at the 100kW DC charger. Citroën quotes 48 minutes to charge from 0-80%, and it felt quite accurate.
What also felt accurate was the remaining range indicator on the gauge cluster. Over a test-driven 597km, the e-Dispatch averaged 5.5km/kWh or 18.1kWh/100km, which is commendable. All drives were done with the van unladen and in 'Normal' drive mode.
It can be reasonably expected that this energy economy figure will be lower when loaded. Based on its 75kW battery pack, over 400km of unladen range is not out of the question, which is impressive. Citroën quotes 339km of WLTP combined range, and it sounds about right while laden.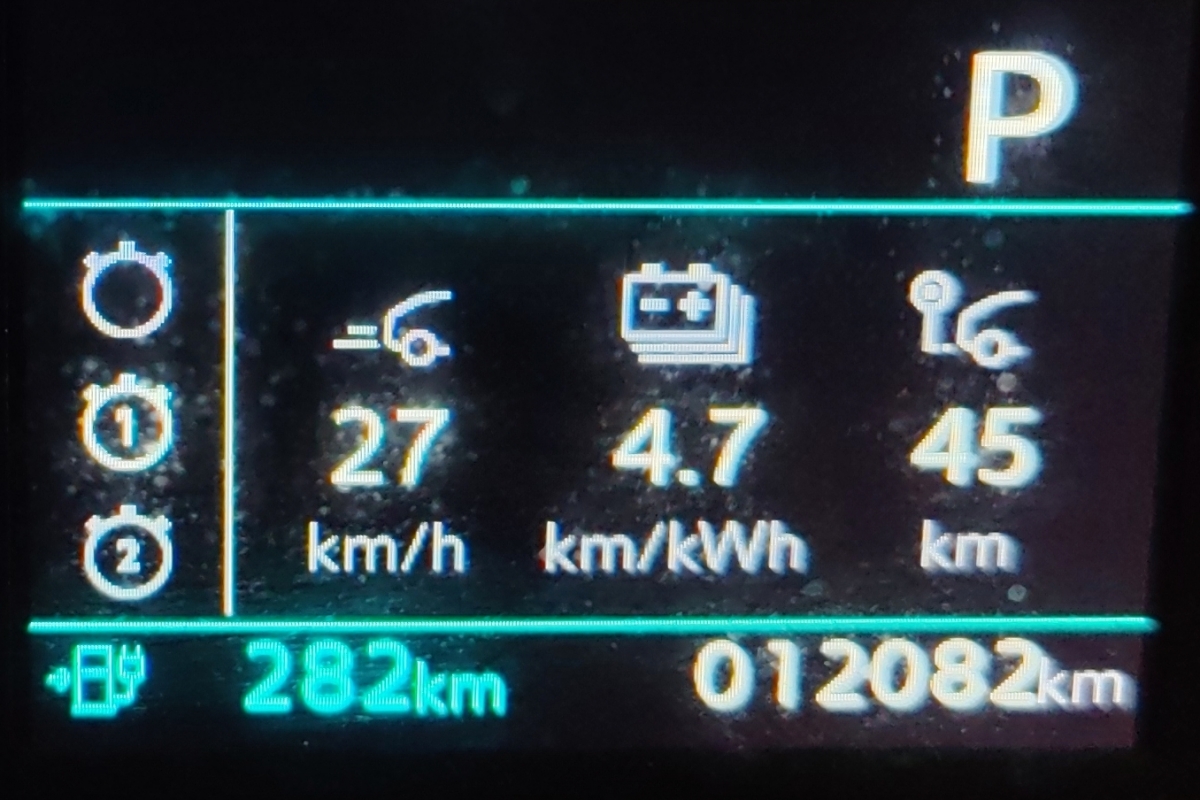 All said, and aforementioned annoyances and frustrations aside, it is painfully obvious why electric motors make sense in vehicles such as cargo vans.
Instant torque and lack of engine noise maketh a more comfortable journey, and the Citroën e-Dispatch is a comfortable van indeed. It may be basic, but it's there to get haulage work done and appears to be built to last.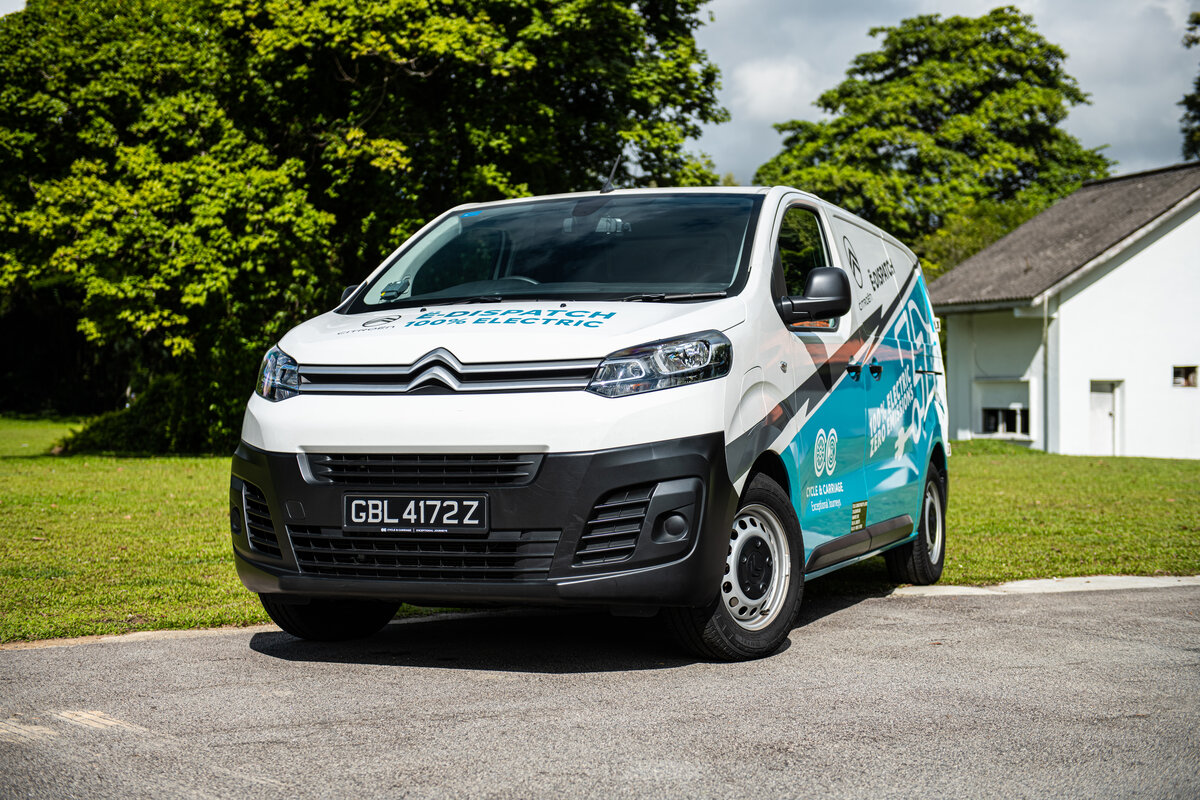 Photo Credits: Sean Loo (@auto.driven)
Technical Specifications
Citroën e-Dispatch
Power: 130hp
Torque: 260Nm
Battery: 75kW
Estimated Range (WLTP): 339km (claimed)
0-100km/h: 11.9 seconds (claimed)
Top Speed: 132km/h (claimed)
Energy Economy: 24.6kWh/100km or 4.07km/kWh (claimed)
Price: S$66,000 without COE (accurate at the time of this article)
Contact: Citroen Singapore
---
Read more automotive news at AutoApp, or check out our latest videos on Ignition Labs TV!