Ostentatious Lexus badge combined with frugal appetite for fuel maketh the NX 350h.
---
Sheldon had already reviewed this sports utility vehicle's (SUV's) "sportier sister", the Lexus NX 350 F Sport, by the time this author managed to get his mingy mitts on the NX 350h's steering wheel.
The major difference between the two lies under-hood. While the NX 350 F Sport features a 2.4-litre turbocharged inline-4 with 275hp and 430Nm of torque, Lexus has fitted the NX 350h with a larger, "highly efficient" 2.5-litre inline-4 lump, sans escargot (aka snail aka turbo). Instead, it is mated to a hybrid system, putting out a combined 240hp and 239Nm of torque. More on the "highly efficient" claim later.
Outusaido
Let's get this outta the way – that fascia is imposing – to the point where it gives the illusion, at least in this author's eyes, of a larger SUV than the NX 350h really is. Looks are subjective, so decide for yourself.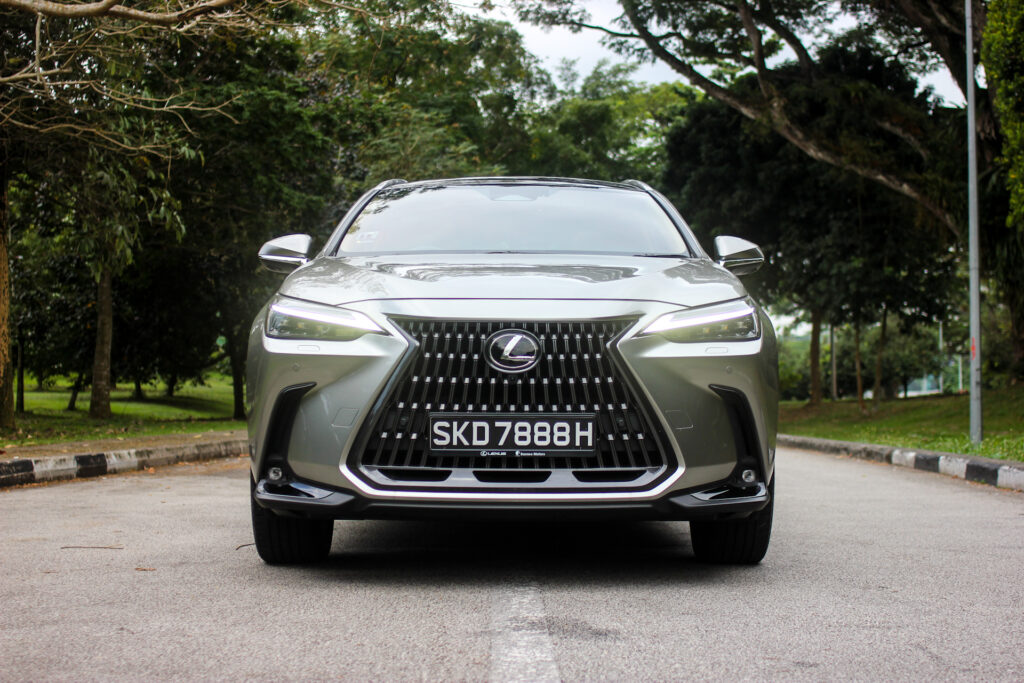 In Luxury trim, this SUV wears 20-inch rims wrapped in 235/50R20 Bridgestone Alenza 001 tyres. All well and good to enhance the NX 350h's aesthetic, but here's the rub.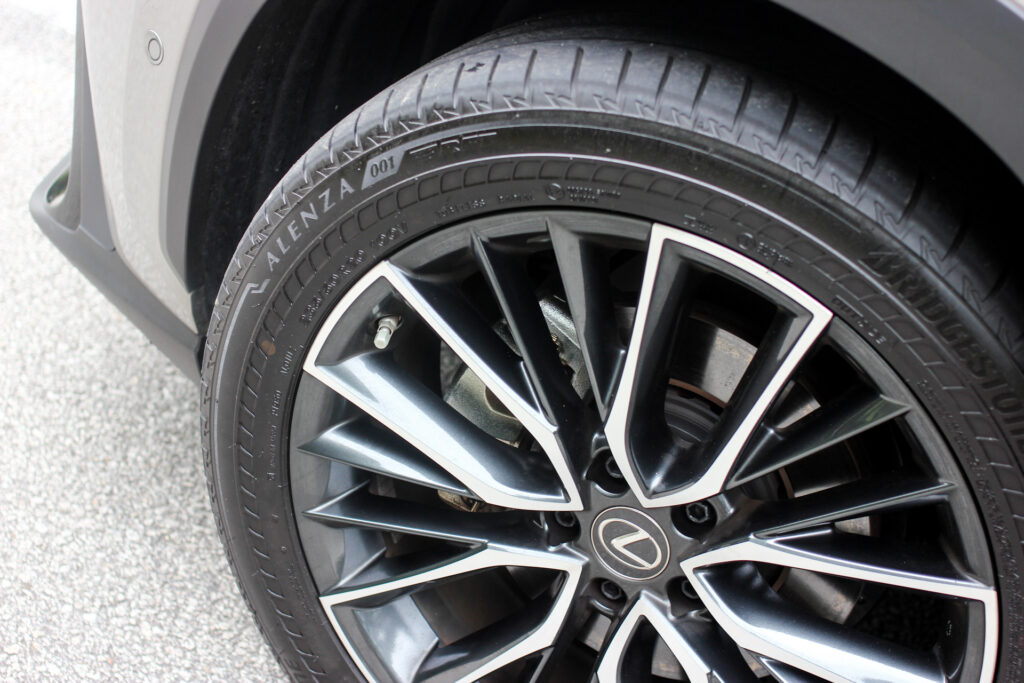 One would expect the hybrid variant's ride to be more cushy and cosseting than the F Sport, but the 20-inch setup likely leads to a slightly more fidgety ride. If it were my money, I'd ask about 'downgrading' to the Executive trim's 18-inch rims and 225/60R18 tyres instead, probably to the bewilderment of the sales executive. Thicker 60-profile sidewalls means more cushioning over road imperfections, and that would better suit this SUV's more laid-back character, especially since it comes with fixed-rate dampers instead of adaptive ones.
Round the back, the NX 350h features something that really matters for an SUV – a hands-free boot lid. Simply stick one's right foot out under the bumper and sweep left, and the boot lid opens up to reveal…
Innusaido
… 520-litres of boot space and a flat floor without load lip to seamlessly slide one's shopping and/or luggage in. Another nice touch is a pair of switches in the boot to electrically drop the rear seatbacks in a 60:40 split.
With both folded down, over 1,400-litres of carrying capacity opens up for that all-important Ikea and Giant shopping run, or to help a friend transport a set of tyres to the tyre shop.
Once load-lugging is done and dusted, the same pair of switches can be used to raise the seatbacks back into place. Nice!
Speaking of the back seat, this longer-of-limbs and shorter-of-torso 1.82-metre tall author was able to sit behind his own driving position with space to spare between his knees and the driver's seatback. Foot space was also adequate. Have a gander…
Fitting two adults in the back should be a cinch, although three might be a bit of a squeeze. Two sets of ISOFIX anchors are present for the young family's all-important baby- and/or child-seats.
A panoramic glass roof is standard-fit and exclusive to the NX 350h Luxury; Executive gets a solid metal roof, and F Sport only gets a moon roof. This, in combination with the caramel-coloured headlining and leather, helps the interior to feel much more light, spacious and airy while still remaining cool and comfortable – even under the blazing noon sun with an indicated 38ºC outdoor temperature – thanks to aircon vents in the central tunnel and dual-zone climate control. This airiness would also aid in reducing potential instances of car-sickness in the young'uns during longer road trips up north.
Both front seats are 8-way adjustable and feature heating and (HOORAY!) ventilation. The driver's seat gains memory function with 4-way adjustable lumbar support. It's sufficiently comfortable, although this author would have appreciated a little more rearward adjustment for his longer legs. Not a big deal though, because the NX 350h also features comfort entry and exit which electrically raises and retracts the steering wheel (and probably also moves the driver's seat rearward, which didn't happen for this author since it was already adjusted fully rearward) to enable easier ingress and egress.
The instrument cluster and infotainment screens are clear and well laid out, although functionality takes a little getting used to. A head-up display (HUD) also comes standard and offers sufficient information, including data for adaptive cruise control. Yep, the latter is standard fit.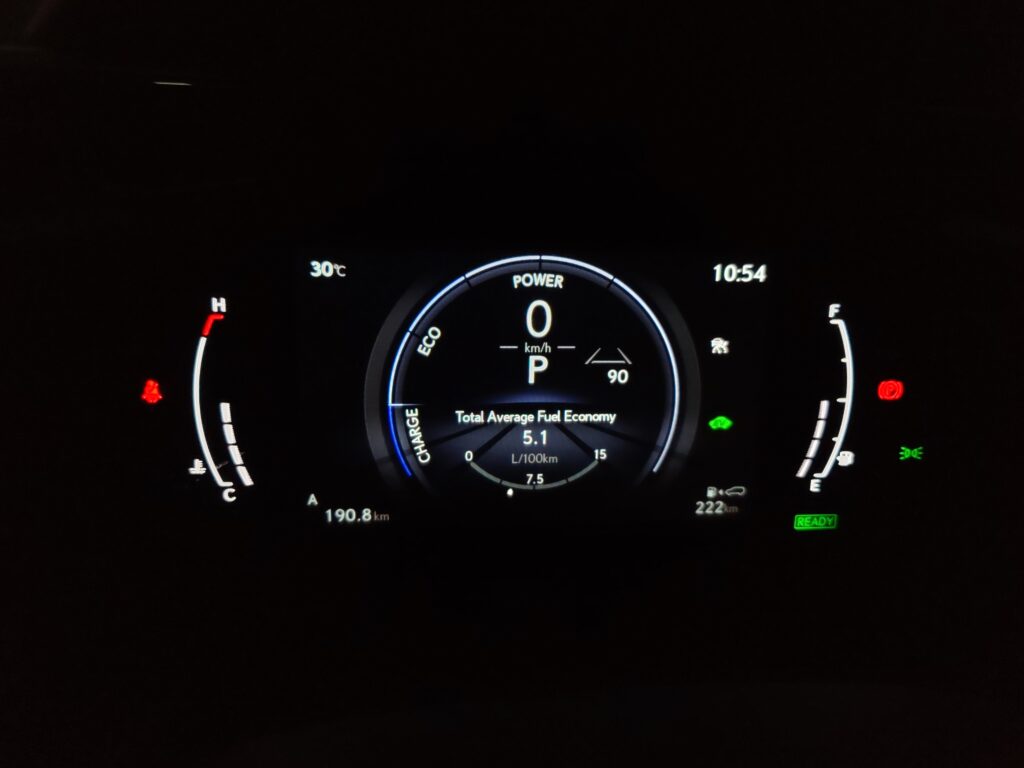 Doraibingu
On the move, the NX 350h takes in stride pretty much everything the daily-drive can throw at it, and laps up the miles in relative comfort, albeit with the aforementioned slightly fidgety ride. However, press on the throttle a little more and that 4-pot 2.5-litre engine can moo quite audibly, not helped by the continuously variable transmission's (CVT's) rubber-band effect of holding engine revs higher while road speed catches up. A little more sound insulation would have gone some ways toward making the NX 350h feel like it's more worthy of the coveted Lexus badge. Road and wind noise are pretty well muted though.
This SUV features all-wheel drive, although not in the traditional way. The engine and an electric motor power the front wheels, while another electric motor powers the rears and comes into play on-demand during a more purposeful take-off from a stop or when more traction is needed in curves and corners. The latter manifested itself as a slightly disconnected feeling while traversing the curving up-ramp at Carros Centre, and felt like the rear-end had kind of a different idea from the front wheels. No matter though, since this is a hybrid SUV that would likely be driven rather sedately, so most people wouldn't notice this characteristic.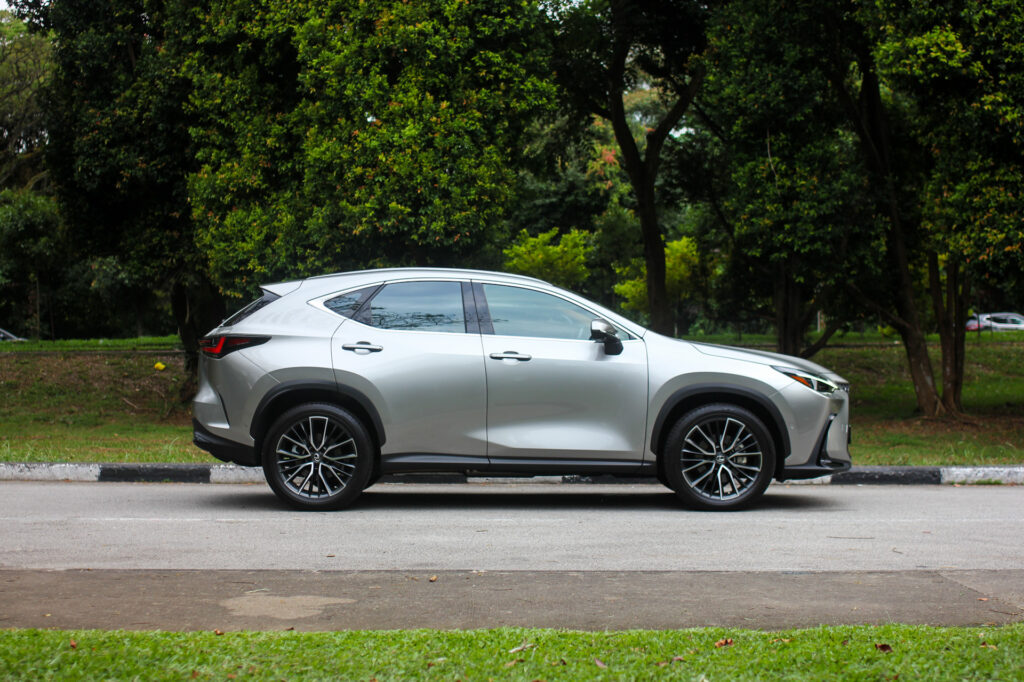 When coming to a stop at a set of traffic lights or a junction, the infotainment screen switches to 360º and frontal views. This is nice, in that one can see potential obstacles in front of, to the front-sides and around the car before moving off. However, it's also very annoying in that this screen pops up every time the NX 350h slows almost to a stop, and needs to be dismissed via the X at the top-right corner when sat still in traffic – we couldn't find a way to disable this system.
What's also annoying is that certain infotainment functions, such as navigation, cannot be operated on the move, even by the front passenger! C'mon Lexus! Enough nannying already!
Another minor annoyance manifested itself while negotiating curves and corners. This author's 6.7-inch OnePlus 9 Pro Android phone clad in a grippy sandstone case slid around on the wireless charging pad, lost contact with the charging coil and had to be re-positioned, just like Sheldon's 6.7-inch iPhone 12 Pro Max in the NX 350 F Sport. Lexus needs to trim the wireless charging pad in a grippier material for sure. However, wireless charging itself appeared to work well when the phone was in place. Apple CarPlay and Android Auto are part of the NX 350h's infotainment system, although neither of these were used during this relatively-brief test drive.
The NX 350h's adaptive cruise control works well for the most part, but tends to keep a larger following distance to the car in front in heavier traffic even with the follow-distance set to minimum. This necessitates manual intervention via the accelerator to keep up with traffic, and adaptive-cruise resumes once pressure on the accelerator pedal is removed. However, the system did alarmingly slow the SUV down a couple of times in clear highway traffic while negotiating curves, and manual intervention via the accelerator was once again needed. Turn Lane Tracing Assist (LTA) on and the SUV automatically steers to keep itself in lane but lane changes need manual steering with the appropriate turn signal activated, and will not change lanes by itself unlike some other adaptive cruise control systems.
Goingu Green
Usually, this author does the pure-street portion of the test drive before the mostly-highway route. Due to a truncated timetable and logistical constraints, things had to be done the other way round instead.
Over a mostly-highway route of 190.8km, the nearly 1.8-ton NX 350h averaged 5.1-litres/100km or 19.6km/l at an average speed of 72km/h with adaptive cruise control set to triple-digits for most of the drive.
Upon first glance, this author initially felt a little unimpressed with this fuel economy figure because a similar number (5.3-litres/100km) was seen with the larger 1.9-ton Hyundai Santa Fe Hybrid. However, the next day's pure street route would bring more context to the numbers.
Covering 76.5km at an average street-only speed of 32km/h, the NX 350h managed a very-surprising 5.2-litres/100km or 19.2km/l – literally a decimal place's difference with the previous night's mostly-highway route!
A clue as to why this is so comes courtesy of a little green 'EV' indicator on the instrument cluster…
…that shows when the internal combustion engine shuts down and the NX 350h runs purely on electricity. At street speeds and while sitting at traffic lights, this "EV mode" changeover happens more often. Less so on the highway, especially at triple-digit speeds where it rarely occurs. The energy flow diagram in the infotainment screen confirmed this.
What this essentially means is that the 2.5-litre engine is indeed highly efficient. Lexus claim fuel economy of 5-litres/100km or 20km/l. That this rather lead-footed author was able to get within a hair's breadth of said figure by simply driving a bit more smoothly than usual stands testament to how efficiently Lexus' engineers have tuned the NX 350h's powertrain.
That said, when this SUV was first collected, the fuel economy figure from previous drivers stood at over 9-litres/100km, meaning its frugality really depends on how the NX 350h is driven. One needn't drive like a seasoned hypermiler, but one shouldn't drive as though on the cusp of the explosive-exodus end of a Code Brown emergency either. Hence the obligatory "your mileage may vary" disclaimer still applies. A couple of squirts here and there to get up to speed didn't appear to hurt fuel economy.
All things considered…
…there is much to like about this SUV. Given that it's a Lexus, you know that it will be reliable. Minor quirks and some annoyances aside, it is relatively quiet, comfortable, airy, pretty spacious and rather luxuriously utilitarian. In this day and age of increasingly insane fuel prices, and when one just needs journeys to be completed competently, it's hard to beat the NX 350h's ostentatious frugality.
Technical Specifications
Lexus NX 350h Luxury
Engine: 2,487cc in-line 4, hybrid
Power: 240hp
Torque: 239Nm @ 4,300 – 4,500rpm
Gearbox: CVT, part-time 4WD
0-100km/h: 7.7 seconds
Price: S$319,800 with COE (accurate at the time of this article)
Contact: Lexus Singapore
---
Enjoyed this review? Check out more of them here!