Looking for tasty food and good eats, and don't mind travelling a bit? Here's five far-flung makan places you don't want to miss!
---
Singapore's not anywhere near what you'd call big, considering it only takes 45-minutes or less to drive from one end of the island to the other. However, our small land area means that food and eating establishments are typically crammed into densely populated areas – think Tiong Bahru, or Upper Thomson.
With this whole COVID-19 situation going on, everything's a bit uncertain, and the government recommends maintaining a safe distance between each other. As such, there's no better time to explore some ulu restaurants and cafes, away from the crowd. Also, with their far-flung locations, you'll be sure to get great views!
#1 | The Bark Cafe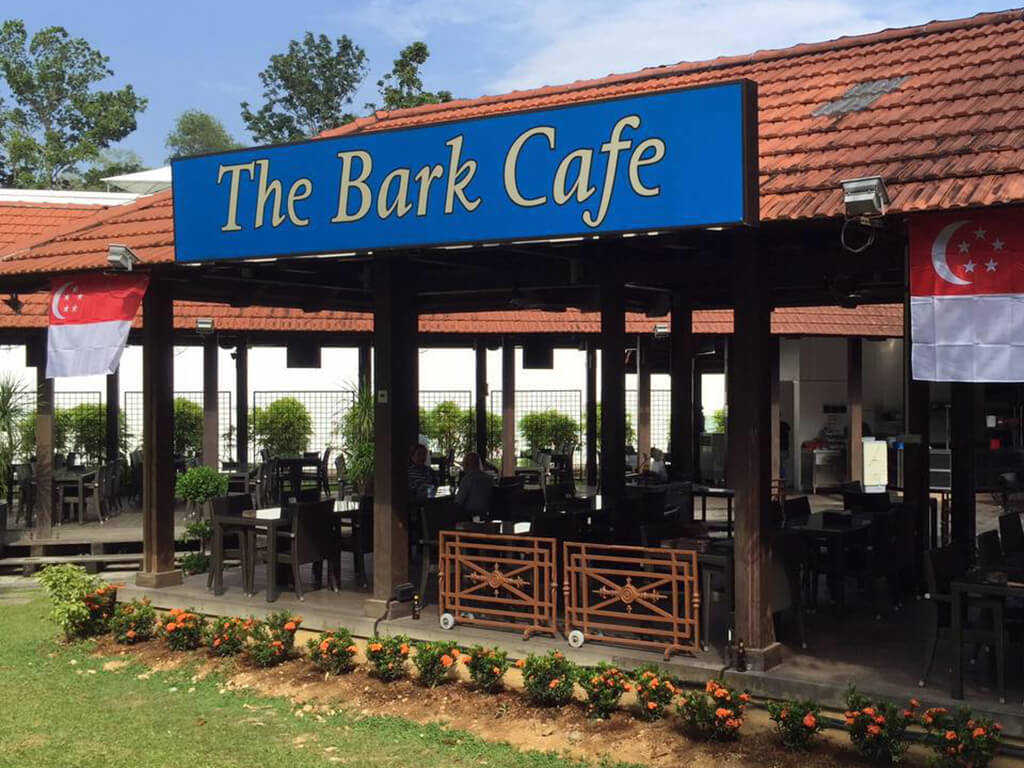 Away from the hustle and bustle of the city is The Bark Cafe, located at the Changi Chapel & Museum and set amidst relaxing greenery. The large alfresco dining area with rattan furniture is well ventilated and has a great resort vibe.
The menu offers both Asian and Western food options. Despite prices being on the higher side, they offer decent value for money, thanks to the large serving portions. Their Signature Chicken Wings are a must-try, and diners also rave about their Chicken Fajitas.
A good time to pop by is on weekends from Friday to Sunday. Sip on the range of beers available on tap and be entertained by a live band who'll serenade you with both English and Mandarin tunes!
Address: 1000 Upper Changi Road North, Singapore 507707
Opening Hours: Monday to Thursday 11:00am – 1:00am, Friday & Saturday 11:00am – 2:00am, Sunday 11:00am – 1:00am
Parking: Free parking on-site
#2 | 555 Villa Thai
Love Thai food and watching planes take off? Located right next to the Changi Airport runway is 555 Villa Thai, where you can satisfy your cravings for Siamese cuisine while hearing the roar of jet engines as they power down Runway 1 at full chat.
555 Villa Thai has been decorated to mimic a Thai eatery, down to the tuk tuk parked at the corner. As you tuck into Mookata and Tom Yum Soup, you're sure to feel like you're in Bangkok! Most diners order the Mookata, which is served as a tray of fresh seafood and marinated meats accompanied by a UFO-shaped charcoal grill.
A live band plays Thai, English and Mandarin tunes nightly from 7pm, adding to the atmosphere till well past midnight.
Address: 30 Cosford Road, Singapore 499550
Opening Hours: Sunday to Thursday 5:00pm – 1:00am, Friday to Saturday 5:00pm – 2:00am
Parking: Free parking on-site
#3 | Soek Seng 1954 Bicycle Cafe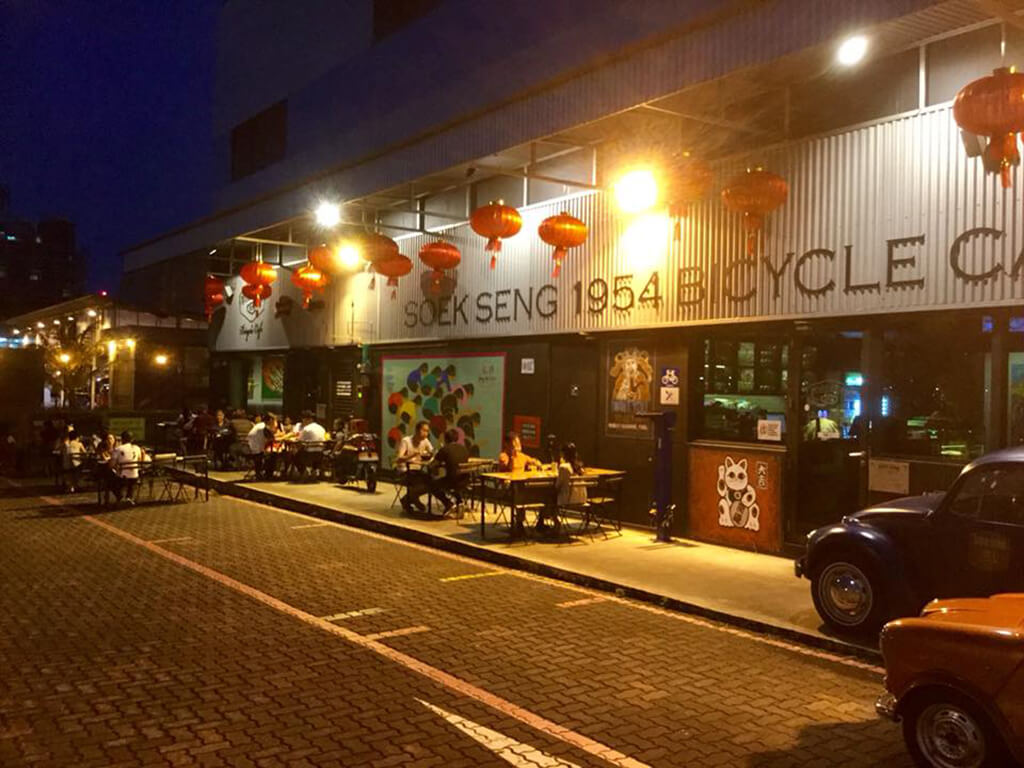 Themed cafes are all the rage these days, but did you know that Singapore has a bicycle themed cafe? As the name suggests, Soek Seng 1954 Bicycle Cafe is just that. It's also one of Singapore's most ulu cafes (we're not kidding – it's almost a kilometre from the nearest bus stop!), located in Seletar Aerospace Park.
Run by Mr Poon Kng Joo, 64, the avid cyclist has decked out his cafe in stunning Instagrammable decor that caters to the cafe crowd, yet unites it with his passion for bicycles. All the bicycles you see here have been single-handedly restored by Mr Poon and are in perfect working condition!
With your camera satisfied by the bicycles on display, satiate your stomachs too with hearty comfort food across a range of cuisines from Malay to Japanese. We've heard that the Katsu Curry and Chicken Chop here are must-trys!
Address: 80 Seletar Aerospace View, Singapore 797563
Opening Hours: Tuesday to Sunday 10:00am – 10:00pm
Parking: Free parking on-site
#4 | Woody Family Cafe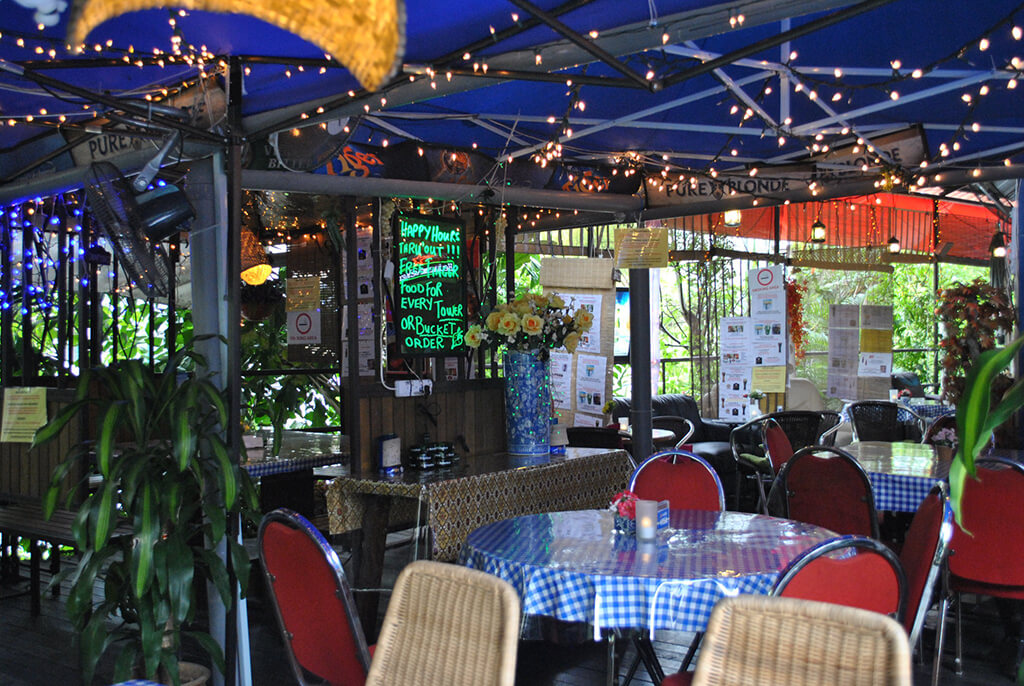 Tucked in the middle of a Sembawang housing estate, locating Woody Family Cafe feels like you're embarking on an expedition. Once you turn off Sembawang Road into Andrews Avenue, however, it's hard to miss. Trees and plants cover the front of the restaurant, making it stand out amongst the slab sided residential properties.
Given the intriguing exterior decorations, you'd expect it to be equally quirky inside – and you're not wrong. Walking into the cafe, you'll notice red, blue and green-hued coloured lights, with knickknacks and posters of musicians from yesteryear adorning the walls from top to bottom.
Many of the dishes at Woody Family Cafe are traditional Peranakan recipes passed down from the owner Jenny's mother. Jenny has then reimagined them, while retaining its unmistakable Peranakan flavour. Must-try dishes include the Garam Assam Pork Knuckles, and Buffalo Wings in varying levels of spiciness.
Address: 12F Andrews Avenue, Singapore 759930
Opening Hours: Daily 12:30pm to 12:00am
Parking: Free street parking
#5 | Bollywood Veggies – Poison Ivy Bistro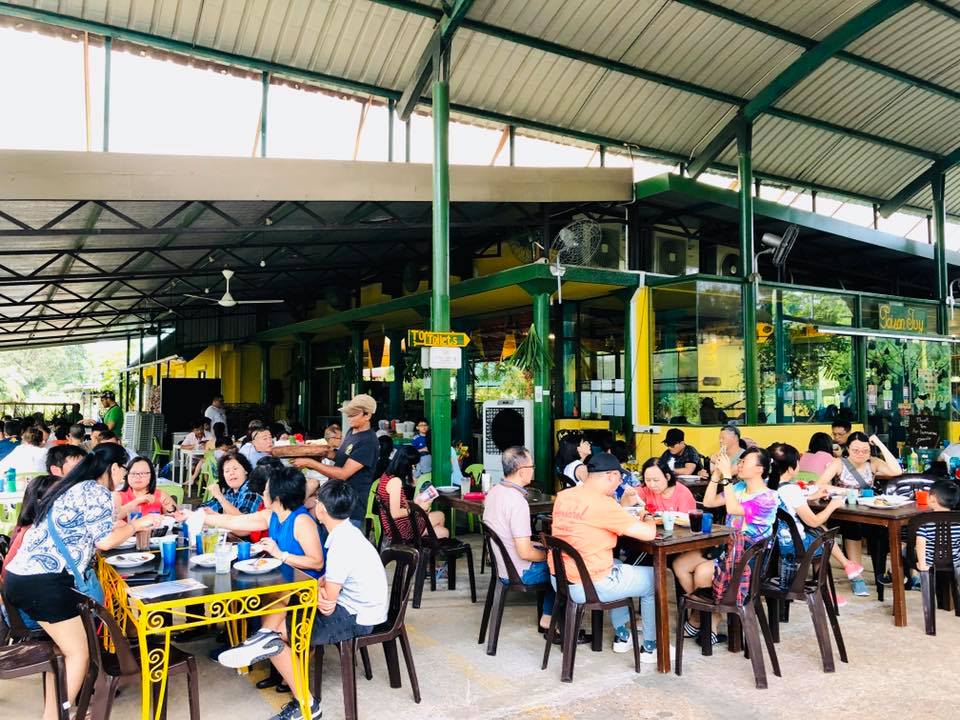 In this urban jungle we call home, there isn't really much we can consider a "countryside" – our constant quest for development results in construction on every inch of space we can find. However, there's still a small slice of the backwoods, up in the north-west corner of Singapore.
This area is Kranji Countryside, and in the middle of it is Bollywood Veggies, an organic vegetable farm. What's interesting is that it's not just a farm, but has a cafe called the Poison Ivy Bistro, that serves up farm-to-table local and fusion food with a healthier twist. At Poison Ivy, there's no MSG, less salt, and they use as much locally obtained ingredients as possible!
For the adventurous, try dishes you won't find elsewhere such as Banana Curry and Moringa Tempura. If you'd like something a bit more conventional, there's the Nasi Lemak Platter served with blue pea rice, and Otah Omelette which is delightfully fluffy.
Address: 100 Neo Tiew Road, Singapore 719026
Opening Hours: Wednesday to Friday 8:00am – 5:00pm, Saturday, Sunday & Public Holidays 8:00am – 6:00pm
Parking: Free parking on-site
---
Still prefer to eat in? Here's our list of the easiest takeaways in Singapore!
Find out more about AutoApp's services – our app is now live!