Janis Joplin would probably approve of the EQE 350+ with glee from Heaven above
---
I will openly admit to being pretty nonchalant when the opportunity to share a test-drive of the EQE 350+ with Sheldon was presented. Having read and watched multiple reviews of the EQS, I wasn't exactly thrilled to partake in an EQ-product review.
You know that saying about how one should NOT judge a book by its sibling cover? Mmmm hmmm…
The day arrived when Sheldon showed up at my driveway in the EQE 350+. I couldn't help but pull a Jonathan-impersonation, with the first words out of my mouth being, "it looks like a fish. Good thing it's not silver, or it'd be a silverfish!", accompanied by an pseudo-evil creepy-leery smirk, the type that one would be highly tempted to slap 73 different kinds of stupid out of.
Sheldon groaned. Then we proceeded to the photoshoot.
The Mercedes-Benz EQE 350+ AMG Line is the tri-point star brand's answer to mid-range luxury. Unique to Singapore's market though, it pretty much sits on its own. The Tesla Model S, its natural albeit less-luxurious rival, is not available here, and its nearest price-competitor, the Audi e-tron GT is a lower-slung two-door coupe. So, by some weird twist of fate, the EQE 350+ kinda sorta finds itself going up against its big-brother EQS in Singapore.
Die Außenseite
There's no mistaking it. The EQE 350+ is big. B-I-G-G. Its nearly 5-metre length takes up a normal parking spot lengthwise, and then some. Parked next to other sedans and wagons at an open carpark, its bright white roofline could clearly be seen from a distance, since it towers around 1.5-metres above ground level. The curvy and flowing lines of the bodywork further accentuate this perception of 'bigness.'
Even the rims are huge – a little too huge in my opinion. 21-inch rims wear 255/35R21 and 285/30R21 Pirelli P Zero tyres fore and aft, and while they do a bang-up job of being quiet on the cruise and grippy in wet bends, the tyres' ultra-low profile nature likely contributes to sharper jolts being transmitted into the cabin despite standard-fit air suspension. 20-inch items would probably have alleviated this to a rather good degree. The 21s look damn good though, and that's probably why they were fitted in the first place. Also, likely because this is an AMG Line trim.
The EQE 350+'s boot space of 430-litres with the seats up is adequate, but would have been made more accessible for loading and unloading if the bootlid had been a liftback instead like the Tesla Model S. The boot is quite deep though. Drop the 40:20:40 split-folding rear seatbacks and 895-litres of luggage capacity opens up. Again, adequate, considering the EQE 350+ is neither a wagon nor estate.
Das Innere
Pretty much everything inside this EQE 350+ is cream-coloured. The seats, steering wheel, lower fascia, door panels, carpet, mats and headlining are all cream. This is mostly fine, except the floor mats, which showed up pre-stained, and would have been better off in dark grey or black or even dark-chocolate brown. The cream-coloured interior also helps to lift the perception of spaciousness quite a lot. Tack on an optional $8,100 panoramic sunroof and the sky would literally be the limit, and in my estimation, a must-have addition.
The front seats are comfortable, supportive and ergonomic, and offer myriad adjustments. There's a seat kinetics program within the infotainment system, which Mercedes-Benz calls "Energizing Comfort", that moves the front seats about minutely to promote better blood-flow while on the road. It worked quite well in the absence of massaging functions, the latter which I assume might be part of a $4,100 "Climatised front seats" option. Even the steering adjustment for reach and rake is electric. 1.82-metre tall longer-of-limbs and shorter-of-torso yours-truly was able to find an ideal seating position quite easily.
Once settled in, however, the view out the rear windscreen was quite limited due to its steep rake. Out on the road, I could clearly see the headlights of cars behind, but didn't realize that they were actually taxis until I looked in the wing mirrors because their rooflines were obscured. This isn't just a Mercedes-Benz issue, with more automotive manufacturers doing similar things. If aesthetic considerations dictate the use of a steeply-raked rear windscreen, a high-definition camera-fed interior rear-view mirror should be made available. Just sayin'.
Door pockets in the front could hold my 710ml water bottle with ease, and seat controls are conveniently and ergonomically located on the doors. This means adjustability without having to hunt by feel for the controls down at the bottom-side of the seat, which is nice.
Sitting behind my driving position was a cinch, with loads of knee room and sufficient foot space. The lower part of the driver's seatback being padded meant that I could stretch my feet out under the driver's seat without the risk of sore shins. However, the raised floor meant that my knees were pretty much at chest level when sat in the rear.
The party piece (see what I did there?) of the EQE 350+'s interior, and many modern-day Mercs for that matter, is the ambient lighting. Just take a look: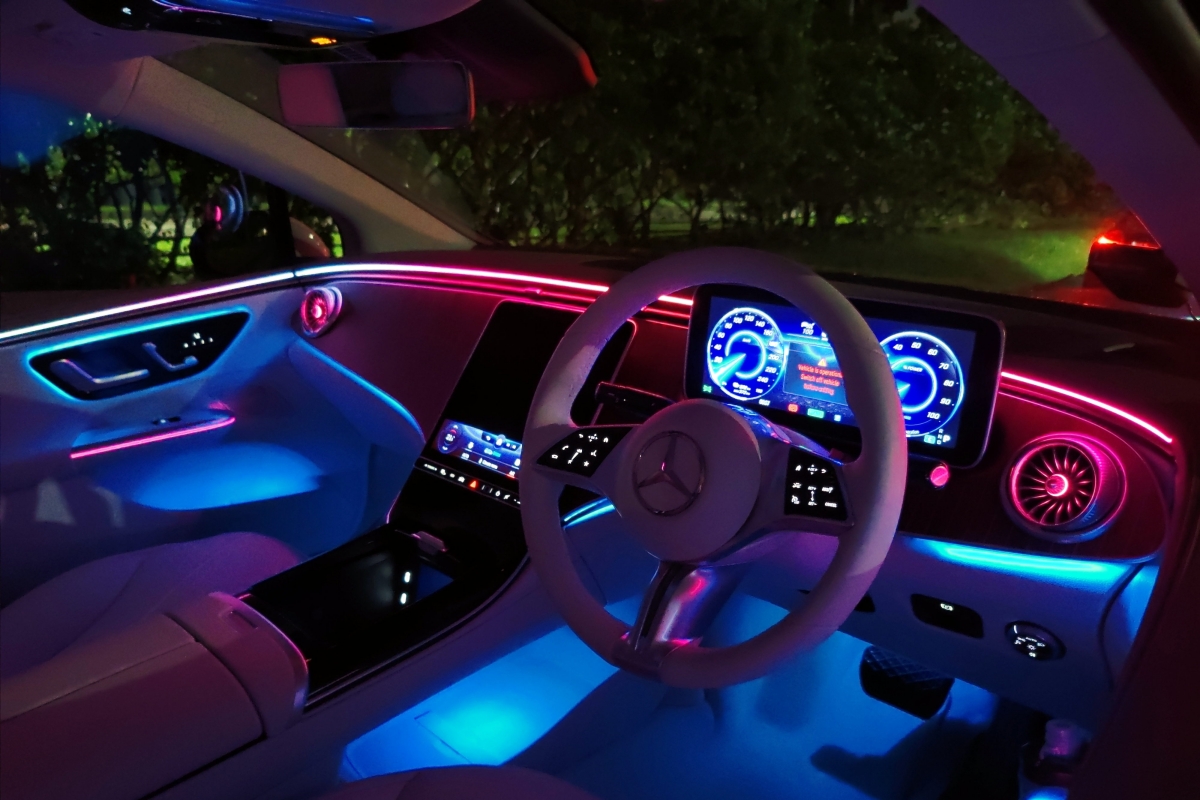 With 64 choices, one can fine-tune the colours to their personal preference. Also, these are active ambient lights, with those in the doors turning red and pulsing when the blind-spot monitor activates, and those in the dashboard changing colour when the dual-zone climate control is adjusted. Speaking of the latter, if one would more frequently be ferrying passengers in the rear, then perhaps the optional $3,600 four-zone climate control system would be a better fit.
Adjusting the touchscreen-based aircon controls is okay. Not great, like physical knobs and buttons, but just okay. The controls occupy a dedicated lower-quarter of the screen. Things can be a little hit-or-miss on the move but for the most part, it works. The same cannot be said, however, for the touch-sensitive controls on the steering wheel, which appear to be based on capacitive-technology similar to that used in Blackberry phones from the late 2000s. Remember the black square where the little trackball once was? I had one of those Blackberrys. Listen Mercedes-Benz, it didn't work well back then, and it still doesn't work properly today.
Skipping ahead to the next track on one's playlist entails swiping right on the top-left pad on the left spoke. And so ensued the "swipe-swipe-swipe-swipe-AARGHH!!!-swipe-swipe-AARGHHH!!!-use-phone-to-advance-track-GRRRR!!!!" episode on more than one occasion. Same with the swipe-to-adjust volume control which tends to overshoot or undershoot the desired volume level frequently, and I resorted to using the volume control buttons just below the infotainment screen instead. What was SO wrong with physical buttons, toggle-levers and/or thumbwheels in the first place? The whole point of steering-mounted controls is to help one keep eyes on the road and hands on the steering wheel for more of the time, but this capacitive-touch implementation, in my experience, promotes the exact opposite and adds unnecessary frustration to an otherwise wonderful driving experience.
No frustration, however, with the implementation of the gear-selector and indicator-wiper stalks. At first glance, they may appear unintuitive, but in actuality, they are very easy to get accustomed to and things become second nature within the first couple hours of driving.
Die Fahrt
And so, we smoothly segue to the driving portion. I promise, despite what the subheading looks like, no breaking of wind occurred inside the EQE 350+ during the making of this review. Actually, there's no breaking of anything noisily-untoward whilst on the move. The car is nicely insulated and road and wind noises are kept at bay just enough to offer the bare-minimum sensation of speed for the driver, which is essential.
Most of the review was done in Comfort mode, where the air suspension slackens off and lets the EQE 350+ glide down the road for the most part, with only sharper jolts being felt as mentioned earlier. Transitioning from a straight road into a bend while maintaining the same speed saw the car lean over first and then actively tighten its suspension to offer better cornering agility. This agility is also helped by rear-steer, which turns the rear wheels in the opposite direction to the fronts during low-speed manoeuvring and in the same direction at higher speeds, thereby offering a tighter turning circle in carparks and greater stability on curved highway on- and off-ramps. Taking corners with vicious abandon is NOT the raison d'être of this car, so "sit back and chillax" is the way to do things here.
Helping greatly with the 'chillax' part is the optional $5,900 Burmester surround sound system, fitted to the press car, that can play clear and loud. Due to the truncated and hectic test schedule, only Bluetooth streaming of CD-ripped FLAC music files was tested, but even then, the varied selection of genres were crisp and staged well. One could relatively easily change the sound-stage focus from surround-sound to front-occupants to driver-only using the respective touchscreen slider, and the differences are blatant. Never once did I find my hearing becoming fatigued even when playing loud, and it was a very enjoyable experience.
The built-in navigation system works well and is easy to operate. However, I couldn't figure out how to adjust the navigation volume and had to resort to issuing multiple voice commands to increase said volume. "Hey Mercedes, set navigation volume to maximum" did not work. When the nav-volume slider was on screen and while attempting to slide it across to max, it auto-reverted to entertainment volume and the interior was blasted with Gold 90.5FM instead. That said, this could very well be a me-problem.
Once the destination is set though, the instructions are timely and aided by augmented reality on the infotainment screen, and the main instrument cluster if the Navigation screen-style is selected. Arrows point in the direction of turns while the front camera turns on to clearly show where to go. And if one prefers to stick with the navigation apps in their smartphones, wireless Apple CarPlay and Android Auto are available.
So where does one go from here? Energy economy testing, of course. During a 79km pure-street drive, the EQE 350+ consumed 17.8kWh/100km or 5.62km/kWh. Whilst on a 205km mostly-highway run with the adaptive cruise control set to triple digits, the consumption was JUST one decimal place higher at 17.9kWh/100km, or 5.59km/kWh, which also turned out to be the overall test-drive average over 328km and bettered Mercedes-Benz's claimed 18.4kWh/100km or 5.43km/kWh. Considering this large car weighs nearly 2.4 tons but sports a drag coefficient of just 0.22Cd, that is mighty impressive! As usual, the standard "your mileage may vary" disclaimer applies.
The battery itself has a useable capacity of 90.6kW, which means more convenience with around 500km of real-world range in between charges. What's more impressive is the way it charges. We had a team Christmas dinner, and the EQE 350+ was set to charge from 58% at a 100kW DC charger in a nearby multi-storey carpark. Only 46 minutes into the festivities, my phone issued a notification from the app which claimed that charging had been completed and to disconnect and move the car within 15 minutes. Thinking surely this could not be, I headed to the carpark only to find that the battery had indeed been fully charged! The EQE is capable of charging at up to 170kW DC, and as our own test has shown, a quick top-up during a spot of shopping or dinner is very possible.
I'm glad that my initial nonchalance did not rule out giving the EQE 350+ a try. It drives and rides well, most of its functions work well and it cocoons its relaxed occupants in the lap of luxury. It certainly makes a strong and compelling case for itself in the world of luxury electric vehicles (EVs). If any of my friends were to ask for an EV recommendation in this segment, I wouldn't hesitate to point them in the direction of the EQE 350+ – with the stated proviso of reading this article first.
In fact, to put it another way, I've requested to have a go in the EQE 43 AMG when it becomes available. If I'd majorly disliked the entry-point that the EQE 350+ represents, this request would not have been made.
This article first appeared on Burnpavement.com in December 2022.
Technical Specifications
Mercedes-Benz EQE 350+ AMG Line
Power: 292hp
Torque: 565Nm
Top Speed: 210km/h (claimed)
0-100km/h: 6.4 seconds (claimed)
Power Consumption (claimed): 18.4kWh/100km
Battery Capacity (useable): 90.6kW
Max. DC Charge Rate: 170kW
Max. AC Charge Rate: 11kW
VES Band: A1 (S$25,000 rebate)
Price: from S$451,888 with COE (accurate at the time of article)
Contact: Mercedes-Benz Singapore
---
Read more automotive news at AutoApp, or check out our latest videos on Ignition Labs TV!