The Škoda Enyaq isn't just a re-skinned Volkswagen ID.4; it's much more than that.
---
If you've read our Volkswagen ID.4 first drive article, I won't blame you for thinking that Škoda's first dedicated EV, the Enyaq, is nothing more than a Volkswagen ID.4 in a different suit.
And you're not wrong either. Both are built on Volkswagen's MEB (Modular Electric Drive Matrix) platform and use the exact same electric powertrain. Think of it as more of non-identical twins kinda deal.
But, that's where the similarity ends. Despite being identical underneath, Škoda has taken liberty and done its own unique spin on the model. In some areas, I dare say it even trumps its German sibling.
At first glance, you might mistake the Enyaq for another Škoda model, with its unmistakable Škoda resemblance peeking through the "camouflage" wrap. The familiar headlights, grille, and taillights are all traits that keep it quintessentially Czech.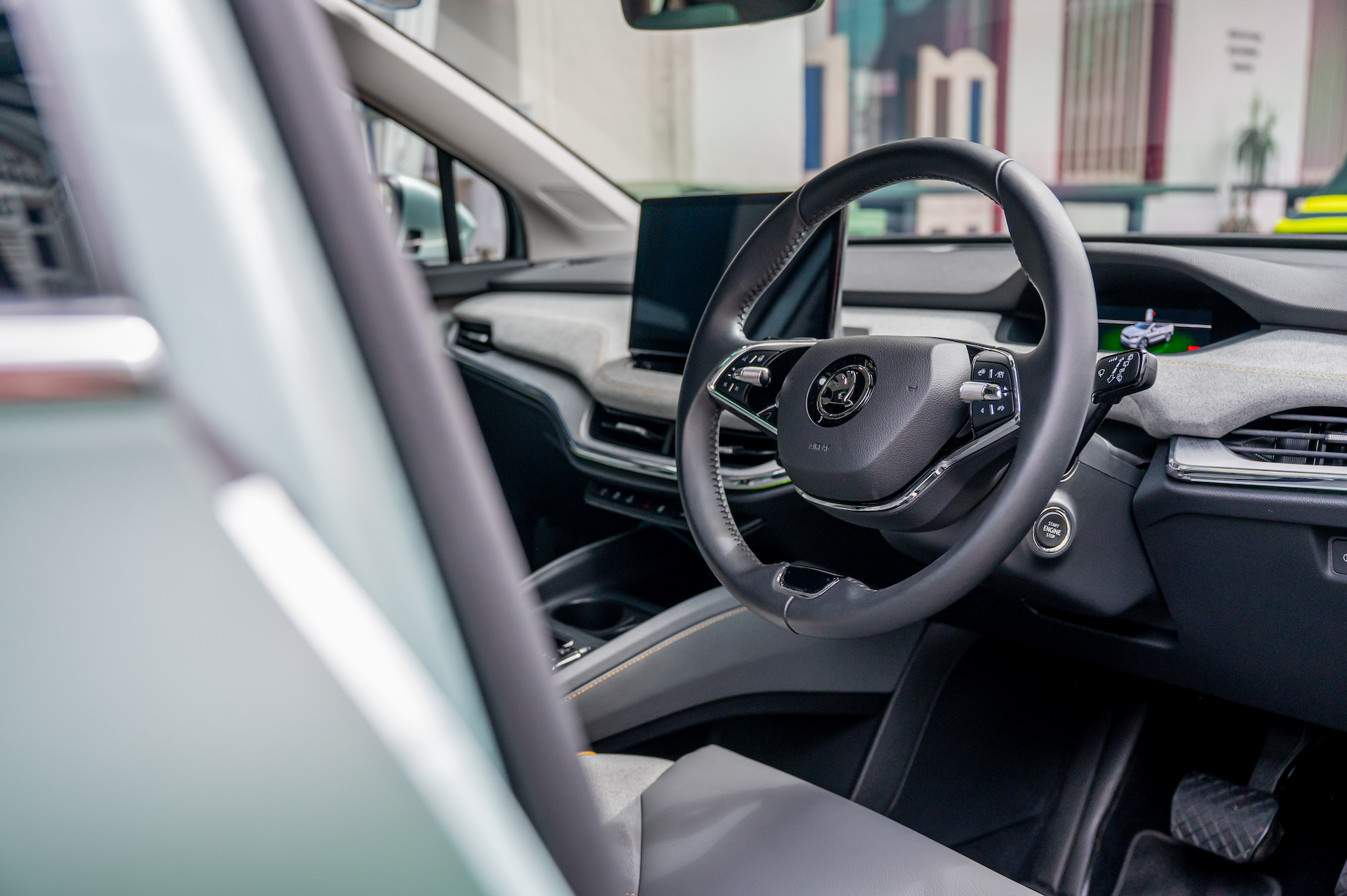 Where it differs is the inside, where the Enyaq's cabin is radically different from Škoda's current range.
Personally, I would have liked a slightly larger instrument cluster, but it gives the dashboard a cleaner look overall. A significantly larger 13-inch touchscreen infotainment screen now dominates the middle, and many of the buttons and switches you've come to know and love from the latest Škoda models also find their home in the Enyaq.
Where the Enyaq shines is its use of soft materials throughout the cabin. The suede/fabric trim adorning the dashboard and door cards elevates the Enyaq's ambiance to a more luxurious level compared to the predominantly hard plastic interior of the Volkswagen ID.4.
Rear passengers get a flat floor, and with a generous 2,765mm wheelbase, ample legroom is available, ensuring no awkward leg jousting from the middle occupant. If you exclude the middle guy, a handy removable floor tray adds extra cubby slots.
The Enyaq also boasts 585 litres of boot space, expandable to a capacious 1,710 litres with the backrests folded.
Underneath the hood, or rather, beneath the electric vehicle's sleek exterior, both the Enyaq and ID.4 share the same powertrain. An electric motor mounted on the rear axle generates 201bhp (150kW) and a substantial 310Nm of torque. Fueling this electrifying performance is a 77kWh (nett) lithium-ion battery, providing a commendable 532km of driving range, as Škoda claims.
The Enyaq's power delivery is smooth and effortless, allowing it to rock the century sprint in a decent 8.7 seconds. While not necessarily breaking records for the speed enthusiasts among us, it's the ideal runabout for those seeking a spirited yet gentle driving experience.
Although, the Enyaq's braking system does take some time to get used to, requiring a deeper pedal press before you feel the pads bite. Ride comfort could also be improved in some areas. Whilst not in any dire circumstance, harsh jolts in the road can send feedback into the cabin.
Like what you see? The Škoda Enyaq is set to arrive in Q1 2024, and it's likely to carry a more affordable price tag than its sister, the ID.4. With both models coexisting, the Enyaq might just prove to be the more compelling choice for customers, barring any notable differences in specifications.
Photo credits: Škoda Singapore
---
Read more automotive news at AutoApp, or check out our latest videos on Ignition Labs TV!