The Volkswagen ID.4 is Singapore's first taste into the world of das elektroauto.
---
Before we rev up the engine, or rather, juice up the batteries, let's set the stage. The ID.4 is the SUV cousin of the ID.3, and it's no secret that within the VW Group's electric family tree, this one's expected to be the best-seller worldwide.
So, the pressure's on for this electric city runabout.
Under the sleek hood of the ID.4 lies VW's specially designed electric platform, the MEB. And with this platform, you've got options; you can have it with rear-wheel drive (RWD) or go all-in with all-wheel drive (AWD). Plus, there are two battery sizes currently available in other territories: a 52kWh version and a beefier 77kWh one. 
The unit pictured here is an AWD variant with the chunkier 77kWh powerbank, but it's worth noting that even though I am running around town with it, prospective customers might receive a slightly different variant come 2024.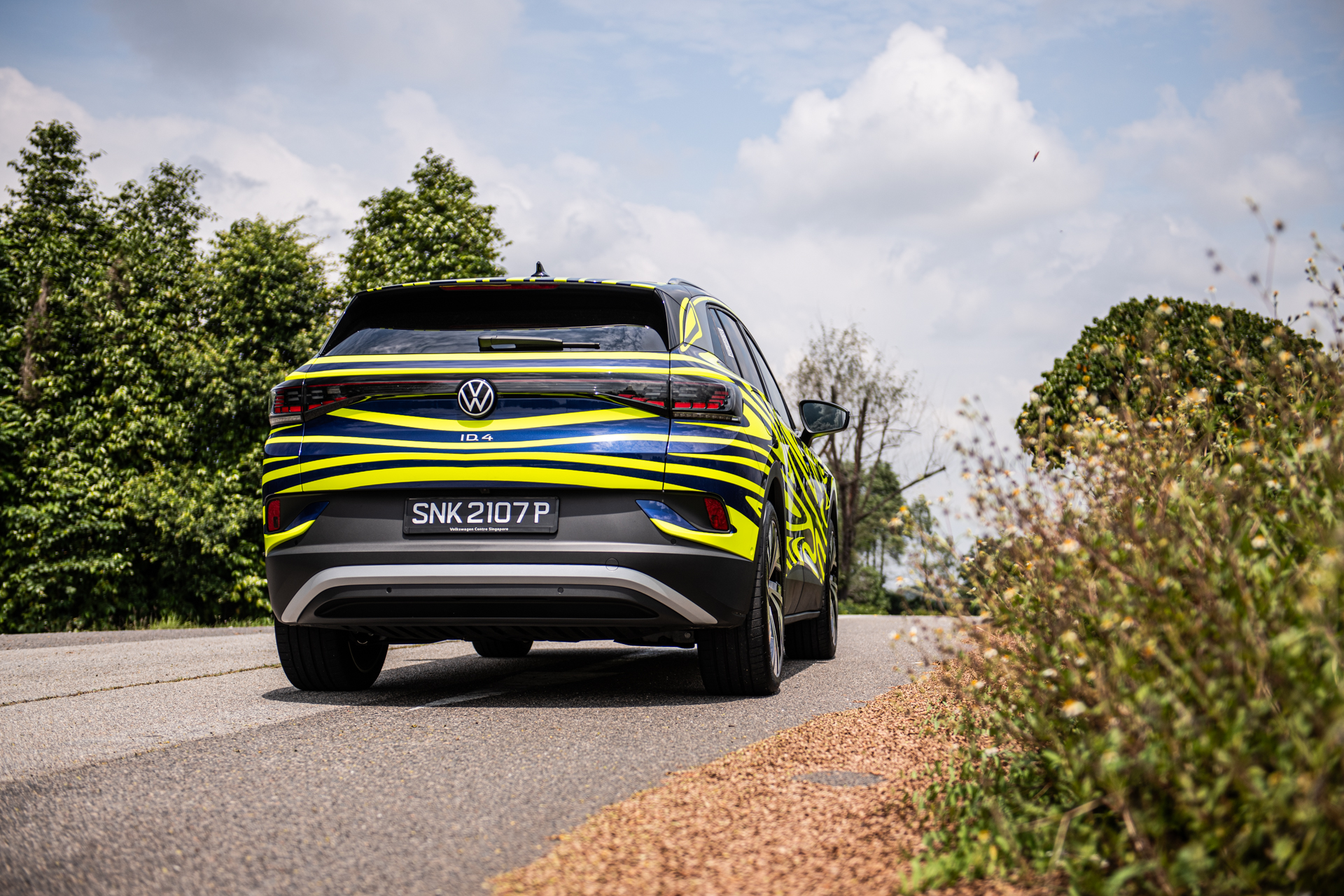 This electric SUV isn't entering the arena alone either. It's got a list of rivals that are also vying for a slide of the EV customer pie. Some are closer to home, like the Skoda Enyaq and Audi Q4 e-tron sibling cars, and some are already well established in this space, like the BMW iX3, Hyundai Ioniq 5, and the Tesla Model Y. That's quite a lineup.
So, why the ID.4, you ask? Well, because SUVs are all the rage these days. And VW knows it. They're giving the people what they want – a practical, accessible, and relatively affordable SUV. No, it's not your classic Golf gone electric; that's the job of the smaller ID.3. This one's all about embracing the SUV trend.
And the Volkswagen ID.4 really makes itself known. Minus the polarising decals etched onto the car, the ID.4 has an interesting facade going for it. Think swoopy lines and organic shapes, not the sharp edges you'd expect on a modern SUV. Plus, it's sizeable, akin to a Tiguan.
But, unlike the Tiguan, thanks to its dedicated EV platform, it boasts a roomy 2,771mm wheelbase, nearly 100mm more than a Tiguan. Translation? There's space to spare inside.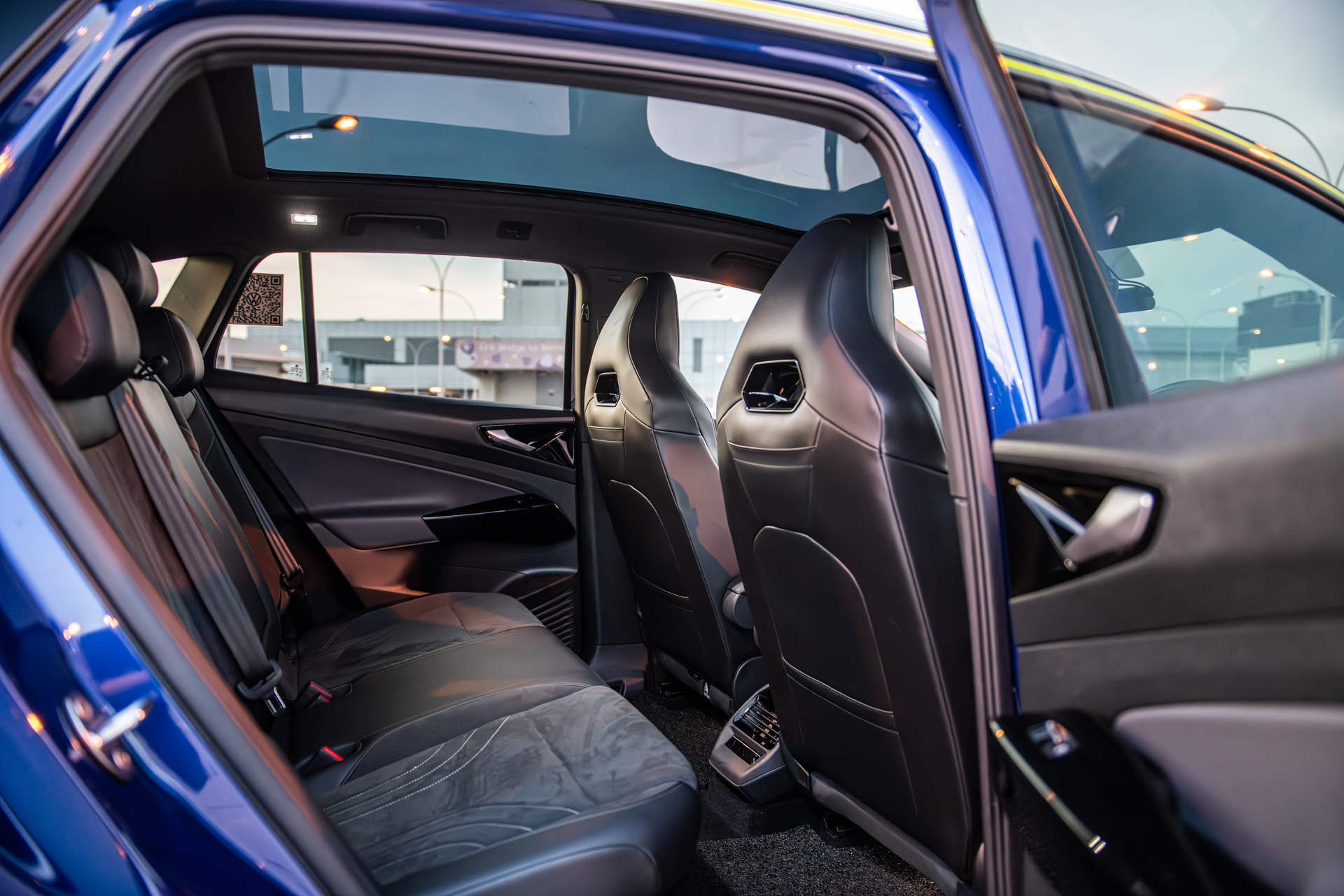 And speaking of the interior, it's a different world from what you'd find in your typical VW. The digital cluster is pint-sized, almost comically so, perched on the steering column.
The gear shifter? It's attached to the side of that cluster, and while easy to operate, I must admit I have mixed up Drive and Reverse a couple of times. Blame it on personal hardwired muscle memory.
But here's where it gets interesting. Without a traditional gearbox, the centre console becomes a blank canvas, low to the ground, creating a sense of space that amplifies the ID.4's roominess. 
There's tons of storage space for all your various bits and bobs, and the thing I like about it is that it's thoughtful design. Close your eyes, and you can still fish for an item without bumping your hand into a million different surfaces.
However, there are some quirks. The window switches – there are just two. If you want to control the rear windows from the driver's seat, you'll be tapping a digital 'Rear' control before adjusting the same switches. A tad unnecessarily digital, if you ask me.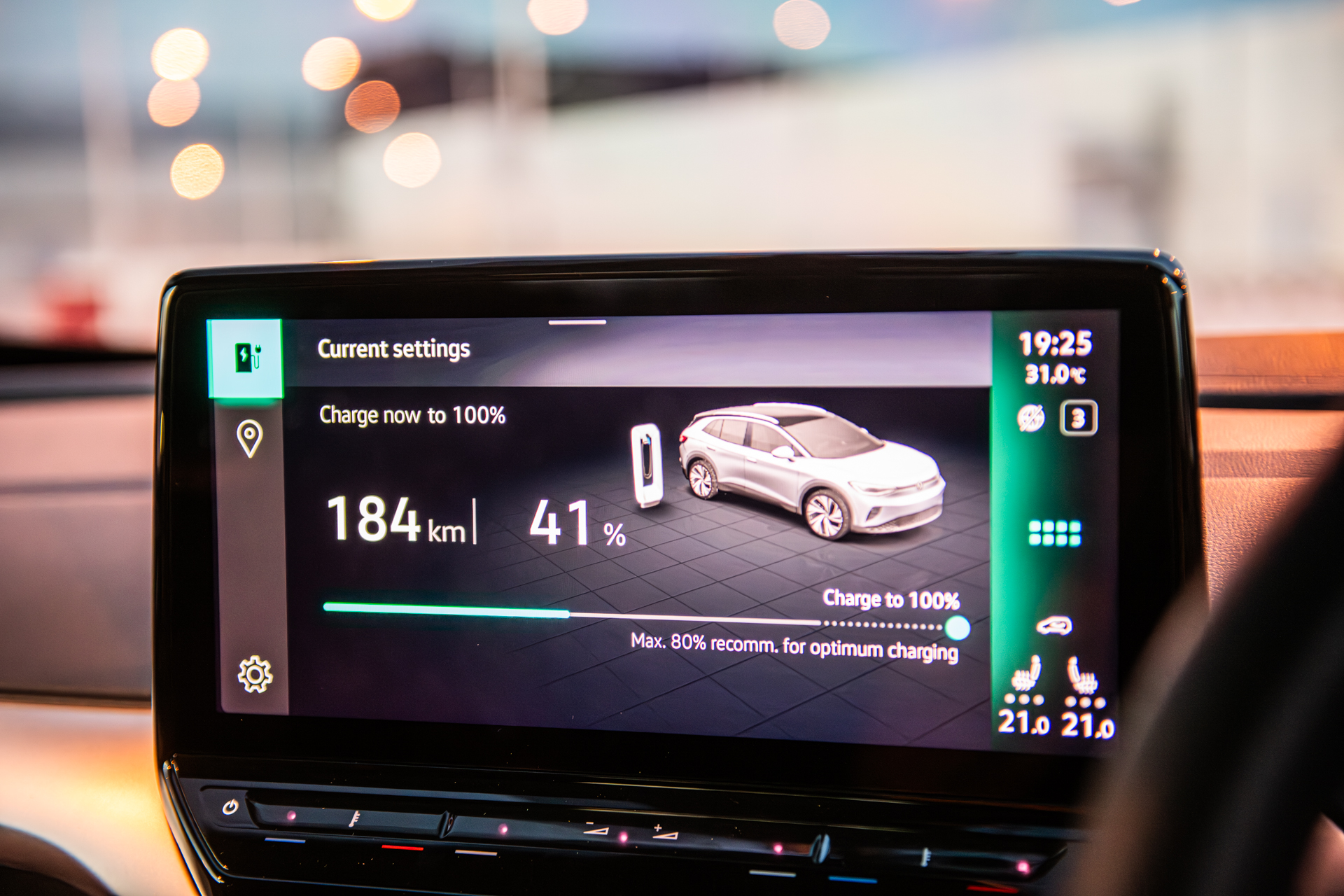 And then there's the infotainment system. It's sleek, but it can be finicky at times, especially when essential functions are tucked away. The touch slider controls seem alright in practice, but while on the move it can be a challenge to swipe accurately.
Overall, there's a lot of touch and gesture action going on, and that's not everyone's cup of tea.
So what about road feel? Well, the Volkswagen ID.4 feels familiar in some classic EV ways but throws a few curveballs. Power is abundant; it's an EV, after all. However, it doesn't deliver that instant 'kick' you'd expect. Instead, it serves up power in a more gradual manner. I actually prefer this, as it prevents would-be first-time drivers from accidentally giving everyone whiplash.
The brakes are probably the weakest aspect of the ID package. They might feel a bit weak at first touch, with a fair bit of dead zone before you sense the car slowing down. This is understandable to a certain degree, as a chunk of the initial braking happens via regenerative braking. So, don't expect the bitey brakes you'd find on the back of a heavy, RWD car. 
To make life easier on the move, VW hasn't added more features than necessary. No complicated energy consumption charts or a driver-only climate mode, or even selective regen levels. It's straightforward – just D and B on the main drive selector. And even the B for brake mode doesn't slam on the brakes. Great for prospective customers who are just getting into the EV-owner bubble.
Range is pretty decent too. Over a weekend of cruising, I managed a neat 17.4 kWh/100km, roughly translating to 430 km on a full charge. Not too shabby for this class of vehicle, even with some enthusiastic pedal-pressing instances.
The ID.4 was built to compete against SUVs, and no one really buys a SUV for the driving, do they? SUVs are essentially conceptualised to be efficient family transit pods, and judged through that lens, the ID.4 is right on target.
It boasts a roomy cabin, numerous nooks and crannies that act as clever storage spaces and offer good electric range and charging. Not to mention a smooth, silent driving experience that demands nothing of you.
There's a certain laid-back vibe to the ID.4 that's unusual, yet intriguing. It's not shouting about instant performance and tech wizardry; it's more about easing you into the electric experience.
It may not be love at first sight, but it's a grower.
Technical Specifications
Volkswagen ID.4 Pro 77kWh
Engine: PSM Permanent Magnet Synchronous Motor
Power: 150kW (201bhp)
Torque: 310Nm
Gearbox: Single-Speed (A)
0-100km/h: 8.8 seconds (claimed)
Top Speed: 159km/h
Battery Capacity: 77kWh
Drive Range: Unknown
Energy Consumption: 5.5 km/kWh (claimed)
Price: Available early 2024
Contact: Volkswagen Singapore
Photo Credits: Sean Loo (@auto.driven)
---
Read more automotive news at AutoApp, or check out our latest videos on Ignition Labs TV!