Ford Ranger combines commercial commuting with premium features.
---
First off, its full name is the Ford Ranger 2.0A Turbo 4X4 Double Cab. For brevity's sake, we'll just call it 'Ranger' from now on. Having ridden shotgun in a few pickups, this was my first foray into the premium side of things, not to mention driving one.
Also, having seen how Americans enjoy snapping up the Ford F-150, and our Malaysian kinship the Ford Ranger closer to home, I actually had butterflies in my stomach before the drive. That's how much I was looking forward to my maiden pickup voyage.
Let's get this out of the way – the Ranger's without-COE cost of $129,888 (accurate at the time of this article) pretty much equals other regular pickups in its class WITH COE. In other words, expect to spend over $200,000 on a Ranger.
Before anyone scoffs at the price vis-a-vis a commercial vehicle, remember that this is a premium pickup which can haul cargo AND go toe-to-toe features-wise with similarly-priced cars and SUVs.
Clearly, a different frame of reference is needed here.
Outside
A high bonnet line is the first item of note, and the resulting large front grille and headlights give the Ranger an imposing and unmistakable visage. Shod on 255/65R18 Goodyear Wrangler Territory HT tyres, this pickup sits pretty high off the ground.
This wouldn't be much of an issue for most folks, courtesy of the running boards either side and fixed grab handles within the cabin to aid ingress and egress, but it does require a little more effort. Plucky Mom wanted to have a go getting into and out of the Ranger, but I wasn't going to put her petite nearly 80-year old arthritic frame at potential risk to prove a point.
Add to that the test vehicle's brilliant white paintwork and you have something here that will be noticed both on-road and while parked.
The savvy business owner would do well to treat their Ranger as a moving billboard and sticker it up to promote their business, complete with QR Code. Quicker return-on-investment and all that jazz.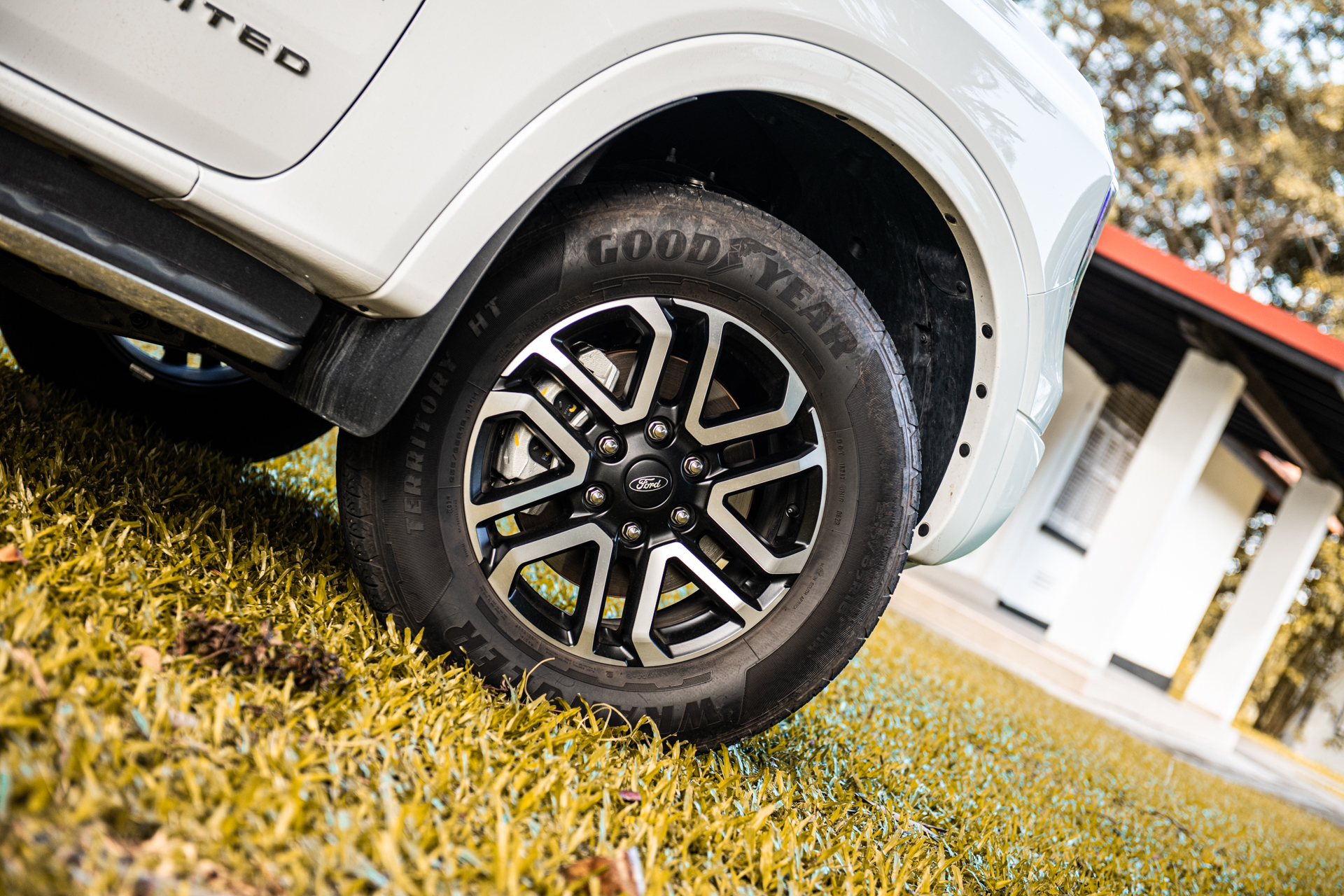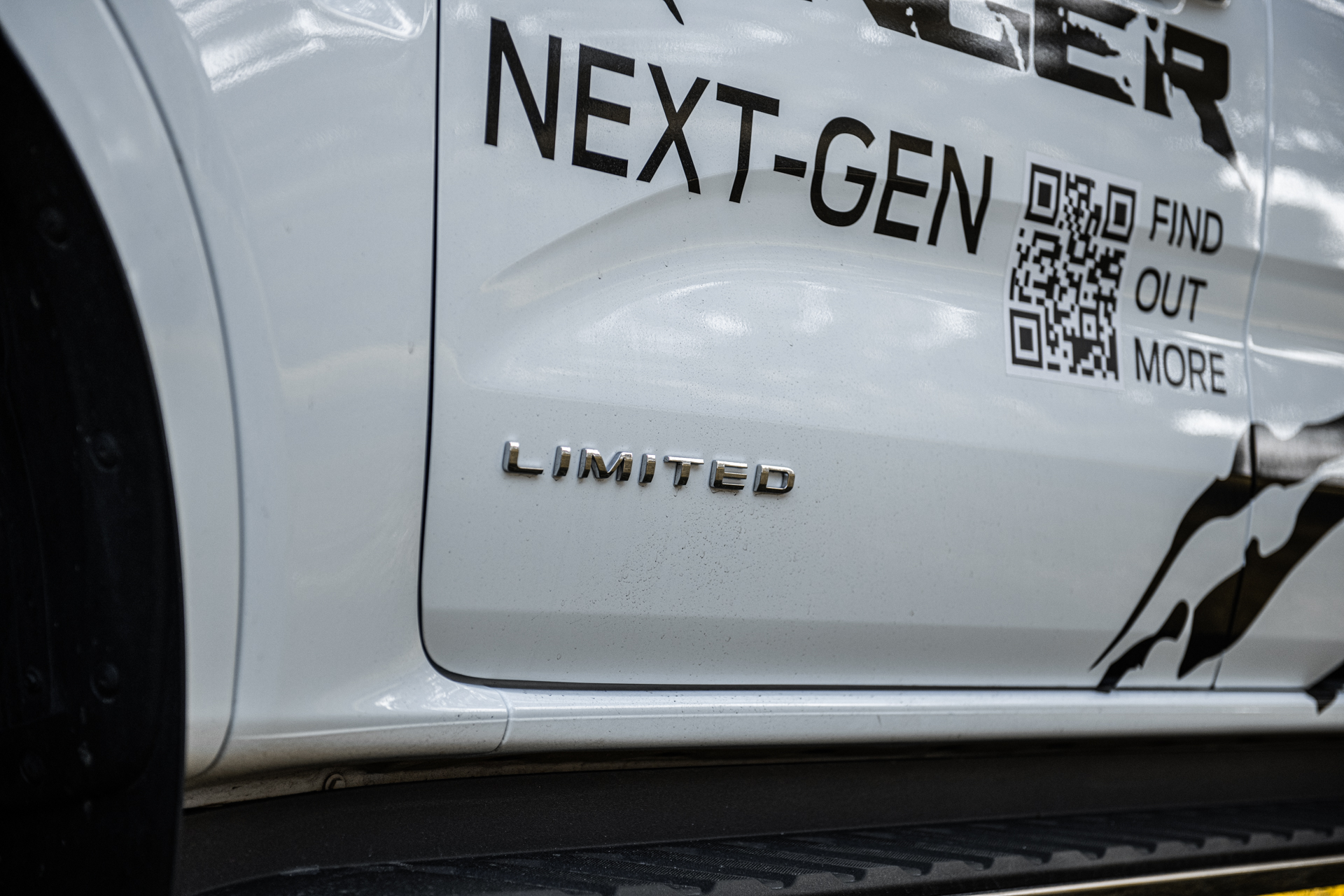 See those chrome rails atop the bed round the back? Those take some getting used to when looking through the rear view mirror, especially if one is not used to driving pickups.
There were a couple of "HOMAIGAWD SIDESWIPE!!!1!!11!!!ONE1!!!" moments where I'd forgotten those where there and thought another vehicle was about to drag itself down the Ranger's side while driving down the road.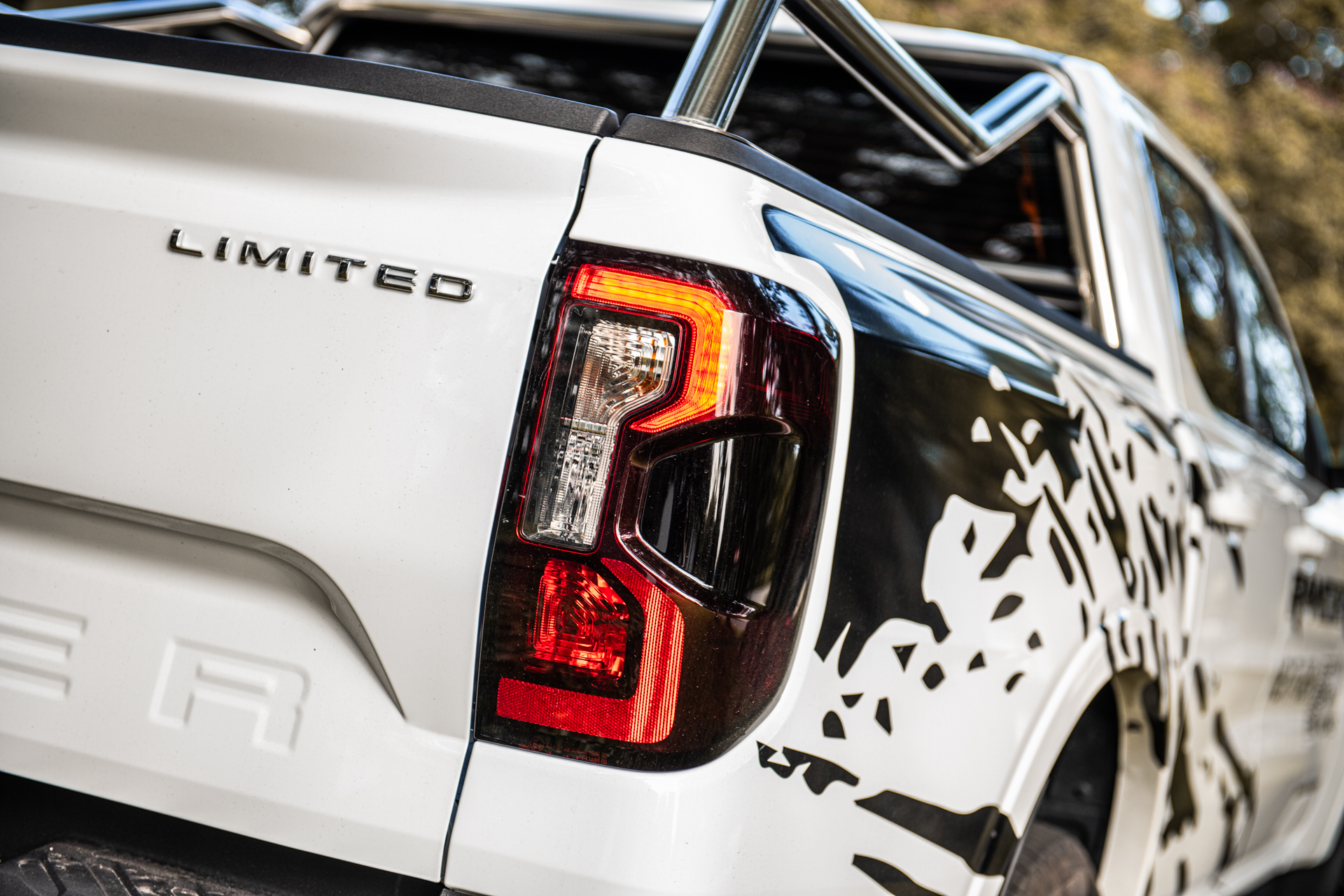 Ins Outs Ins ermmm Still Outside
Drop the tailgate and 1.11 cubic metres or 1,110-litres of cargo box capacity opens up. There's a step on either side of the Ranger near the rear bumper that allows one to climb in and out of the bed to load and unload cargo.
Given Ford's specified unladen and laden weights respectively, 966kg can be loaded into the Ranger's cargo box. Sufficient tie-down points and rails either side of the bed are available to secure cargo with ratchet straps, and the floor is wide enough to load an Euro pallet via forklift.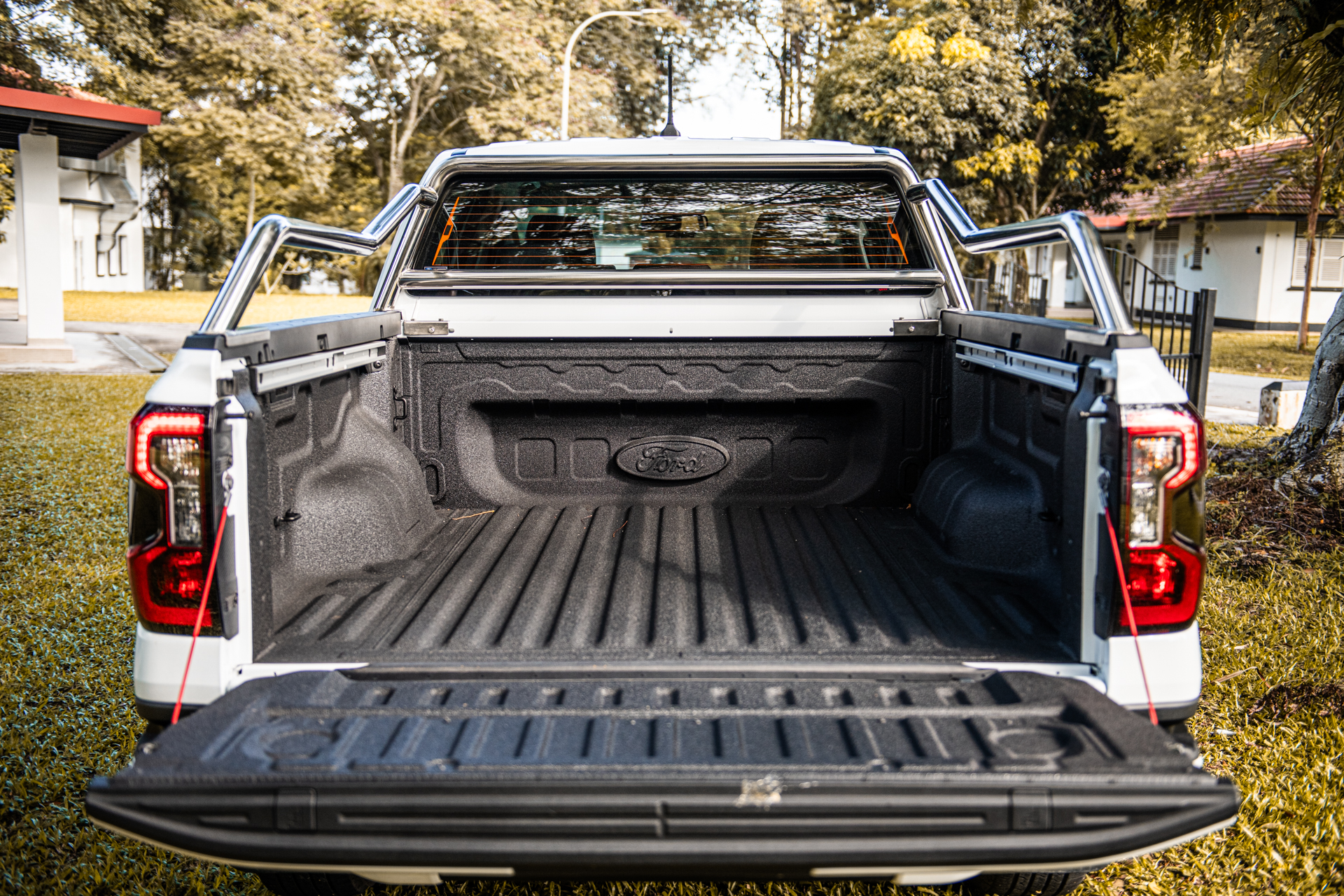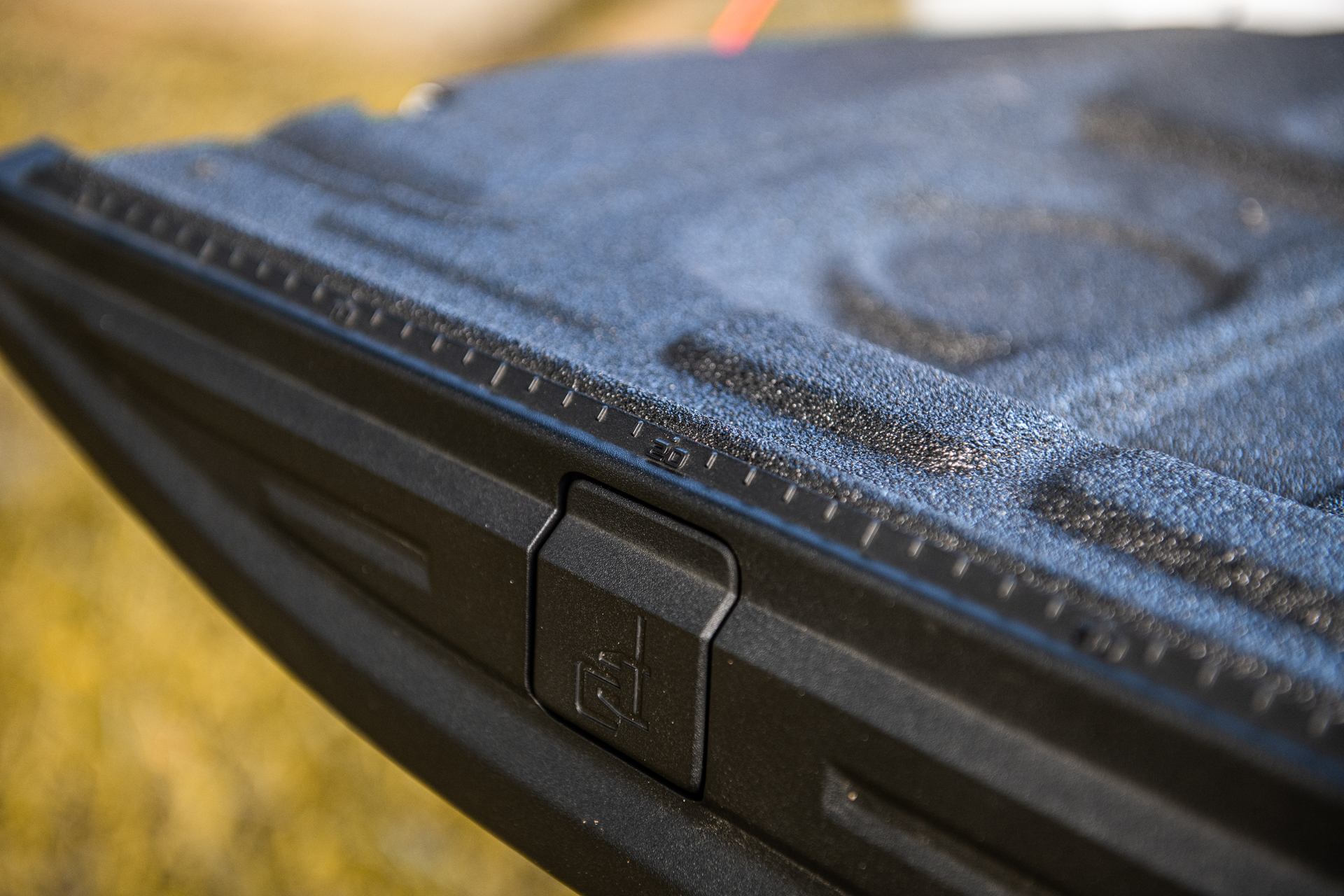 Inside
This is a double cab, which means occupancy for five including the driver. The rear bench features a pull-down armrest with cupholders for that all-important on-site slew of refreshing beverages, and the centre console features a couple of aircon vents to keep occupants cool and USB outlets to keep their smart devices charged.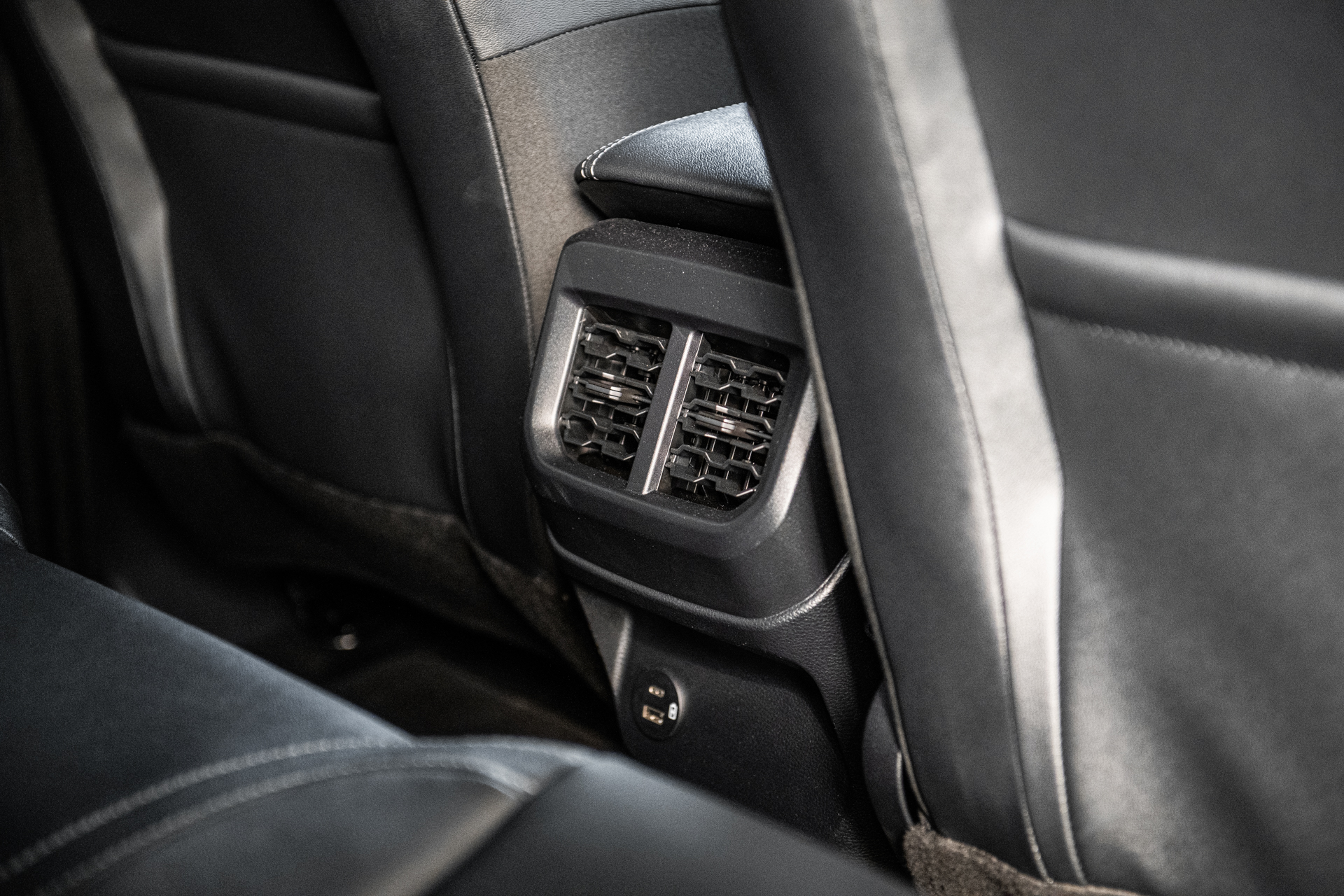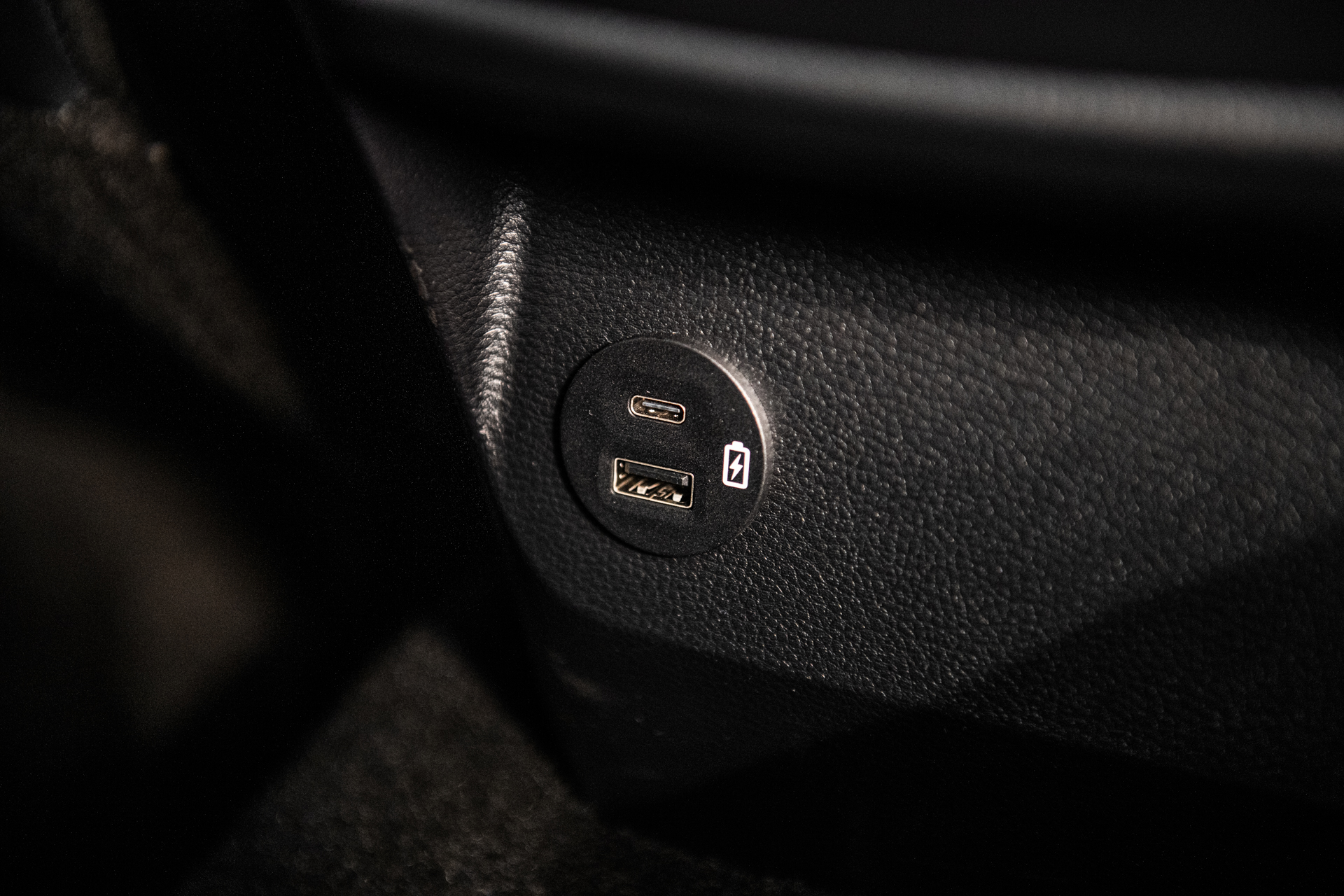 So…. how much room is available in the back then?
Just kidding! So does the Duck Puppy, for that matter! 🤪
Given my longer-of-limbs and shorter-of-torso 1.82-metre tall build, the driver's seat needs to be set all the way back and some ways up. There's just about enough room to sit behind my own driving position, although it must be said that this would be the most extreme case.
Most people shouldn't have any issues back here, and the leather seats themselves are comfortable enough. It also helps that one sits up high and has a commanding view of the outside world. Business owners can transport clients around without worry, and I'm pretty sure it would be a novel experience for the latter to ride in the Ranger.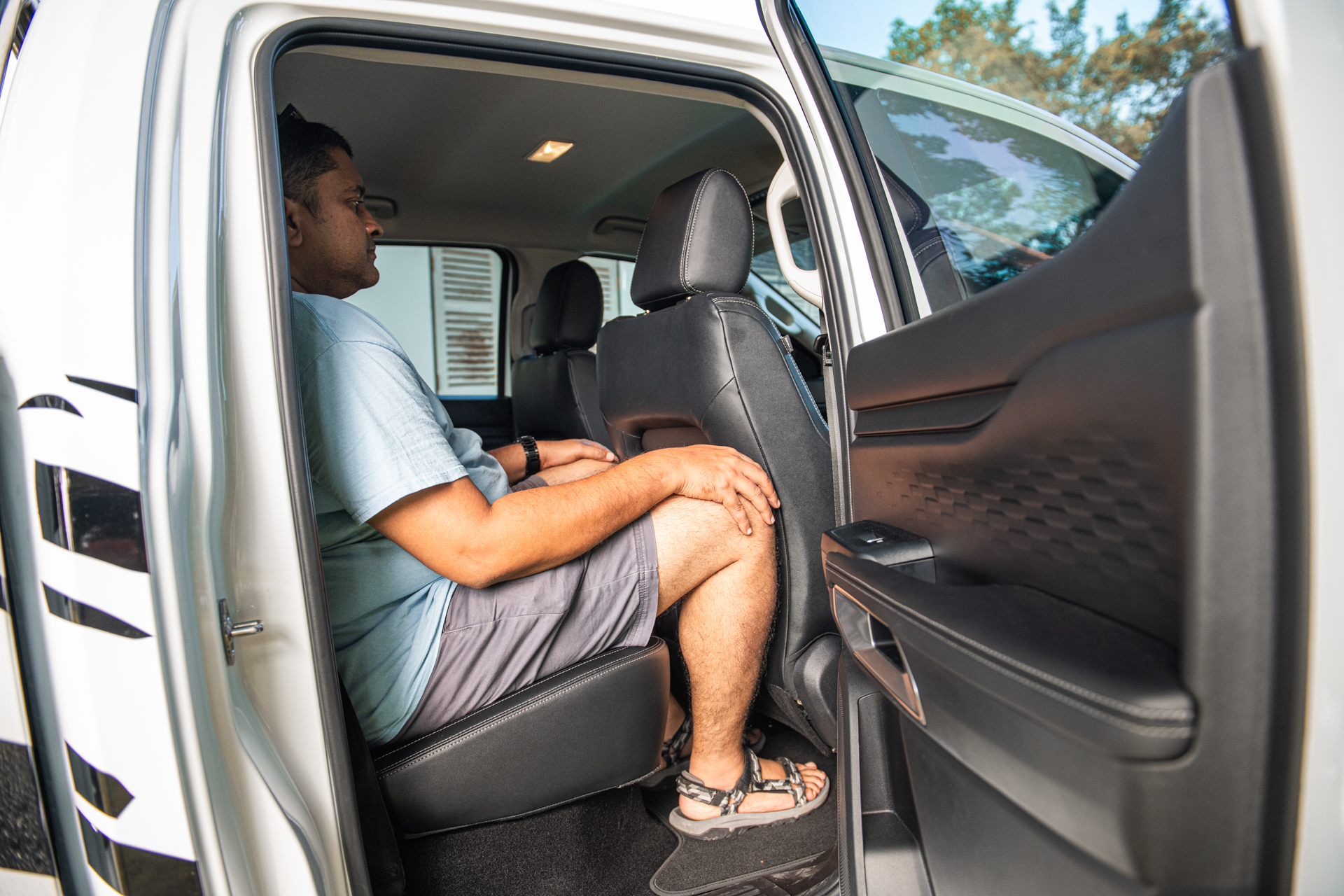 The driver's seat features eight-way electrical adjustment while the passenger's seat adjusts in four ways manually, and they're both easy to get into one's preferred position and are sufficiently comfortable.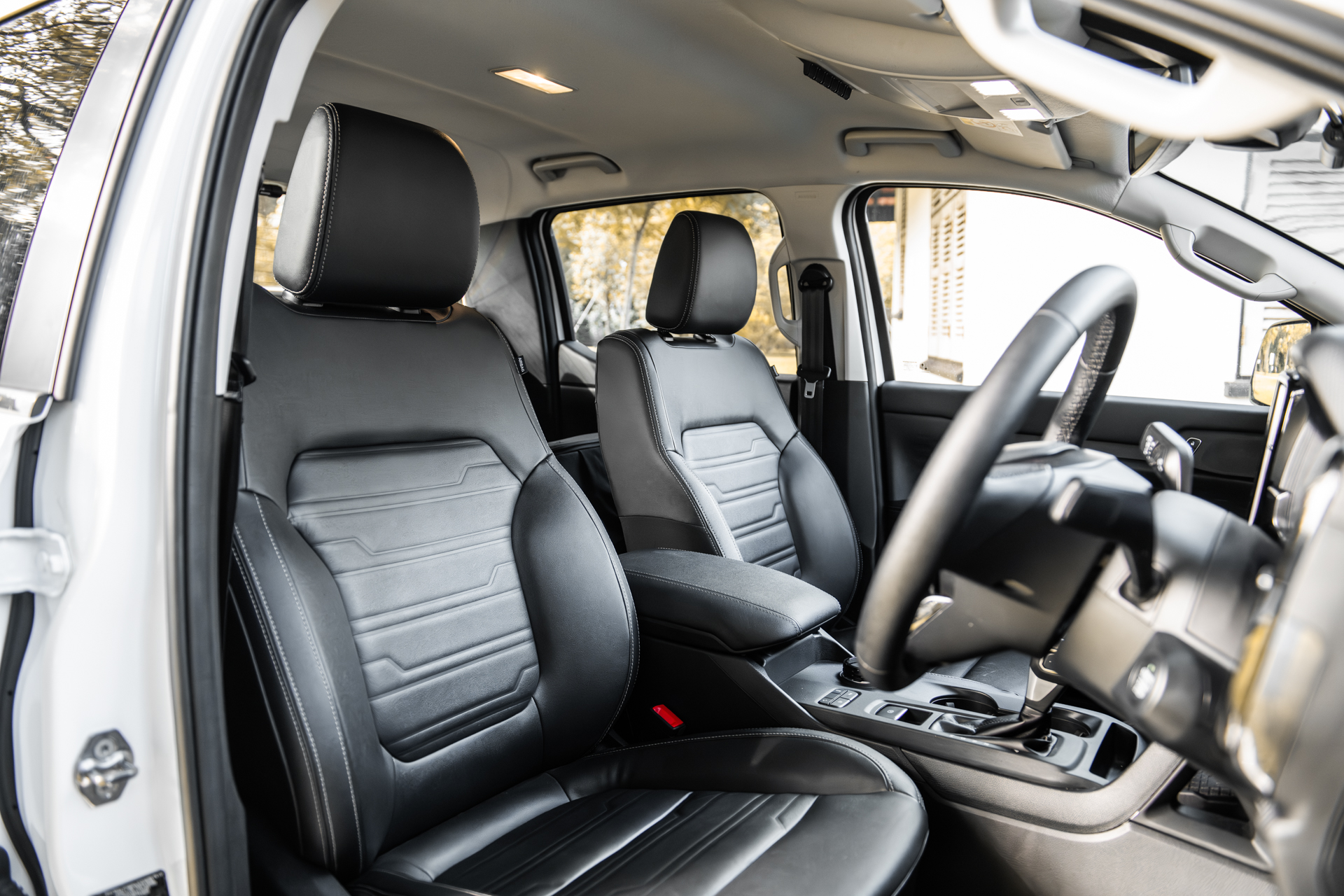 The steering wheel adjusts for reach and rake, and is of a good size to grip. Here's where one needs to adjust one's mind a little – the turn signal stalk is on the RIGHT and the wiper stalk on the left, the way it SHOULD be in a right-hand drive vehicle. Even though this is a Ford, and one would expect an Euro-style arrangement for the respective stalks, the impromptu mantra "JDM-yo! JDM-yo!" should help one acclimatize quicker despite the Ranger not being from the Land of the Rising Sun. Multiple inadvertent wiper activations brought about that mantra by the way….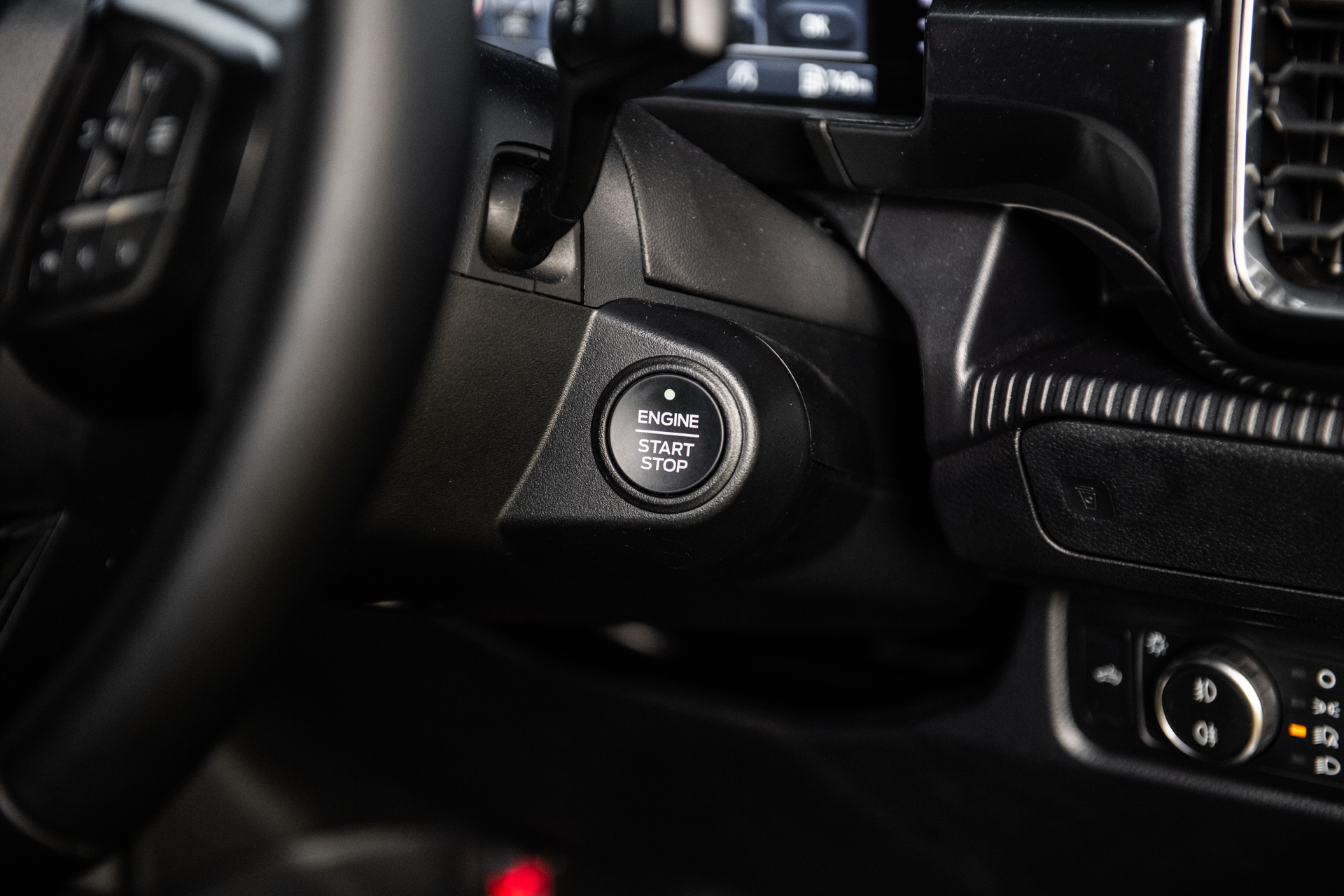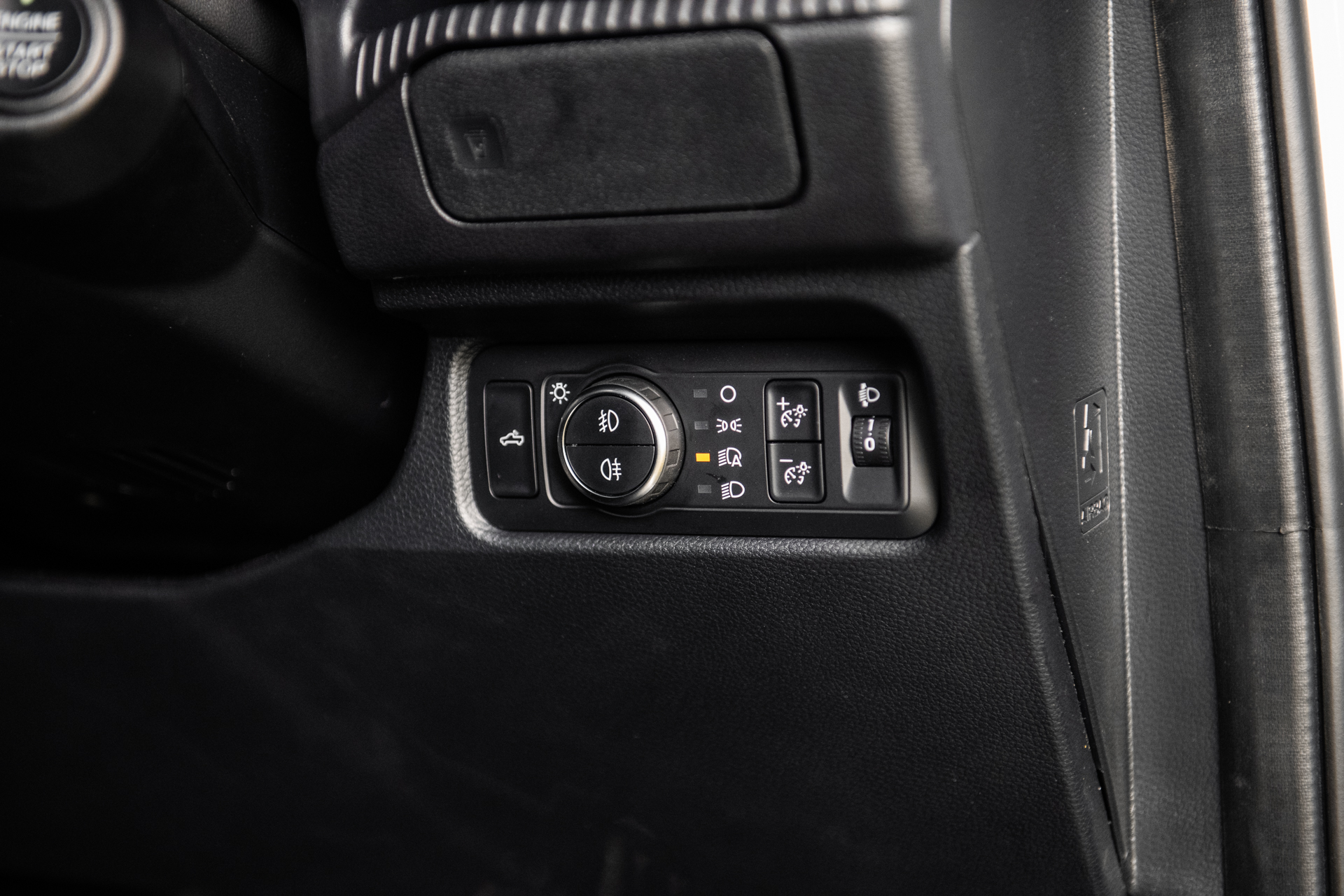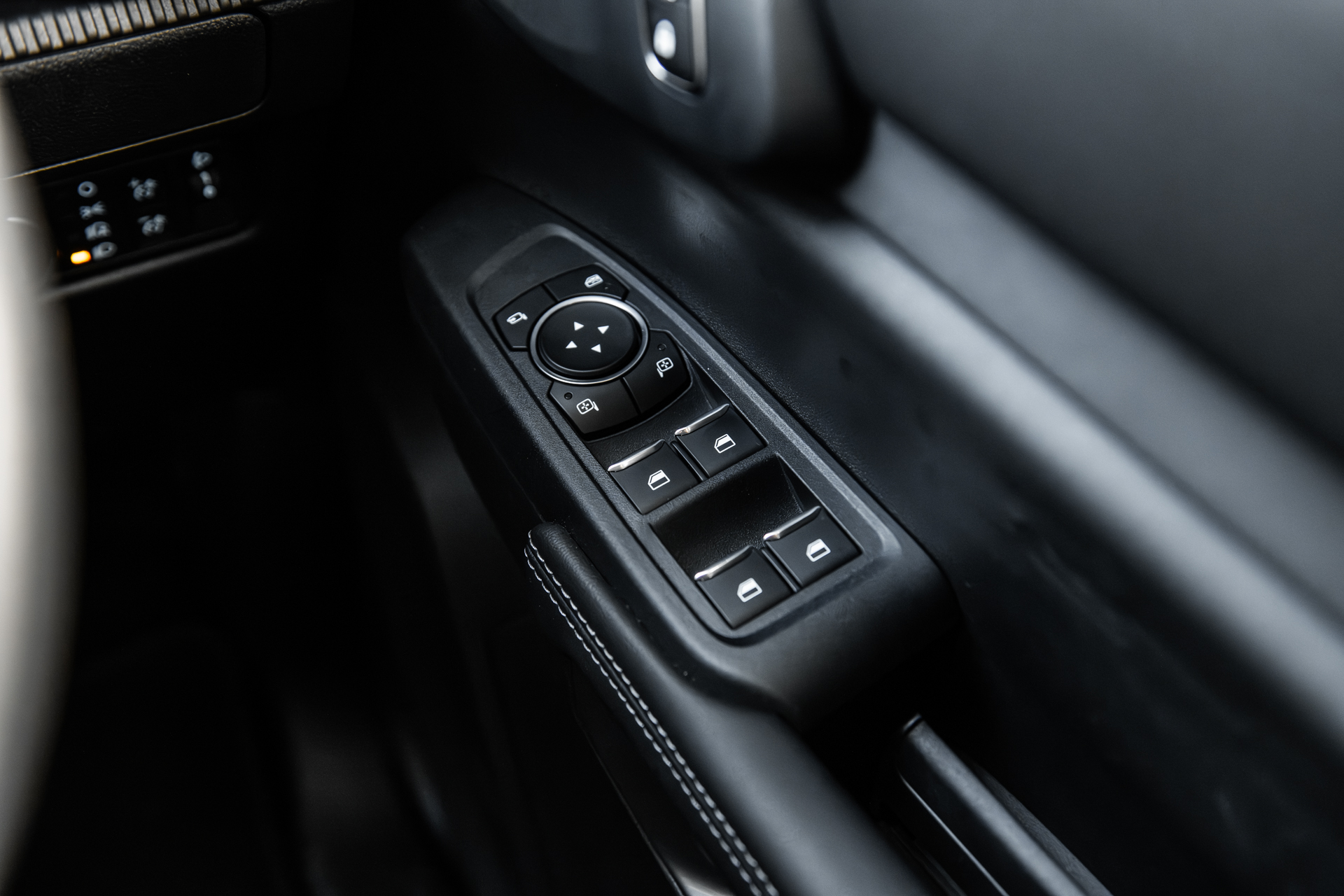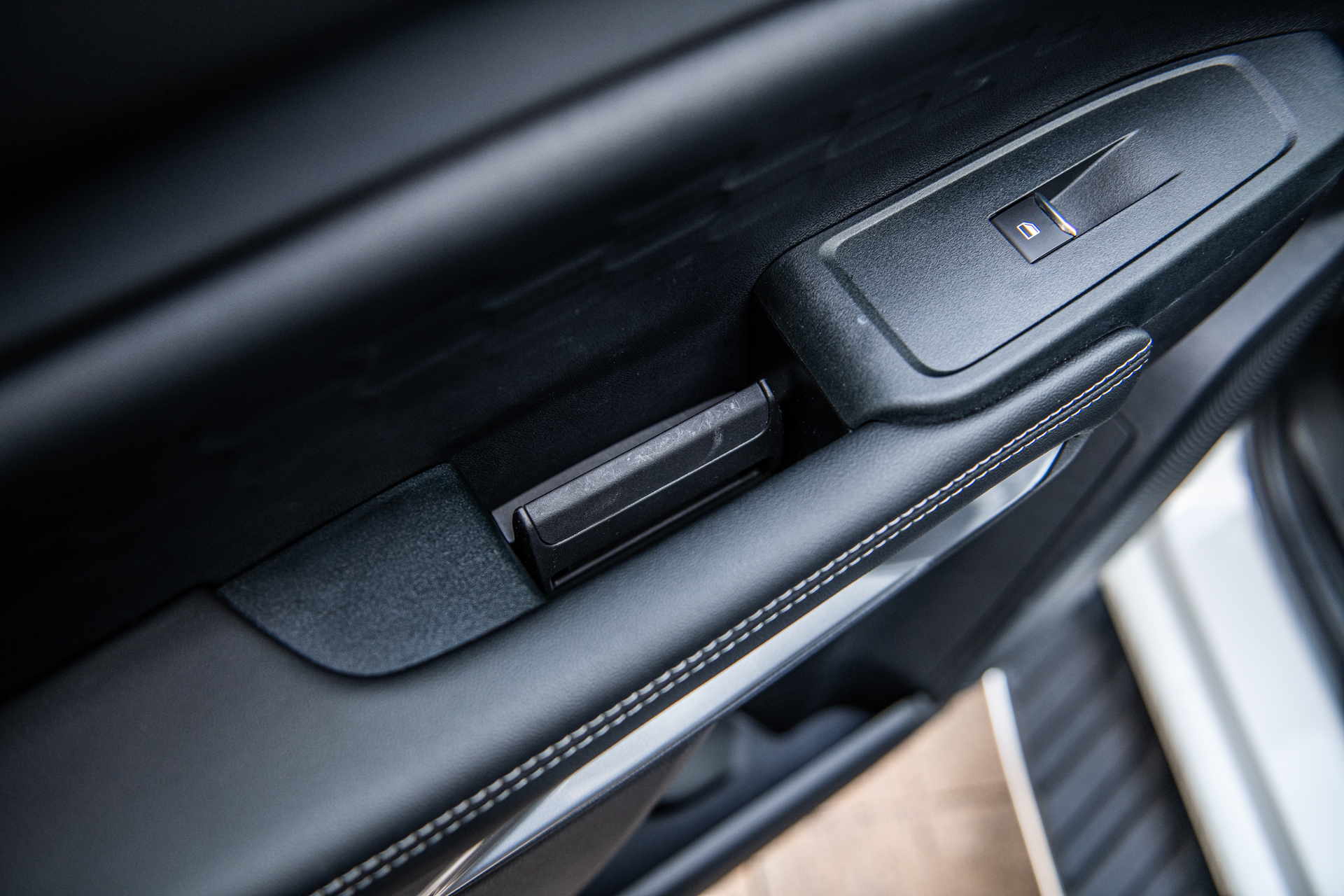 An eight-inch digital instrument cluster sits behind the steering wheel and is easy to read and navigate. Coolant temperature and fuel level are permanently displayed courtesy of bars on the left and right respectively. The screen itself can be configured to display myriad information on the right, from trip information to what the audio system is playing.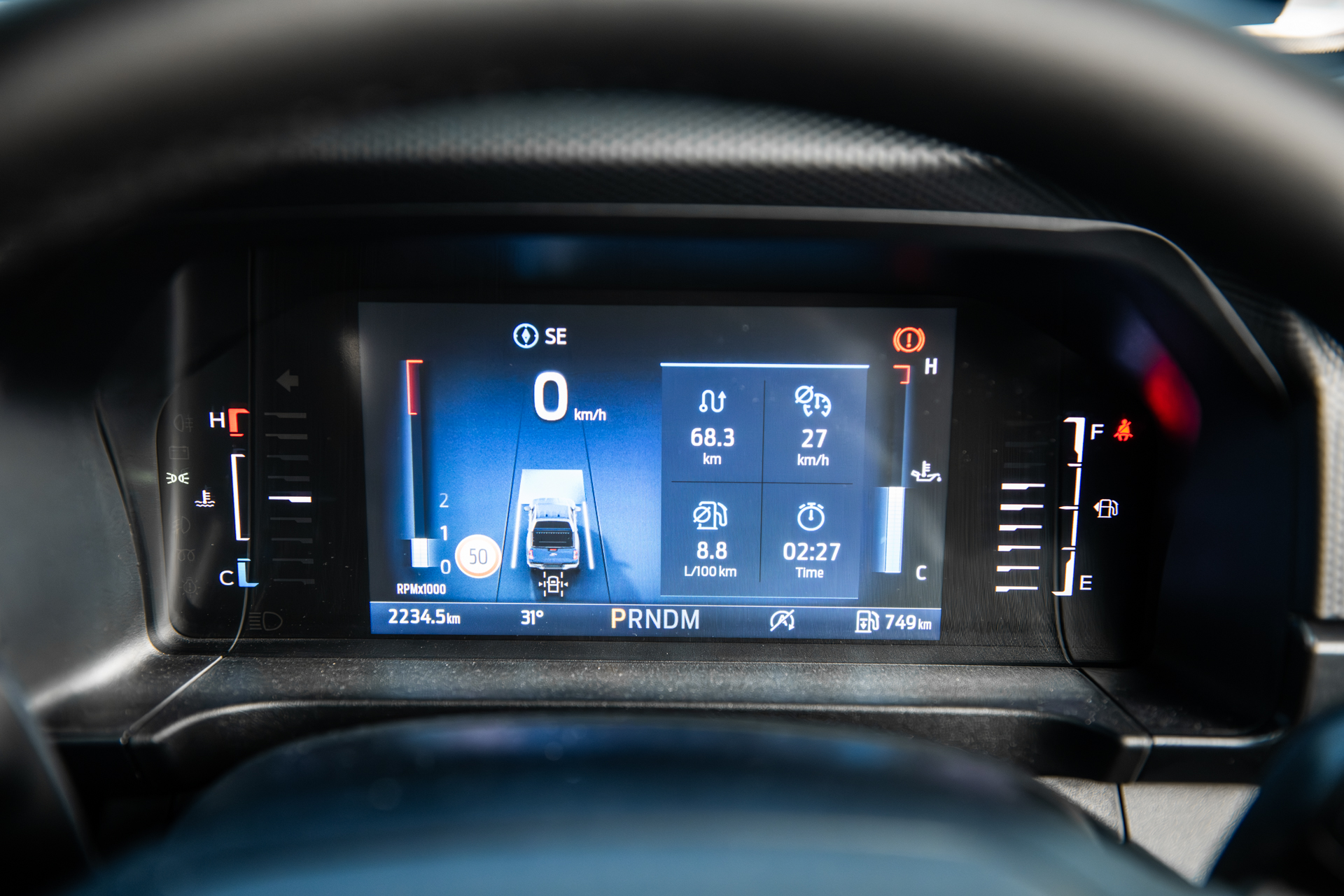 Audio source is controlled via the ten-inch infotainment screen, which sits between the two centre aircon vents. The infotainment system is pretty easy to operate once one becomes familiar with where the various settings are located. The audio system itself plays nice and loud, and can sufficiently drown out the speed-limit dictatorship-device beep-beeping from 71km/h onwards. Wireless Android Auto and Apple CarPlay come standard-fit for smartphone integration.
Down below the infotainment screen, physical aircon controls thankfully exist, although one can also choose to control things from the touchscreen. Other manufacturers would do well to take Ford's example here to heart and start offering both physical and touchscreen controls in their vehicles. Up above on the roof, a bank of auxiliary switches are provided for the adventurous Ranger owner to fit and control electrical devices such as additional LED lighting for the bed, and perhaps an LED lightbar and winch at the front for off-roading.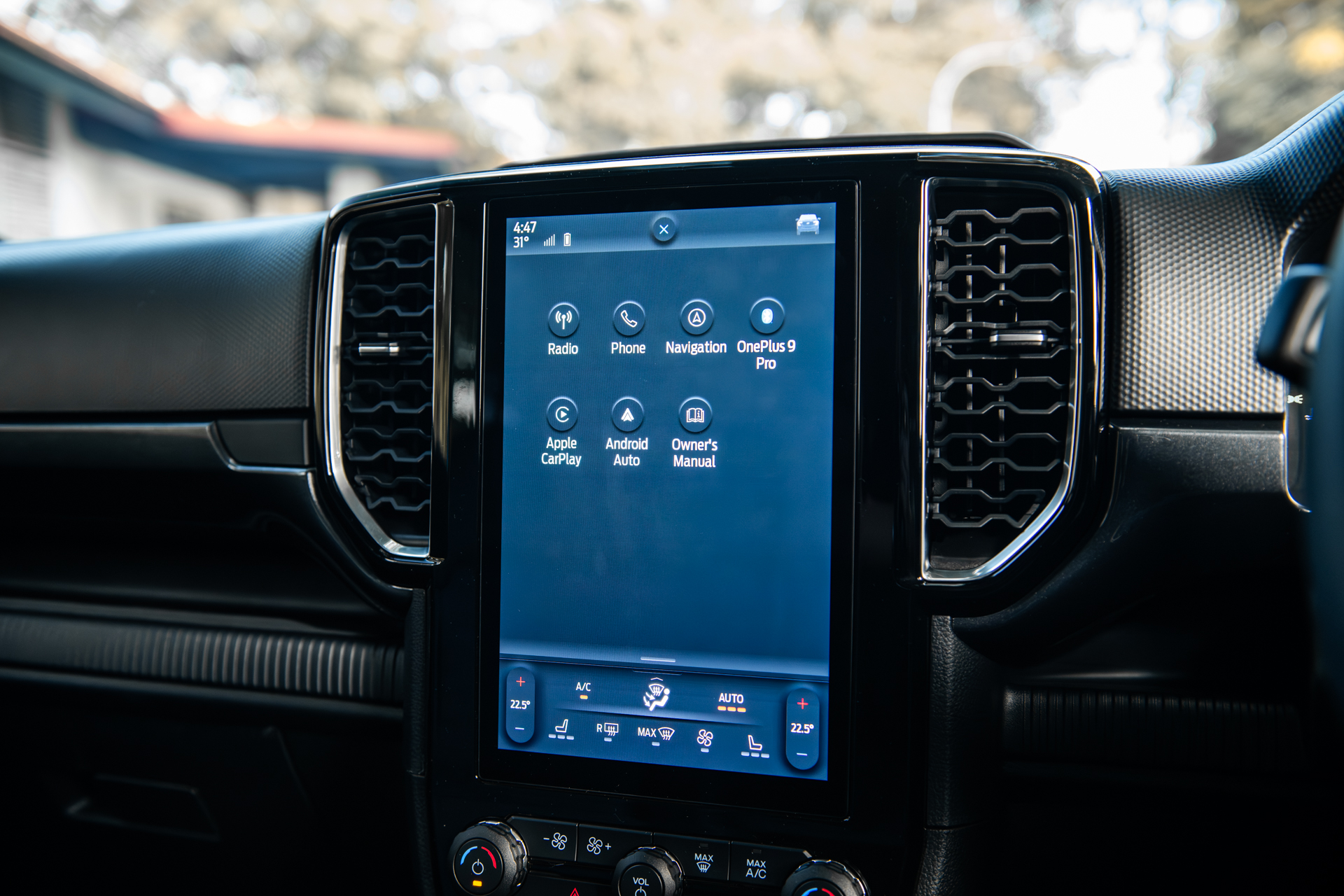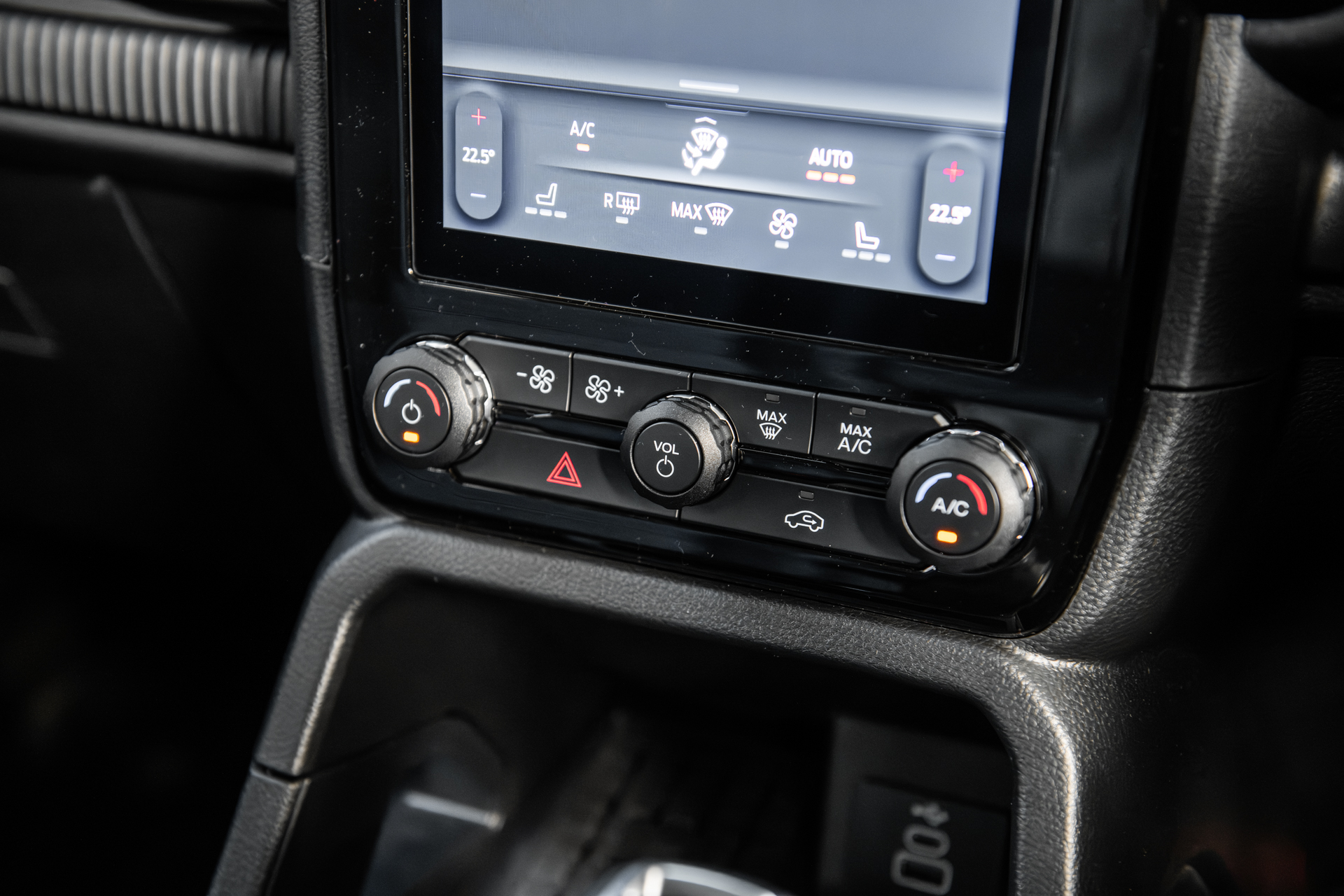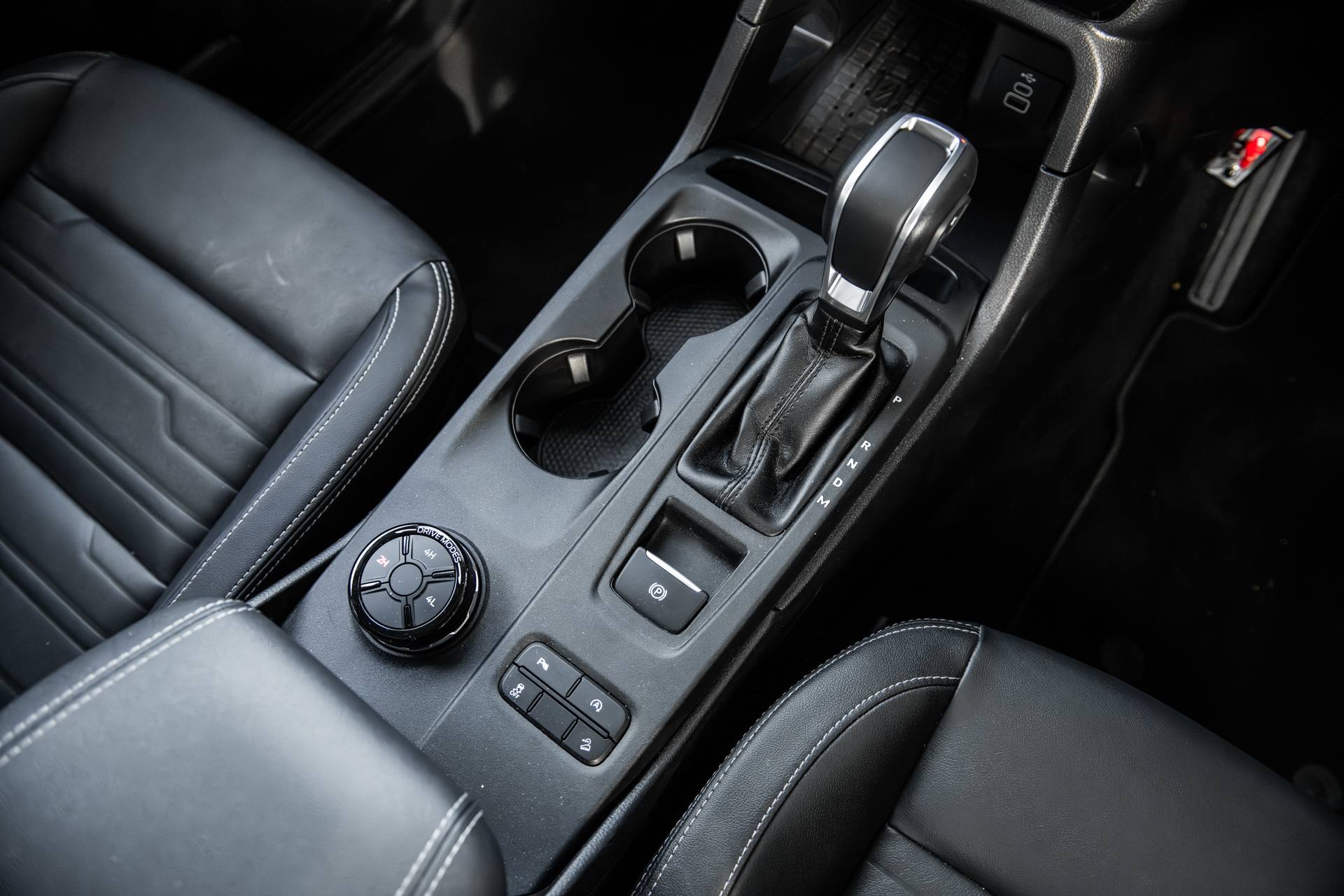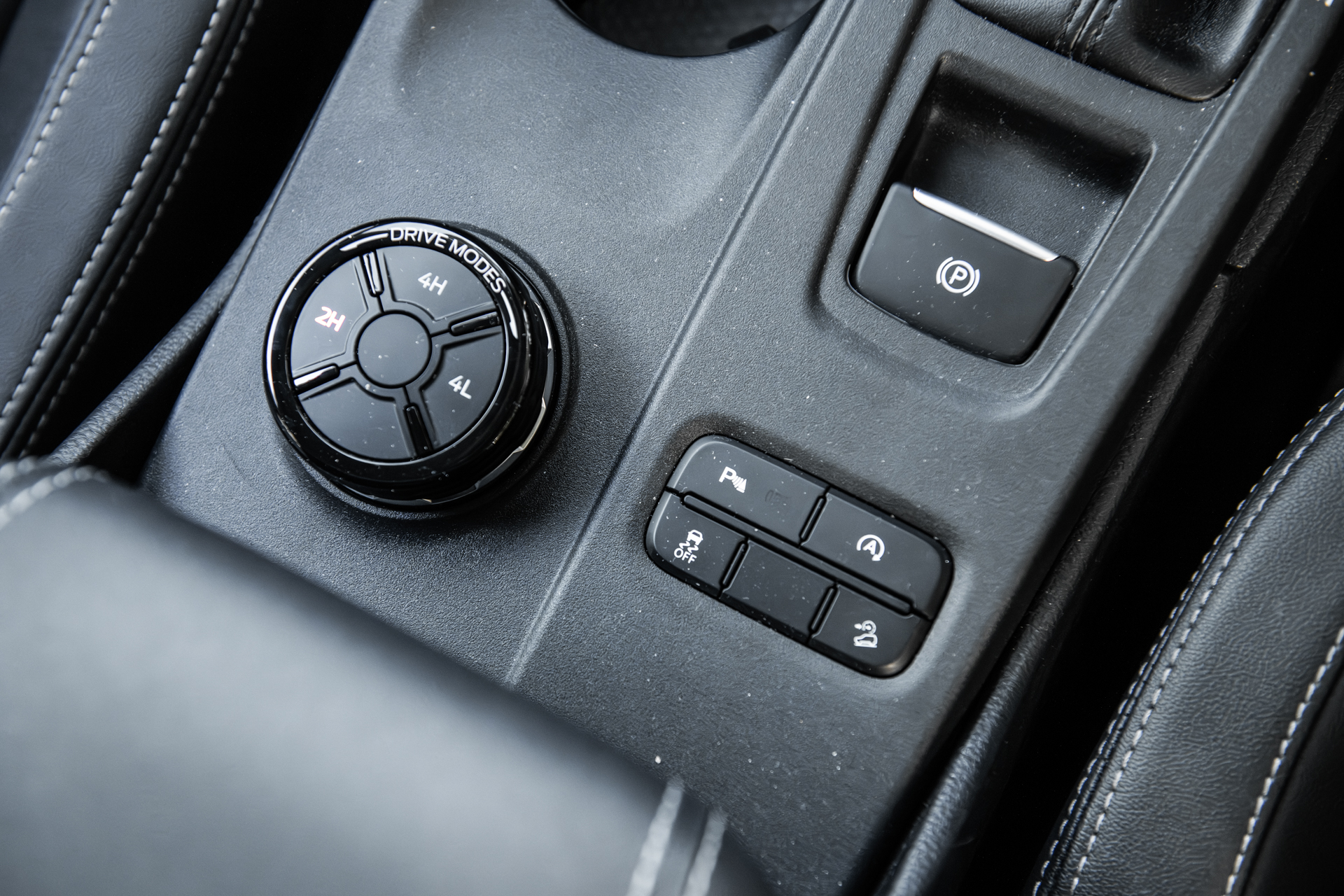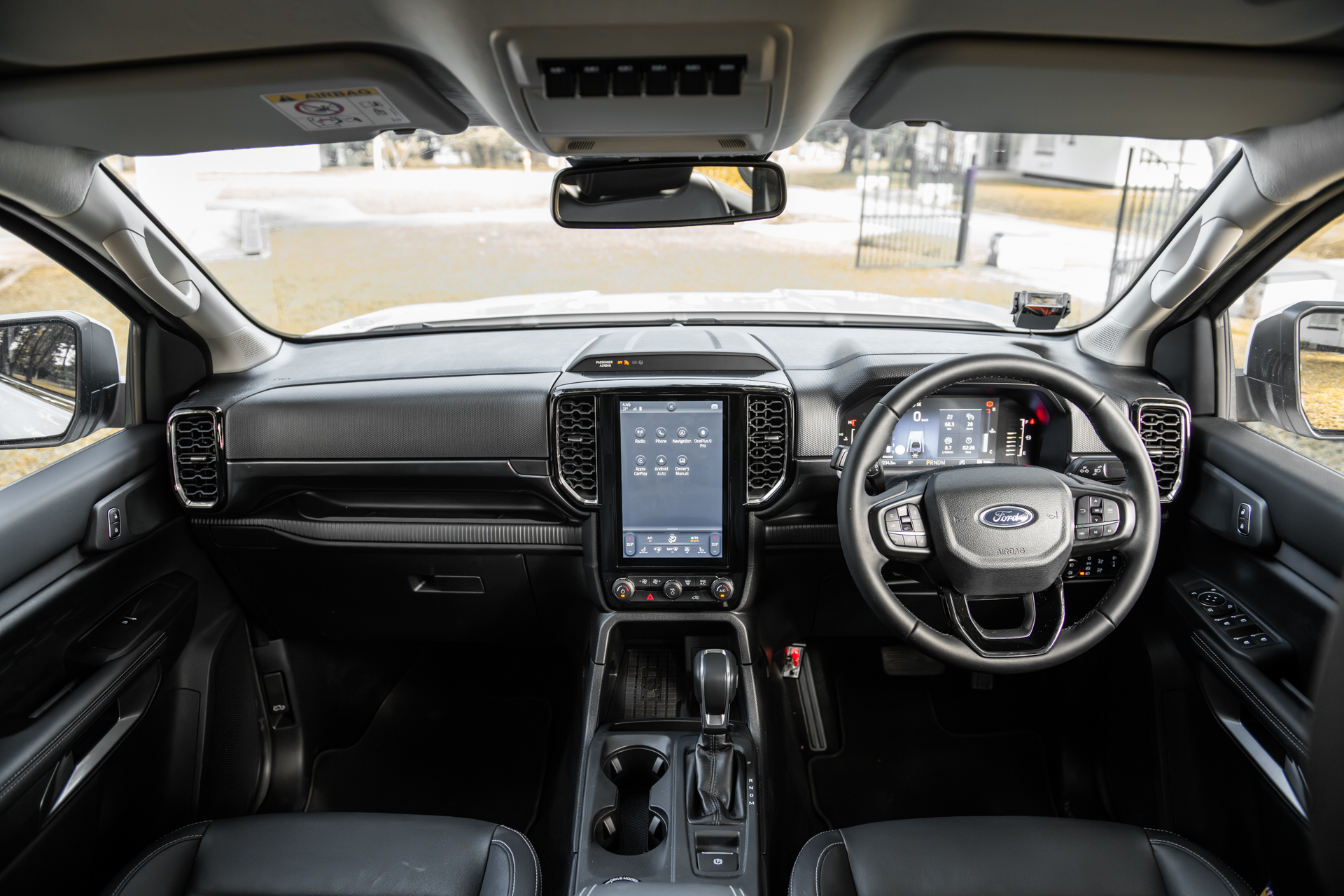 Driving
The Ranger drives beautifully down roads and highways, remaining quiet and comfortable most of the time. Larger bumps and ruts can induce some crashiness but that's a function of leaf springs in the rear (as opposed to coil springs) and an unladen cargo box. In fact, this pickup was taken down a rutted gravelly track and despite being a ga-da-boom-ga-da-baam-ing experience, the Ranger handled it like a champ, with its LED headlights properly piercing the inky darkness of the unlit track.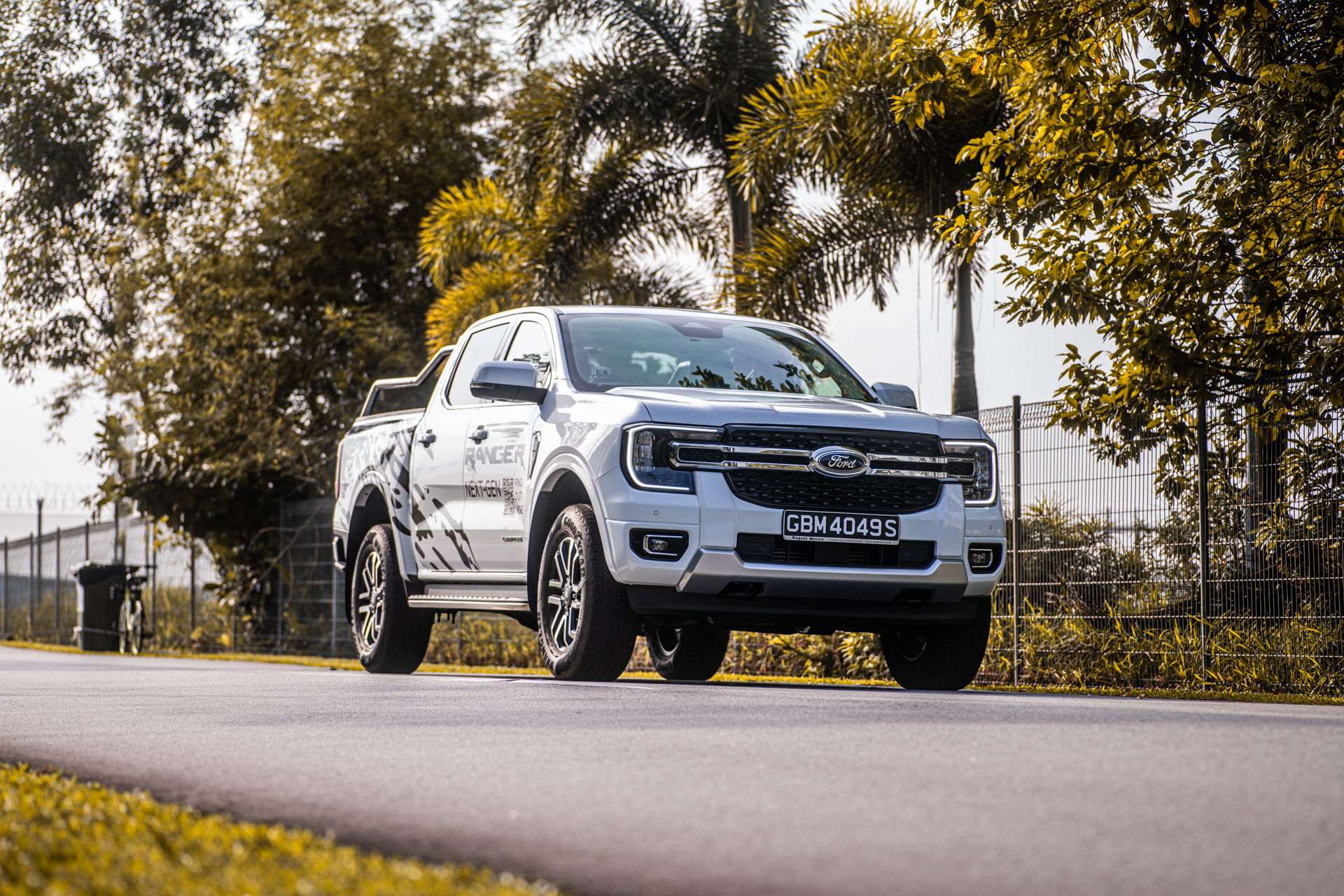 Most owners would likely prefer to remain on the blacktop, and the Ranger rewards them with a slew of standard-fit functions usually found in higher-end cars. Here's a non-exhaustive list:
adaptive cruise control
forward collision warning with brake assist
evasive steer assist
pre-collision assist
lane keeping assist
rear cross traffic alert with reverse brake assist
individual tyre pressure monitoring system
multi-view reverse camera
auto-dimming electrochromic rear-view mirror
auto LED headlights with LED foglights and daytime running lights
auto rain-sensing wipers
keyless entry with push-button start
power-adjustable, electric-folding side mirrors with puddle lights
I wasn't kidding about the 'premium' part, folks. The Ranger would have been perfect if it had cooled seats also. Perhaps manufacturers could consider cooled seats instead of heated items for tropical markets such as Southeast Asia.
Powering the Ranger is a two-litre turbodiesel engine that puts down 168hp and 405Nm of torque to the road via a six-speed automatic gearbox.
Not only is it premium, but being a diesel, frugal as well. Over a test-driven 544.7km in 2H Drive Mode while unladen, the Ranger averaged 6.75-litres/100km or 14.8km/litre, handily beating out Ford's claimed economy of 9.4-litres/100km or 10.64km/litre.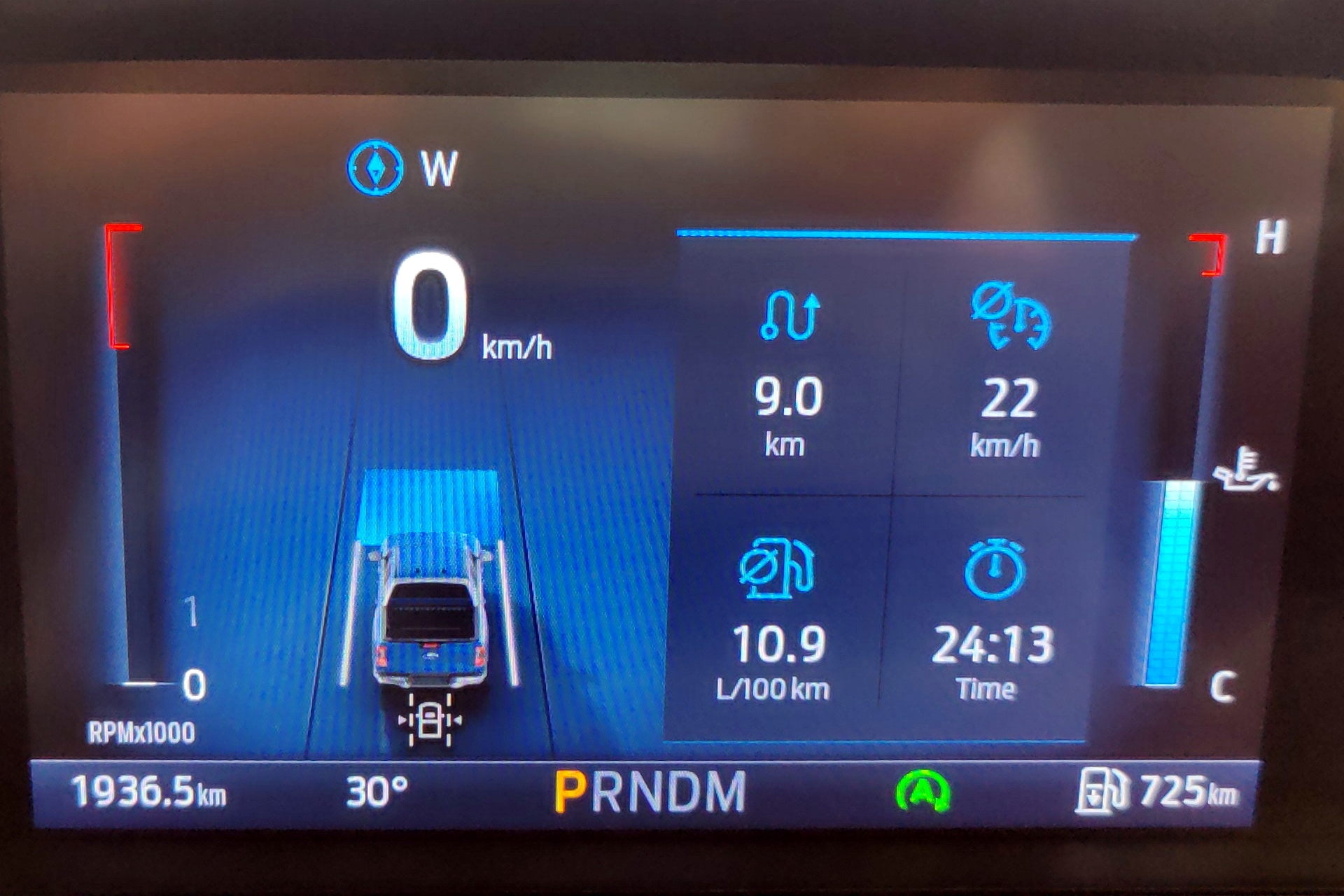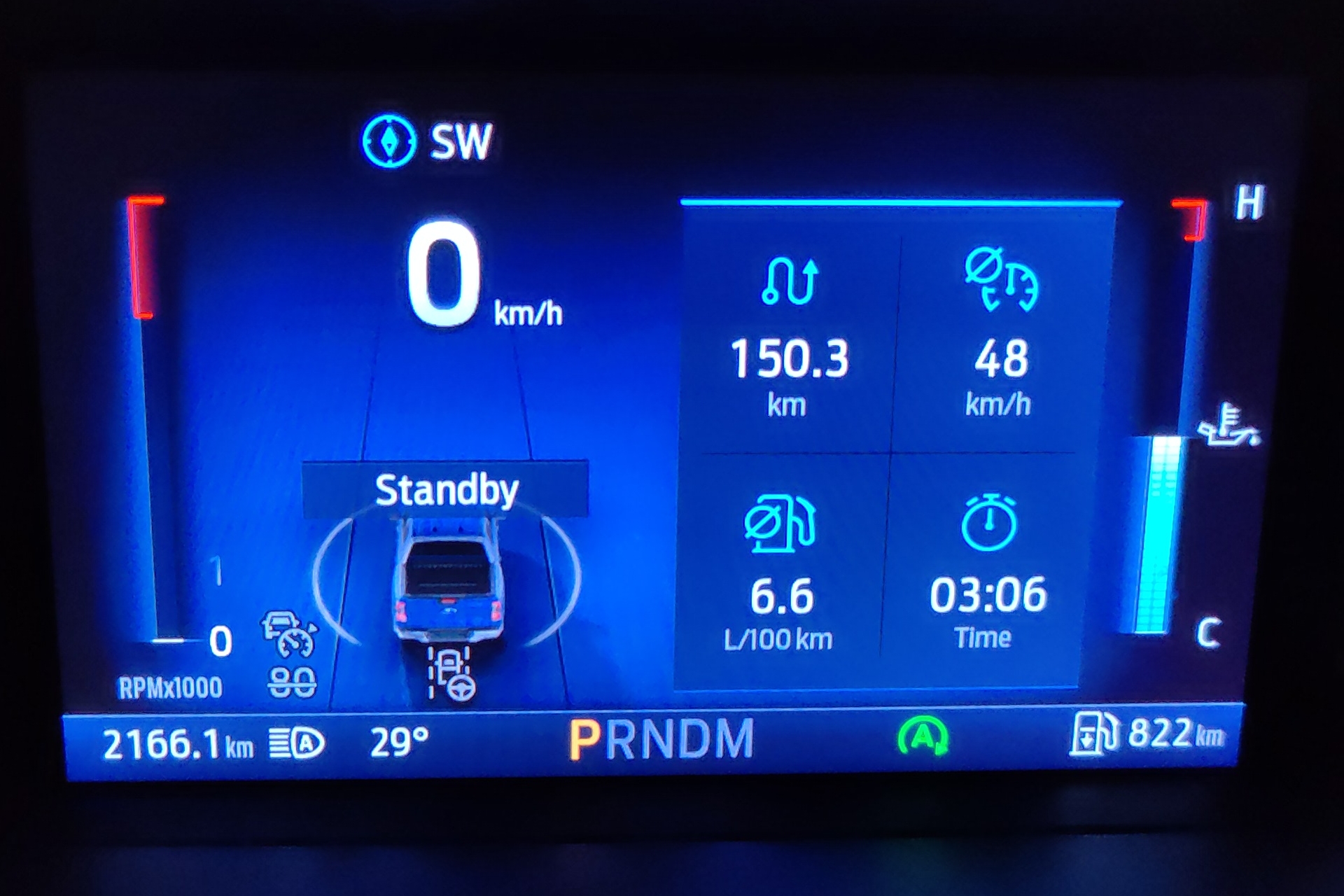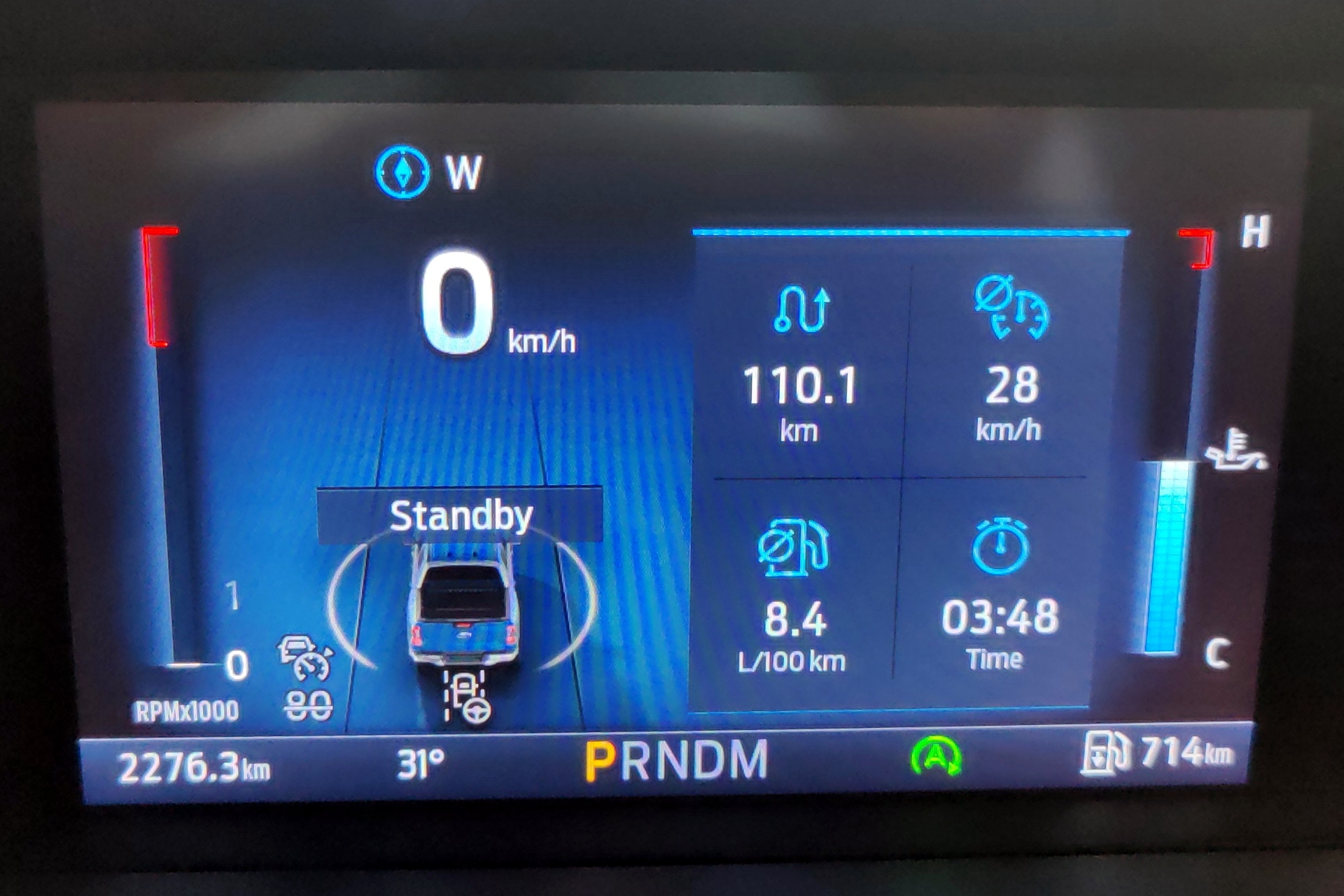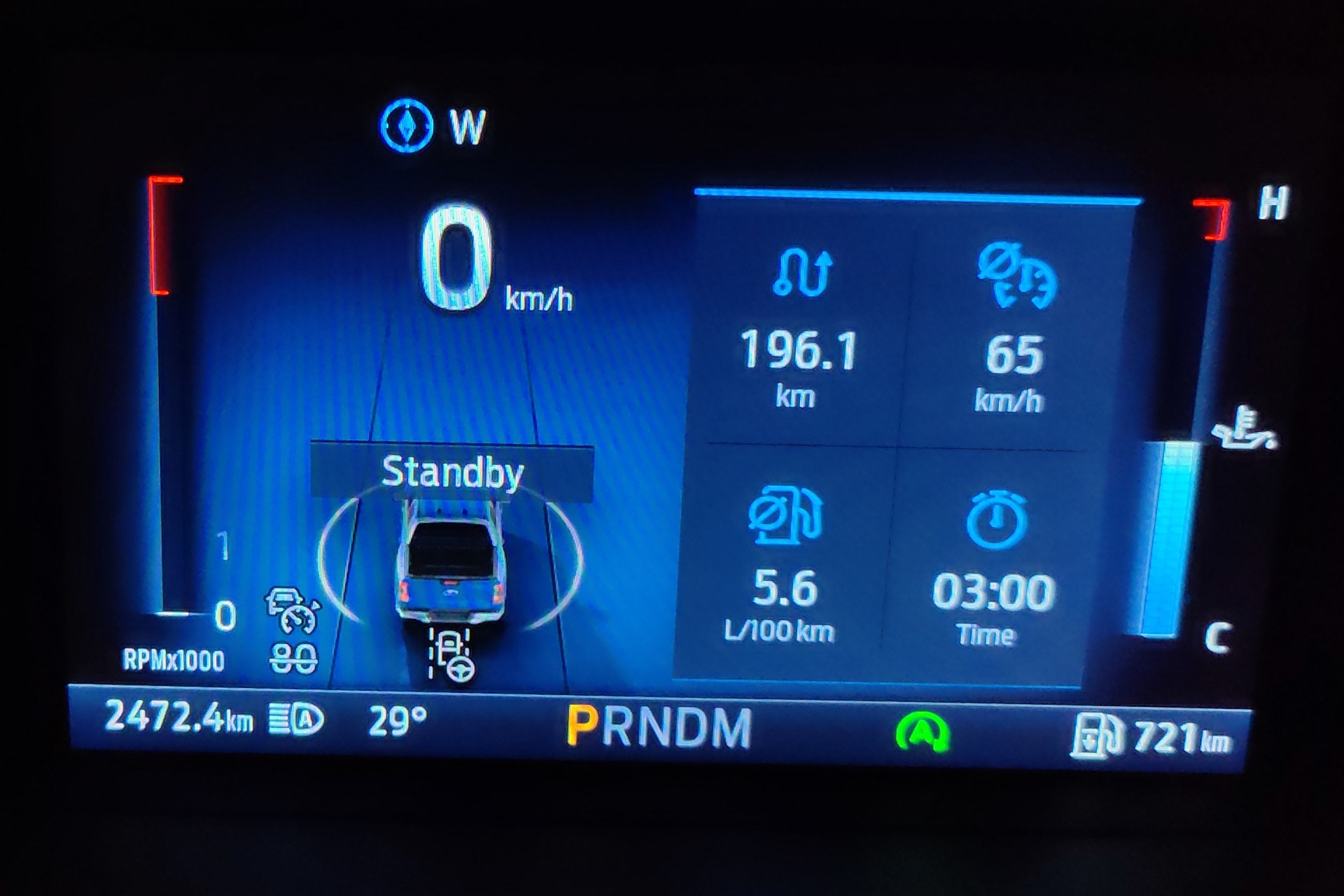 A point of note is that I left the auto start/stop function engaged for two reasons. One was to see how well it worked in a diesel pickup truck, and the other was to enjoy a quieter in-cabin experience while at a standstill. It works well, and it's strongly recommended that you leave it turned on.
At the end of the test-drive, the fuel tank was still half full! Given its 80-litre capacity, over 1,000km between fill-ups is not out of the question. Of course, your mileage may vary based on use-case and laden weight, but this turbodiesel powerplant impressed nonetheless.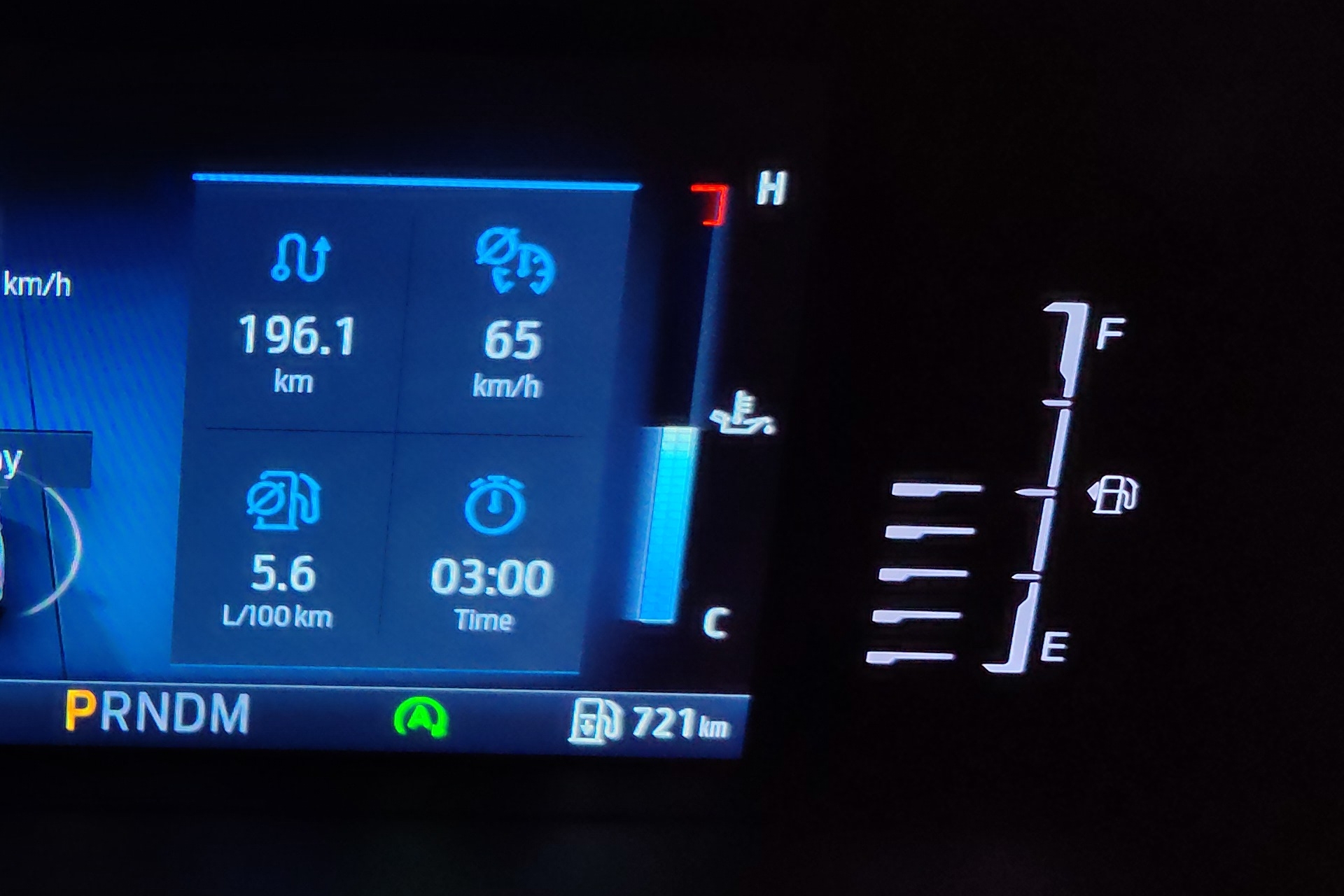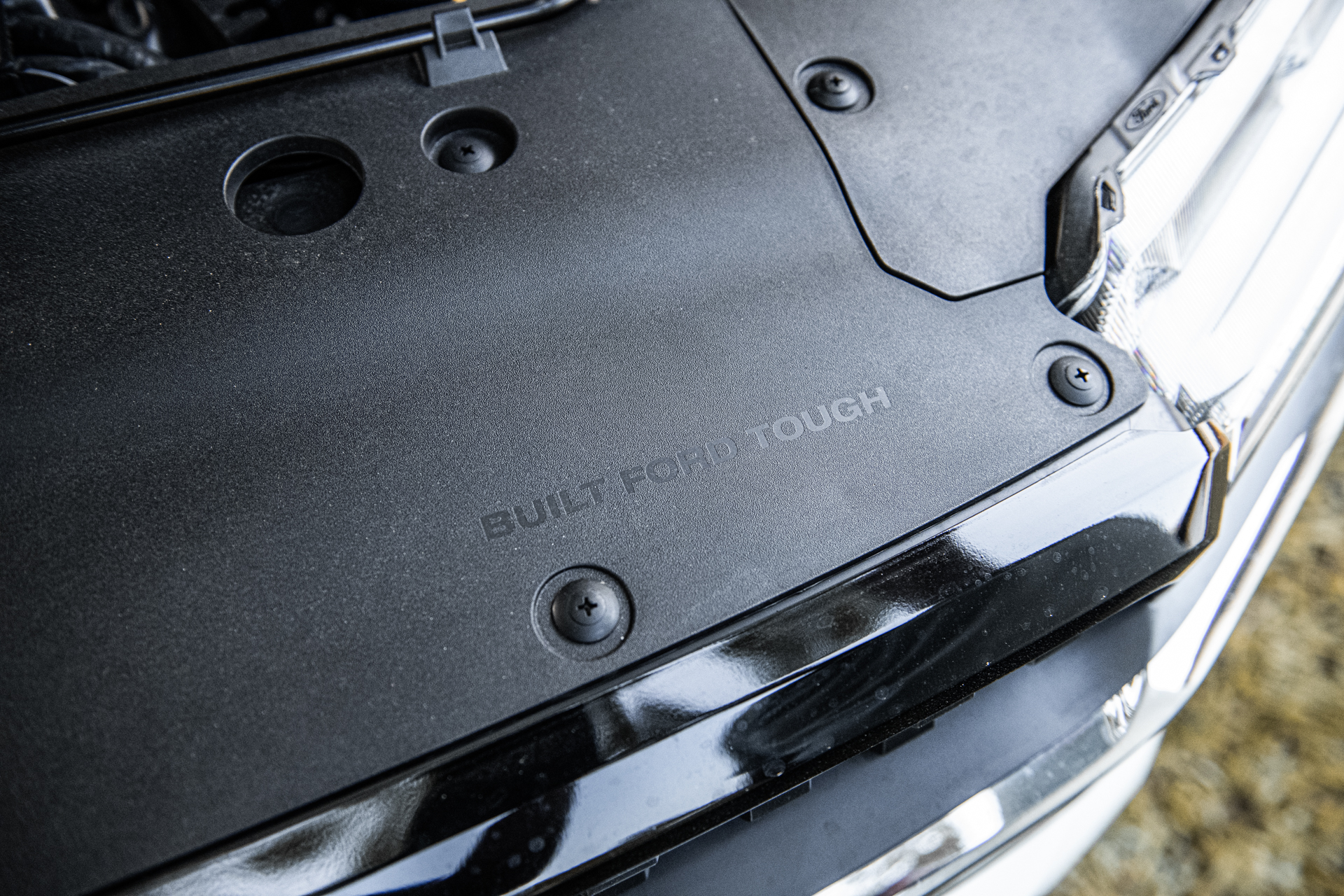 Once again, looking at its price, we doubt that this pickup will be extensively used around construction sites, although it is certainly more than capable of doing so. The Ranger turns heads, so this premium pickup will likely be picked up (ha ha!) by business owners in Singapore who want to stand out and make a strong statement to their respective industries and clientele while depreciating their commercial vehicle annually from a business-taxation standpoint.
For bosses who would need to carry things around on a fairly regular basis, but who would also need to turn up in business attire to attend to their customers, the Ranger is a very tantalizing proposition indeed.
If this isn't enough, there's always the Ranger Raptor for a pretty penny more.
Photo Credits: Sean Loo (@auto.driven)
Technical Specifications
Ford Ranger 2.0A Turbo 4X4 Double Cab
Engine: 1,996cc turbocharged inline four cylinder diesel
Transmission: 6-speed automatic
Driveline: Electronically-switchable four-wheel drive (2H, 4H, 4L)
Power: 168hp @ 3,500rpm
Torque: 405Nm @ 1,750-2,500rpm
0-100km/h: 12.1 seconds (claimed)
Top Speed: 180km/h (claimed)
Fuel Economy (combined): 9.4-litres/100km or 10.64km/litre (claimed)
Fuel Tank Capacity: 80 litres
Kerb Weight (unladen): 2,284kg
Gross Weight (laden): 3,250kg
Price: $129,888 (without COE, accurate at the time of this article)
Contact: Ford Singapore
---
Read more automotive news at AutoApp, or check out our latest videos on Ignition Labs TV!