In the past few weeks, we've brought you on a journey of yesteryear – reliving the lau kwee things you did as a teen in the 90s, and lepak places that are since gone but will never be forgotten.
---
For this fourth (and last) article in our 'Going Stun' series, this stop on the trip down memory lane will revive your childhood days with these old school snacks you probably used to enjoy!
Don't see your favourite childhood snacks here? Share with us on Facebook what biscuit or keropok you used to love as a kid!
White Rabbit Candy
As the quintessential Chinese New Year candy, the thing I'd look forward to most when out visiting is seeing a massive bowl of the White Rabbit sweet sitting on my relatives' coffee tables.
The OG version of nougat for us Singaporean kids, the soft chewy texture and milky taste was an instant hit. Ignoring the copious amount of sugar that's in it, White Rabbit is even somewhat nutritious with its milk content.
Of course, there's no better experience than popping the sweet into your mouth and feeling the rice paper layer dissolve. Perhaps, though, it might be the incredulous look a younger cousin would give you – "the paper can eat one?"
Marukawa Bubble Gum
Ah, bubble gum – the forbidden fruit of all Singaporean kids. These chewy and fruity coloured balls were the cure to restlessness, and some would even swear that they needed to pop one (or three) in their mouths to do any form of studying.
However, thanks to a select few who began sticking gum on MRT trains, then-Prime Minister Goh Chok Tong enacted a ban on chewing gum from January 1992. Since then, the cure for restless jaws was only obtainable across the border.
In the years following the ban, all of our Johor Bahru day trips had a common objective; to get through as many packs of bubble gum while on Malaysian soil.
Flower Brand Haw Flakes
My first memory of haw flakes was getting them in a party bag in Kindergarten 1. Four-year-old me, being ignorant of how to open the packaging, ended up letting half the cylinder go on the floor.
The major disappointment soon reversed as I put the first slice of shan zha pian (山楂片) in my mouth. I immediately fell in love with the thin discs of hawthorn, and their sweet and sour taste profile. As a bonus, they're made from a fruit… so it counts as a healthy snack, right?
Pop Pop Corn Snack
Not to be confused with the little gunpowder-filled bundles that hit the floor with a loud bang, Pop Pop corn snacks are an addictive, tubular-shaped corn puff. Most commonly available was the savoury chicken flavour, while sweet corn or chili flavours were also available if you so desired.
A primary school canteen staple, it was great for annoying your friends. Just unsheath it from the packaging, and blow the crumbs out at them!
Iced Gem Biscuits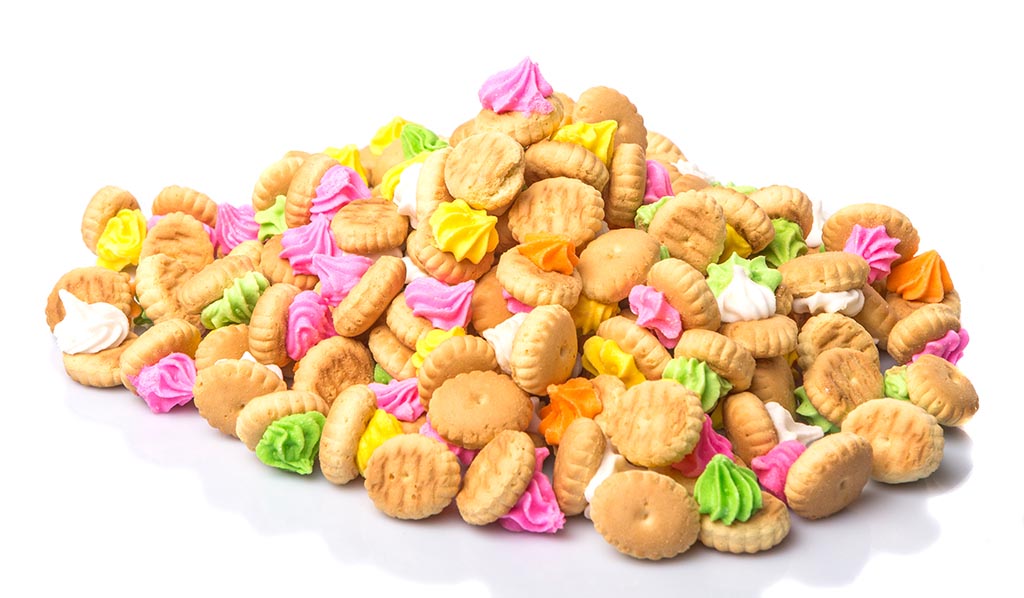 Iced gems are the most recognisable traditional snack, and for good reason. As we know them, as a little button biscuit with colourful icing on top, they've been around since 1910! The ones found in Singapore are typically sold by Khong Guan Biscuit, with neon-coloured icing in pink, green and yellow.
Even past childhood, the age-old argument of how to eat iced gems still stands. Do you eat the icing first, or the biscuit first? Or, do you simply pop the entire thing in your mouth?
Bee Bee Snack
Fun fact – did you know Bee Bee Snack is available in two forms? Although you might know it as a pack of orange sticks, there's a less common version that's square-shaped!
Regardless of what shape it's in, we all know we'd still pop a handful straight in our mouths, nonexistent nutritional value be damned.
Warheads Extreme Sour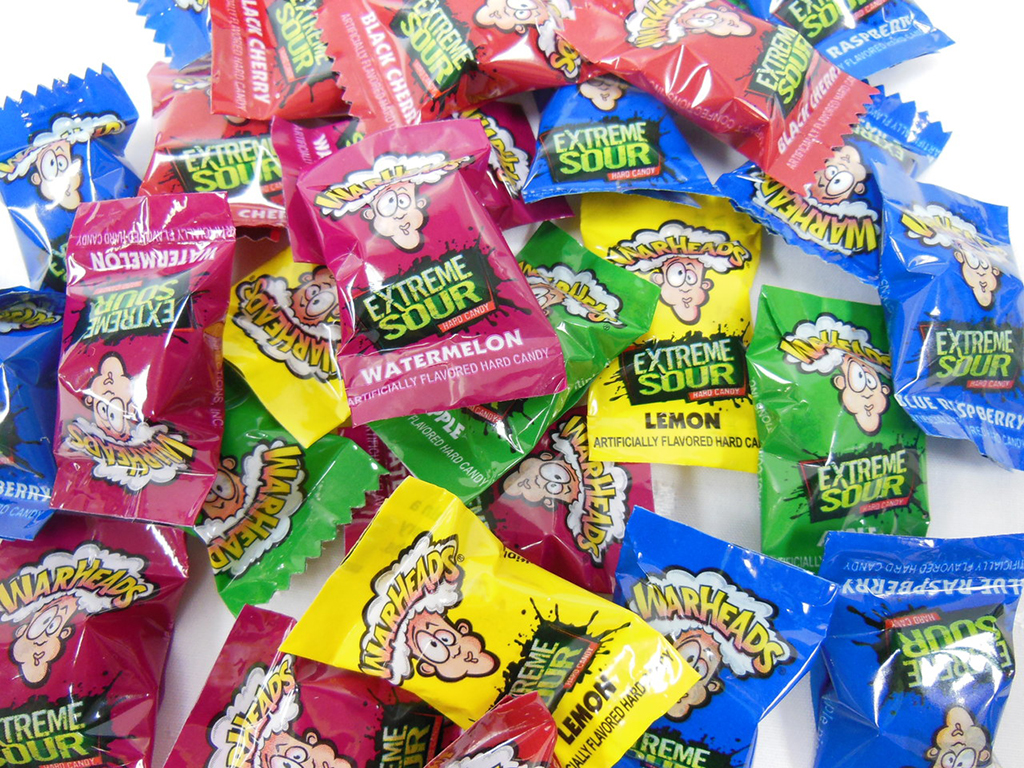 These insanely sour candies were a hot favourite of secondary school boys wanting to show off – if A shoved three in his mouth, B would shove five in. This continued until the sourness was too much to bear, and either one would pull a face more wrinkly than the discarded candy wrapper.
Warheads were available in a few flavours including lemon, watermelon and apple. In later years, a similar candy called Super Lemon became a popular alternative.
Apollo Chocolate Wafer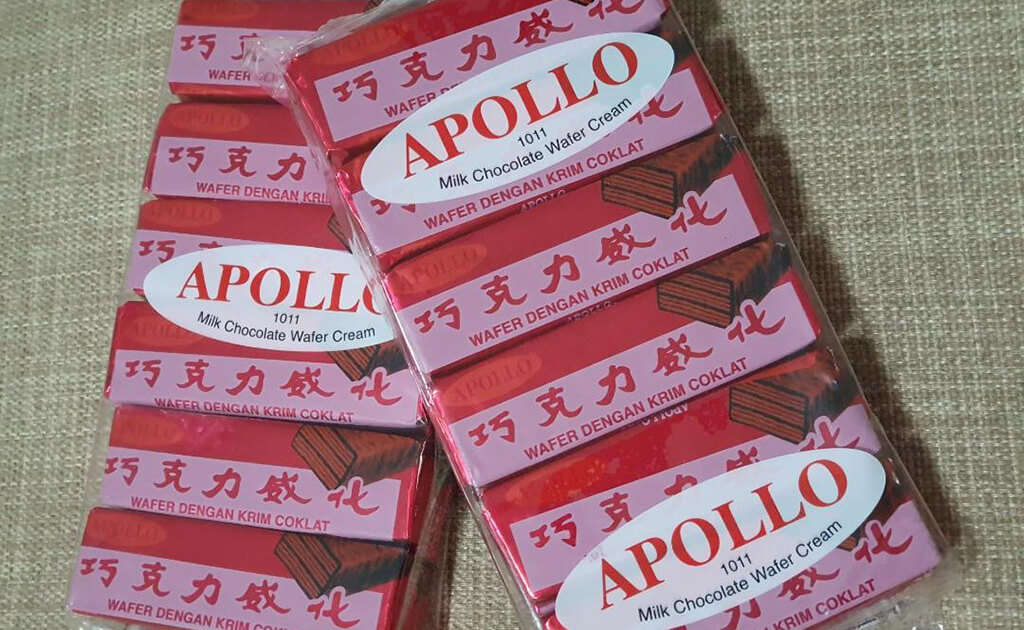 Another popular party bag stuffer in the 90s, the Apollo Chocolate Wafer was an affordable local alternative to international chocolate wafer brands like Kit-Kat. As a kid, the red foil packaging was immediately recognisable when I opened up the party bag!
Ritz Crackers 'n Cheese Dip
I used to love these Ritz cracker and cheese snacks, which were superior to other competing products purely because it included a little stick that allowed you to spread the cheese evenly across the entire cracker.
The artificially yellow cheese spread looked a tad suspicious, but the gloriously cheesy and salty dip paired with the cracker was just too hard to resist.
Wall's Paddle Pop Hip Hop Jelly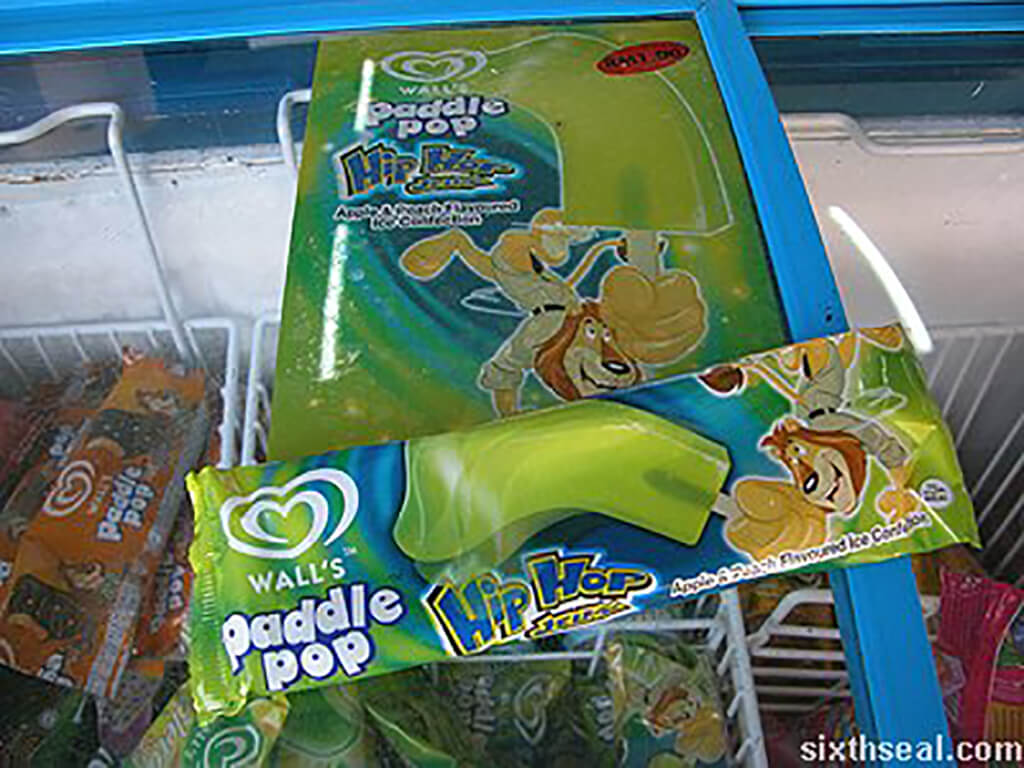 While the Hip Hop Jelly is a bit more contemporary than the other snacks on this list, it's an unforgettable treat for anyone who's tried it. Reasonably priced at under a dollar, it was a jelly-like iced confection that would flop around as it got closer to room temperature.
Unlike a traditional ice-cream that would melt all over your hand on a hot day, the Hip Hop Jelly retained its original shape. That wasn't really much of an issue though, as the refreshing apple and peach flavour meant that the entire thing usually disappeared in five bites or less.
---
Though some snacks such as the Marukawa bubble gum are now impossible to find in Singapore, there are several shops which have managed to procure a surprisingly large range of traditional tidbits. Here's three places you can try!
Guan Chun Ding Pte Ltd
Address: 32 Defu Lane 10, #01-08, Singapore 539213
Phone: 6343 0317
Email: admin@guanchunding.com.sg
Opening Hours: Mon – Fri: 9am to 5pm, Sat: 9am to 2pm
Teck Leong Lee Kee
Address: 122 Bedok North Street 2, #01-112, Singapore 460122
Phone: 6445 0879
Email: teckleongleekee@gmail.com
Opening Hours: Mon – Fri: 10am to 4.30pm, Sat – Sun: 10am to 2pm
90s Candy Society
Phone: 9721 1321
Website: https://www.90s.com.sg/
Facebook: https://www.facebook.com/90scandysociety/
---
For more stories about things that make us uniquely Singaporean, explore other articles from our Going Stun series here!