Wearnes has partnered with local charity Food from the Heart to collect and distribute food donations to the less privileged in Singapore.
---
Dubbed 'Heart on Wheels', this is Food from the Heart's 20th-anniversary food donation drive, which will see food being donated to less-privileged individuals and families. These are demographics with an average per capita income of below $690 per month.
In 2019, Food from the Heart helped 44,600 beneficiaries. This assistance has since ballooned to more than 60,00 beneficiaries with food support throughout Singapore, an impressive 34% increase since pre-COVID.
Here is the list of food items requested for Heart on Wheels 2023: 
Rice (2 & 5kg bags)
Cooking oil (1-litre bottles)
Instant noodles
Canned food (Items such as sardines, tuna, curry chicken, soups)
Coffee, tea and Milo sachets
Oat, cereal, biscuit and bread spreads
*Do note that items should be at least three months away from their expiry dates
Join The Community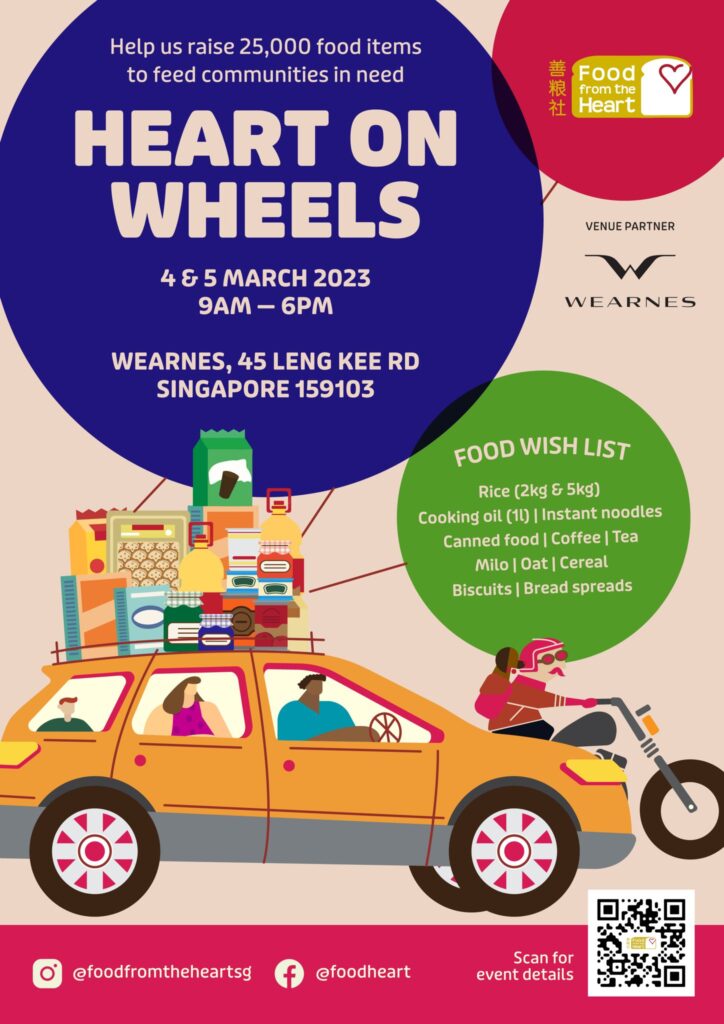 If you would like to make a difference, here are three ways you can help:
1. Drive-Thru to Donate
Head on down to Wearnes, located at 45 Leng Kee Rd Singapore 159103, on Saturday and Sunday, 4th and 5th March 2023 with your food donations. Drivers can enjoy a complimentary tyre shine throughout the event.
Plus, the first 100 cars each day will receive a complimentary treat sponsored by McDonald's Singapore!
2. Order Food From Your Preferred Online Grocer to Donate
Alternatively, you may also order food items on our wish list from your preferred online grocer and arrange delivery directly to the event venue on 4th and 5th March 2023, 9am – 6pm.
Volunteers and team members will be on hand to receive, sort and record the food items donated.
3. Cash Donations Are Welcomed Too
Cash donations are accepted too for this donation drive, and this Giving.sg campaign will be matched dollar-to-dollar by Tote Board.
Do not worry, this will be a safe and seamless way to help needy families with food support. Plus, cash donations to an IPC charity approved by the Commissioner of Charities, such as Food from the Heart, are eligible for a 250% tax deduction.
For more information and for the full requested food list, you can check out Food from the Heart's website here.
---
Catch all of the latest news right here on AutoApp!