Hyundai has taken a gamble with the new, boldly-styled Tucson Hybrid SUV — and it's paid off handsomely.
---
As a bread-and-butter car brand, Hyundai might be one of the boldest out there.
They might be going with the trend of electrification, with the Ioniq Electric and Kona Electric; at the other end of the spectrum though, they've the same number of models with a stonking 3.5-litre V6 engine.
Aesthetically, too, Hyundai's latest Sensuous Sportiness design identity boldly takes innocuous family-mobiles and adds dramatic styling. In late 2020, this made its debut on Singapore roads with the new Avante. It instantly became the clear choice for someone whose emotional side wanted a boldly-styled car, while their rational side called for a sensible sedan.
Hyundai's now put the new design identity to work on their crossovers… If you ask me, it's turned out even better with the Tucson's rugged proportions!
An exterior with funkiness
Cover the large H on the front grille and park it in a carpark; the Tucson will stand out from everyone else even without a bright paint colour, and 80% of drivers won't be able to identify its make and model.
Switch the lights on and it'll be an even more arresting sight. Hyundai's new tech is dubbed the Parametric Jewel Hidden Lights, which aims to organically connect the radiator grille and headlights. Visually, it appears that the extremes of the grille light up, though they're just the DRLs that have been integrated.
Round the back, the equally angular taillights are joined by a full-width LED light bar. Cleverly, the rear window wiper hides away under the rear spoiler, and plays peekaboo when activated.
An interior with flair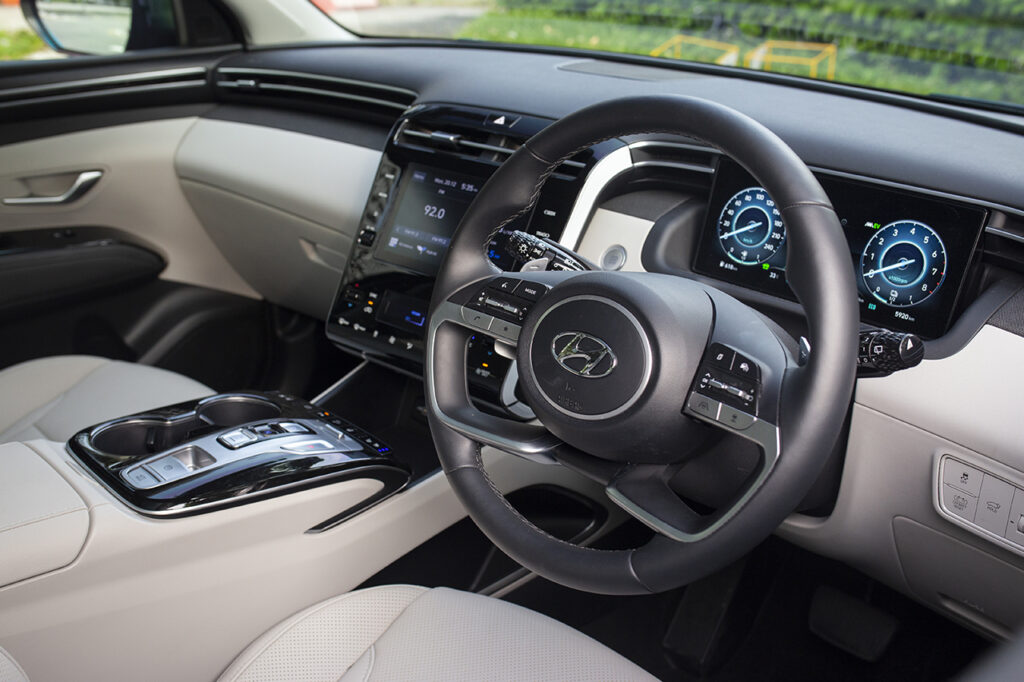 Hyundais of recent times have been known for their premium interiors, and the Tucson is no exception. Everywhere you touch is covered in leather or soft plastic, with the centre stack finished in piano black. There's also a fabric-like finish on the upward-facing surfaces, providing a pleasant transition between materials.
Standard equipment is, in current Hyundai fashion, extremely generous. There's an 8-inch infotainment screen with the regular Apple CarPlay and Android Auto, and a 10.25-inch digital instrument cluster. Families with multiple drivers will also appreciate the fully-electric memory seats for both front occupants.
Shut the doors, and the well-insulated cabin keeps most road noise out. Pair this with the ventilated seats that keep your rear end cool; now, long drives in the Tucson will end up more comfortable than one might expect.
A drive with fervour
The Tucson is no N-badged car, but there's still some pep for a family SUV. The turbocharged engine and hybrid system combined is good for 227 bhp and 265 Nm, resulting in a respectable 8-second century sprint.
Sure, it doesn't have Mercedes-AMG GLB 35 levels of sportiness, but the Tucson handles curves and bends with aplomb. Steering is quick and predictable, and it takes rather violent driving before the standard-fit Michelin Primacys start screaming for help.
Drive it as the engineers intended, and the Tucson will impress with its usability and road manners. ​The peppy engine tackles overtaking manoeuvres with ease, and the suspension soaks up bumps like they don't exist. Driving normally also means that you'll get within spitting distance of the claimed 20.8 km/l fuel economy. That's helped along by the car's ability to cruise in full electric mode, even over highway speeds.
A rational purchase
With how it looks, feels, and drives, I'd be inclined to say that the Tucson is the perfect family car. But, it's difficult to overlook the fact that the non-hybrid Tucson exists, especially when it's S$10,000 cheaper.
At this price point, there are other options from European manufacturers too, such as the Volkswagen Tiguan and Skoda Kodiaq. What that gets you, however, are base models with an equipment list less generous than the Tucson's.
If you're after an SUV that looks stylish, drives well, and feels plush inside — all while beating everyone else off the lights — the Tucson Hybrid can be yours for S$184,999.
---
Looking for more car reviews like this? We've got you covered!