Handsome looks, superb handling and an excellent new infotainment system make the facelifted Jaguar F-Pace one of the most desirable medium luxury SUVs around.
---
I have a confession to make: SUVs and crossovers aren't really my bag. In fact, I generally detest the genre as a whole. I like to judge cars on their fitness for purpose, and when it comes to SUVs, I struggle.
With the exception of genuine mud-pluggers like Land Rovers, Jeeps, the Toyota Land Cruiser, Mercedes G-Wagen or Suzuki Jimny, what can SUVs do that other car types can't? Just need a personal or family runabout? An equivalent-sized saloon or hatchback will be cheaper and more economical. Regularly need to lug lots of cargo around? A wagon can swallow just as much stuff while being easier to load/unload (due to being lower), and being more economical as well. And what if you have an extended brood? Well, proper MPVs will always be more spacious and comfortable than even the largest of 7 or 8-seater SUVs. Add to all that the fact that physics ensures an SUV's extra height and weight works against it in road manners, and it's still a wonder how, for the first time last year, they became the best-selling type of new car in Singapore.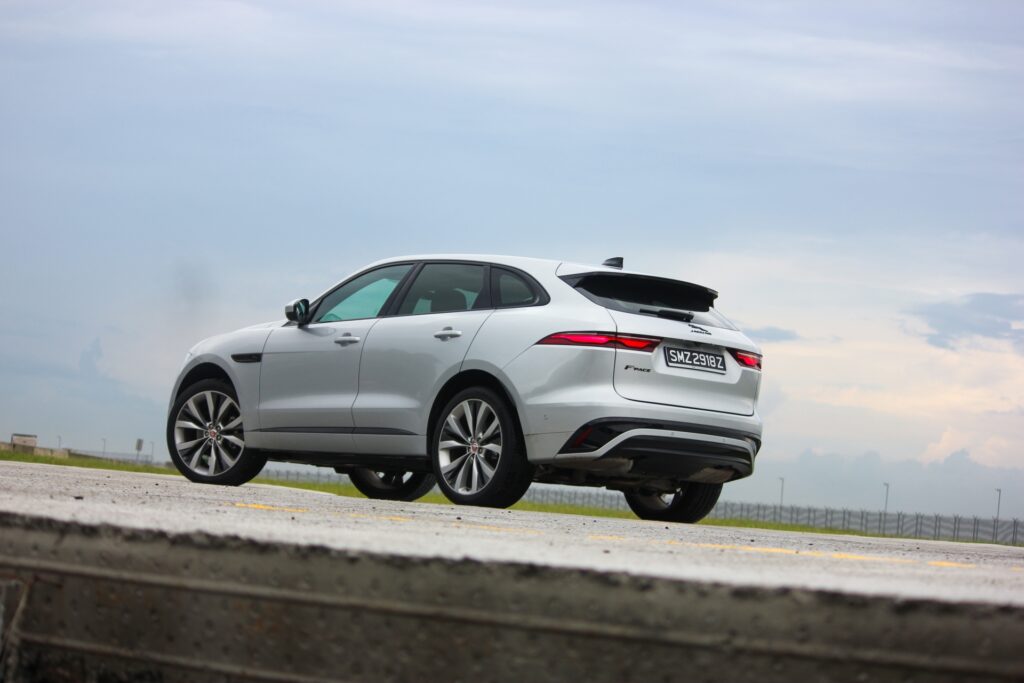 But if there's one SUV that could stand a shot at convincing a disbeliever like me, the Jaguar F-Pace could be it. Launched in Singapore in 2016, the F-Pace is the company's first-ever SUV, and it impressed with its style and dynamics. Five years on, and the car's just had a major refresh, with the usual overarching goals: Keep the punters interested; stay ahead of the competition; updating the tech so it doesn't get obsolete before tea time, etc etc. So, the question is, how good is it now?
What's new?
Despite only minor changes, the Jaguar F-Pace sports a cleaner aesthetic for 2021. That's partly down to the slimmer headlights and taillights, but mostly thanks to a longer bonnet that extends down to the radiator grille, eliminating the obvious bonnet shutline that previously spanned the top of the headlights.
Otherwise, it's still very recognisably an F-Pace, which is to say, one of the best looking SUVs around, somehow taking sexy sports car styling cues (from the F-Type) and successfully upscaling them to fit an SUV. Similar to what Porsche tried to do with the 911-inspired original Cayenne, except that one was memorable for all the wrong reasons.
Far more significant is what's different in the cabin, as the new Pivi Pro infotainment system that debuted in the new Land Rover Defender makes an appearance in the F-Pace as well. With it comes updated aircon controls which, mercifully, are presented as a pair of large silver knobs with integral readouts, a nice little techy-looking bit of cabin eye candy.
Finally, down on the transmission tunnel, the old rise-up rotary gear selector has been ditched in favour of a stubby push-pull affair, flanked by the engine start button, volume control, and driving mode selector. Unlike some of my fellow industry colleagues, I had no qualms about the old rotary dial, and this new gear selector feels lightweight and flimsy despite the suede covering, but it does at least unlock more space on the transmission tunnel for better storage.
Oh, and while not technically a part of the car, there's a new waterproof and shockproof Activity Key available that allows you to lock, unlock, and start the car without the actual key fob, should your lifestyle actually be as active as all car makers' marketing materials suggest of SUV owners. Unlike the old Activity Key, this new one is more like a smartwatch than a first-gen Fitbit, yet for a S$1,050 option, it does feel incredibly cheap. We reckon you can save your money on this one.
Screen Smarts
While there are additional touchpoints in the interior that do their darndest to disrupt the feeling of quality presented in the cabin (particularly the steering wheel buttons and wing mirror controls), the main highlight is a damn good one.
The graphics on the 11.4-inch curved touchscreen are Playstation 5 video game-worthy; the text, icons and buttons are highly legible and sensibly spaced apart; and the menus and options are intuitively positioned and layered, with two or three jabs at the screen sufficient to get to almost any function you need to. Of course, it'd be nice to have a physical input option as well, a la BMW's iDrive, but as far as touchscreen systems go, this is right up there with the best.
Oh, and there's a nifty little bonus trick when you activate the parking camera: the F-Pace uses Jaguar Land Rover's Clearsight technology to render an image of what's on the ground, so you can see what's underfoot as if the car was transparent. That said, the Clearsight rearview mirror we encountered on the Jaguar XE was even more impressive, and it's available as a cost option on the F-Pace.
Feline Agility
Good as the updated interior is though, the thing that distinguishes the F-Pace from the competition more than anything else is one that actually has been left untouched: its dynamics. For something so porky (over 1.8 tonnes) and tall (even 1.8 metre-tall me found it a chore to clamber aboard), the F-Pace isn't half a playful kitty cat when it comes to a twisty road.
It disguises its heavy weight well with quick responses, although some of that is down to slightly hyperactive steering that artificially boosts the impression of agility. But more importantly (and entertainingly), it's got a lively chassis balance at the limit, with a rear end that's very willing to step out with a lift of the throttle and help rotate the nose back into line. It felt almost as fun to throw down my favourite local B-road as the last car I took there, the new Mk8 VW Golf GTI, and that's very high praise indeed for such a large car.
Of course, B-road bombing would be of little to no interest to most SUV owners, so it's nice to know that when you're just ambling about, the F-Pace is plenty comfortable too, although that's mostly thanks to the optional adaptive suspension. That said, the monster 22-inch wheels fitted to this test car certainly do the ride no favours, and you often feel their inertia and lack of sidewall cushioning over all manner of bumps.
I suppose it's a criticism of modern car design in general that styling has to account for such ridiculously and needlessly big wheels, to the point that the F-Pace's stock 19-inch items look positively weedy. Our recommendation? Tick the Adaptive Dynamics option box, but go for one of the intermediate 20 or 21-inch wheel options. Your backside (and wallet) will thank us for it.
Struggling to find a motive (force)
While the F-Pace has the spring of youth in its step in the corners, in a straight line it's more like your lazy old neighbourhood cat that's clearly been much too well fed by all the neighbours. Its 2.0-litre four-cylinder engine puts out around the same horsepower and torque as all its competitors (250hp, 365Nm), but here it really struggles against its weight.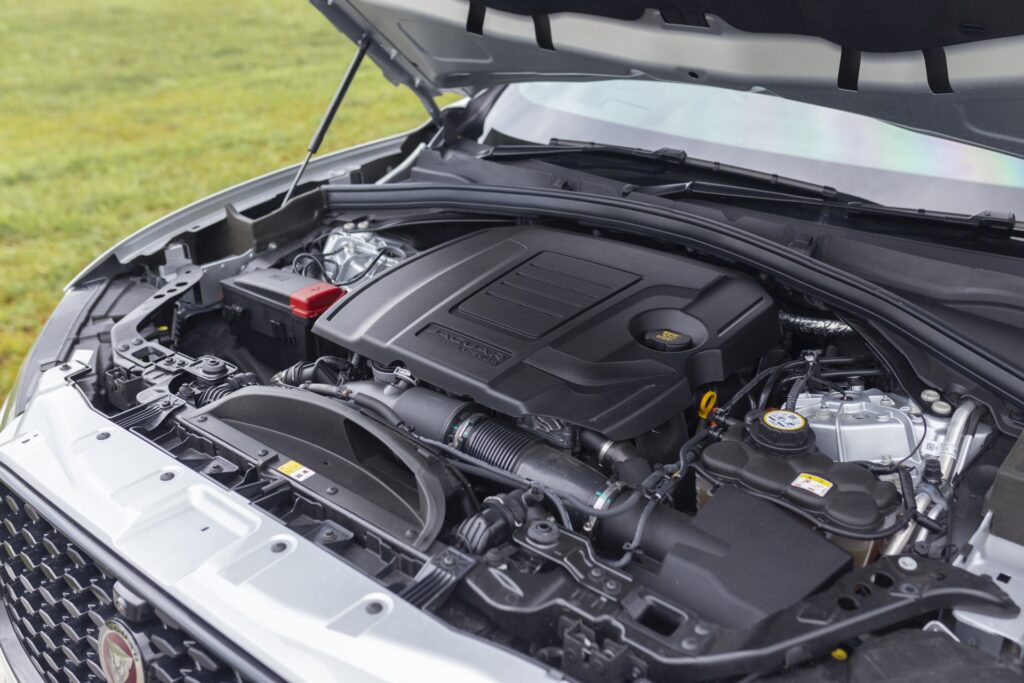 It's smooth and amenable enough at a cruise, but ask for any sudden acceleration and it struggles to get up and go until the transmission kicks down a couple of gears. To that end though, the 8-speed automatic gearbox is at least as smooth and responsive as any in the business, and you might even want to do your own gear selection, as the solid aluminium shift paddles are an absolute treat to caress and operate.
Of course, if wicked performance is what you're after, Jaguar will happily sell you the bonkers 5.0-litre supercharged V8 (get it while you still can!) F-Pace SVR. But otherwise, we'd be very curious how much nicer the overall package would be with the zingy and silky-smooth 3.0-litre inline-six engine that's available in the F-Pace overseas.
Room to swing a cat
Please don't actually hurl your cat around. For one thing, you wouldn't want to get claw marks all over the gorgeous red leather, would you? (Although it'd be great at hiding the blood stains when those claws inevitably sink into you…)
That said, if you hypothetically wanted to swing something else (preferably inanimate) around the F-Pace's cabin, go right ahead, as there's plenty of space to do so. The F-Pace has the longest wheelbase in the segment, which translates to oodles of interior space, and it's also got a gargantuan boot. At a claimed 793-litres, it's easily at least 40% more cavernous than the next closest rival.
The purr-fect SUV?
Well, nothing in this world is flawless, is it? The Jaguar F-Pace is bulky, sluggish, and though features massively improved cabin materials, still has spots of questionable build quality. And though pricing is competitive, most of its rivals are available with less powerful entry-level engines that undercut the Jag.
That said, this 2021 update has launched it to the top of the pecking order in terms of digital cleverness, and its USP of being the closest thing to a sports car on stilts is still intact. And, it's got those gorgeous looks to ensnare you at first sight, of course. The F-Pace always had its appeal, but this update has finally taken care of the car's glaring weaknesses.
Of course, you could point out that the new wave of electric SUVs starting to arrive in Singapore will make the F-Pace obsolete almost overnight, but if you're not quite ready to take that plunge yet, the Jaguar F-Pace is currently one of the top choices.
---
Want to have a look at an electric SUV instead? Check out our Mercedes-Benz EQC review!